"Arriving from America? Welcome!" Stamp.
Sleep-deprived and bone-weary after 30-plus hours of travel, KBMF-LP 102.5 station manager Clark Grant, music director Dark Sevier and I were grateful for the painless entry to Johannesberg last December.
We were equally happy to be waved past customs, despite rolling a huge metal case heavy with recording equipment that we planned to leave with our South African sister station, Nongoma-FM 88.3. Three representatives of that station had spent the previous summer in Butte. And, along with Matt Boyle, who would arrive from Butte a few days later, we were returning the visit.
As we neared the airport's main reception hall, we could hear a rhythmic chant echoing in the cavernous room. Entering the space, we suddenly felt all eyes turning toward us. A Zulu welcome party, many of the greeters dressed in tribal wear, were singing and rhythmically dancing around us. Around and around.
You could see the other passengers and greeters baffled by the royal and raucous Zulu welcome for such a scruffy trio. A trio of umlungu (whites), no less. We stood out. Over the course of the next six weeks, we would continue to stand out, but thanks to the open-heartedness of our Zulu hosts, we quickly felt utterly at home.
Waiting for Matt to arrive, we spent a few days up north in the urban sprawl that is Jo'burg, Pretoria and Tembisa, the latter a township where Butte visitor Mokai Malope and his gracious family hosted us. While in the cities, we'd occasionally see another umlungu or two. That would cease to be true once we reached our main destination, Nongoma, in the province of kwaZulu-Natal (often shortened to KZN, pronounced kay-zed-en) where whites make up only four percent of the population.
Butte-Silver Bow (BSB) county and Nongoma Municipality are roughly the same size: 718 square miles and 842 square miles, respectively. Both boast spectacular scenery and an abundance of livestock and wildlife. Both battle daunting water issues. The biggest difference lies in population. The bulk of BSB's 34,200 citizens live in Butte itself, with a smattering of others scattered here and there on ranches or living in small, one-street towns. Nongoma's town center has only one main street and houses a mere 7,600 citizens, but across the Municipality, 195,000 inhabitants live in small family compounds spread evenly across a vast expanse of rolling hills. Few of the spidery connecting roads are named and fewer still are paved. Almost none show up on Google Maps.
It was dark as we approached the Nongoma-FM station building. Sleepy cows and goats blinked in the headlights. As we turned off the rutted dirt road into the station's yard, we could see paper signs fluttering in the soft summer breeze.
Representatives from KBMF-102.5 FM, Butte's community radio station, visited Nongoma, South Africa, and their sister station there, this winte…
KBMF! WELCOME HOME! KBMF!
Nongoma-FM presenters and supporters rushed the car. In the wake of Nongoma-FM station umphathi (manager) Prince Sbo Zulu, Mokai Malope and Nkokhelo Msomi's visit as guests of KBMF last summer, staff and fans of the two community radio stations had been getting to know one another via social media. It was great fun to finally exchange Zulu handshakes with our new friends.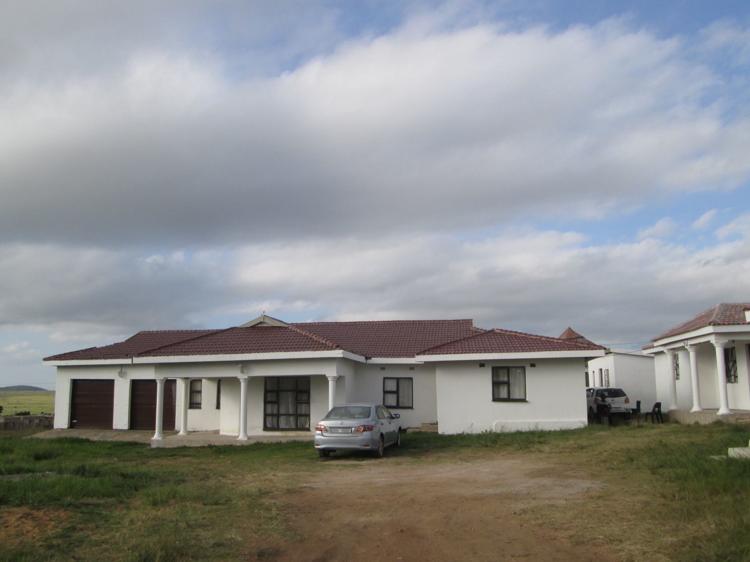 After a tour of the modest but well-appointed station, we continued down the dark, rutted road to Prince Sbo Zulu's family compound. Like all the others dotting the hills on every side, the compound is made up of several plastered buildings, a mix of round and rectangular. Buildings in each compound are all painted a single hue, turning the rolling hills into a soft, rainbow mosaic.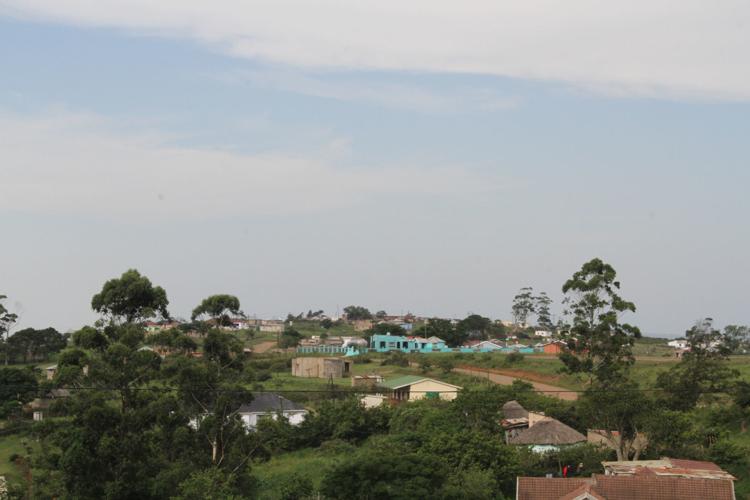 As we neared the compound, we could see that a full-blown dance party was in progress under a sprawling red tent. The heart-thumping sound system would blare until dawn. By the time we finally fell into our borrowed beds, we'd each been made to truly feel a member of the Nongoma community. And yes, we were and would continue to be the only umlungu in sight.
As the days in Nongoma turned into weeks, we became close to not only the Nongoma-FM crew, but also to Sbo's extended family. His mother, sister, and daughter not only gave up their rooms in the largest of the compound's buildings for us, they went out of their way to make us feel like family. Among other gracious gestures, they taught us much of the isiZulu any of us would learn. By the time we bid them a very sad farewell, we'd each learned to mimic the language's three distinctive clicks and we could exchange standard greetings, but only KBMF umphathi Clark would achieve any mastery of the language.
ROYAL PROTOCOL AND A COW
While Sbo's compound looks much like those around it, the surname Zulu denotes royal standing. As guests of the family, we found ourselves subject to certain protocols. Far from being obsolete artifacts of the past, these traditions proved a kind of social glue uniting the past with the present. Just about everyone is holding a cell phone or two (connectivity is, well, complicated), but at the same time, they often as not call each other by their clan names. KBMF's first brush with royal protocol required the purchase of three men's suits and a cow.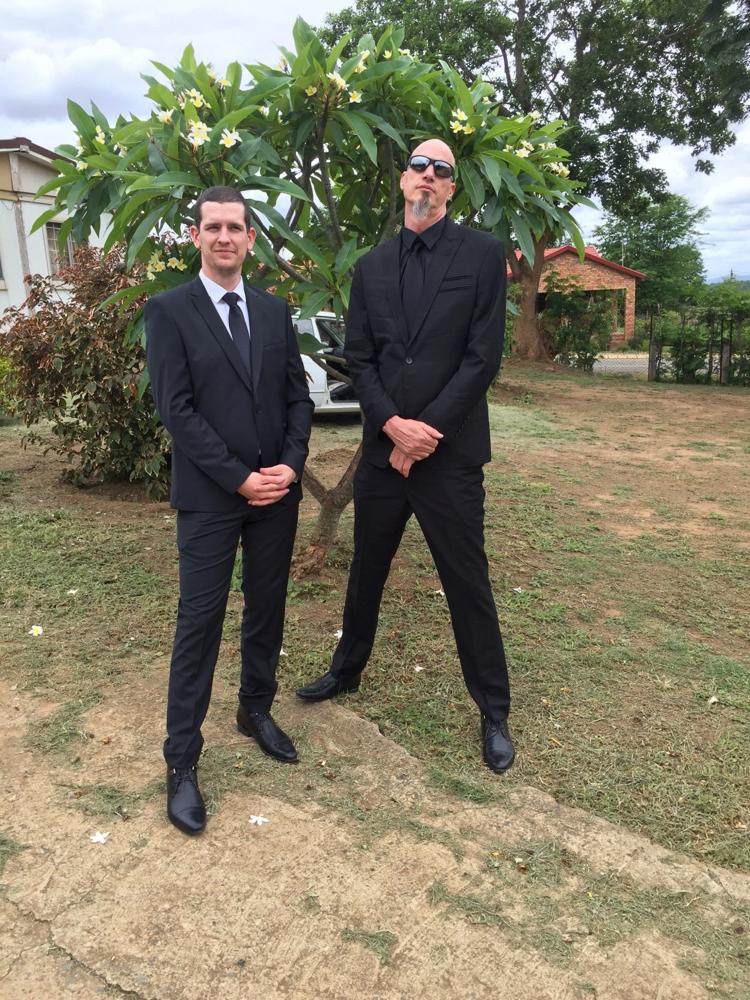 KBMF had been invited as honored guests to the 46th anniversary celebration of King Goodwill Zwelithini kaBhekuzulu's coronation. It was only after landing in South Africa that we learned that non-Zulu men must wear suits to all royal events. The truth is that not one of our trio even owned a suit. And so it was that while we were still up north, we found ourselves visiting a Pretoria menswear outlet. Drawing on a generous donation by an anonymous Butte supporter, our three found themselves in possession of handsome suits, shirts and very pointy dress shoes. South Africans always look sharp and now our boys did, too.
Again, in keeping with protocol, as royal guests it would be our privilege and duty to present the king with a cow. Cows are never cheap, but again, a Butte supporter came to our aid. Dr. Bruce Pedersen, a veterinarian who has just moved to town, offered to help with the purchase.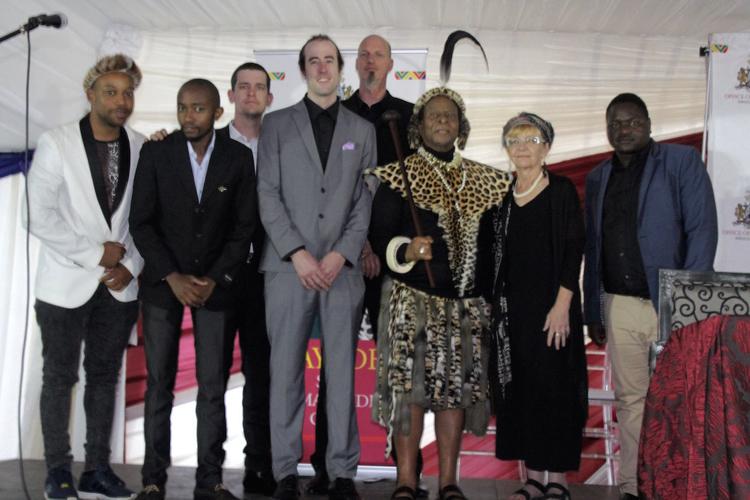 We were, once again, the only white folk at the grand anniversary. Dressed in our finest, we'd been seated at a table of honor facing the rest of the room. Most of the other attendees were clad in Zulu ceremonial wear — the women in colorful hats called Isicholos and many of the men in wide leopard-skin collars and skirts made from dozens of bushy animal tails. (Leopard skin is always in style in Zululand.) Spears and leather shields leaned against the well-laden tables.
After a few hours listening to speeches (all in isiZulu), along with much feasting and traditional drumming and dancing, we were invited to climb up to the King's dais. We understood that this was already a rare honor, but as we approached, the King motioned that we should remain standing and not kneel as we'd been instructed. He stood with us and after a bit of congenial small talk, he asked about the reason for our visit.
We thanked Prince Sbo for initiating the relationship with KBMF and said we'd come with three goals. One was to better understand and share Zulu culture with the world. A second was to learn more about the remarkable community radio movement in South Africa. And finally, thanks to generous and ongoing support from Butte, along with a Ford Foundation grant, we'd come on behalf of KBMF's associated non-profit, the Butte America Foundation (BAmF), to launch the Butte & Beyond program. Together with Nongoma-FM, we would identify highly-motivated but disadvantaged high school students within our two communities, providing both moral support and modest financial aid as they navigate university entrance requirements. We ended by saying we hoped the relationship between Butte and Nongoma continues to flourish for many years to come.
The King was pleased. He said that few outsiders come to kwaZulu-Natal and fewer still come to learn or help. He thanked us and gave us his blessing, a gesture that would help to open a number of other doors.
Two of those doors were to local chiefs who oversee the traditional courts, settling civil disputes among their subjects and overall working to better the quality of life for their constituents. Protocol for each of these visits required the purchase and delivery of one live sheep.
The highest ranking of all the chiefs is Her Majesty, Inkhosi Kwa Matheni, Deputy Chairperson of the Traditional Council. She had been a school teacher prior to her current elevated role. She said that education is an imperative in improving the welfare of the Zulu people, but the challenges are many. Local students are avid and will often walk miles to and from school, but with 70% unemployment in the province, taking advantage of higher-education opportunities is difficult. She, too, wished our program well and invited us to sit at the royal table with her at Ingoma, an upcoming men's traditional dance festival.
We'd timed our visit to coincide with the end of the South African school year at the end of December. In early January, "matriculation scores" are published in the newspapers. It is a sad proof of the importance higher education within the Zulu community that these scores are now generally listed under anonymous numbers rather than student names. The change is in response to the number of suicides committed by students receiving scores lower than they'd hoped.
Things aren't as grim in Butte. Students rarely have to walk miles to school, but still, choosing a university and navigating the often daunting application and registration process keeps some from even considering higher education. Butte & Beyond looks forward to assisting as many of these youth as possible.
When Los Angeles-based film director Joe Litzinger heard about a Zulu prince coming to Butte, America, for the summer, he knew "this story is …
EATING OUR WAY THROUGH ZULULAND
People often ask what we missed while away. We all missed hot water and decent wifi, but really, little else. The food, in particular, was so delicious we rarely thought of home. Curiously, our favorite food was primarily available at car washes. Car washes are ubiquitous. Just as almost everyone in South Africa, even the poorest citizen, is dressed in meticulously clean clothing, vehicles are always sparkling. Car washes are cheap and thorough and popular. This means waiting. While you wait, you look for a caged door. Behind it, cuts of deliciously fatty meats, along with a pork and beef sausage called boerewors, lay in trays. You point to the meats you would like to purchase. At some of the shisha nyama (hot meat) shops, you cook your own meat over coals in a braai. In others, it is delivered grilled to your table. Just as with most meals while we were there, there are no utensils. You eat the shisha nyama with your hands.
A bit more grandly, at each of the royal events mentioned above, as well as two weddings, two funerals (sadly, the mother of our Butte friend Nkokhelo Msomi died a few days after our arrival), and at the boisterous Ingoma dance festival, we were served feasts. The dishes were surprisingly familiar. There would be a spicy stew of beef or pork or lamb with side dishes of mashed sweet potato, potato salad, coleslaw, shredded beetroot and creamed spinach. These dishes, along with just about every other meal in South Africa, are accompanied by a thick maize porridge called pap (pronounced "pop").
On a few occasions, we were served slightly odder fare. It turns out that stewed chicken feet can be quite tasty and sucking on the knobby knuckles isn't as weird as it sounds. Ox head, on the other hand, is an acquired taste. I was never sure if I was chewing a bit of lip or some brain gland.
When out on the road, we often picked up biltong, which is much like our jerky, but fattier. Yum. Our only regret was in never tasting warthog. Consensus suggests it is uncommonly delicious.
ON THE ROAD, ZULU STYLE
We did, however, get to see warthogs in the wild. Also, a lounging lioness, dozens of vervet monkeys, many elephants, giraffe, zebra (properly pronounced zeh' bra), both black and white rhinos, hippos, water buffalo, wildebeest, springbok, eland, impala, nyala, kudu, and a spectrum of other elegant hoofed and horned creatures.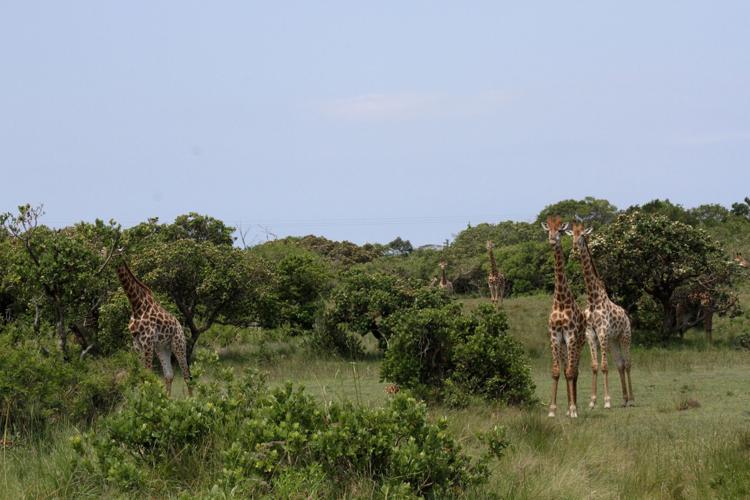 You didn't need to ride in a pricey safari vehicle. Indeed, when taking a main 2-lane highway south from Nongoma, you scuttle across a cattle guard and you're suddenly riding through Hluhluwe-Imfolozi Park, Africa's oldest wildlife sanctuary. The only time we felt threatened in the slightest by all the close-up wildlife was driving slowly through a crowd of rude baboon and suddenly realizing that a particularly indignant-looking fellow was glowering in our half-open window.
Up north, Mokai's father took us to the impressive Cradle of Mankind anthropological site where we saw the earliest evidence of our species contextualized and beautifully presented. Nearer Nongoma, we wandered about a reconstructed kraal (tribal compound) at Ulundi where many Zulu kings are buried. Driving through the wildly craggy Drakensberg Mountains was awe-inspiring, some of the jagged peaks reaching 11,000 feet. We attended a soccer game in Pretoria where we were the only umlungu and so, of course, found ourselves projected on the big screen. I particularly liked that the game was accompanied by Zulu drumming. We found ourselves on a few spectacular Indian Ocean beaches. Sunburn was a small price to pay. The sharks were blessedly small.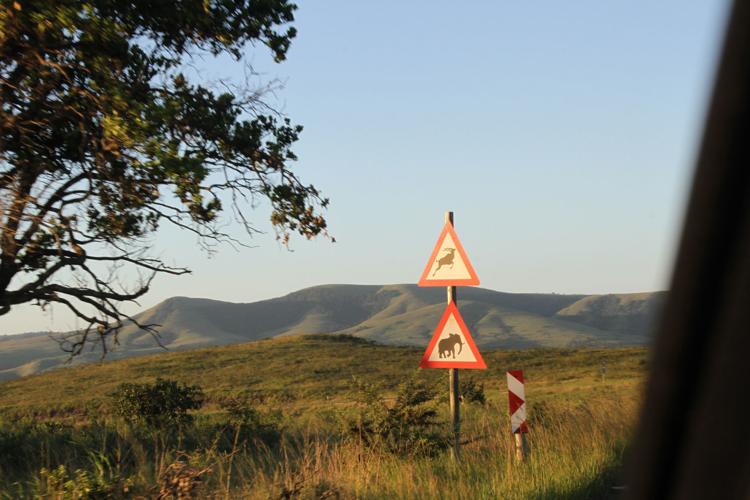 Trips to Swaziland and Limpopo confirmed that the iron oxide and hematite that color the soils of KZN a deep, dark red are ubiquitous across southern Africa. Besides iron mining, there is much evidence of coal and gold mining. Slag piles from platinum mining are literally mountainous. Just as at home, the locals are aware of the impact mining has on an area, but at the same time, they are grateful for the jobs. Forestry is common and neat rows of ponderosa pine are common. Our hosts were surprised to learn that ponderosa is the Montana state tree.
The roads can be treacherous. Not only is everyone driving on the "wrong" side of the generally narrow road, they're doing so at breakneck speeds, darting here and then there, always within inches of our bumpers. The only things tempering the mayhem are the hundreds of speed bumps causing bones and axles to rattle and shake. But who can be mad at a nation of drivers who officially call traffic lights "robots" and cover-leaf overpasses "flying saucers"?
RADIO RULING THE WAVES
Everywhere you go in South Africa, you hear radios blaring. Like elsewhere, music and call-in shows are mainstays, but community radio in KZN is often a primary source of news and many stations broadcast well-moderated political discourse and a variety of educational programming. We visited several stations and couldn't help being impressed with the overall dedication and studied professionalism. Some stations are venerable with paid staffs. Most are struggling and working on a shoestring. All seem intent on serving as a vital resource and voice for their communities.
We learned the power of radio on New Year's Eve. We'd traveled to Richards Bay to meet staff from RISE-FM at The Last Dance, a gargantuan annual bash that takes place across several South African cities. The traffic line to get in stretched all the way to next year, but after a bit of fretting, we found our white selves being waved through a VIP line. A little worried because our facilitated entry meant we didn't have wrist bands, the KBMF team spent until dawn dodging about and covering our arms. Afterward, we learned that the head of security was upset that he didn't know KBMF would be in the house. He'd have ordered a police escort and backstage passes all around.
SOUTH AFRICA AND UBUNTU
The KBMF team is back in Butte now, but Nongoma and the rest of South Africa will never be far from our hearts. Memories flood in. Only so many fit in any one telling. That said, one takeaway stands out. Ubuntu. The American Heritage dictionary defines ubuntu as "A philosophical doctrine or approach to life that emphasizes social unity and generosity of spirit."
Desmond Tutu wrote extensively about the concept. "Before Nelson Mandela was arrested in 1962," he observed, "he was an angry, relatively young man. He founded the ANC's military wing. When he was released (after 27 years), he surprised everyone because he was talking about reconciliation and forgiveness and not about revenge."
Many South Africans, particularly the Zulus, come from a long and proud warrior tradition. And yet, these same peoples won their freedom post-apartheid by embracing nonviolence and, even more surprisingly, forgiveness. "We've had a jurisprudence, a penology in Africa that is not retributive," Tutu wrote. "We've had a jurisprudence which was restorative...That is something we can bring to the world."
Not that all is rosy quite yet. Like most countries these days, South Africa battles corruption and a profound disparity in wealth. Indeed, most of the big businesses, farms and mines are still owned by whites. Unemployment is rampant, particularly among youth. And a decade-long drought is sapping local initiatives like subsistence farming.
But there is hope. With the greatest guarantees of free expression in all of Africa, South African newspapers, tv, radio and social media openly and fearlessly debate the issues. Young people, in particular, are convinced that positive change is not only possible, but inevitable.
During interviews with students who might benefit from the Butte & Beyond program, Travus Louw said, "I dream of a society that doesn't base itself on self-gain. A society that's interested in growing one another, inspiring one another. It is a gift that South African youth today do not hold any grudges. We weren't born with it. We were taught to accept one another for who we are. Therefore, with that gift, I believe youth will propel this country forward. We all are family. If we love one another, cherish one another, work as a community, we can bring it back to the traditional understanding of ubuntu."
You could feel ubuntu in the air. We were told that the term umlungu can sometimes be used as a pejorative, but we honestly never experienced that. Across the board, whether meeting young or old, we were greeted first as friends and then, surprisingly quickly, as family. It never felt naive. Indeed, it felt brave.
This kind of open exchange doesn't have to be rare. During three visits to the resistance camps at Standing Rock last winter, the Lakota Sioux welcomed KBMF with the same graciousness, respect and good humor. These kinds of relationships make the world feel at once smaller and larger.
KBMF is back home now, but all sides are determined to continue the visits and cultural exchange. Because few Zulus find the idea of a Montana winter inviting, we may have to wait until our summer before more emissaries from the southern hemisphere arrive. Luckily, residing on opposite sides of the globe, summer comes twice a year for our new family.
On our last day in South Africa, some of us went under the tattoo gun. My ink is on the inside of my left forearm. It reads, "butte & nongoma." Here's to an endless summer.