Journalists in these mean times can appreciate the plight of Butte reporter Horace "Bert" Smith in the 1890s, when gamblers Billy Fay and Frank Dougherty declared their intention to shoot him.
Smith's predicament is related in his newly unearthed memoir, "Hell With The Lid Off," his recollections of a wild period of Butte history with characters that gave the town its reputation.
A pickpocket prostitute who fooled a San Francisco detective and the atheist who made a curious proposition with a Presbyterian minister were among Smith's acquaintances over seven years on the police beat.
"Reminiscences of a police reporter in Butte when it was the liveliest camp of earth," Smith describes the manuscript, donated by Smith's granddaughter, Melissa FitzGerald, to the Butte-Silver Bow Public Archives.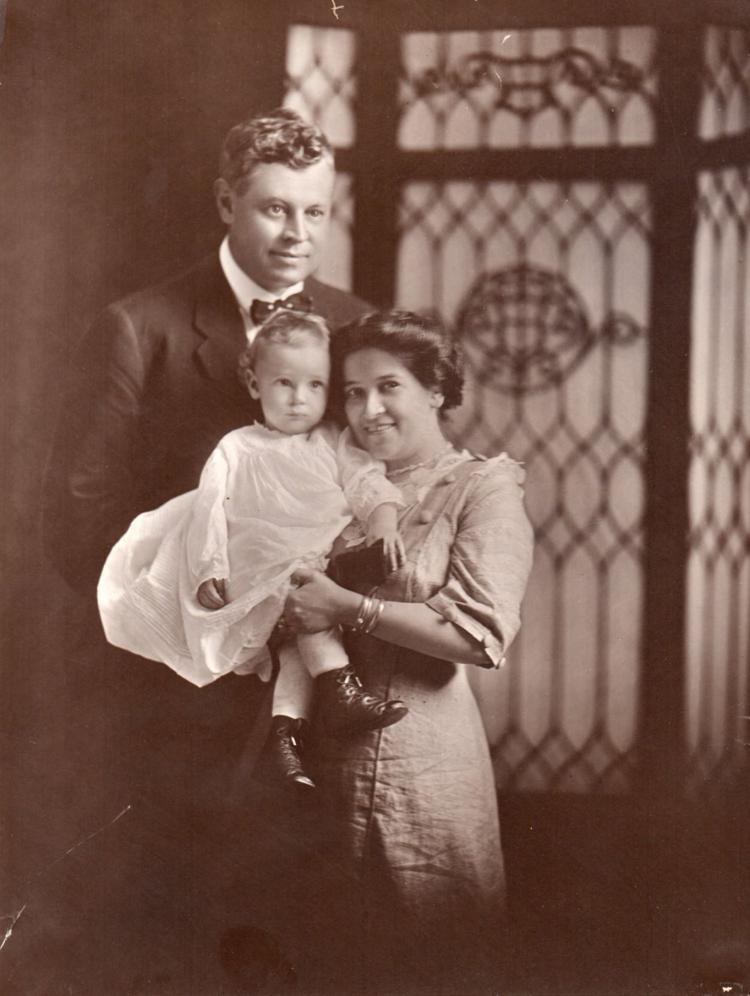 Horace Herbert Smith died in 1936 after establishing himself in New York as a front-line journalist and member of a literary salon that included Sinclair Lewis, a noted muckraker, and Zane Grey, the famed adventure author of the American frontier.
In the months before he died, Smith sought desperately to finish the book and sign a movie deal, according to letters discovered by his granddaughter. The letters and manuscript had been in a trunk in an upstairs bedroom of her Virginia home.
It may not be possible a century later to confirm everything Smith describes. But proof exists in the Archives of some of the episodes, including the feud between gunslinger Billy Fay and drug addict Frank Dougherty.
Fay was "a professional gambler and a professional killer," a man tormented by the past, Smith wrote. Fay wore a diagonal bandage that covered an eye and half his face, which was scarred in a hotel fire as he tried to rescue a woman, it was said.
His hands were gnarled and twisted, but he was fast on the draw and deadly with either hand. He'd killed ten men, it was said — likely many more.
Dougherty, Smith wrote, was a crooked gambler and a morphine addict, "a man-killer when he was full of dope and a sneaking coward without it."
The two hated one another. But rather than shoot it out, they divided up the city. Fay got territory west of Main Street's center and most of the city's gambling houses in which to operate; Dougherty got to work the town east of Main.
A story Smith wrote in The Anaconda Standard drew the ire of both. He told how Fay had burst into the Haymarket Theatre in search of Dougherty, a brand new, single-action Colt .45 in each hand.
"Stop the music," Fay said. Musicians complied mid-song, Smith wrote in his memoir.
"I'm looking for that morphine-eating SOB Frank Dougherty," said Fay, "and I'm going to kill him on sight."
Dougherty wasn't in the house, so Fay announced that he'd start with Dougherty's friends.
"That was the one and only time I saw anything resembling a panic over a gun-play in Butte, for it was accustomed to them," Smith wrote, describing the rush to the door.
Smith's descriptions in print riled both Fay and Dougherty, and each dispatched a messenger to the newspaper.
One of Fay's gambler pals told Smith that Fay intended to shoot him on sight. Before the warning could sink in, a "tin-horn sport" showed up to relate that Dougherty had just declared that Smith would die.
Smith's response would not be advised by today's editors. He pulled out his own gun, a Colt .45, one with six notches in the handle. Police he covered had taken the gun from a desperado.
To the second emissary, Smith said he had a message for Dougherty: "Tell him that I am not afraid of any damned dope fiend."
"Then I sat down to think things over," Smith wrote. "I was in love with Butte and its people, and I didn't like the idea of hitting the back trail."
---
As a Washington D.C. journalist — a breed now stirring its own hostility — I daily pass by the National Archives, situated north of the National Mall between Congress and the White House.
But I haven't had the urge recently to check in on the Declaration of Independence. Or to see if the Louisiana Purchase still is holding up.
Documents that tell something I don't know are what I seek. Holed up in Butte in February as the Mining City Writing Project's Writer in Residence, I determined to test the praise I'd been hearing for Butte-Silver Bow Public Archives and its treasures.
It's all true, I found. What struck me over several days mining this new Butte ore is how the collections continue to expand with unpredictable arrivals.
"It happens almost on a weekly basis, something coming in that's really cool," said Kim Murphy Kohn, the archivist who is handling the Horace H. Smith Collection.
Smith's beat on The Anaconda Standard — which morphed into The Montana Standard in 1928 — also included mining accidents, coroner's cases and "sporting events." His latter focus included stories about horse racing and a football team that would travel to California for gridiron battles that produced many broken bones.
The Canadian-born tenderfoot who arrived in 1891 from the Cedar Rapids (Iowa) Gazette would be shaped by his surroundings into a pistol-packing newspaperman who'd tell a killer to get lost.
When Smith took the job, The Anaconda Standard's W.W. "Wally" Walsworth showed him around town. That meant introduction to the town's leading citizens, who Smith recalled as saloon-keepers and gambling house proprietors.
"They were the only men with any value as sources of news," he wrote.
At one establishment, a bottle of whisky and two glasses dropped in front of Smith and Walsworth, who had the title city editor. But Smith noted later in the manuscript that when Walsworth needed to, he "could write like a house a-fire."
Smith ordered a ginger ale, which the barkeeper assumed was a chaser. To Walsworth's dismay, Smith confessed that he was a teetotaler. He ended up with a sarsaparilla, a root-based soft drink Butte folks called ironwater, Smith noted.
"I was looked on as something of a curiosity and regarded with a good deal of wonderment. Everybody gambled, everybody drank, and everybody enjoyed life to the fullest," Smith wrote.
"Death might be just around the corner," he observed. "The robberies and murders were committed in secret, but the hangings were in public for everyone to see."
In short order Smith became enamored with the 40,000-strong mining camp. "The rest of the world was somewhere over the hills. But Butte was on the inside and it was quite well-satisfied with what it saw," he wrote.
Smith was able to recoup his lost standing when he took the stage at Sam Tonkin's Concert Hall and, cold sober, sang the national anthem.
"No amateur had ever before sung a song, however badly, from any stage in town," he wrote.
He'd landed in a boom town brimming with danger and stories begging to be written. Smith recalled his reporting on the horrific Kenyon-Connell dynamite explosions of Jan. 15, 1895, as "the best piece of straight newspaper work I ever did."
He was at work on a different story on a Tuesday night when the fire alarm sounded. He headed to the warehouse district, where one dynamite explosion followed another, leveling city blocks and killing dozens.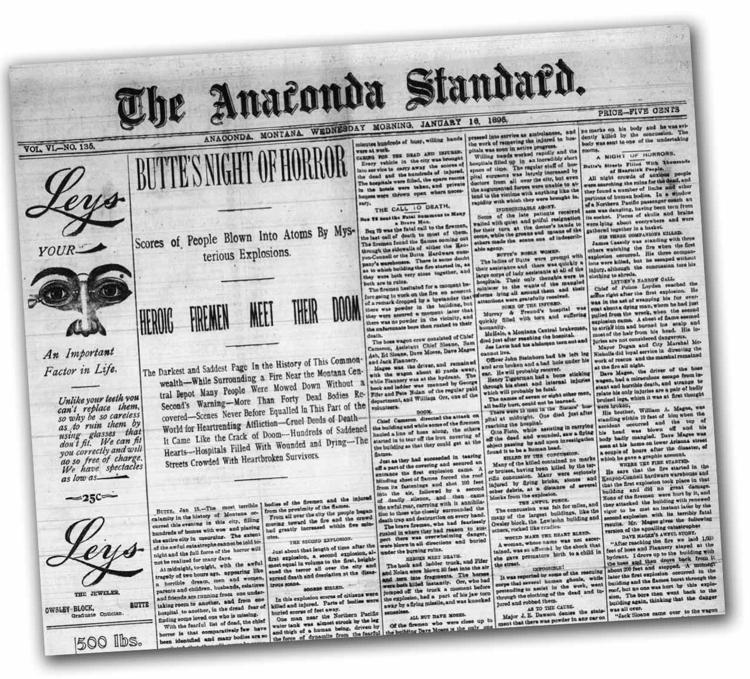 Four Standard reporters worked through the night, filling three newspaper pages. The competition, the Butte Miner, managed just two columns on the disaster, Smith writes in Hell With the Lid Off.
"BUTTE'S NIGHT OF HORROR: Scores of People Blown into Atoms by Mysterious Explosions," a Standard headline read.
By morning, the Standard had identities of 56 of the 57 people who died, Smith claimed, and the paper was selling on the street for a dollar. The paper's owner, Marcus Daly, the Irish-born mining magnate, was overjoyed at how the Standard had trounced the Miner, owned by a rival Copper King.
"That was a damned good paper you boys got out this morning," Smith recalls Daly saying.
A case of wine and box of cigars arrived shortly afterward in the newsroom.
A Fly in the Spider's Parlor
Butte's red-light district had a reputation that stretched to San Francisco and beyond. Comic actor Charlie Chaplin wrote in his autobiography, "Butte boasted of having the prettiest women of any red-light district in the West, and it was true."
Smith, writing decades later of establishments on Galena Street, observed: "They wore much less clothing than the flapper of today and, occasionally, under a free and easy administration and on a hot summer night, they wore none at all."
Smith came to know a specially skilled prostitute named Jess. "Her fingers were so smooth and filed and swift that she could literally rob a man while he had both eyes on her."
A detective visiting from San Francisco demanded to meet Jess, certain that no woman could equal the pocket-picking prostitutes of his city.
A Smith associate delivered "the fly into the spider's parlor." Jess sat on the detective's lap, stroking his hair. Smith doesn't mention what happened next.
Later, Smith's associate asked the detective if he had the time.
The San Franciscan reached for his pocket watch, which was missing, along with his tie pin and his railroad ticket. They headed back to see Jess, who returned to the detective's lap.
When he demanded return of his effects, Jess feigned surprise. "You've got them," she said. The detective looked down to see his tie pin. He reached into his pocket to find both his watch and his train ticket.
God versus the devil
in a 'shabby little church'
Denizens of Butte would bet on anything, even the Bible. A local atheist's wager that no minister in town would read certain Bible passages from the pulpit turned into three stories for Smith.
William Leff, fond of calling the Bible an obscene book, declared that he had $100 in gold for any pastor who accepted his proposition. Smith wrote that neither Methodist nor Baptist nor Christian Church men of the cloth wanted anything to do with the infidel. Only Rev. E. J. Groeneveld of the First Presbyterian church agreed.
The "battle between God and the Devil" played out on a Sunday in June in 1892. Smith — entrusted to hold the money — was unprepared for the furor he'd stirred up with his story.
More than 1,000 people had gathered outside, "gamblers and prostitutes crowded against religious men and dainty women."
He had to talk his way inside, where he found the pews overflowing and an air of reverence over the proceedings. The "blasphemous" Leff, seated in the front row of the "shabby little church," had chosen the 15th chapter of Leviticus, which deals at length with discharges from the human body, both male and female.
Rev. Groeneveld carried out his part of the bargain. But he brought Leff to his feet by pausing to explain underlying messages of the text. The enraged Leff bolted for the door, where he was met by "derisive hoots and curses and a half-dozen kicks in the rear."
Groeneveld's triumph — and the gold — elevated him to new prominence. An unbylined Standard article four years later, surely written by Smith, recalled the episode and how Groeneveld now presided over the largest Presbyterian congregation in the state.
"The incident contributed largely to Mr. Groeneveld's well-deserved popularity," the article read.
Writing Until the End
Smith's obituary in the Standard on Sunday, Feb. 9, 1936 recalled that he had written a friend in Butte shortly before his death about the manuscript not seen until now.
"Ever since I left the Standard in 1898, I have been kept busy standing off efforts to have me write a book illustrious of my experiences, some of which were out of the ordinary," he wrote.
"I have just about finished it. I wanted to come out to Butte to do my writing, but the doctor advised against the trip in winter. I may be able to do better in summer."
He wouldn't make that trip, dying suddenly on Jan. 25, in Fredericksburg, Va., at his wife's family home. He was 66. According to his death certificate, also in the Archives, the cause was coronary occlusion — an artery blockage that results in a heart attack.
Letters obtained from his granddaughter — and given to the Archives — speak to his quest to publish the memoir, perhaps make it a movie, and obstacles in his path.
In a letter Smith received two weeks before he died, the Standard's George O'Malley — who'd run for mayor and state Senate on the Socialist ticket — wonders how he could write about Butte decades after he'd left.
"Don't you think it is a little unsafe to write at such a distance from your sources of information?" O'Malley asked.
Much like writers today, Smith was bedeviled by agents and moviemakers.
The summer before he died, Smith pitched Hell With the Lid Off to Hollywood, seeking cash from movie mogul Samuel Goldwyn to bankroll a journey to Montana to gather the last material he'd need.
"The publishers think the book will be a humdinger because of the unusual nature of its contents," he wrote to Paramount Studios.
Hollywood didn't see it that way. "Mr. Goldwyn would not be interested in putting up any money even for a half-interest in the motion picture rights," Smith heard back.
New York literary agent Charlotte Barbour wrote in a letter to Smith that his first chapters were "heavy and wordy" and that fixing that fault would make the book the right length.
He might have revised, but he'd never have cut the tale of Billy Fay and Frank Dougherty.
The whole town knew of their threats to kill Smith. Rival undertakers made pitches for his business. A practitioner of vigilante justice promised he'd see to it that whichever gambler killed him would be hanged.
Smith wrote that these expressions of support were "reassuring, in a way, if not exactly comforting."
Smith didn't get shot — and nor did he shoot Fay or Dougherty. He did get more stories.
Goaded by Smith, both men got hauled in after they had allegedly threatened to shoot police.
Smith went to the city jail, where Dougherty confessed that he had drawn a bead on him a few nights before — but hadn't pulled the trigger.
"I thought you were too good a fellow to kill thataway," he told Smith.
"Shucks," Smith replied. "You didn't shoot because you didn't have enough dope in you, which was the way I figured it. You're just a coward and a skunk."
Smith talked with Fay, who told him that he was about to be released, and that if Smith came to his hotel that evening he'd get "a good story." Smith went, despite warnings from police that he would be "crazy" to go.
In Fay's room, the gambler told him of his unremitting pain and his cowardice when it came to killing himself, or getting killed.
"With my face hurting like the devil and a few drinks in me, I've deliberately picked quarrels with men I knew were quick on the trigger with the idea of committing suicide that way," Fay told him, confessing that he might have killed 20 men.
"Then self-preservation, which is the strongest natural law, would assert itself and I would go for my own gun. And the hell of it has been that I always got in the first shot. I trained myself to be fast with a gun after I was hurt, and I never have been badly hurt by a bullet.
"Someday, though, I will meet a man who is faster than I am, and then I will get mine. And I will really be glad when that time comes."
Smith hurried back to the paper "with the makings of a bully yarn."
Ten days later, Dougherty was shot through the back of the head running away from a crap game, where he'd been accused of "skullduggery."
Fay left Butte an hour after the interview with Smith and never resurfaced. 
"Where ever he went, I hope fate was kinder to him than he was to himself," Smith wrote of the man who'd wanted him dead.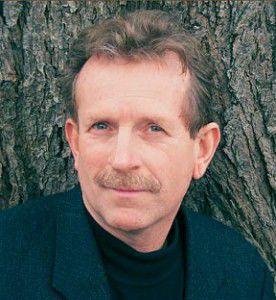 Writer in Residence Bill Lambrecht is an acclaimed investigative reporter who currently writes for the Hearst Washington Bureau. Lambrecht is the author of two books, Dinner at the New Gene Cafe: How Genetic Engineering is Changing The Way We Eat, How We Live, and The Global Politics of Food; and Big Muddy Blues: True Tales and Twisted Politics Along Lewis and Clark's Missouri River.
Be the first to know
Get local news delivered to your inbox!