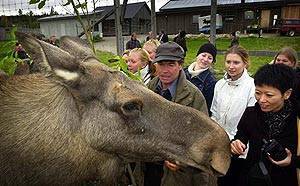 STOCKHOLM, Sweden - It's healthy. It's tasty. And it's expensive.
At 7,500 kronor a kilogram (that's about $500 a pound), cheese made of milk from moose cows named Gullan, Haelga and Juna is sold to upscale hotels and restaurants in Sweden.
The delicacy, made in three varieties, can also be bought and sampled on site at the Moose House, a 59-acre moose dairy farm in Bjursholm, in northern Sweden.
"We hope later on to be able also to export more of the cheese, especially the somewhat sour feta-type, which is laid down in oil and easy to transport," said Christer Johansson, who started the farm seven years ago with his wife Ulla.
They were inspired by similar facilities in eastern Russia, but the Russian farms produce only milk, not cheese, he said. According to Johansson the Swedish farm is the only one of its kind in Europe
At present, there are 14 moose on the farm, but only three of them are cows that can be milked.
The three cows, which stay outdoors all year around, were found as calves abandoned in the woods around Bjursholm, 404 miles north of Stockholm, and were taken care of by the Johansson family.
The animals are usually wild, but these have been domesticated to make it possible to milk them. "Fortunately they know and love us, because they weigh about 500 kilograms (1,100 pounds). They see us almost as their own calves," Johansson said.
It takes between 30 minutes and two hours to milk a cow and each produces up to 1 gallon of milk a day. But that's only between May and September, the time from when they calve and when they are in heat again, Johansson explained. "That's one of the reasons why the cheese is so expensive."
The milk, which contains 12 percent fat and as much protein, is refrigerated and curdling is done three times per year, producing about 660 pounds of cheese annually.
The Moose Farm attracts about 25,000 visitors a year. It's the main attraction in an activity center that also offers fishing, golf, canoe tours, riding, sauna and, in winter, scooter safaris.
Open through Aug. 17, Tuesday through Sunday 12 to 4 p.m. Mondays closed. Other times by appointment.
Entrance fee: Adults 90 kronor ($12), children half price, children up to age 5 free of charge.
There are daily flights from Stockholm to the city of Umeaa. From there you have to travel by car for 44 miles west of Umeaa. Cars can be rented in Umeaa.
Information: www.algenshus.se, www.bjurholm.se and www.umea.se/turism