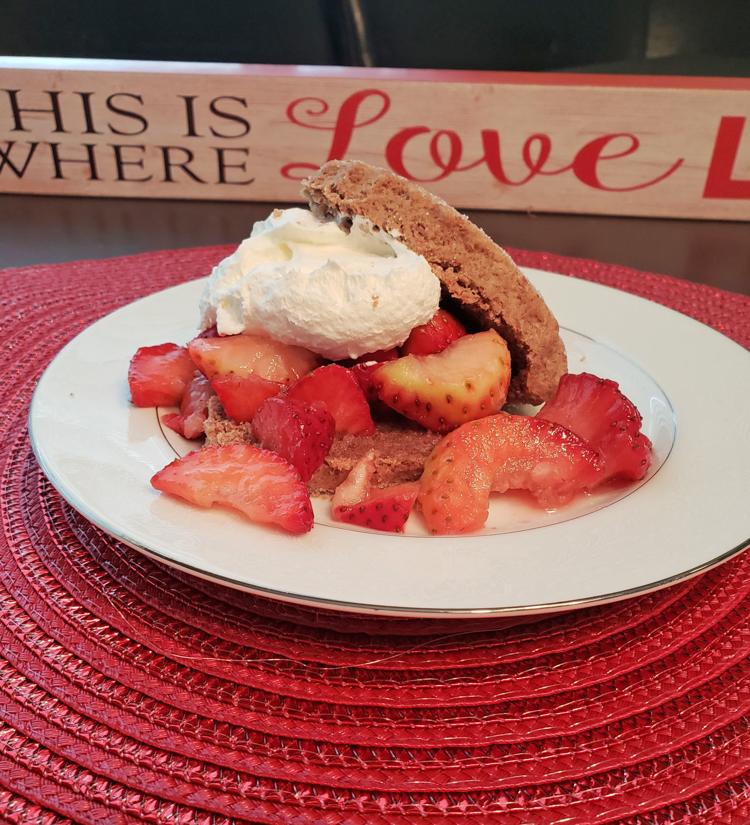 Valentine's Day is next week, and we are seeing promotions for the important date everywhere, reminding us we should do something special for those we love. Maybe you have ordered flowers, bought jewelry, planned a romantic date night, or selected that unique card. If you would like to prepare a special dinner for a quiet evening at home, try any of these recipes that will be sure to please your loved ones.
Chocolate shortcakes with strawberries and cream
When we think of Valentine's Day our thoughts go to chocolate, and these chocolate shortcakes filled with fresh strawberries and whipped cream will make the occasion extra special. The shortcakes can be made the day ahead and stored covered at room temperature.
2½ cups all-purpose flour
3 teaspoons baking powder
⅛ teaspoons ground cinnamon
1 (3-oz.) package cream cheese (can use low-fat), softened
2 (1-oz.) squares semi-sweet baking chocolate
2½ cups heavy whipping cream
3 cups fresh strawberries, sliced
½ cup confectioners' sugar
Garnish, fresh mint sprigs (optional)
Preheat oven to 375 degrees. Line a baking sheet with parchment paper. In a medium bowl, combine flour, sugar, baking powder, cinnamon and salt. Using a pastry blender, cut in butter until mixture is crumbly. If desired, a food processor can be used for this. In a small bowl, combine cream cheese and chocolate. Microwave on high, in 30 second intervals, stirring between each, until cream cheese and chocolate are melted and smooth. Let cool slightly. Add to flour mixture, stirring to combine. Add ½ cup cream, stirring just until dry ingredients are moistened. If necessary, add additional cream. On a lightly floured surface, roll dough to ¾-inch thickness. Cut with a 2 ½-inch round cutter or other desired cutter, such as heart shape. Place shortcakes on prepared pan. Bake for 13 to 15 minutes, or until firm to the touch. Let cool completely.
In a small bowl, combine strawberries and sugar; cover and chill for 30 minutes. In a medium bowl, beat remaining 2 cups cream at medium speed with an electric mixer until thickened. Gradually add confectioners' sugar, beating until stiff peaks form; set aside. When ready to serve, split shortcakes. Place bottom halves of shortcakes on serving plates. Top with desired amount of whipped cream and strawberries. Cover with shortcake tops and additional strawberries and cream. Garnish with mint, if desired. Serve immediately. Source: Paula Deen's Special Collector's Issue, "Paula Deen's Best Dishes."
Sweet and sour beef and vegetables
If sweet and sour-flavored dishes appeal to you and your loved one, this sweet and sour beef dish is one that can be prepared easily using your slow cooker. The recipe was awarded first prize in the Yellowstone Shopper's Recipe Contest several years ago.
2 pounds round or chuck steak, cut into 1-inch cubes
2 tablespoons vegetable oil
2 (8 oz.) cans tomato sauce
2 cups carrots, sliced ¼-inch thick
2 cups small white onions, peeled
1 large green pepper, cut in 1-inch squares
Brown meat in hot oil in skillet; transfer to slow cooker. Add all remaining ingredients; mix well. Cover and cook 6 to 7 hours on low setting or 4 hours on high. Serve over shell macaroni sprinkled with fresh or freeze-dried chives or cooked rice. Source: "Start Composing," Billings Symphony Associates, 1988.
Chicken scampi
Shrimp scampi is a popular seafood entree, but have you ever tried the dish made with chicken instead? The fresh-tasting goodness and the ease of preparation will make it a great choice for a special Valentine's Day dinner.
¼ cup chopped green onions
1 tablespoon minced garlic
2 pounds chicken breasts, boned, skinned, and cut into ½-inch pieces
½ teaspoon freshly ground black pepper
¼ cup minced fresh parsley
Buttered noodles or cooked rice
In skillet, heat together butter and olive oil and saute green onions and garlic. Add lemon juice, chicken, salt, pepper and parsley. Continue cooking, stirring constantly, for 5 to 8 minutes, or until chicken is done. Add tomatoes and heat through. Serve over buttered noodles or hot rice. Source: "Crème de Colorado Cookbook" from the Junior League of Denver.
Lemon linguine
If you would like to make the dinner extra-decadent, serve the chicken scampi over this lemon linguine.
1 (8-oz.) package linguine
¼ cup minced onion or shallot
1 tablespoon butter, melted
1 (8 oz.) carton sour cream (can use reduced-fat)
4 tablespoons freshly grated Parmesan cheese, divided
1½ teaspoon lemon pepper seasoning
1 tablespoon fresh lemon juice (about ½ medium lemon)
2 tablespoons chopped parsley
Cook linguine according to package directions. Drain and keep warm. In a skillet, cook onion or shallots and garlic in butter, stirring constantly, until tender, not brown. Stir in sour cream, 2 tablespoons Parmesan cheese, milk, lemon pepper, salt and lemon juice. Cook for about 1 minute. Remove from heat and pour over linguine. Toss gently, adding chopped parsley, chives and remaining Parmesan. Serve warm. Source: "Cooking with Paula Deen," May/June 2007.