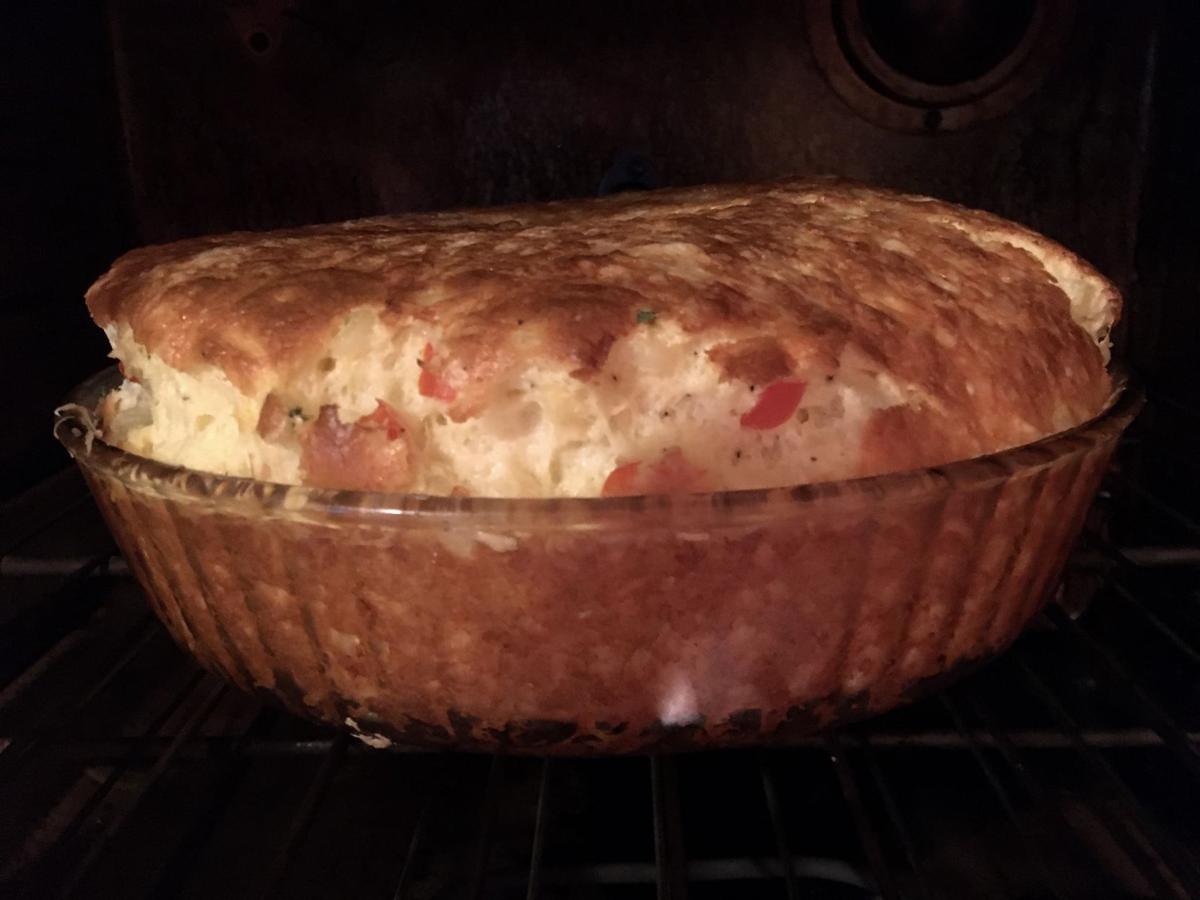 Favorite recipes are like old friends. You trust them and they're always there for you. Seasonal favorites are extra-special because the windows for enjoying them open quickly and close much too soon.
Not that many years ago, while I was working on my cookbook, Soufflés (Gibbs Smith, 2014), I came up with this corn soufflé that really woke up my taste buds. I had taken my basic cheese soufflé recipe and added some briefly cooked fresh corn, red bell pepper, a little jalapeño, and garlic to the sauce base, and wham! — the birth of an instant favorite.
Because local corn is here right now, you should try your hand at this recipe. If you've not made a soufflé before, please don't worry. All you're doing is whipping up egg whites in a grease-free metal bowl until they're light and fluffy and thick enough to hold their shape without falling out of the beating bowl when you turn the bowl upside down — yes, that's the surest way of knowing you've beaten the whites properly. At that point they're ready to become friends with the warm sauce base. Be sure to beat the whites until they reach this stage and no further.
Soufflés rise so magnificently because of the air in the egg whites. The yolks go into the base to make it silky smooth and creamy. You fold — incorporate — the beaten whites into the sauce in stages with a large silicone spatula to get as much air as possible into the soufflé. Once you've folded in the corn and peppers, into the baking pan goes the batter, and then into the preheated oven.
While in the oven — no peeking, please — the soufflé expands and rises to about double its height, and in 30 minutes your beautifully risen and browned creation will be ready to serve.
Use that time while the soufflé bakes to clean up. You'll have a skillet and a saucepan or two, and a few small bowls and other utensils that need washing. Once that's all done, put a salad together, and you'll be all set to dine. A little Sauvignon Blanc would be perfect with this soufflé. Bon appétit!
Fresh Corn Soufflé
(Adapted from "Soufflés" by Greg Patent, Gibbs Smith publishers, 2014)
This is one of the best soufflés I know. It has a sublime flavor and the texture of the creamy soufflé makes a wonderful contrast with the partially cooked corn kernels, red bell and jalapeño peppers, and the crunchy cheesy sides and bottom. Serve with a green salad or a salad of tomatoes and cucumbers.
8 tablespoons unsalted butter, plus more for the baking dish
6 ounces Gruyère or Comté cheese, finely grated
1 tablespoon minced garlic
2 cups fresh corn kernels cut off the cob (3 to 4 ears)
3/4 cup diced (1/4-inch) red bell pepper
1 tablespoon finely chopped seeded jalapeño chile
Salt and freshly ground black pepper
5 tablespoons unbleached all-purpose flour
1/4 teaspoon cream of tartar or 2 teaspoons fresh lemon juice
1. Butter a 2-quart round or oval baking dish (such as a 10-x-2-inch round) and coat with 2 ounces of the Gruyère or Comté. The cheese will not cover the inside of the baking dish completely. There will be gaps. For beating the egg whites, you can use a stand mixer, an electric hand mixer, or a manual rotary egg-beater. Wash the metal bowl and beater in hot soapy water; rinse well and dry. Bowl and beater must be grease-free.
2. Adjust an oven rack to the lower third position and preheat the oven to 400 degrees.
3. Put 4 tablespoons of the butter into a large skillet (12-inch) over medium heat. When hot, add the garlic and cook about 15 seconds, stirring with a wooden spoon. Add the corn, red bell pepper and jalapeño and cook, stirring occasionally, until the peppers and corn are partly tender, 2 to 3 minutes. Take the pan off the heat and add 1/4 teaspoon salt and 1/4 teaspoon pepper.
4. Combine the milk and half and half in a medium heavy saucepan (3-quart) and bring to the boil over medium heat. Watch carefully so the liquid doesn't overflow the pan. Keep liquid hot on low heat. (Or, just heat the milk and half and half in a 2-cup heatproof measure such as Pyrex with pouring spout for 2 minutes in a microwave oven).
5. In another medium saucepan (3-quart), melt the remaining 4 tablespoons butter over medium heat. Add the flour and cook, stirring constantly with a wooden spoon, for 2 minutes. Take the pan off the heat, wait a few seconds for the bubbling to subside, and pour in the hot liquid all at once. Whisk vigorously to make a smooth béchamel sauce. Return the pan to medium heat and bring to the boil, whisking constantly. Cook at the boil for 2 minutes until very thick. Off heat, whisk in 1/2 teaspoon salt and 1/4 teaspoon pepper. Whisk the egg yolks in one or two at a time.
6. Transfer the soufflé base to a large bowl. Stir it occasionally with a heatproof flexible spatula until tepid. The base must not be hot when you fold in the beaten egg whites and cheese.
7. For the egg whites. Start beating on medium speed, and beat until the whites are frothy, about 1 minute. Add the cream of tartar or lemon juice — the acid stabilizes the whites — and continue beating until the whites form moist-looking peaks that stand up straight or curl just a tiny bit at their tips. Slowly tilt the bowl to make sure the whites are staying put. If they slide around, beat a few seconds longer. As soon as you can turn the bowl upside-down with the whites staying put, they're beaten just right. Do not overbeat or the whites will be too stiff.
8. Whisk about 1/4 of the whites into the tepid soufflé base just to lighten it. Gently fold in the remaining whites in two additions, followed by the cooled corn and peppers and the remaining 4 ounces of Gruyère or Comté. Be gentle to maintain as much air in the whites as possible.
9. Scrape the soufflé batter into the prepared dish — it will be almost full — and place it in the oven. Bake 30 minutes, until the soufflé has puffed up to double its volume and is well-browned on the top and sides. A wooden skewer plunged into the center of the soufflé should come out clean.
10. Serve as soon as you can. But do not worry. The soufflé will not collapse. It will just settle a bit. Refrigerate leftovers. To reheat, cut the cold soufflé into slices and reheat each serving on a plate for 1 1/2 to 2 minutes in a microwave oven. Delicious!
Greg Patent is a James Beard Award-winning cookbook author for "Baking in America," a food journalist, blogger, and radio co-host for "The Food Guys" on Montana Public Radio. Please visit his blog, www.thebakingwizard.com, and follow him on Twitter, Instagram, and Facebook.