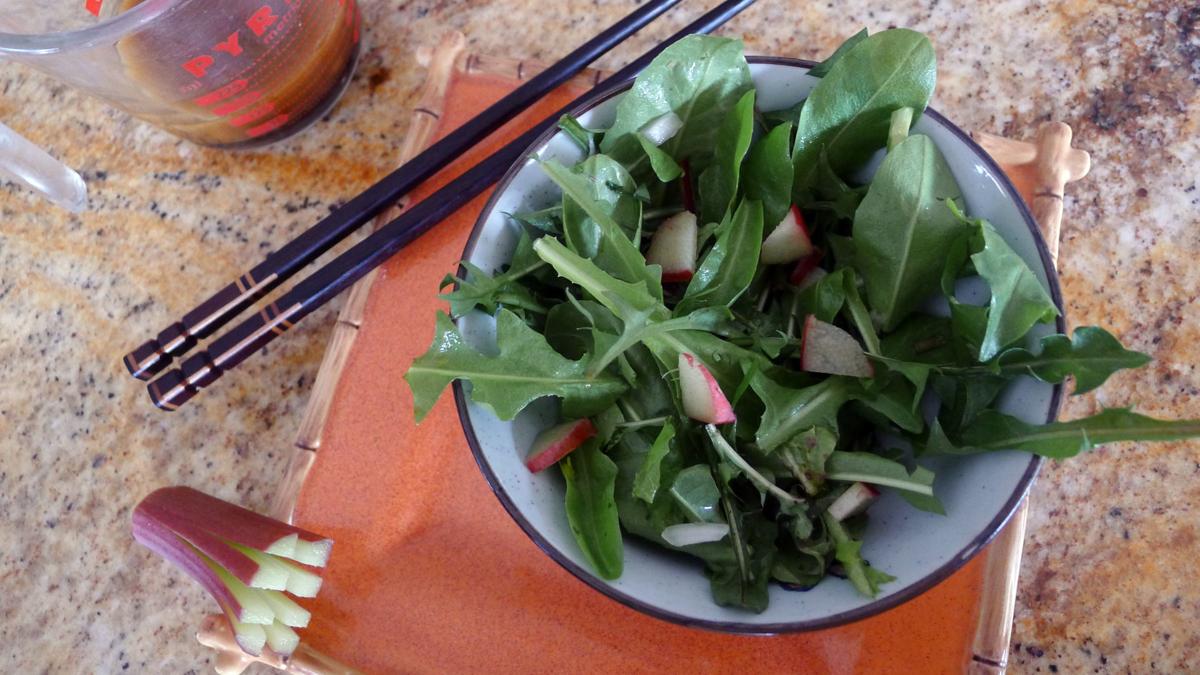 During the heyday of the Silk Road — the actual road, not the former Missoula restaurant — dried rhubarb root could be more expensive than cinnamon or opium, and Marco Polo went searching in northwest China for specimens that could thrive in Europe.
Half a century after Polo, the Spanish ambassador to present-day Uzbekistan placed rhubarb in high esteem. His 1405 report to King Henry III mentions, " … silks, satins, musk, rubies, diamonds, pearls and rhubarb," among the top-shelf Chinese goods available.
It is possible the ambassador's appreciation for rhubarb reflected some sort of gastric distress. A powerful laxative, rhubarb was a medicine long before it was a food. At the very least, we know he probably wasn't making pie. Because of its grimacing sour flavor, rhubarb consumption only took off in the 1800s, when the price of sugar dropped.
In the New World, rhubarb is thought to have made landfall in Maine, an appropriately cantankerous place for this tart, stubborn perennial. It spread across the northern half of the country, establishing itself wherever there is a dependable winter cold snap, inhabiting lawns, gardens, side yards and alleyways, often seemingly at random.
To this day, rhubarb sometimes goes by the name "pieplant," and remains synonymous with dessert. If you can name a rhubarb dish that contains less than a cup of sugar, you are a statistical anomaly.
But there is no reason why it can't be used in all kinds of savory dishes, in place of other acidic ingredients like vinegar, tamarind or lime juice — whenever you need a touch of tang.
Don't eat the leaves, as they have high levels of oxalic acid, but use the stems at will. Try eating it like a carrot, and get a feel for its raw flavor. Dip the end in sugar if you must.
I've made hummus by simmering garbanzo beans with chunks of rhubarb, skipping the lemon juice, and blending beans and rhubarb together. Nutty and creamy, rhubarb hummus made the control batch taste too lemony in a side-by-side comparison. I've also had good luck with coconut curry, to which rhubarb adds a sour, exotic element.
You can harvest up to 50 percent of a rhubarb patch, and it will bounce back with ease. Choose the largest stems, and cut them as low as you can. If you don't have a patch, hit the farmers market or prowl the alleys. (But watch out for the alley rhubarb my dog took a poop on. I picked it up. And the broad leaves protected the stems. But still.)
This time of year, when rhubarb is still young and extra tender, is the best time to enjoy it completely uncooked, sweetened or salted. Eating raw rhubarb is an intimidating proposition, and if it were added to any other salad it might not work.
What grows together goes together, goes the adage. And as the rhubarb awakens, the dandelions also emerge. These two unrelated plants are kindred spirits, both able to survive like outlaws in the lawns and margins of human communities, growing where they can.
This recipe is in the spirit of a spring tonic, a folk medicine that was taken at the end of winter, and comprising a variety of young, fresh plants. A spring tonic was supposed to deliver vitamins much needed after a long winter, and prepare the digestive system, often by flushing it out. Rhubarb, the famous laxative, was a popular ingredient in many spring tonics, as was dandelion.
Each has its own outsized flavor, with dandelion at the far edge of the bitter spectrum, while rhubarb is at the extreme end of sour. Eaten together, the bitter dandelion never tasted so mild-mannered, tamed by a tart, juicy master. Next to that deeply bitter dandelion leaf, meanwhile, the mouth-twisting sour crunch of rhubarb never tasted so sweet.
Rhubarb dandelion salad
In this salad, little pieces of rhubarb act like chunks of early-season tomato, sharing acids with the vinaigrette, getting tangled in the spring greens. Raw rhubarb is rarely called for in any recipe, much less salad, and sweetener always is.
Resist the urge to add sweet things to this little salad. Hold the strawberries or candied nuts. Skip the honey mustard. Leave the rhubarb alone with the dandelion, and let flavor take its course.
4 cups coarsely chopped dandelion greens
¼-½ cup thinly sliced rhubarb
1 tablespoon cider vinegar
2 teaspoons balsamic vinegar
Mix the dressing, toss in the greens and rhubarb, and serve. Make sure each bite contains both bitter greens and rhubarb.
Ari LeVaux writes Flash in the Pan, a syndicated weekly food column carried in more than 60 newspapers nationwide. Though his audience is national, he says he "always writes about Montana. Usually."
Satisfy your cravings
With our weekly newsletter packed with the latest in everything food.