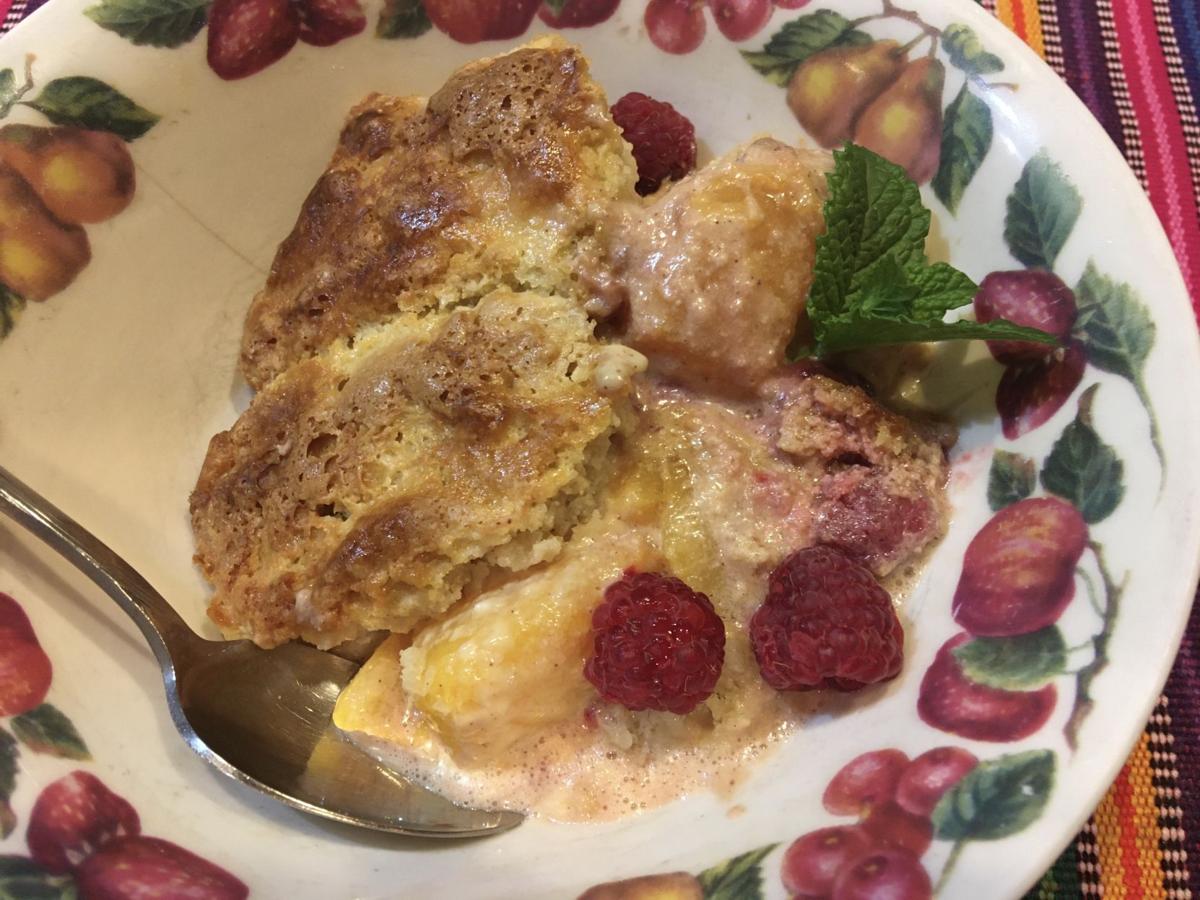 They first showed up at local farmers markets about two weeks ago. I'm talking about peaches. Local peaches. Grown by Tom and Lynn McCamant in Paradise, Montana, at their Forbidden Fruit Orchards. Of summer's glorious fruits, peaches are what I look forward to the most.
Peach growing in our state can be a perilous prospect. One year not too long ago, an overnight blast of February freeze wiped out the McCamants' crop. But since then, the peach trees have been making it through the winters and thriving.
Now that peach season is well underway, the fruit yields its pits freely, making it easy to prep it for baking, canning, or freezing.
Tom points out that peaches ripen from the bottom up, so if the flesh is soft at the stem end they are fully ripe.
If you're going to bake peaches, this peaches and cream cobbler will knock your socks off. Cobblers are one of the simplest of American desserts. They're just fruit topped with biscuit dough and baked.
In the recipe here, I've changed things a bit to include a custardy sauce of cream cheese and cream that bakes along with the fruit. That way you wind up with an all-in-one dessert: no whipped cream or ice cream necessary.
I've also added raspberries because they get along really well with peaches. Blueberries or huckleberries are great with peaches, too. Like all cobblers, this one is meant to be eaten the day it's baked. Happy Baking!
Peaches and Cream Cobbler
My, oh my, this is about as good as it gets: Peaches and cream and cream cheese and egg yolks baked together under a crisp and buttery biscuit topping. In the oven, the dessert creates its own custardy sauce, which is heavenly. Warning: You may not be able to stop eating this. Make it only when peaches are really fine. Try to serve the cobbler while warm, but you will also love it at room temperature. It does not keep well, so please enjoy the cobbler the day it's baked. You will need a 2 1/2 quart baking dish. A 9-inch square baking pan 2 inches deep or a 10 x 2 inch round pan are ideal.
1 1/4 cups (6 1/4 ounces) unbleached all-purpose flour (dip dry measures into flour container, fill to overflowing, and level with a straight edge)
5 tablespoons cold unsalted butter, cut into tablespoon-size pieces
Peaches and Cream Filling
3 pounds ripe freestone peaches (about 6 large)
8 ounces cream cheese, full fat or 1/3 less fat, at room temperature
1 teaspoon pure vanilla extract
1/8 teaspoon pure almond extract
1 teaspoon pumpkin pie spice
1. To make the pastry, whisk together the flour, sugar, baking soda and salt in a large mixing bowl. Add the butter and cut it in with a pastry blender until the butter pieces are pea-sized. Then reach in with your fingers and rapidly pinch the flour and fat together for a minute or so to made smaller pieces. Don't' add the buttermilk just yet. Carry on with the rest of the recipe.
2. Adjust two oven racks with one in the center position and the second on the lowest shelf. Set a large sheet of aluminum foil on the lower rack to catch any juices that bubble over, and preheat the oven to 400 degrees.
3. Fully ripe freestone peaches will peel easily. Cut them into halves along their seams, and twist to separate them. Remove the pits. Cut each half into two wedges and strip off the peel with a sharp paring knife. If peaches are not completely ripe, peel them as follows. Bring a large pot of water to the boil. Drop in three peaches at a time and cook for 30 to 40 seconds. Remove the peaches with a slotted spoon and place them into a large bowl of cold water. Repeat with the remaining peaches. As soon as the peaches are cool (this only takes 2 to 3 minutes; don't leave the peaches in the water too long or their flesh may discolor), remove them from the cold water. Follow the directions above to pit, quarter, and peel them. Cut each peach quarter into 2 or 3 wedges. You'll have 6 to 7 cups of prepared peaches.
4. To prepare the filling, beat the cream cheese in the large bowl of an electric mixer on medium speed until smooth. Add the 1/2 cup sugar, vanilla and almond extracts, pumpkin pie spice and salt, and beat 2 to 3 minutes until completely smooth. Add the egg yolks and beat for 1 minute. On low speed, beat the cream in gradually until combined. Increase the speed to medium and beat 1 to 2 minutes more until the filling is slightly thickened Add the peaches and raspberries and fold them in with a large rubber or silicone spatula. Turn into the baking dish.
5. To finish making the biscuit topping, stir in the 3/4 cup buttermilk with a flexible spatula until the dough just gathers into a stiff mass. Drop tablespoon-size lumps of dough all over the peaches and raspberry filling, leaving a little space between the biscuits.
6. Brush biscuits lightly with more buttermilk and sprinkle them with the 1 tablespoon sugar.
7. Place the cobbler in the oven on the center shelf. Bake for 45 to 50 minutes, until the top is a deep golden brown and the filling is bubbling up around the edges. Cool on a wire rack and serve warm or at room temperature. Refrigerate leftovers.
1. If you like nuts in cobbler toppings, add 1/3 cup chopped walnuts or pecans to the dry ingredients before stirring in the buttermilk.
Greg Patent is a James Beard Award-winning cookbook author for "Baking in America," a food journalist, blogger, and radio co-host for "The Food Guys" on Montana Public Radio. Please visit his blog, www.thebakingwizard.com, and follow him on Twitter, Instagram, and Facebook.