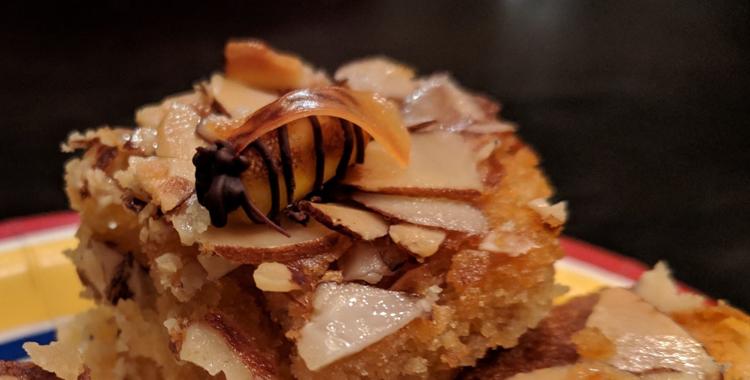 The Beekeepers in the Yellowstone Valley recently had a chance to showcase their honey and compete for special awards and recognition. The first ever, "A Taste of Honey" contest was held in Billings at the Last Chance Pub and Cider Mill Dec. 11, giving beekeepers the opportunity to compete not only in the different categories for honey, but also in baking with honey.
The flavor and color of honey is influenced by what type of flowers the bees are gathering the nectar from, so beekeepers may place the hives in a certain area with vegetation that would give a desired flavor and color. The top liquid honey and cut comb categories were determined by popular vote while a panel of professional chefs judged the twelve food entries. The winner in both the liquid and cut comb categories was Dylan Sedlacek whose bees gather nectar from his legume seed field. His honey has a cinnamon flavor at first and a buttery finish. The Last Chance Pub and Cider Mill is using the winning honey entry to make a Cyser called Winter Warmer. Cyser is a type of Mead made from apples.
Honey is such a versatile food and can be used in a variety of ways other than for baking. It gives recipes an unbeatable flavor and provides nutritional benefits as well. If you are looking for new and exciting ways to incorporate honey into your baking, try these winning recipes. The winners of the baking competition were gracious enough to share their recipes with me so you can create the special treats for yourself.
Baklava bites
The Golden Brush Award 1st Place for food was awarded to Chris Youngstrom and Natasha McMillan for creating these baklava bites. One of the judges, Chef Paul Reitz of Bistro Enzos described them as having, "a beautiful balance between the phyllo crust and chopped nuts with smooth honey; the texture accentuated the honey flavor." You may have avoided making baklava in the past, but with this simplified version, much of the tedious work has been eliminated.
1 package frozen mini phyllo shells (15)
¼ cup coarsely chopped walnuts
Preheat oven to 350 degrees. Place mini cupcake liners in a muffin pan with the smaller cups. Place one frozen phyllo shell in each. Melt butter in a small dish and stir in brown sugar. Add walnuts, honey, cinnamon and salt and mix well. Evenly distribute the mixture into the phyllo shells. Bake 10 minutes. While the baklava bites are cooling, drizzle with additional honey if desired.
Sugar honey bee almond cake
Kim Mueller chose to add emphasis to the honey theme when she created her entry for the competition. Her recipe for Best Presentation, an almond cake, was topped with edible honey bees. The decorative bees are complete with wings created from fruit roll-ups.
3 tablespoons light brown sugar
1½ cups self-rising flour
2 tablespoons lemon juice
Preheat oven to 350 degrees. Thoroughly grease a 7-inch round pan and line with parchment paper. Place the margarine, brown sugar, eggs, flour, baking powder, milk, 2 tablespoons honey, vanilla and applesauce in a mixing bowl. Beat well with a large wooden spoon for about 1 minute, until the ingredients are thoroughly mixed. Spoon mixture into prepared pan, leveling the surface with the back of a spoon or knife; sprinkle top with almonds. Bake for about 40 minutes or until cake is well risen and done. Meanwhile, make the syrup. Combine the ⅔ cup honey and lemon juice in a small saucepan; simmer for about 5 minutes or until the syrup starts to coat the back of a spoon. As soon as the cake comes out of the oven, pour the syrup on top, allowing it to seep into the middle of the cake. Let the cake cool for about 2 hours before slicing.
Decorative bees: Make a simple fondant using butter, milk, vanilla, powdered sugar and yellow/orange food coloring or purchase prepared fondant and color it. Shape by hand to form little bee bodies. Roll or paint powdered cocoa on them to make a textured finish. Melt several chocolate chips by placing them in a plastic bag and soaking in hot water. Cut a tiny corner from the bag. Zig-zag the chocolate over the bee bodies to make stripes. Fashion a face and antenna. Finally cut bee wings from Fruit Roll-ups.
Jesse's Butterfingery bribery bars
The Honorable Mention Award was presented to Jesse Hein for his Butterfingery bribery bars. As the name implies, they are similar to Butterfinger candy bars, and if those candy bars are one of your favorites, you will want to try this recipe. The Maldon salt called for in the recipe is a flaked sea salt that comes from Maldon, England.
10 ounces sugar (1 cup plus ⅓ cup plus 1 tablespoon)
18 ounces honey (1½ cups) (1 cup honey weighs 12 oz.)
18 ounces creamy peanut butter (2¼ cups)
12 ounces semisweet chocolate chips
1 teaspoon vegetable shortening
Line a half sheet pan (13" x 18") with parchment paper. In a medium saucepan, add sugar, honey and water; bring to a boil. Cover and let boil for 5 minutes. Insert candy thermometer into saucepan and bring temp to 295 degrees F. (This is the hard-crack stage for candy-making.) Meanwhile, add peanut butter to a large bowl and set aside. When sugar-honey mixture has reached 295 degrees, immediately pour into the peanut butter bowl and mix slightly. Pour the mixture into the prepared sheet pan and spread evenly. Use a pizza wheel to cut into desired pieces (do quickly because mixture will set quite fast). Let mixture cool for 45 minutes. In a double boiler or microwave, melt chocolate chips and shortening; pour over cooled mixture in sheet pan. Sprinkle Maldon salt over chocolate and cut again with pizza wheel. Let cool again until chocolate sets. Enjoy!