I have been stung with appreciation for eating insects. With an invitation from Chef Marcy Gaston, assistant professor in the Hospitality and Culinary Arts program at Montana State University, Bozeman, to judge the 2nd Annual Bug Cook Off with Lynn Donaldson and Chef Joseph Yoon, she enlarged my culinary sphere with the savor of insects.
The cooking competition was an offshoot of Dr. Florence Dunkel's Bug Buffet that began 31 years ago. As an associate professor in the Department of Entomology, Dunkel has been advocating bringing insects to the plate for years.
Not only are insects a good source of protein and delicious, according to Dunkel, but she added, "It's about environmental sustainability. We have to reduce our carbon footprint. To give you some examples with some numbers, if we raise a pound of beef, we would be using 2,600 gallons of water and this includes the water used to grow the food. If we are raising a pound of edible insects, we would require one gallon."
On this day nine teams, averaging two people, cooked up one entrée and a dessert using their choice of ants, crickets or grasshoppers. Gaston described the bug flavor profile as, "black ants have a citrusy flavor. Crickets are a little more nutty. Grasshoppers — the only way I can describe grasshoppers is they taste like grasshoppers."
The first bug buffet began with crickets sautéed in butter and continued to specialties such as southern fritters to tacos to Indian curries inspired by her teaching assistants. After Dunkel received recognition for teaching excellence in 2012, she used the award funds to hire the campus catering team to cook up the buffet.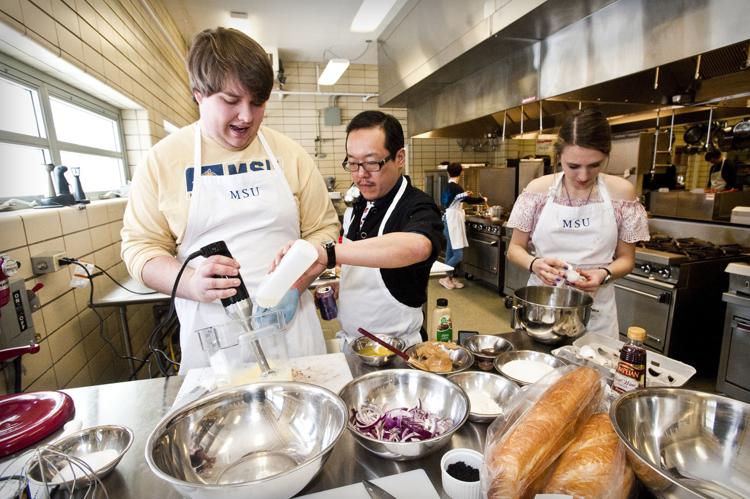 Three years later, Dunkel expanded the event to a week of workshops. One of her leading presenters was Patrick Crowley, the founder of Chapul, the first company in the United States to make an insect protein product.
This year, featured bug dignitaries included Chef Joseph Yoon of Brooklyn Bugs and Dr. Julie Lesnik, author of "Edible Bug and Human Evolution." Chef Yoon shared his culinary talents in the kitchen, with the cook-off competitors providing culinary information and suggestions for navigating through the competition, "Make the dish that you can make the best and then think about how to incorporate a bug into it, and then add a little twist."
He and Gaston called the competition to a start promptly at 1 o'clock that Saturday afternoon. The teams had an hour and a half to cook an entrée and a dessert.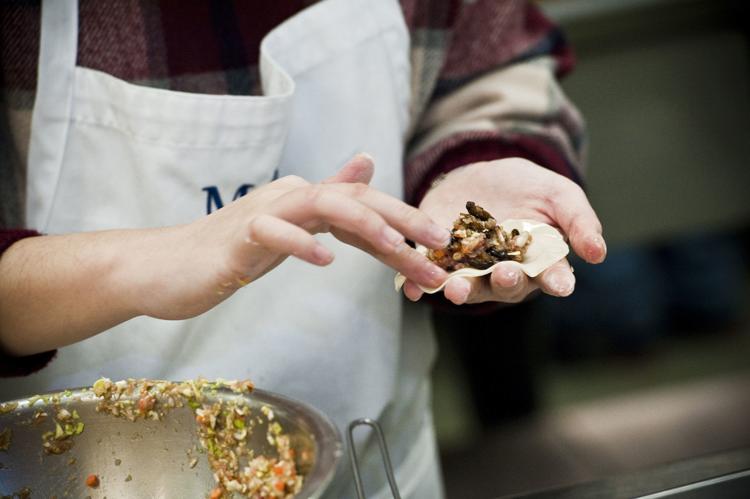 Maria Abbott, a liberal studies major and a student in Dunkel's entomology course, competed last year. With some experience under her belt, she cooked solo this time, making sushi, and ginger cupcakes. Ben Hale and his brother, competing for the first time, took advantage of the open kitchen hours to perfect their making of omelets with ham, green peppers and crickets. For dessert, they infused the humor of ants always showing up at picnics with a Picnic Salad made with fresh fruit, black ants and whipped cream.
Register for more free articles.
Stay logged in to skip the surveys.
Lauren Seuell said of her dish, "I am making black ant and mushroom risotto so I'm very excited about this. It is out of my comfort zone, but I am very excited to find out how it goes; hopefully, good."
Then, just as the time for the competition was completing, the fire alarm sounded. With much hesitation, everyone went outside into the cold. Upon everyone's return to the kitchen, the competition was extended another 30 minutes.
Yoon began his culinary career eight years ago, leaving the music industry behind. After helping a friend with an art project, he was made aware of the issue of food scarcity and sustainability, and said of cooking with insects, "It's one of the cornerstones of what motivates my work." Beginning with pop-up events, Yoon began to pursue a career for which he had passion.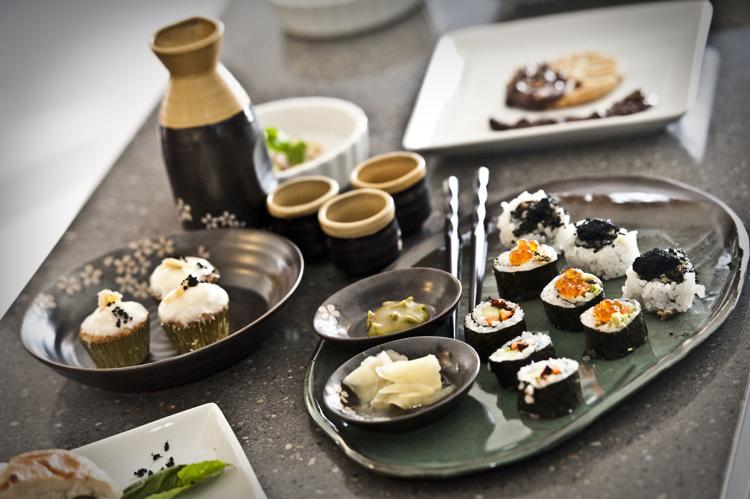 With the multi-course menus he serves, "I try to introduce them in a dish, and that way people start perceiving insects as a plated dish, as really food." He continued, "I think it is so important to show the diversity and the wide application of edible insects."
The cooks presented the completed dishes to the judges, one team at a time. We tasted cricket tacos, tuna ant sandwiches, grilled peaches with black ants and crème anglaise, cricket dumplings and many other creative dishes.
The winners of the second annual Bug Cook Off were Laurel Aytes, Rochelle Maderal and Kael Van Buskirk. Their entrée of Cricket Potato Latkes with Apple Sauce and Turmeric Sour Cream, and dessert of Key Lime Pie with a Blackberry Black Ant Reduction scored the highest in criteri of "Creative use of the insects, Presentation, Overall flavor of the dishes and Execution of the meal."
Needless to say insects have infested my foodscape.
---
Bug-gredients galore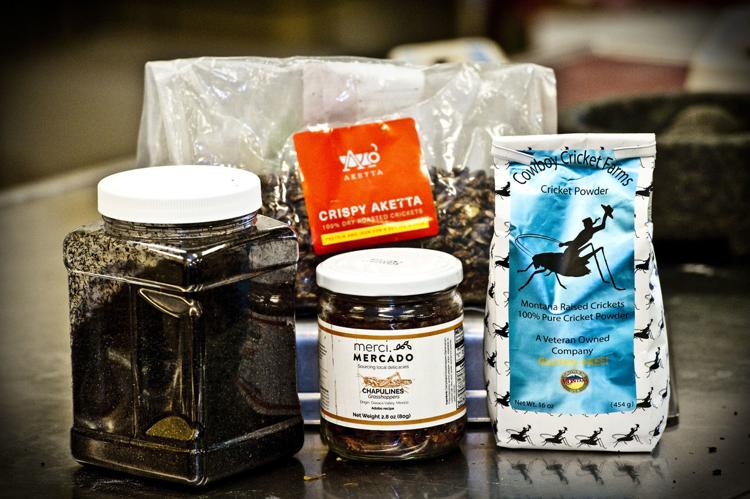 Mushroom and black ant risotto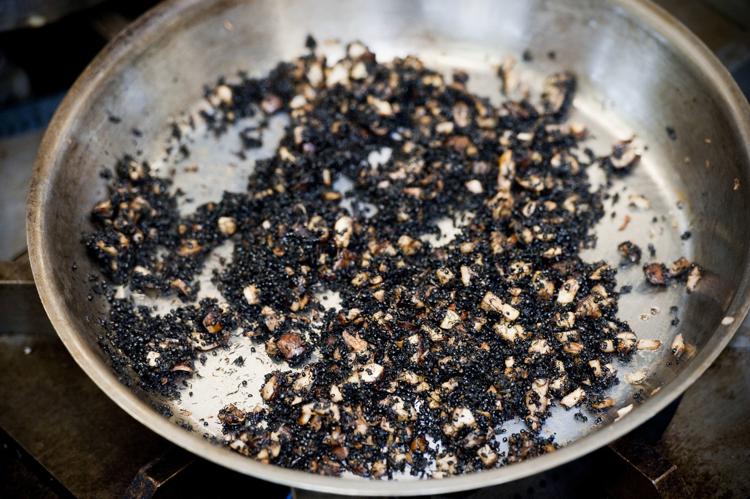 Chef Yoon offers tips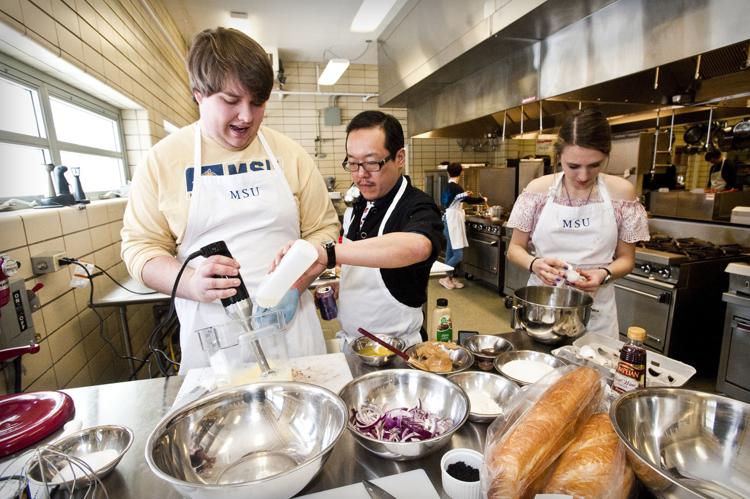 Peanut butter cookies with a twist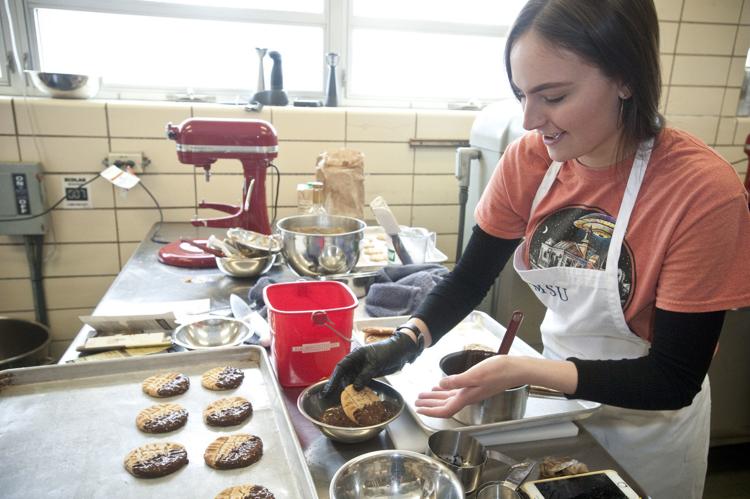 Bug Cook Off winners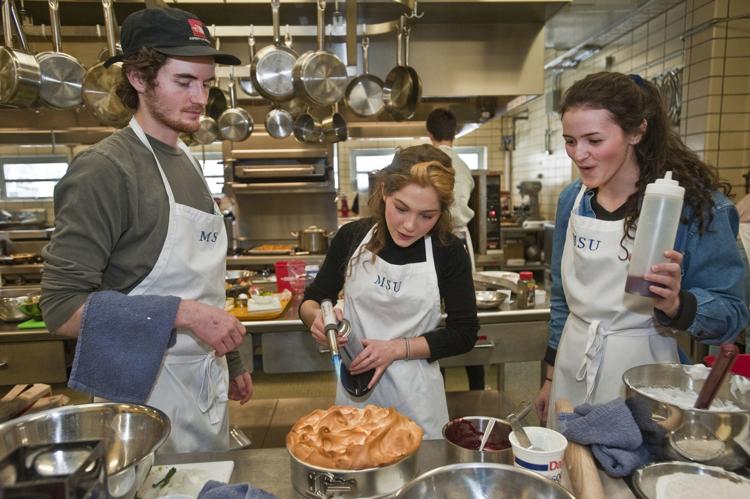 Cricket, ham, pepper omelet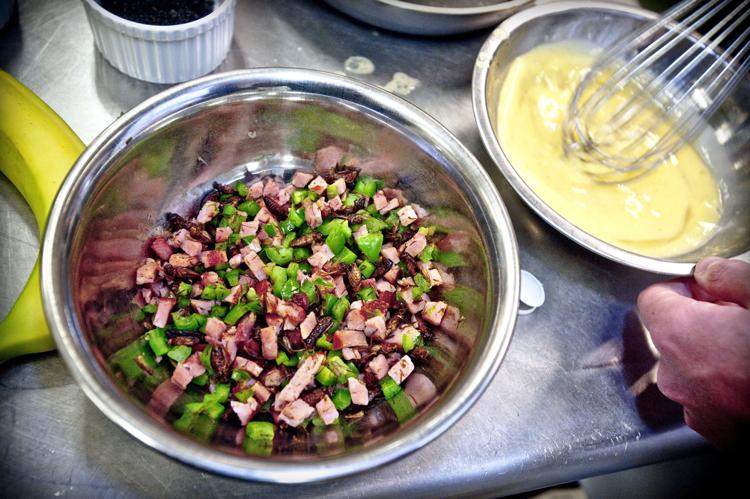 Cricket taco cups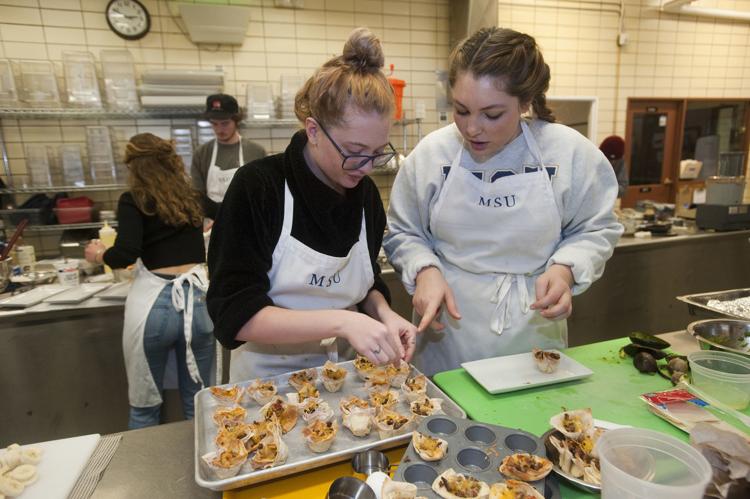 Chocolate whoopie pies with ants and raspberry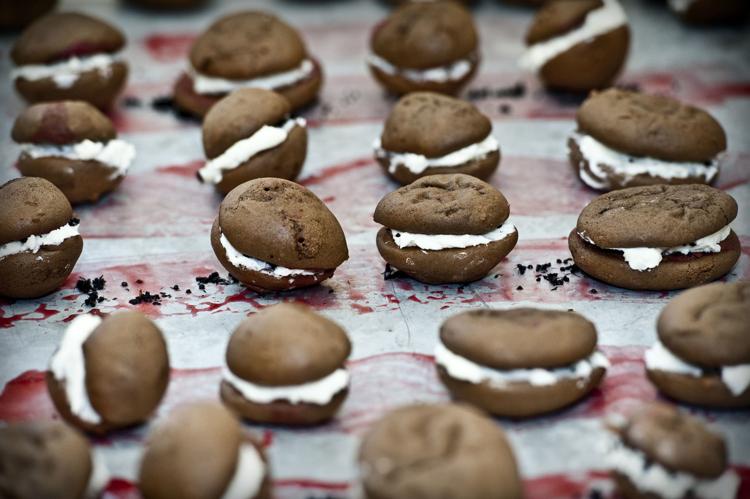 Ginger cupcakes and insect sushi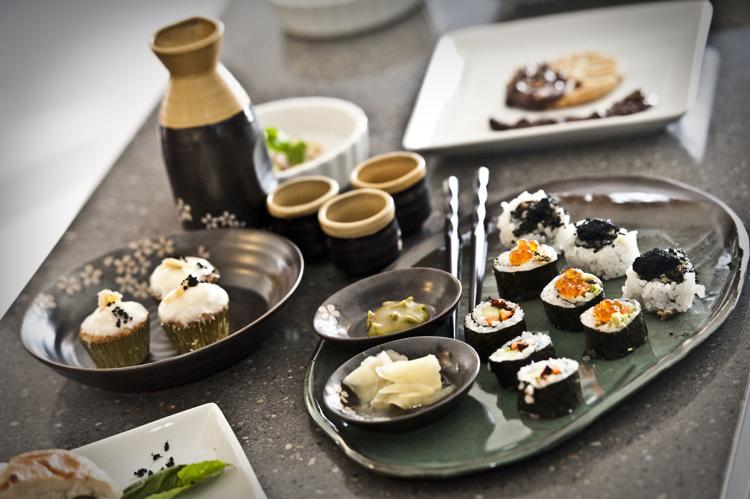 Pie with blackberry black ant reduction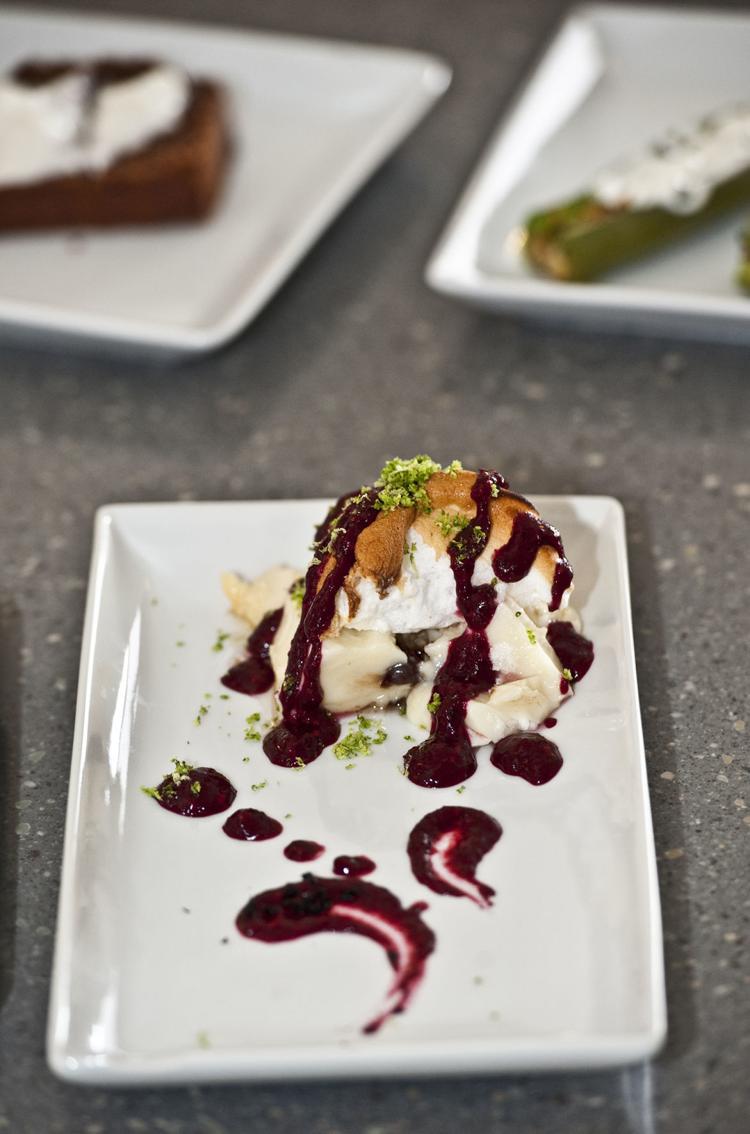 Eager taste testers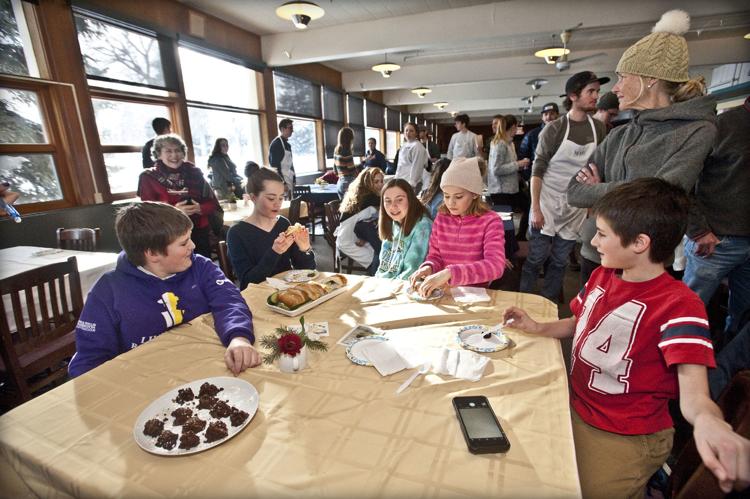 Cricket dumplings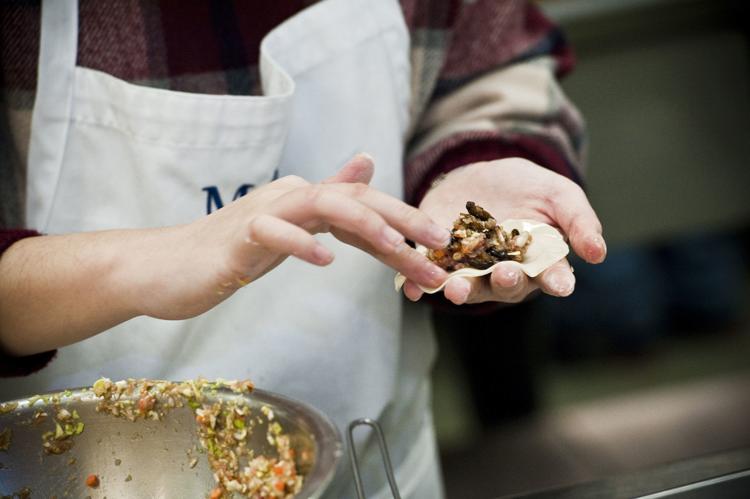 Cookies with chocolate cricket sauce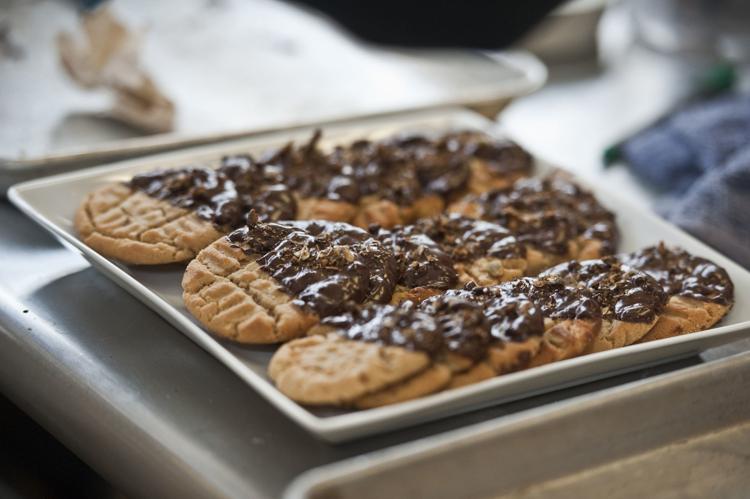 Dr. Florence Dunkel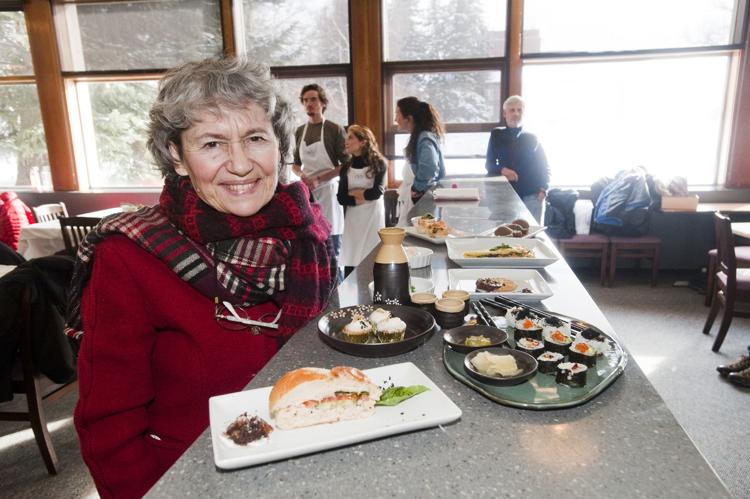 Unique breakfast omelet