On a crisp, long-shadowed Saturday morning, my husband and I jogged to Veronika's Pastry Shop in historic downtown Billings. A train rumbled west as we traversed onto Montana Avenue. Inside the small bakery, marked by images of France's Eiffel Tower and Russia's Basil Cathedral on the front windows, half a dozen people huddled in line.
Warmth enveloped us as we stepped into the alcove of this new European bakery featuring pastries from France, Eastern Europe and Russia. Aromas of rich buttery sweetness greeted us.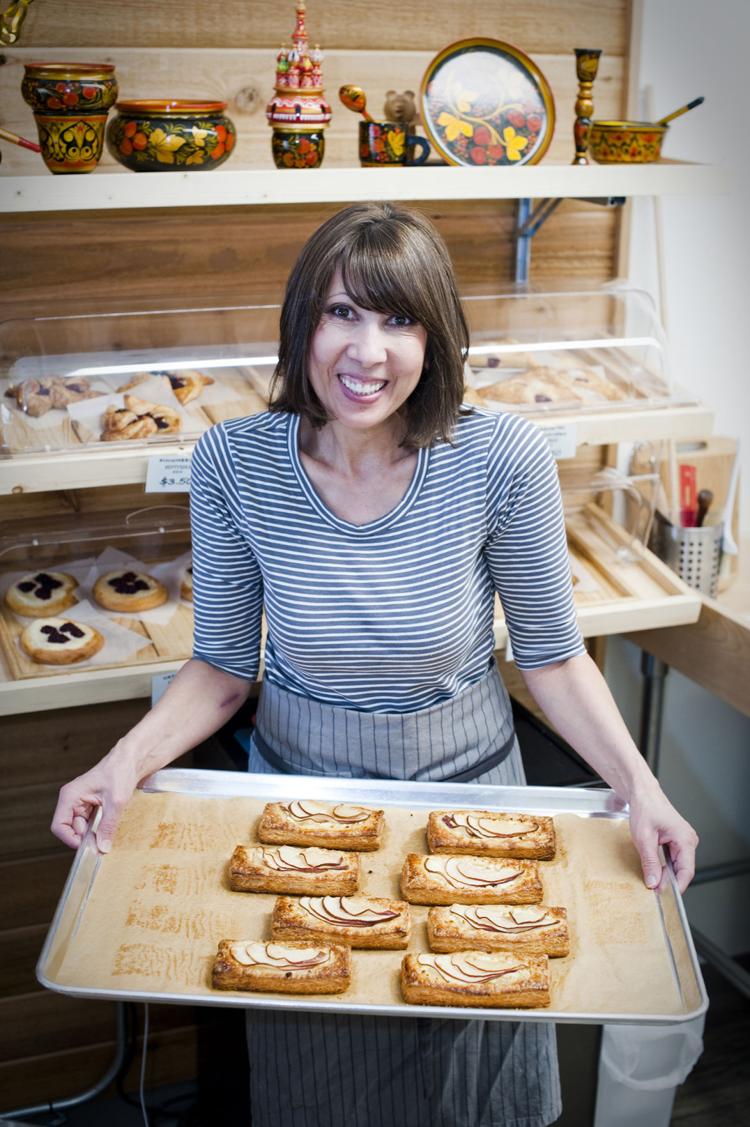 Toby Baukema stood behind the counter serving customers on this morning. Veronika, his wife, worked with deep concentration as he tried to lighten the air.
"Veronika says 'I don't do nasty donuts,' " he told one customer — with a smile — as he listened to see if his wife was paying attention.
At that moment, she slid a hot tray of apple and peach tarts into the cooling rack.
"I am not listening to you," she said.
When we got to the counter, ordering an apple tart from fresh out of the oven was a no-brainer.
Behind us were Tim and Joyce Ludewig, who secured almond croissants.
"I like everything in the bakery because the pastry just melts in your mouth," Joyce Ludewig said.
Tim added, "You can tell Veronika is passionate about what she is making. Everything is made from scratch."
With the encouragement of her daughter and husband, Veronika opened her bakery within the past year. Since her Labor Day weekend debut, Veronika starts her day at 4 a.m. on Tuesdays through Saturdays. She makes around 100 pastries each day. Her puff pastry dough is made from scratch with European-style butter.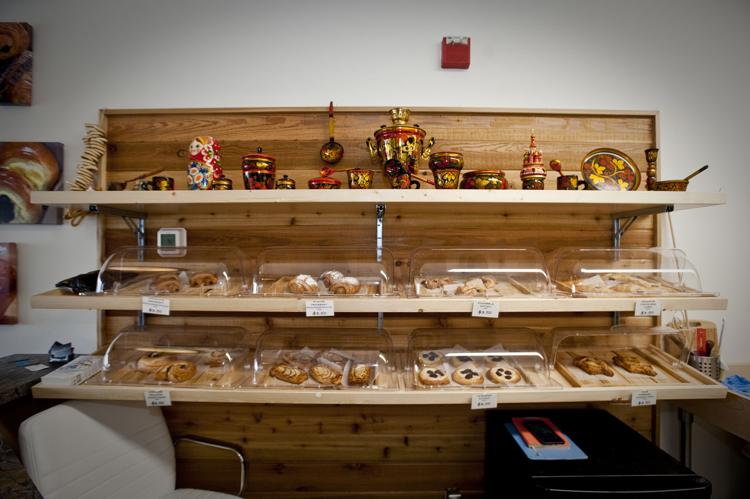 When everything sells out, she locks the doors and begins the dough making process for the next day. She usually sells out by noon, so it's best to get there early.
Though French-style baking most influences her creations, it was her grandmother Paulin and father's sister from Uzbekistan who inspired Veronika's love of baking.
"My aunt was always a great baker, a great cook," she said. "You have to have passion and love."
Growing up in Uzbekistan, Veronika baked to supplement the family income.
"My dad was always surprised that I could fix something from nothing, like apple upside down cake. My mother would go from one office to another, selling our goods. She would go to the hair salon, dentist office," she said. "When I moved to the United States I never thought I would do this again."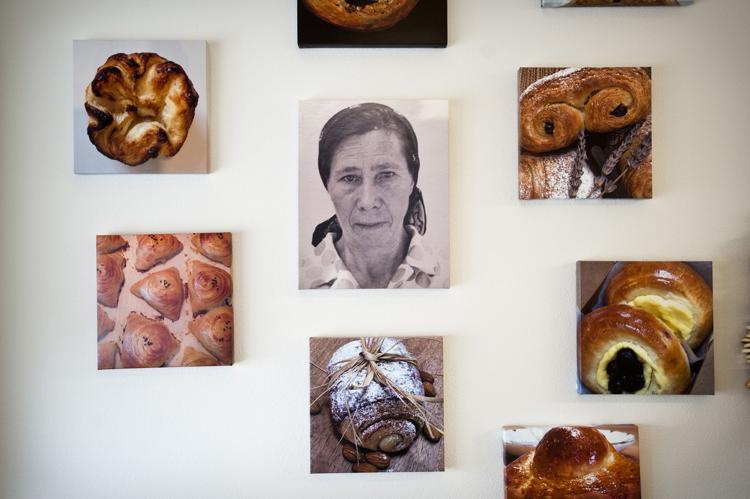 Veronika left Uzbekistan in 1999, arriving in Billings knowing only a few words of English. Her first task was to pass a driver's license exam. Studying the dictionary, reading books and listening to the radio jump-started her English language journey. Once she secured a license, it was Noreen Peterson's classes at Billings' Lincoln Center that furthered her skills.
Working as a clerk at Walmart and later as front desk help at the Ponderosa Inn forced her to speak English, eventually advancing to employment at a collection agency and legal secretarial work.
"At the Inn, I learned how to answer the phone. It was quite funny. People did not expect someone with an accent and hung up on me," she said.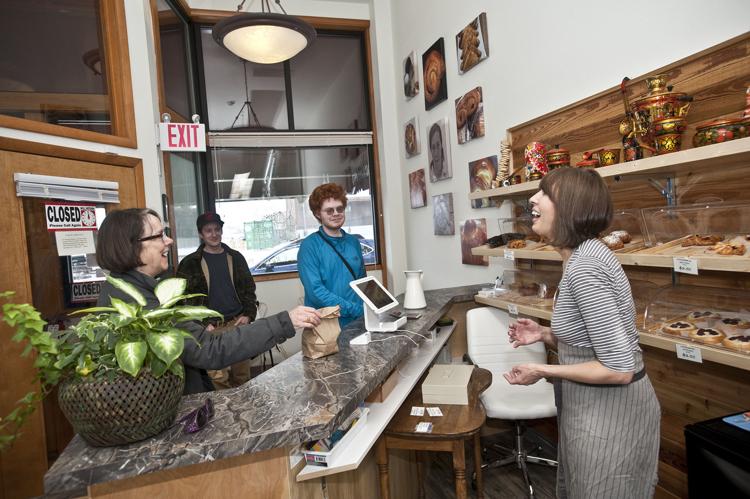 These days Veronika focuses on baking pastries. The French inspiration shows in her offerings of almond croissants, pain au chocolat and chocolate bouchon. The southern French and Eastern Europe inspirations come with pain aux raisins and raisin escargot. Escargot is French for snail, so Veronika is playing on the rolled shape.
Closer to her roots is the traditional Russian vatrushka. In Poland, they call it Kolaczki. A vatrushka is a Russian pastry filled with cheese with fruit on the outside. Hidden in a refrigerator behind the counter is honey cake, a traditional multilayered Russian dessert.
On the sidewalk, steam rose from the apple tart as we unwrapped it. When the last crumbs fell from our chins, we reluctantly ran back home.
Russian rugelach cookies
1/4 teaspoon baking powder (or baking soda)
1 1/3 cup unsalted butter
Confectioner's sugar, for dusting
Whisk together flour and baking powder. Cut butter into pats and work into flour mixture until crumbly. Mix in the sour cream. Dough should be soft and not sticky. Wrap dough in plastic, chill for at least one hour. Pulse walnuts and sugar in a food processor to coarsely chopped crumbs.
Divide the dough into three pieces. Working with one piece at a time, roll into an 11-inch circle. Using a pizza cutter, slice through, cutting into 10 to 12 triangles. Sprinkle the top of each triangle with walnuts and sugar, and roll triangles like a crescent. Place rugelach cookies on parchment lined baking sheet. Bake in preheated oven at 350 degrees for about 25 to 30 minutes. While warm, dust cookies with powdered sugar.