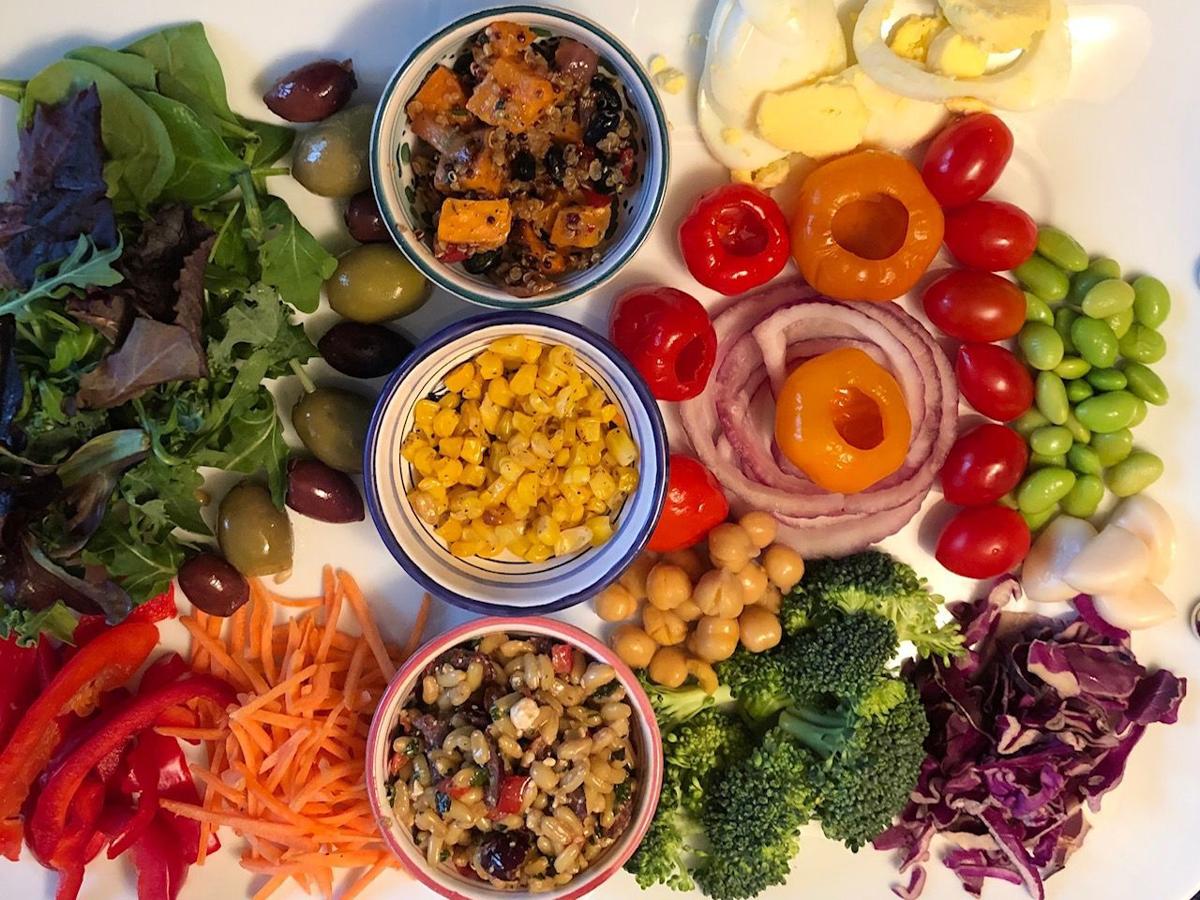 You know what's coming: turkey with trimmings, tryptophan hangovers, decorate-the-house deadlines, pressure of the perfect gift.
Queue the holiday stress. Good luck trying to avoid it.
Made-from-scratch-meals are a great goal, but busy times require some creative compromise. Heck, not-so-busy times do, too: Some nights an easy dinner while watching a movie on the couch is just what the soul needs.
Almost every grocery store in Missoula has some time-savers on their shelves: pre-chopped and diced onions and peppers; bagged salad mixes; delis with premade salads; olive bars with mix-and-match marinated goodies.
And at least two — Missoula's Good Food Store and Lucky's Market — have amazing salad bars, chock full of sliced, diced, marinated, grilled and baked goodies that are ready to eat. No peeling or chopping or washing needed.
If you're a regular shopper at these two stores, take time to study the salad bars more closely. You may spot something that will come in handy, especially in the next few weeks. If you're not a regular shopper at these stores, stop in for a look. Knowing what's available can help you decide if the selections fit your palate and needs.
In both stores, items from the salad bar are bought by weight: $8.99 a pound at Lucky's, $7.99 a pound at the Good Food Store. You mix-and-match, buying only what you want using the containers stacked nearby. At the salad bar you'll likely find:
• Many kinds of greens, all washed, chopped and ready to eat, such as kale, arugula, romaine, spinach and tender spring mixes.
• Other fresh produce, such as broccoli, peas, tomatoes, edamame, sprouts, carrots, cabbage, peppers and onions, all pre-sliced, grated or chopped.
• Several kinds of cheeses, such as Parmesan, cheddar, feta, mozzarella and blue.
• Chopped eggs, chicken, turkey, ham and tofu.
• Nuts, seeds, dried fruit, fresh fruit.
You have free articles remaining.
• Many marinated and pickled goodies to add zip and zing to dishes. Some examples: marinated mushrooms; spiced garlic cloves; pickled Brussels sprouts; pickled onions; giant white beans in vinegar and herbs; turmeric-spiced hearts of palm; asparagus and piquillo peppers; marinated tomatoes; a wide selection of olives. (Many other stores have olive bars, too.)
• Specialty salads, ready to be mixed in with greens, eaten as a side dish, or used as a main dish for lunch or dinner. Lucky's, for instance, had a ready-made wedge salad (bacon!), a Sriracha Lime Detox Salad and a kale-walnut salad; Good Food Store had a Mediterranean kamut salad and a Kung Pao brown rice and tofu salad, among others.
• Roasted and grilled sweet potatoes, white potatoes, eggplant, lentils, tomatoes, and more.
• Cold pasta dishes, such as lemon spaghetti, penne with pesto and smoked gouda pasta. Heat them up or use them cold.
The list could go on and on and can vary, depending on the day.
These well-stocked salad bars aren't just for making salads. They can inspire:
• Unexpected fillings for an omelet, quiche or frittata.
• The makings of an egg or chicken salad for a sandwich spread.
• Condiments for a taco bar.
• Tasty toss-ins for an otherwise bland soup or rice or quinoa salad.
• The foundation of a satisfying stir-fry.
• Gourmet toppings for crusty-bread crostini.
For crowds, you're better off (financially, anyway) buying, cleaning and chopping your own produce for salads. But these salad bars are great for small groups, for items you need in small amounts, or for items you'd never make on your own. They can save time, avoid food waste, and add new grains, veggies and flavors to your table. They offer a reprieve from the heavy meals of the holiday season and can even save space in a packed fridge because you buy only what you need and use it quickly.
Maybe they'll help reduce some stress, too. And that's a big relief.
Mea Andrews likes to cook -- but not every day. She was a reporter and editor at the Missoulian for 27 years before retiring.