Just Tapped has become my go-to place for cooking inspiration. I will confess that even though it has been open for five years in Helena and I've driven by the storefront hundreds of times, I never thought about stopping until I saw their ads for Tasty Tuesday lunches. The idea of a new lunch spot drew me in. I was fascinated at what I found.
Dominating the store are sizeable colorful tins filled with tantalizing oils and vinegars such as Peppered Bacon, Tahitian Lime, Marrakech Moroccan, Blood Orange and Caramelized Garlic to name a few. Samples of the products are readily available to help with the selections. Add to this exotic spices, rubs, pasta, seasonings, cookware and kitchen linens — all attractively displayed. Just Tapped carries a few Montana products as well, including Tumblewood Teas, Montana Maid Coffee, Silk Road Spices and Montana Honey Bee honey. For anyone who loves to cook, I guarantee you won't leave this store empty-handed.
Just Tapped is a sister store to Olivelle in Bozeman. The olive oil and balsamic vinegar are imported from Italy, but the creative infusing happens at Olivelle's warehouse. Owners Terry and Chuck Cashell opened Just Tapped in 2013. They credit their daughter Tina with initiating the idea of opening up this unique business in Helena. Tina happens to be a good friend with the owner of Olivelle in Bozeman, and out of this connection was born the impetus for Just Tapped. Daughter Megan is the manager in Helena.
Towards the back of the store is a commercial kitchen with seating for 11 people, and this is where the magic happens thanks to a creative staff. The Tasty Tuesday lunches are a combo of a delicious, affordable meal along with a cooking presentation of what is being served. "The idea behind the lunches is to help folks understand there is so much more you can do with oils and vinegars besides dressing up a salad," says Terry. Keith McCarty and Patricia Sharp have been coming to Tasty Tuesdays going on three years. Keith says "it's the best restaurant in Helena that isn't a restaurant." They are quick to add that excellent customer service, a fair price and creative food ideas keep them coming back.
Nothing is proprietary about the entrees that are featured. Lunch patrons leave with a recipe in hand of what was prepared and there are recipe cards scattered around the store for inspiration. The goal with both the lunches and the products is to get people cooking with healthy ingredients that can enhance cooking with unique flavors. No reservations are needed for the Tasty Tuesday lunches.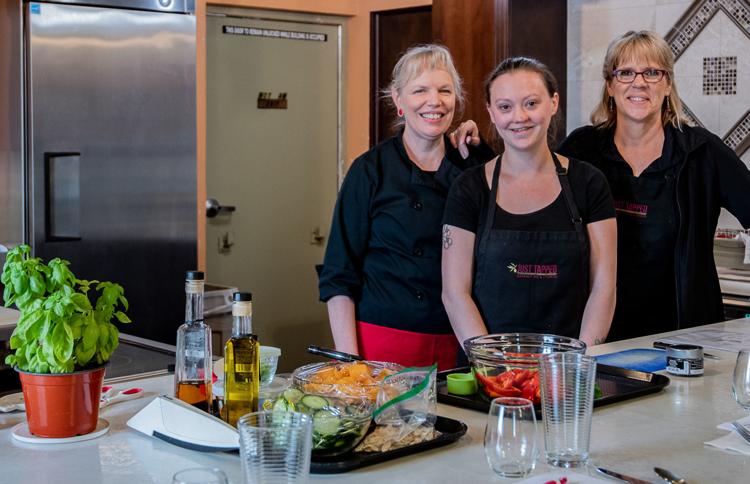 Recent lunches have included chicken tomatillo soup, paired with a green salad featuring a cilantro lime dressing and buttermilk brownies. Rice noodles with shrimp and coconut lime dressing with a lavender & cherry trifle for dessert were on tap for an August lunch. Entrees are in the range of $7-$8, with dessert and a beverage priced out separately.
The team of Chef Deb Jones, Chef Millie McLean, Megan Cashell and Linda Opie can efficiently serve 30-40 lunches on Tasty Tuesdays even with limited seating for 11. Customers come in knowing this isn't the place to linger over lunch chatting up a good friend, but instead, watch the presentations while enjoying the entrees and then move on so the next round of customers can be seated.
In addition to the lunches, dinners and an occasional afternoon coffee or tea break are offered throughout the month. Their online monthly calendar provides the details (date, menu, cost). Many of the meals are prepared by Chef Deb, who is a registered dietician. Working at Just Tapped, she feels she found the ideal marriage of loving to cook paired with perfect ingredients. She says with a smile, "I read cookbooks just for fun."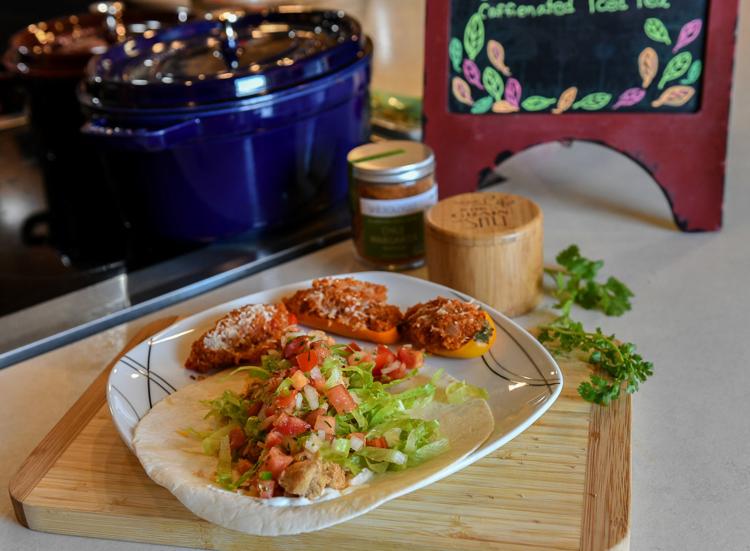 Deb's Mexican inspired dinner has me drooling. It includes the flavors of butternut squash queso funido (melted cheese); mole inspired cocoa rubbed chicken thighs with orange pomegranate salsa and is complimented by twice baked sweet potato. Chocoflan tops the evening. Cost for the dinner is $35 per person, and guests are welcome to bring wine.
Coffee Break, a recent afternoon gathering, was focused on learning coffee brewing basics while enjoying a cup along with a cafe mocha brownie and coffee bacon jam with whipped feta cheese on toast. A bonus was learning the basics of olive oil tasting.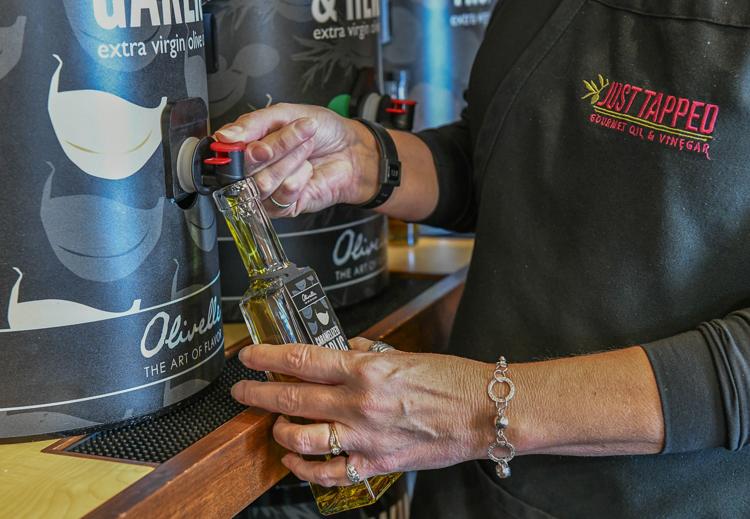 Just Tapped offers private parties as well — a unique way to celebrate a birthday, anniversary or bridal shower. During the holiday season (November thru December), Just Tapped takes a break from the lunches and dinners to focus on preparing gift orders.
If you're like me and continually asking yourself "What should I fix for dinner?" then a visit to Just Tapped is my recommendation. The store has inspired me to approach meal prep with new enthusiasm. I recently marinated steaks in the caramelized garlic olive oil and got rave reviews from my family. For the weekend, I'm planning on drunken bruschetta and sausage pasta, and crossing my fingers that the Griz and Bobcats win.
Drunken bruschetta and sausage pasta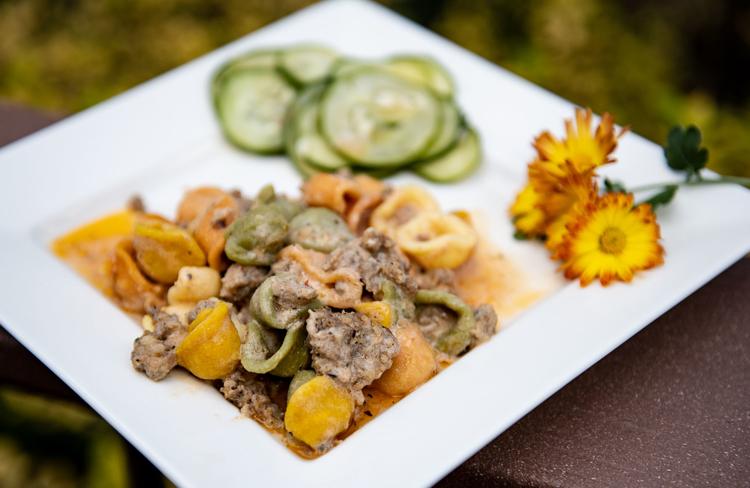 This simple, classic dish should be kept in everybody's back pocket. You will never want to eat jarred pasta sauce again once you realize how easy it is to make a flavorful sauce by simply using white wine and our bruschetta dried herb blend. Simply cook your pasta while your sauce cooks and presto, dinner is done.
Prep Time: 5 minutes - Cook Time: 20 minutes - Total Time: 25 minutes
You have free articles remaining.
Keep reading for FREE!
Enjoy more articles by signing up or logging in. No credit card required.
½ lb Italian pasta, cooked 1-2 minutes short
3 tablespoon Bonsecchino Tuscan Italian extra virgin olive oil
1 tablespoon bruschetta dried herb blend
1-2 teaspoon sea salt (roasted garlic or Sel Gris)
1. Bring a large pot of water to a boil over high heat. Once boiling, add a pasta rock for 2 minutes to salt your water then remove. Add the pasta, stir well and cook until al dente (tender but firm to the bite — 1-2 minutes short of the package instructions).
2. Meanwhile, heat a large skillet over medium-high with the olive oil and cook the sausage, breaking down to a crumble with a spoon as it cooks.
3. Move the meat to one side and let the oil fall to the other side, remove all of the oil but 2 tablespoons.
4. Add flour to the remaining oil in the pan and stir into a paste. Allow to cook for 3-4 minutes to remove the flour taste.
5. Add the wine and the milk, stirring to create a sauce. Cook another few minutes to allow the wine to reduce and the sauce to thicken.
6. Finish by adding the bruschetta dried herb blend, cooked pasta, and salt and pepper to taste. Stir to coat and let the pasta finish cooking for 1-2 minutes longer.