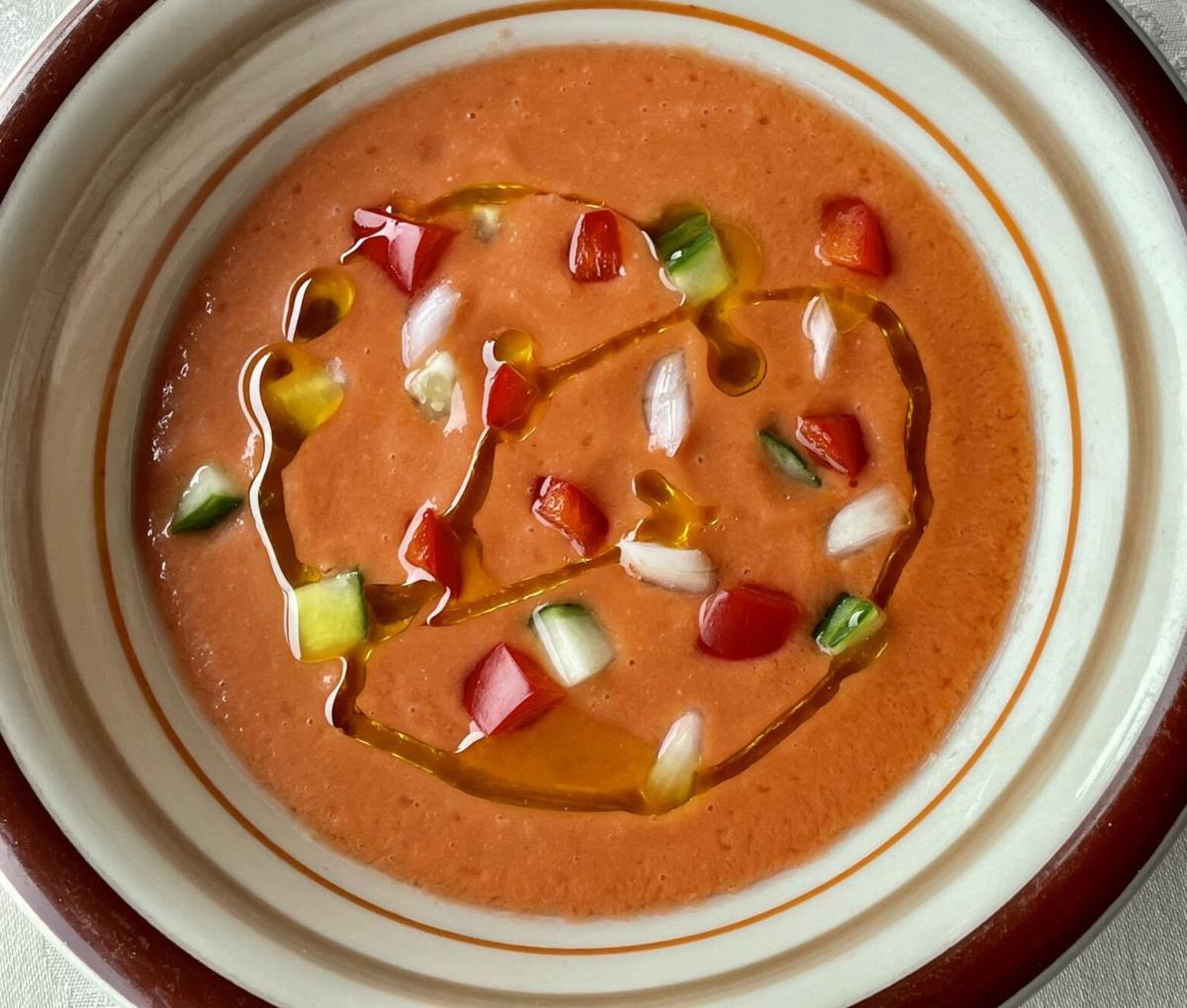 In my cooking and writing, I always aim to be seasonal. Back in 2003, I wrote these words: "My original topic for this month's column was going to be barbecue. And by barbecue I mean hours-long, slow cooking of a big piece of meat until it becomes meltingly tender and practically falls apart." At the time, the sweltering heat made this an attractive prospect because the cooking is done out of doors. "But then the fires started, turning the whole state into a smoke pit. So why make more smoke?"
I switched gears and decided to make something cooling that required no actual cooking. My solution? Gazpacho, the classic cold tomato soup from Andalucia, Spain. It's like a refreshing, liquid tomato-y salad garnished with small nuggets of cucumber, onion and bell pepper.
Right now, because we're suffering from heat and smoke yet again, gazpacho comes to the rescue once more. One of the beauties of gazpacho is that it can be made almost entirely with ingredients grown locally. And unless you have a garden of your own or belong to a consumer-supported agriculture cooperative, you can find just about everything you'll need at the farmers market.
For the best tasting gazpacho, be sure to use tomatoes that are grown locally and ripened on the vine. At this time of year there is simply no excuse to use any other kind. Likewise, local Walla Walla sweet onions, bell peppers, and cucumbers are coming into their own right now, so be sure to seek them out too.
The recipe here may be made hours ahead and refrigerated to serve cold. Or just serve it as soon as you make it at room temperature. Stay cool!
Gazpacho
I like beefsteak tomatoes because they're fleshy and contain fewer seeds than other tomato varieties. You'll need a blender to make this gazpacho. Divvy up the veggies into two batches (three if your blender is small). Puree half of the veggies for about 30 seconds. Add the remaining veggies and process until completely smooth, about 1 1/2 minutes more. Season with the salt, vinegar, and olive oil, and the soup's done.
2 pounds beefsteak tomatoes, perfectly ripe, cores removed, flesh cut into chunks
1 large red bell pepper, seeded and cut into chunks
1 small sweet onion, peeled and cut into chunks
1/2 English cucumber, unpeeled, halved lengthwise and cut into chunks
1 teaspoon salt, plus more if needed
1 tablespoon sherry vinegar
Extra-virgin fruity olive oil
Optional garnish: Diced red bell pepper, onion, cucumber, croutons
1. Put half the tomatoes, bell pepper, onion, cucumber, and garlic in the blender jar. Puree about 30 seconds just to turn the veggies into a coarse puree. Add the remaining vegetables and process until completely smooth, about 1 1/2 minutes more. Stop to scrape down the sides and lid once or twice.
2. Add the 1 teaspoon salt and Sherry vinegar and restart the blender. Slowly drizzle in 1/4 cup olive oil. Taste and adjust the seasoning with more salt and/or vinegar if you feel the gazpacho needs it. Remember that chilling will dull salt's flavor, so if you serve the soup chilled, be sure the soup is adequately salted.
3. Divide into soup bowls and drizzle with more olive oil. Garnish with diced veggies and croutons, if using, and serve.
Greg Patent is a James Beard Award-winning cookbook author for "Baking in America," a food journalist, blogger, and radio co-host for "The Food Guys" on Montana Public Radio. Please visit his blog, www.thebakingwizard.com, and follow him on Twitter, Instagram, and Facebook.