Whitefish is an energetic community that lives large and attracts a sizable number of visitors who are keen on outdoor adventure. With a destination ski area a few miles from town, Glacier National Park less than a 30-minute drive, hiking and biking trails galore, fishing in abundance, who wouldn't want to go there? Add to this picture a bounty of eateries, bars and various businesses that rent out equipment for playing outdoors.
Tucked into the tree-lined thoroughfare that leads to the heart of Whitefish is the Garden Wall Inn. This elegant property offers a peaceful respite from an adventurous day, but it's the remarkable breakfast that I must rave about.
Proprietors and chefs Rhonda Fitzgerald and Chris Schustrom have created an atmosphere where guests are treated like royalty inside this Colonial Revival house. The inn is furnished with period antiques dating to the early '20s. Breakfast is served on Royal Willow Ware (think blue) that Rhonda picked up years ago at an auction. The dishes are sometimes referred to as the "Park China," due to the fact this same pattern was once used in Glacier Park.
Rhonda and her husband Mike moved to Montana from Colorado in 1977 to raise their family in a small town with ample outdoors opportunities. Rhonda Fitzgerald opened the inn 31 years ago. Her formal training as a chef comes from culinary classes at Flathead Valley Community College (FVCC), as well as Le Cordon Bleu in Paris and London.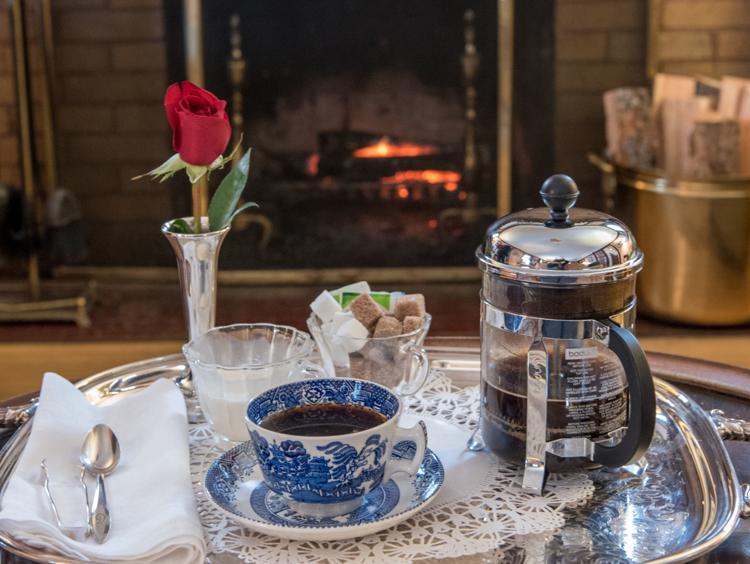 Schustrom is a fourth-generation Montanan, having grown up near Glacier Park. He has been part of the Garden Wall Inn for 25 years, with the last 10 years as co-owner. He graduated from the FVCC culinary program. He and Fitzgerald masterfully concoct a breakfast never to be forgotten, focused on what is local and seasonal on any given day.
Before guests sit down to breakfast, they are treated to a "civilized wake-up call" with either Schustrom or Fitzgerald delivering coffee (Garden Wall Blend Coffee, roasted locally) or tea to the guest's room on an elegant silver tray. Once in the dining room, guests start the breakfast with fresh-squeezed orange juice, along with more coffee or tea. There is always fresh fruit, baked goods in some variety (muffins or scones) and a hot entrée, sometimes served with breakfast meat, but always a dish that provides protein. They vary the menu so no guest will have the same breakfast during their stay.
Fitzgerald invited me into their kitchen to chat while she and Schustrom were preparing breakfast. As I watched Fitzgerald prepare the fruit course, I couldn't help but admire how carefully she sliced the nectarines and artfully arranged them in individual servings. Flathead cherries, which happened to be in season during my visit, were examined to make sure there were no bruises. The pits were then removed via a cherry pitter contraption. Meanwhile, Schustrom was busy with scones while also frying up the sausage, sourced from Farm to Market Pork, a local meat shop. The kitchen is tiny, and yet Schustrom and Fitzgerald maneuvered with the precision of a drill team.
On previous visits, I was served a ham and cheese soufflé — my first-ever —and I likened it to a delicate cloud of sheer goodness. I've also been treated to huckleberry pear crepes, making use of this popular berry found in the wild in northwestern Montana mid- to late summer.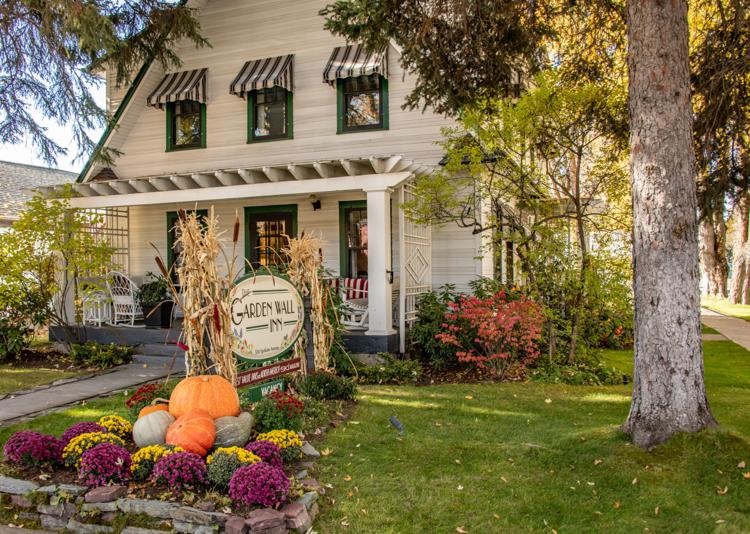 Other gourmet specialties served at the Inn include Baked Egg with Smoked Trout en Cocotte, Poached Eggs Florentine (spinach from Wicked Good Farm) and Cinnamon Apple French Toast. On my most recent visit, I was treated to Clafoutis (a baked French entrée) along with pork sausage. I chuckled when I saw the butter that had been pressed into molds and presented as delicate leaves on a doily. This is a far cry from the cube of butter that you would find at my house that gets messy after several days of carving on it.
At home, my breakfast consists of grabbing a quick cup of coffee and a piece of toast while standing at the counter reading the paper. But at the Garden Wall Inn, I was sitting relaxed and savoring what had been so carefully prepared for me. There was time to visit with other guests, including Virginia Hillhouse. She has been coming to the Garden Wall Inn for 20 some years. It's her choice when visiting her daughter and grandkids in Whitefish, even though she could easily stay with them. She said with a delicate laugh, "I get to know what's really going on from Chris and Rhonda."
With their passion for the outdoors, both Fitzgerald and Schustrom are excellent resources to assist guests in planning their days in Whitefish and its surroundings. You fall in love with their enthusiasm. As Fitzgerald said, "the craziest thing for us is that our 31st year in business feels like our first. Our guests come from all over the U.S. and the world, so helping them to enjoy Whitefish, Glacier National Park and Montana as well as hearing about their travel experiences, keeps what we do fascinating and inspires us to always look for new ways to exceed their expectations."
The Garden Wall Inn is not only a huge proponent of the local farm-to-table philosophy, but both Schustrom and Fitzgerald are integral players in supporting conservation and preservation of all that makes Montana "the last best place." Schustrom is chairman of Montana Trout Unlimited, and Fitzgerald serves on the Tourism Advisory Council for the State of Montana. A stay at the Garden Wall Inn is a sweet dose of being retreated like royalty, while supporting a business whose values reflect what Montanans cherish.
---