A stop at the Buckhorn Bar in Augusta for lunch or dinner will get you a whole lot more than tasty vittles. Whatever you order, your meal comes with a nice helping of fellowship, especially if this is your first visit to the Buckhorn. Rest assured, by the time you leave most everyone in the bar will know your story and what brought you to Augusta. It's not about being nosy. It's just the nature of how small towns in Montana roll — reaching out to welcome you into their world.
This year marks the 60th anniversary of the Dellwo family owning the Buckhorn. Gordon and Frances Dellwo established the bar in 1959. Their son Frank and his wife Tammy would purchase the bar years later, and now their son Beau, when he takes over, will be the third generation of Dellwos keeping this Augusta legacy going strong.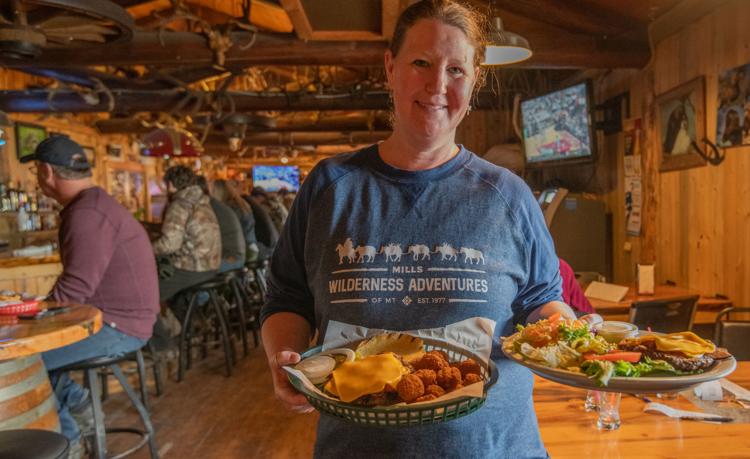 In January 1974, the Buckhorn, which wasn't much of a building, burned to the ground due to an electrical fire. It was rebuilt in time to open for the Augusta American Legion Rodeo in June of '74, the busiest day of the year for the bar. Over time, a kitchen addition was added, making it possible to expand to the menu that exists today.
The menu is fairly typical of a small-town restaurant/bar and includes burgers, steaks, fish and chips, shrimp, chicken strips, chef salad and crispy chicken salad. Sandwich options include ham and cheese, chicken fried steak or a BLT sandwich. Both the onion rings and the jalapeno cheese tater tots get rave reviews. But the broasted chicken wins out as the customer favorite and is served with Jojos — fried potato wedges — and a secret white sauce for dipping. I'm guessing the sauce is sour cream with chives and seasonings, but Tammy declares, "Nope." The discussion ends there. After all, it's a secret sauce.
Tammy sings the praises of their burgers due to the quality of beef, which comes from the Vaughn Meat Packing facility, a few miles to the east of Augusta. During the summer months, the bar will go through 200 pounds of hamburger in a week. On Wednesdays, a special is offered up, such as prime rib. Once a month, the Buckhorn features a Sunday brunch.
The interior of the Buckhorn pays tribute to Montana's western and hunting heritage. Overhead log rafters are covered with big game antlers and skull mounts. Scattered around the bar are tanned bear hides, a life-size wolf mount and a swan mount which generates considerable interest. Montana does have a legal hunting season on swans. The photography of longtime local Gus Wolfe adorns the walls, as well as memorabilia that speaks to the history and character of this small town. A small room in the back has a handful of gaming machines.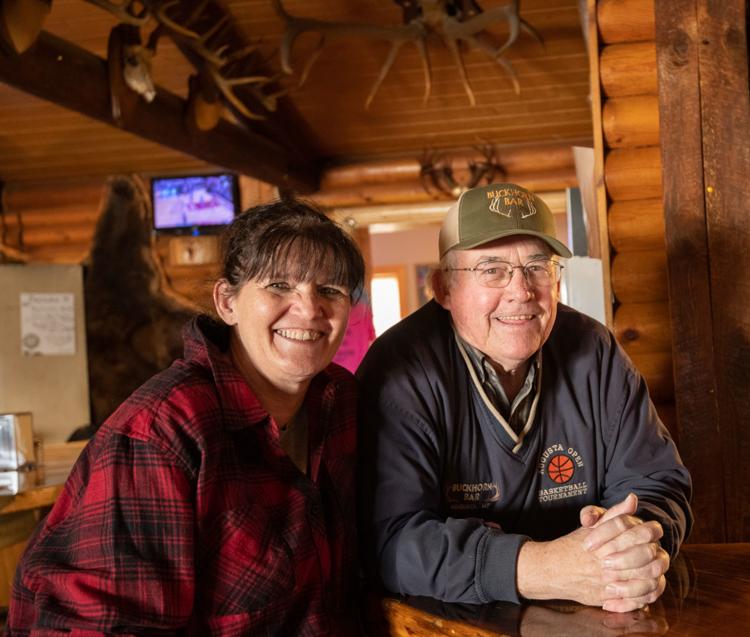 I chatted up two gentlemen who stopped in for lunch after a morning of ice fishing at Nilan Reservoir. They were very curious as to why I was photographing the Buckhorn. One was from Conrad and the other fellow from Shelby, to which I threw out "I've been there — it's pretty flat." I loved his reply. "You have to get out and walk to see the pretty." I'd only been in the Buckhorn for 30 minutes, and already I had two new friends!
I took an instant liking to Tammy, whose infectious, bold laugh reverberated frequently throughout the interior. Tammy credited her father-in-law Gordon Dellwo, for making the Buckhorn the successful operation it is today. "He used to drive all over the state handing out his business cards and inviting folks to stop by the Buckhorn," Tammy said with affection. She shared a story that Gordon told frequently. It involved a priest who came down from Choteau to conduct Mass in Augusta. The roads were very icy, and he ended up in the ditch. John Fugaro, who happened to be plowing the highway, stopped to help and asked, "Father are you OK?" Father replied "Yes. God was with me." John declared, "You better let him out of the car before you kill him."
You won't find your meals at the Buckhorn served on white linens and artfully plated. Most entrees are served in colorful plastic baskets lined with parchment paper. But if you have a desire for a mouth-watering cheeseburger, served up with a heaping amount of small-town talk on essential issues such as the weather, price of cattle and where the fish are biting, then The Buckhorn is your ticket.
The Buckhorn opens at 6 a.m. every day for coffee only. If you're desperate for a drink, you need to wait until 8 a.m. to wet your whistle. Food service starts at 11 a.m. The bar stays open until 2 a.m., although in the winter months, it tends to close earlier.
You can get homemade dessert, but only with their Wednesday specials. Otherwise, for those craving something sweet after lunch or dinner, walk next door and pick up a maple bar at Allen's Manix Trading Post. The frosting is killer good!
---
Donnie Sexton, who retired in 2016 after a long career with the Montana Office of Tourism, currently freelances as a travel writer and photographer, covering destinations around the world.
TheLastBestPlates.com is a digital destination that serves up Montana's tasty food, travel and culture stories … one bite at a time.
Satisfy your cravings
With our weekly newsletter packed with the latest in everything food.