You don't have to be a fancy chef to prepare a stellar salmon dish. Today, I'm bringing you a recipe that is sure to please yet simple to prepare. We are going to be making a jerk brown sugar-chili-glazed salmon with warm and healthy succotash. Try saying that three times fast! 
Let's get started. We are going to take our salmon and add jerk seasoning to each fillet. Be sure to rub the seasoning into the fillet until fully coated because want to lock in that delicious flavor! One of the special reasons I am using just the jerk seasoning on the salmon is because if I use the sweet chili sauce, it will burn a lot faster. And that's not something we want.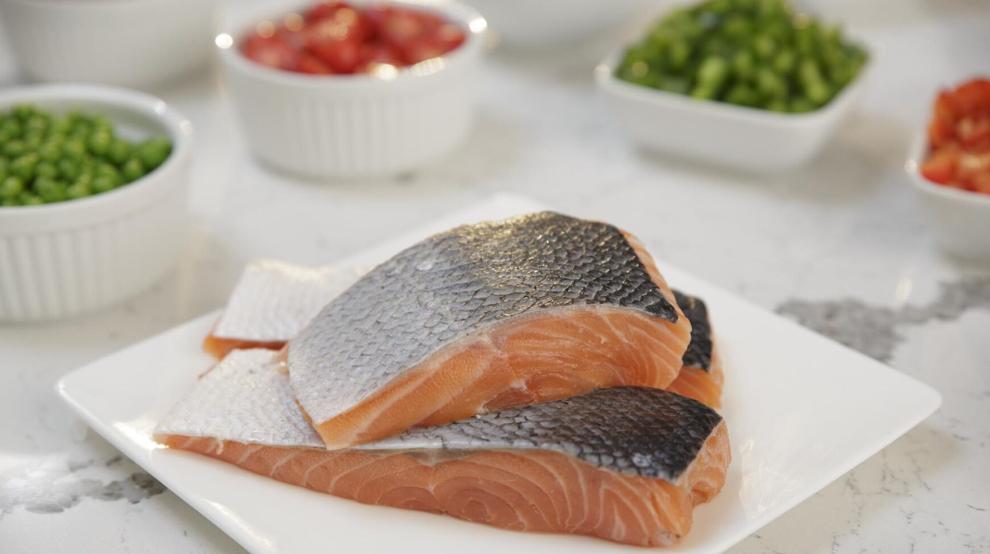 For this recipe, be sure to have an oven-safe skillet. You'll want to both sear and bake this fillet.
Cooking tip: Wait for the oil to smoke before putting the salmon fillets into the pan. This will ensure a beautiful sear.
Let's get this succotash going! Succotash pairs perfectly with grilled seafood and meats. And for this particular salmon dish, it's all about vibrancy and flavor. You'll notice an array of colors for this mixture: Red, yellow, green. Reminds me of Jamaica all over again!
Once your salmon is seared and baked and your succotash is on deck, be sure to let the salmon cool a little bit. While it's cooling, move straight to the sauce. I'm adding a bit of jerk seasoning to the sweet chili sauce to spice things up a bit, but don't worry – we're mixing in some brown sugar to offset the heat. The salmon, succotash and sauce bring it all together.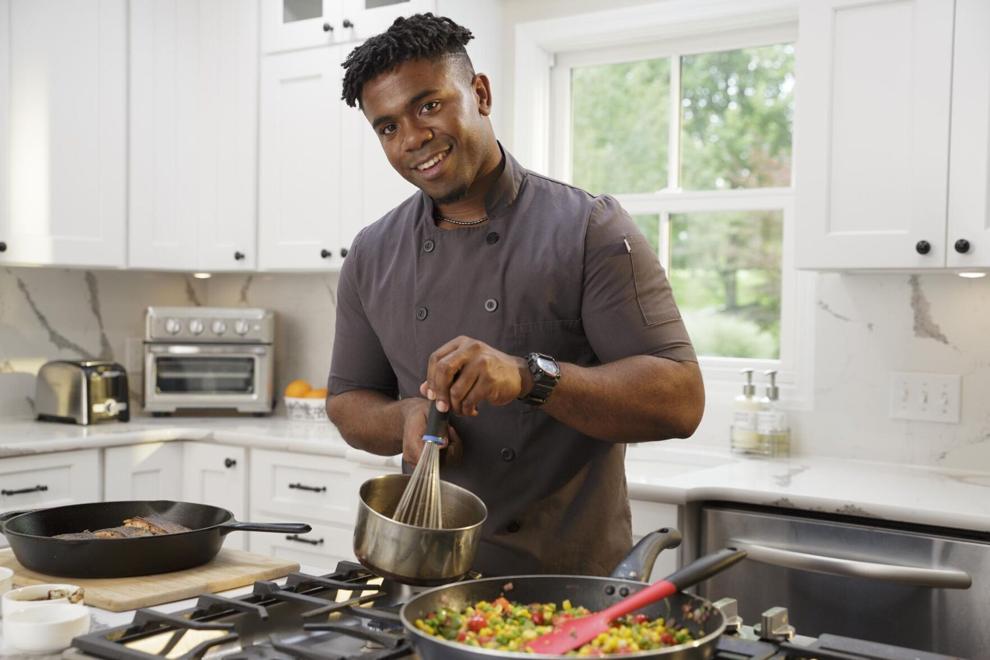 This is a plated dish worth showcasing and this video shows you how to achieve the perfect plating. You never guessed healthy could look and taste this good. Bon appétit!
Jerk Brown Sugar-Chili-Glazed Salmon with Succotash
Recipe by Christopher Sinclair-McCalla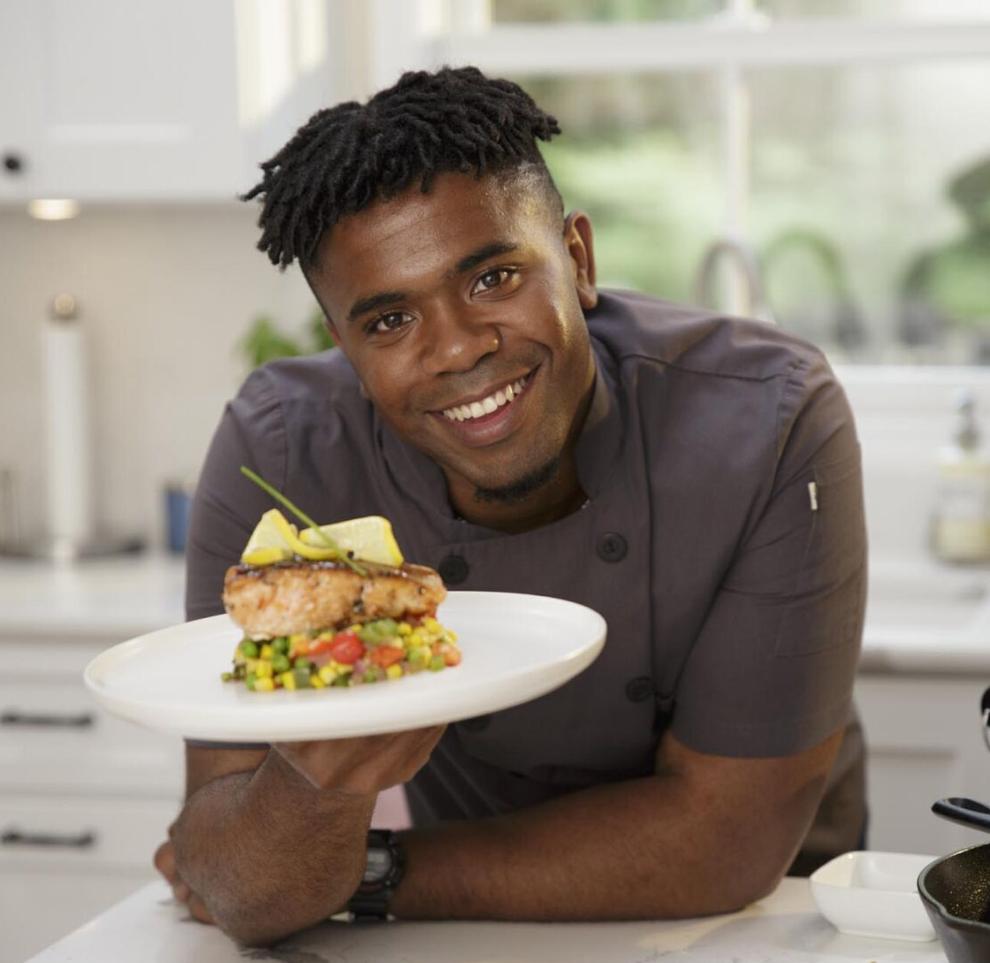 4 (6 oz) salmon fillets
6 tsp jerk seasoning, divided
1 cup sweet Thai chili sauce
2 Tbsp brown sugar
1 medium green bell pepper, diced
½ medium red onion, diced
1½ tsp salt, plus more to taste
2 garlic cloves, minced
2 cups frozen corn kernels, thawed
1 cup frozen peas, thawed
1 cup grape or cherry tomatoes, each cut in half
1 Tbsp apple cider vinegar
¼ tsp freshly ground black pepper
¼ cup loosely packed fresh basil leaves, thinly sliced
|Preparation| Preheat oven to 350°F. Heat a nonstick, oven-safe large skillet over medium-high heat. Sprinkle salmon with 5 teaspoons jerk seasoning. Place salmon in skillet, presentation-side down, and sear. Turn fillets, then place skillet in oven. Bake 5 minutes.
Meanwhile, in small saucepan, stir remaining 1 teaspoon jerk seasoning with sweet chili sauce and brown sugar; cook over medium-high heat until mixture starts to boil. Reduce heat to low and simmer until salmon is done. Pour glaze over salmon; turn salmon to coat both sides.
Prepare Succotash: In large skillet, heat oil over medium heat; add bell pepper, onion and salt and cook 3 to 5 minutes or until tender, stirring occasionally. Add garlic and cook 1 minute or until fragrant, stirring. Add corn, peas and tomatoes and cook 6 to 7 minutes or until vegetables are tender and mixture is heated through, stirring occasionally. Add vinegar, black pepper and more salt to taste, if needed. Transfer succotash to serving bowl; sprinkle with basil. Serve succotash with salmon.