Last Best Plates
Family Fort Peck getaway is made complete with fishing, boating and campfire cooking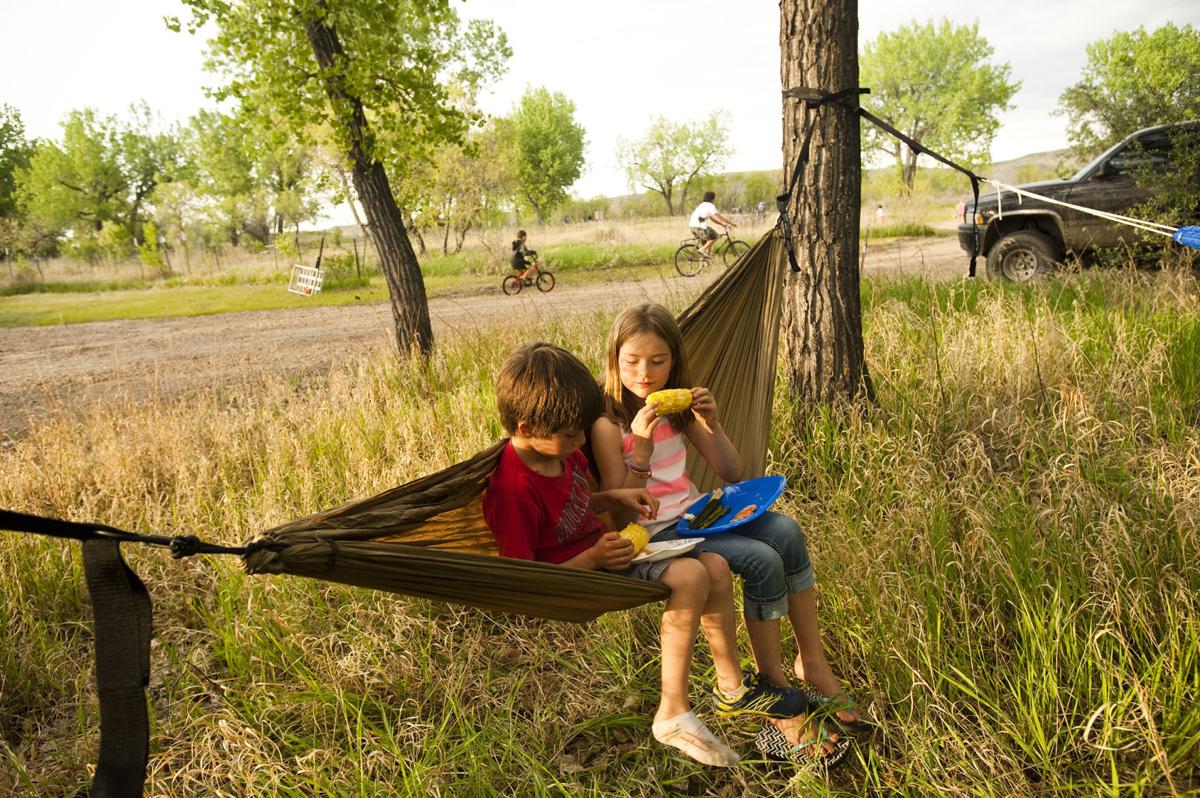 Nothing kicks off spring in Big Sky country like a road trip to eastern Montana. Back in the day — before marriage and kids — I wouldn't think of missing a Miles City Bucking Horse Sale. Nowadays, during the third full weekend of May, instead of waking up and having bacon and eggs at the Range Riders Breakfast or enjoying a cheeseburger grilled to perfection at the Kiwanis BBQ in Riverside Park, I find myself on the sidelines of a soccer field in Bozeman, Helena or some other southwestern Montana town, cheering on my middle schoolers and wishing I was raising a glass while trailing Custer & the Seventh Calvary Drum and Bugle Corps as it winds its way through downtown Miles City.
Luckily, I married Dan Vermillion — an outdoorsman who'll cast a line to walleye, perch and paddlefish as enthusiastically as he will to trout. Dan shares my affinity for the people and wide-open beauty of Custer, Richland, Dawson, Roosevelt and Valley counties — particularly in May when the prairie looks its best and is just beginning to tingle. Over Memorial Day weekend, our only soccer-free respite, when the air is still brisk enough that shirtsleeves feel optimistic, we can typically be found exploring back roads in Montana's sparsely populated counties.
After a muddy, monochromatic March and April, there's no better way to zap the optic nerve awake than to drive east of Billings, where vibrant chutes of green grass pop beneath an intense blue sky and meadowlarks and frogs provide a cacophonous soundtrack that literally drowns out the radio at times. It's pure heaven!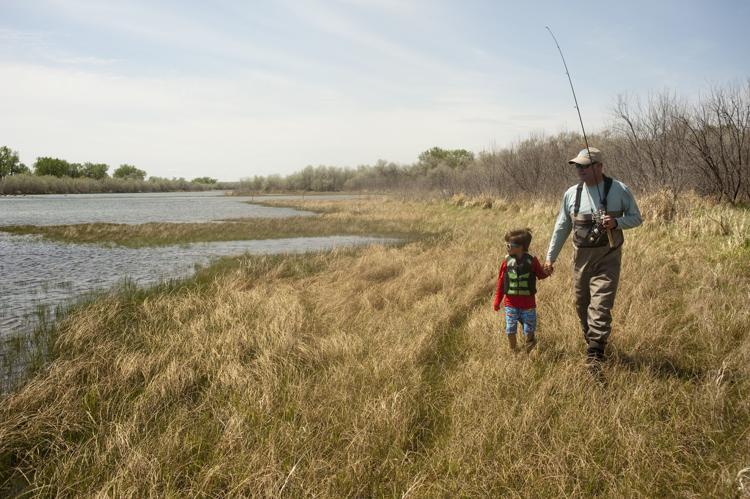 Over the holiday weekend a few years ago, we decided to haul two motor boats from Livingston to Fort Peck Reservoir and camp with my husband's two brothers and their children at Downstream Campground just below Fort Peck Dam on the Missouri River. My sisters-in-law stayed home, so our party consisted of four adults, seven kids (ages eight and under) and a small pack of dogs.
Three miles of paved nature trails wind along the Missouri and through a wooded area surrounding the campground, which made for great walks, jogs and bike rides. There was even a nice fishing pond on-site.
We arrived Friday evening and immediately began setting up our tents. My brother-in-law Jeff had thrown in three camping hammocks, which became the kids' hangout area when they weren't playing pickup baseball games or riding bikes with new friends scattered throughout camp.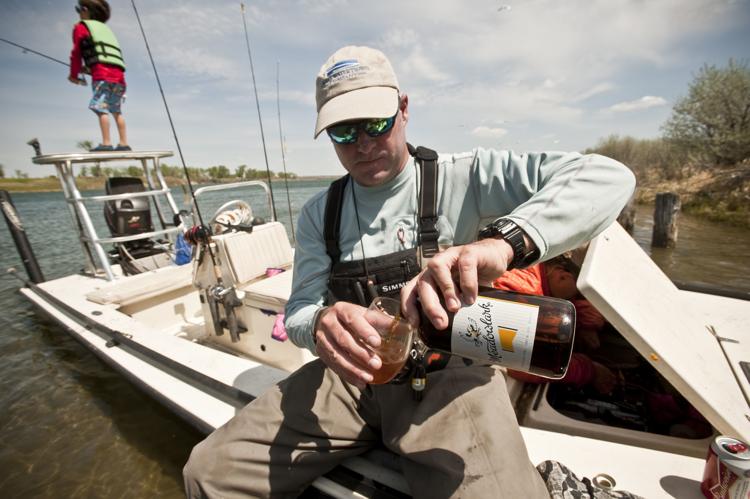 We hung the hammocks in a triangle in a stand of trees that separated us and our neighbors to the east. "The grass and trees around here are crawling with ticks," warned a neighboring mother. She wasn't kidding! We thoroughly scoured the kids and dogs for ticks every few hours and each time had to remove two or three.
Our campsite had a campfire grill, and Jeff brought a two-burner propane stove that ran on one-gallon propane tank — which was great for grilling vegetables and for making sausage, eggs and pancakes for breakfast. We decided everyone would pitch in cooking breakfast and that each family would pack its own picnic lunch. Dan, Jeff and Pat volunteered to cook dinner Friday and Saturday nights (I served as nightly shower monitor for the seven kids), and we planned to have burgers a few miles down the road toward Nashua at the Park Grove Café on Sunday night.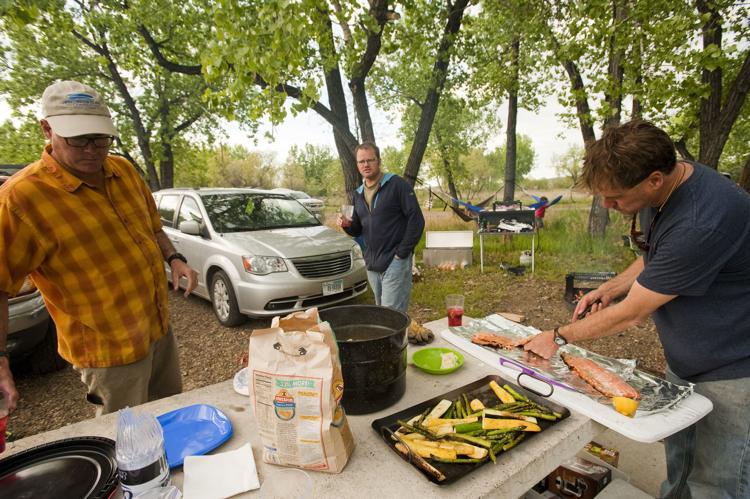 On Saturday, we invited "local" friends Rich Peterson, a Last Best Plates contributor who lives 70 miles away in Poplar, and my college friend Allison Whitmer, the Montana Film Commissioner who resides in Helena but happened to be visiting her family's ranch near Wolf Point.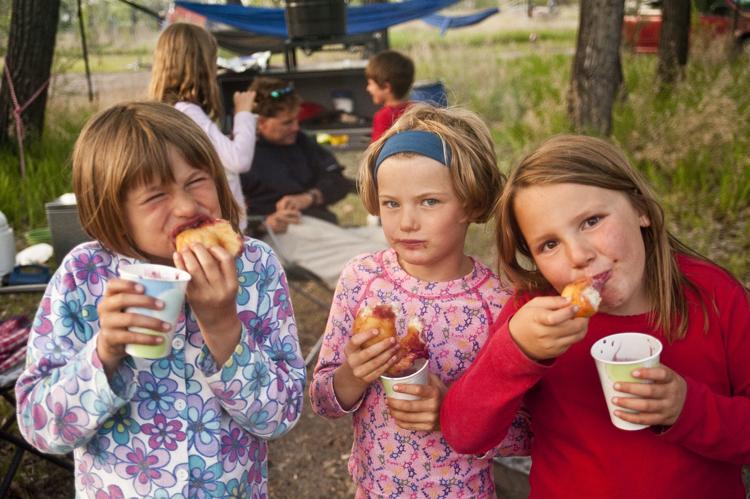 The boys grilled asparagus and zucchini on Jeff's stove and threw a bunch of steaks over the campfire. Rich brought an extra special treat: a delicious Native American berry pudding called wojapi in the Dakota Sioux language — which he learned to make from his mother, Faye Youngman Peterson, and his grandmother, Mary Youngman — and several bags of his cousin Cissy Eagleman's homemade frybread, which we enjoyed around the campfire as the stars came up, and the next morning for breakfast. Yum!
Our first day on the water, we loaded the kids in the back of a truck and drove around the campground to Dredge Cuts Swimming Area, a popular swimming area and boat launch which has since become a very popular spot to stand up paddle board.  From the Dredge Cuts we jetted downstream and spent the day fishing, exploring and picnicking. The kids had a blast searching for morels (which we didn't find) and fossils; I spotted a pair of enormous teeth in a gravel bar. A Boston Round filled with Badlands Extra Pale Ale from Meadowlark Brewing in Sidney was consumed. Naps were taken; sunscreen was applied and reapplied; ticks were removed.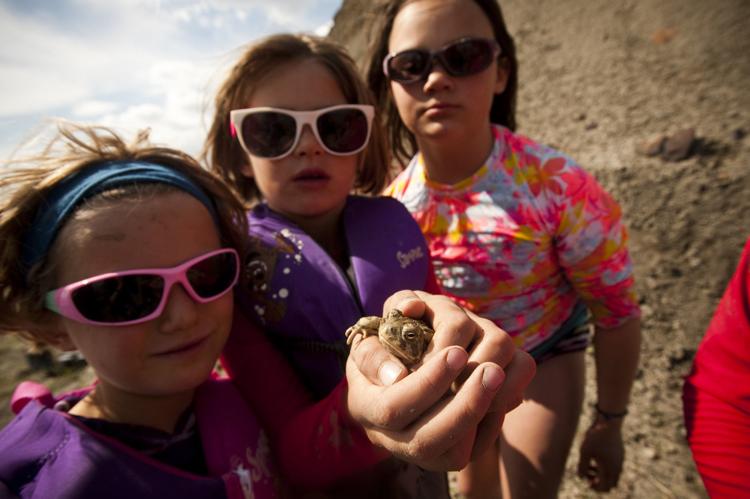 On Sunday we hit the Lake early, putting in at Rock Creek Bay, for a full day of lake fishing. The water was like glass! We swam, did more fossil hunting, ate lunch on an island and the kids had a blast catching frogs on one stretch of shoreline with epic mud holes. We encountered few other boaters but proved the old adage, "Just because a guy can catch a trout on the Yellowstone doesn't mean he can catch a walleye on Fort Peck."
By the end of the day we were glad not to have to cook or do dishes and fell into our seats at the Park Grove Café before contentedly ordering our Fritzi's Dam Burgers with waffle cut fries.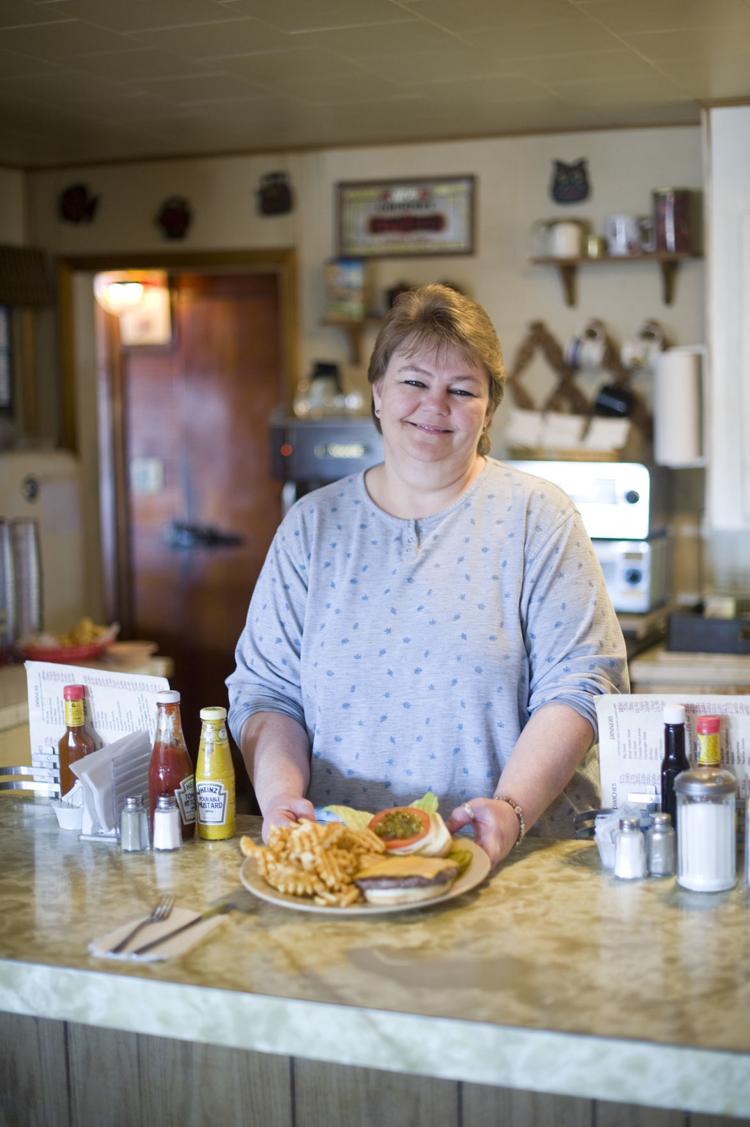 "By far, our best seller is Fritzi's Dam Burger," says Shandy Stingley, granddaughter of original owners Fritzi and Larry Debeau, who are now both deceased. This half-pound slab of beef, bought fresh from a butcher at Reynolds Market down the road in Glasgow, "is our specialty," says Stingley's mom (and Fritzi and Larry's daughter), Kim Cook. Kim patties 'em up by hand in the kitchen along with her other daughter Ali. "It's a family business," says Kim with a smile.
Our kids were thrilled not to have to sit still, rotating between the pool table, darts and shuffleboard. I like to grab a stool at the counter and order a big, fat deluxe Fritzi's Dam Burger blanketed in melting cheddar, where I can watch my criss-cut fries sizzle on the grill. Open year-round for lunch and dinner, the café is positively slamming during summer and hunting season.
And you know what? They taste every bit as delicious as the ones at the Kiwanis BBQ in Miles City.
Montana-based photojournalist Lynn Donaldson-Vermillion shoots and writes for Travel + Leisure, FoodNetwork.com, is an official Instagrammer for National Geographic Traveler, and contributes regularly to the New York Times. She is founder and Creative Director of the Montana food + travel blog, TheLastBestPlates.com.
***
TheLastBestPlates.com is a digital destination that serves up Montana's tasty food, travel and culture stories … one bite at a time.