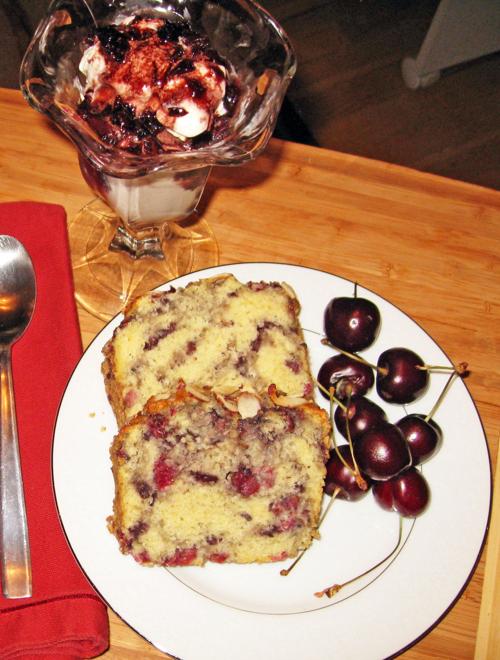 For all those who are lovers of fresh cherries, they are now readily available, both from the Northwest and from our Montana Flathead Valley. The dark sweet cherries from the Flathead Valley are the ones we look forward to the most, and are prized in many parts of the United States as well as here in Montana.
There is something special about the Flathead cherries and now is the time to take advantage of this new crop. There are 120 growers in the Flathead Valley, and if you travel around the lake you will see stands selling the fruit, or products made from the fruit, at many points along the way. If you are in the area, the Polson Flathead Cherry Festival will be held in Polson July 21-22, and you can have the opportunity to compete in cherry-spitting contests as well as a cherry pie-eating contest.
Enjoy the fresh cherries in a variety of ways, including eating them fresh off the stem, baked in pies or other desserts, combined in salads, baked in breads or coffee cakes, or preserved in jams, pie filling, etc., for later use. It is also easy to freeze cherries to enjoy during the winter months. Just wash, pit and place the cherries in freezer bags. For snacking the cherries can be eaten straight from the freezer. Cherries are not only tasty but nutritious as well. They are a source of melatonin that promotes healthy sleep patterns, are a good source of potassium, contain antioxidants that help reduce the risk of cancer and heart disease, and have anti-inflammatory properties.
So as you are enjoying the sweet, juicy taste of the fruit, enjoy the health benefits as well. For even more recipes using cherries, you can find them at the Cherry Growers website, www.montanacherries.com.
Tart cherry almond bread
Enjoy this bread, freshly baked, with your morning coffee. It is low in fat with only ¼ cup butter, but is still moist with the buttermilk and cherries. Even though the recipe says tart cherries, I have used sweet cherries instead.(Yields: 1 loaf)
2 teaspoons baking powder
¼ cup butter or margarine, softened
¾ cup plus 1 teaspoon sugar, divided
2 teaspoons almond extract
1 cup pitted tart or sweet cherries (drain any juice)
3 tablespoons sliced almonds
Preheat oven to 350 degrees. Combine flour, baking powder, baking soda and salt. Set aside. In a large bowl, beat together butter and ¾ cup sugar. Add eggs and mix well. Stir in buttermilk and almond extract. Stir in flour mixture. Chop cherries; stir into batter. Spread batter in greased 9 x 5-inch loaf pan. Sprinkle one teaspoon sugar and sliced almonds over batter. Bake at 350 degrees for 60 minutes, or until toothpick inserted in center comes out clean. I used 2 (7½ x 3½-inch) pans and baked them for 45 minutes. Cool 10 minutes, then turn out of pan onto cooling rack. Source: "Best of the Best from America Cookbook," taken from "Good Food from Michigan," Quail Ridge Press.
Chocolate cherry jam
Cherries and chocolate are a decadent pairing in this luscious jam that will have you eating it off the spoon. Use it to top ice cream or cheesecake, or stir into your morning yogurt for a real treat. The classic pectin called for in the recipe is a Ball product available in jars and is the same as the pectin found in the standard pectin boxes.
(Yield: about 6-7 (1/2 pint) jars
6 cups fresh or frozen pitted dark sweet cherries, coarsely chopped
6 tablespoons classic pectin
¼ cup bottled lemon juice
⅔ cup unsweetened cocoa (use ½ cup if you want more cherry flavor to come through)
Prepare jars, rings and lids for canning. Fill boiling-water canner halfway with water; heat to simmer. Combine first three ingredients in a 4-quart stainless or enameled Dutch oven or stockpot. Bring mixture to a rolling boil that cannot be stirred down, over high heat, stirring constantly. Meanwhile, stir together sugar and cocoa until blended, add all at once to boiling cherry mixture. Return mixture to a full rolling boil. Boil hard 1 minute, stirring constantly. Remove from heat; skim foam if necessary. Ladle jam into hot jar, leaving ¼-inch headspace. Remove air bubbles. Wipe jar rim; center lid on jar. Apply band, and adjust to fingertip-tight. Place jar in boiling-water canner. Repeat until all jars are filled. Process jars 10 minutes, adjusting time for altitude. Turn off heat; remove lid, and let jars stand 5 minutes. Remove jars and cool. Source: "The All New Ball Book of Canning and Preserving," Oxmoor House, 2016.
Cherry barbecue sauce
For your summer barbecuing, make a batch of this cherry barbecue sauce that will add a special finish to pork ribs or roast. It would also be tasty on grilled chicken. Preserve some extra to give as Christmas or other gifts.
2 cups fresh or frozen dark sweet cherries, pitted and coarsely chopped
1 tablespoon Worcestershire sauce
2 teaspoons ground mustard
⅛ teaspoon Liquid Smoke (optional)
Prepare jars, lids, and rings for canning. Heat water in water-bath canner. In a large saucepan, sauté onion and garlic in butter until tender. Stir in remaining ingredients. Cook, uncovered, over medium-low heat for 20 minutes, until cherries are tender and sauce is thickened, stirring occasionally. Fill hot jars with barbecue sauce and place in canner. Process in boiling water bath for 20 minutes, adjusting for altitude. Source: www.montanacherries.com, recipe submitted by Dawn Versoi.
Bernie Mason writes the Local Flavor column for Lee Montana Newspapers. She was a Yellowstone County extension agent for 24 years. Mason grew up in Sidney in a family of German and Danish ancestry.
Satisfy your cravings
With our weekly newsletter packed with the latest in everything food.