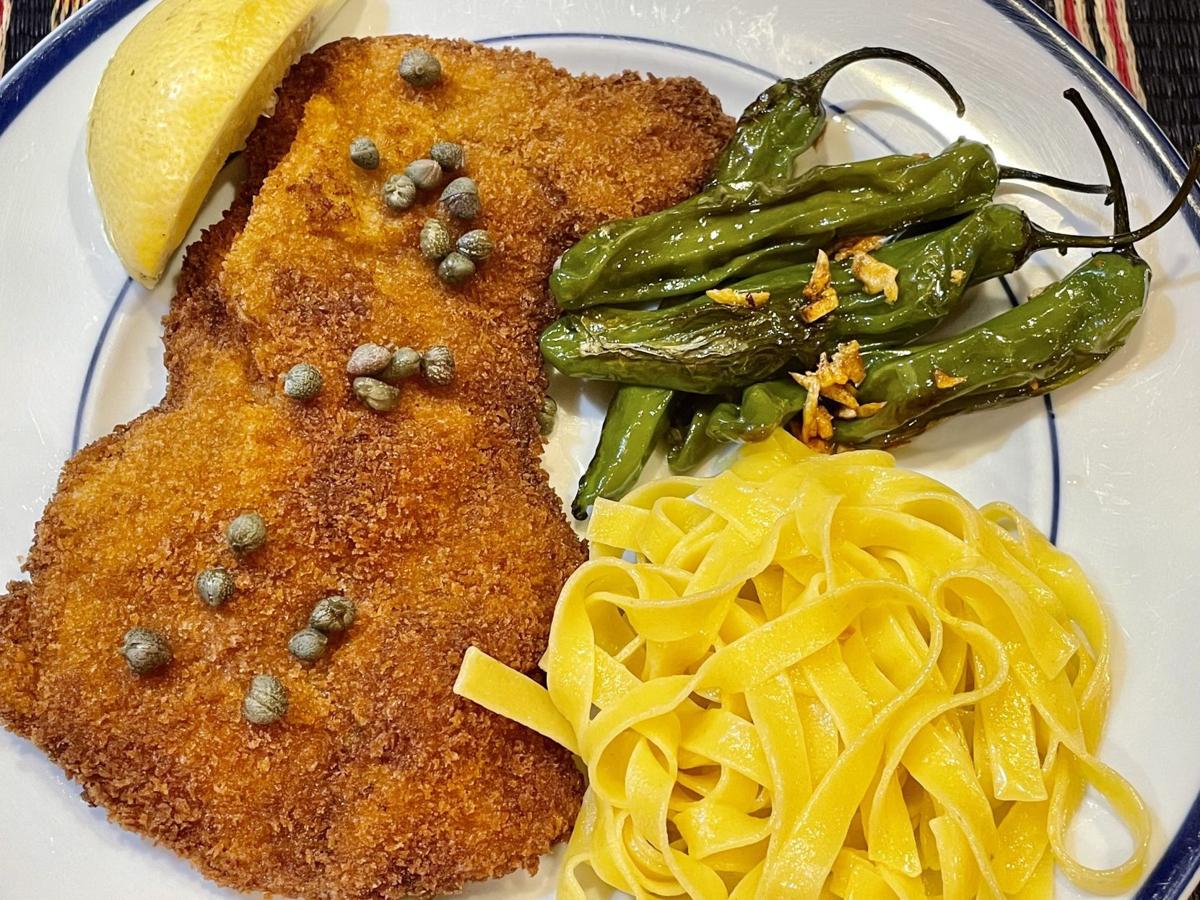 Crispy and crunchy. Don't you just love those words? They're magic when it comes to food. Just saying them gets my salivary glands working. The first thing I think of is potato chips. And the next is something I want for dinner — a Panko-coated fried cutlet.
The German language has a beautiful word for it: Schnitzel. And a schnitzel can be veal, chicken, pork or just about any meat. The key is to pound a hunk of meat until it flattens into a thin cutlet the size of a small plate. After seasoning with salt and pepper, you coat the cutlet with a dusting of flour, dip it into beaten egg, and finally enrobe it in crunchy Panko breadcrumbs.
Then you fry it to a delicious crispness in very hot — 375 degrees — vegetable oil. My favorite is refined coconut oil for two reasons: I love its flavor and it is stable at high temperatures. Avocado oil is also excellent for the same reasons. To make sure of the oil's temperature, use a thermometer. A digital one is the best because it will give you an instant reading. Schnitzel cooks really fast, in about 4 minutes.
Pork tenderloin makes delicious schnitzel. A whole one weighs a tad over a pound and you'll get four nice cutlets from it. The best way to flatten the meat is to place it between sheets of cooking parchment or plastic wrap and beat it with firm strokes until it's between 1/8- and 1/4-inch-thick. A meat mallet with a flat surface, a wine bottle, or a rolling pin work nicely. Just remember to be gentle.
Once you've readied the schnitzel for frying, the cutlets can be refrigerated for an hour or so. When ready to cook, let them stand at room temperature for about 15 minutes.
Buttered noodles and a cooked green vegetable are great schnitzel go-withs. I opted for shishito peppers because they found me at the market. For the noodles, I really like tagliatelle, the medium-wide Italian egg pasta. But just about any pasta will work, especially linguine or spaghetti. Happy cooking and eating!
Crispy Pork Cutlets with Egg Noodles and Shishito Peppers
Crispy pork cutlets beg to be served with noodles and a green vegetable. I happened to find some shishito peppers at the market, so into my cart they went. Sugar snap peas, broccoli or spinach would also be excellent. Or leave the veggie out and make a tossed salad. Any noodles will be fine. I happened to have a package of tagliatelle and opted for them. But feel free to serve the cutlets with spaghetti or linguine or any pasta you like.
Here's the battle plan: prepare the cutlets — pound the pork, bread them, set them aside and put the cooking oil into a large skillet (12-inch); cook the pasta, drain and return to its cooking pot, mix in some butter, cover the pot and keep warm. Cook the shishitos in a medium skillet with the olive oil and chopped garlic; cover and keep warm. Finally cook the pork cutlets.
1 1/4 pound whole pork tenderloin (if 1-pound, that's fine)
Panko crumbs, about 1 cup
2 cups cooking oil: refined coconut (first choice), avocado, grapeseed, or other high-temperature seed oil
4 tablespoons drained capers
1 lemon, cut into 4 wedges
1. Cut the pork tenderloin at an angle into four equal pieces beginning at the tapered end. Because the end is the narrowest part of the tenderloin, just estimate how far up to make your first cut. You want each portion to weigh about the same.
2. Flatten each piece between sheets of cooking parchment or plastic wrap until the cutlets are no thicker than 1/4-inch. Season each cutlet on both sides with sprinklings of salt and pepper.
3. Have 3 dishes on your work surface. In one, put in the flour. In the second, beat together well with a fork the eggs and 1 tablespoon olive oil. In the third, add the Panko crumbs.
4. One at a time, coat a cutlet with flour, and shake off the excess. Place the cutlet in the egg and turn to coat both sides. Lift the cutlet up with tongs and drain off excess egg. Set the cutlet onto the Panko crumbs and coat both sides well. Pat the crumbs firmly in place. Set the prepared cutlets on a baking sheet lined with parchment or plastic wrap.
1/2 to 3/4 pound of tagliatelle or other pasta
2 to 3 tablespoons butter
Bring a large pot of salted water to the boil. Drop in the pasta and cook, stirring every couple of minutes, until al dente. Drain well, return pasta to the cooking pot, and stir in the butter. Cover the pot and keep warm.
When I described shishito peppers in a previous story, here's what I wrote: "Shishitos are slender, finger-length, mild-tasting chili peppers. You buy them green and cook them quickly in a skillet with a little oil and salt. To eat, hold a pepper by its stem and nibble the whole pod — flesh and seeds. A word of warning: about 10% of the peppers are spicy, so nibble slowly if you don't like spicy surprises."
1 bag (8 to 12 ounces) shishito peppers
1 tablespoon chopped garlic
1. Look over the peppers and discard any with dark blemishes. Rinse the peppers in cool water; drain and pat dry.
2. Heat the olive oil in a medium skillet over medium heat. When hot, stir in the garlic. Add the peppers, sprinkle with salt and pepper and stir well.
3. Cook, stirring, for 2 minutes. Cover the skillet and reduce the heat to low. Cook 6 to 8 minutes, stirring a couple of times, until the peppers are soft and the garlic bits are browned and crispy. Turn the heat off and leave the peppers covered.
Put the cooking oil into a large (12-inch) skillet or sauté pan over medium-high heat. When the temperature registers 375 degrees, put two cutlets into the pan. Agitate the pan by its handle to swirl the oil onto the cutlets. You can also use a metal spoon to bath the cutlets with the oil. Cook about 2 minutes per side, until the cutlets are a rich brown color. Drain well on paper towels. Return the oil to 375 degrees and fry the remaining two cutlets.
To serve, place the cutlets on warmed plates and scatter 1 tablespoon capers over each. Set a lemon wedge on the cutlet. Spoon buttered pasta and shishito peppers alongside and bring to the table. Squeeze the lemon wedge onto the cutlet and dig in. Happy Eating!
Greg Patent is a James Beard Award-winning cookbook author for "Baking in America," a food journalist, blogger, and radio co-host for "The Food Guys" on Montana Public Radio. Please visit his blog, www.thebakingwizard.com, and follow him on Twitter, Instagram, and Facebook.