During my sister and her husband's visit to Billings, I wanted to show them some beef. At lunchtime I herded them to The Burger Dive in downtown Billings.
From the rush of North 27th Street, we slipped into neon and nostalgia. We could imagine Fonzie from the television show Happy Days stepping on the red and white checkered floor to pull out a chrome blue vinyl chair to sit on its edge while the light of the fluorescent '"Diner" sign reflected off his slicked-back hair.
During this lunch hour, to our surprise, there were a couple of empty tables so we were seated immediately. Settling into place so quickly meant I missed studying today's burger special of "Jamaikin' Me Crazy" with Jamaican jerk barbecue brisket, caramelized onion and pepper jack cheese, "Chef Geri's Soup" of potato and cheddar soup, and the shake feature of PB Hot Fudge.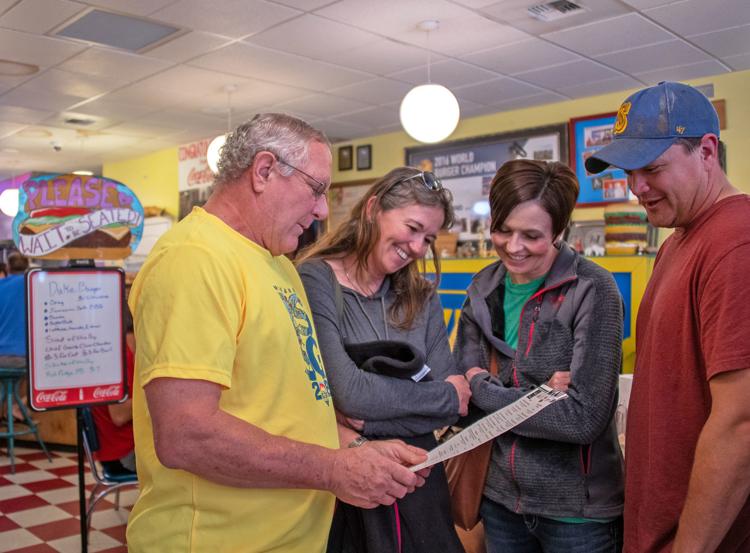 Kitsch memorabilia abounds — salt shakers, old rock band posters and autographed menus from movie stars — providing lots to look at. But on the north wall, a large check for $10,000 from Brad Halsten's win as 2016 World Burger Champion hangs. The "I'm Your Huckleberry" Burger made with huckleberry Hatch chili barbecue sauce, bacon, goat cheese, arugula and roasted red pepper mayo brought home the bacon.
Next to this check, a smaller framed check from Red Robin's Best of the Bash Winning Chef competition exposed a wicked Halsten creation of a blackened seasoned burger topped with an onion ring, arugula, goat cheese, bacon, Sriracha sauce and garlic basil mayo. This burger boldly satisfies all senses.
"I really like to compete," Halsten said. He played college football at University of California-Davis and then finished his junior and senior year as offensive tackle for Rocky Mountain College in Billings. Though he earned a teaching degree in physical education and health, he never taught. "I substituted for a while but I did not like it." After playing for the Billings Thunderbolts, and then the Outlaws, he and his wife Andi decided to open up a restaurant.
"I had this idea," he said. "I was interested in what I was seeing on the Food Network. I was a 'Diners, Drive-ins and Dives' fan," he said of the Food Network show. For the location of his eatery, "I wanted to be downtown. It belonged downtown, not in a strip mall." His current space became available after Red's Popcorn, Candy and Snackbar store closed.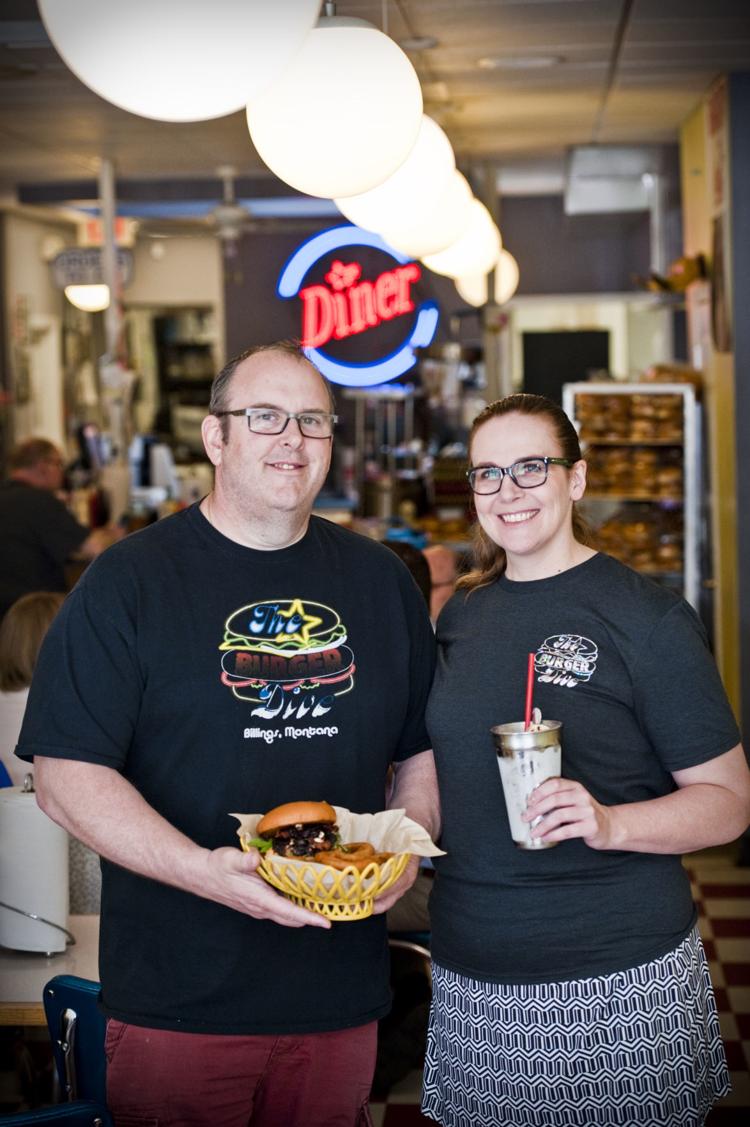 The huckleberry milkshake made with Wilcoxson's Ice Cream that my sister ordered arrived at the table in the metal container. As condensation beaded down the shiny front, my sister dipped the long spoon through the chunky berry syrup atop lilac-colored creaminess. "This is good. I had forgotten what real ice cream tastes like" she said. "Would you like some?"
I did not hesitate to taste summer-ripened huckleberry richness.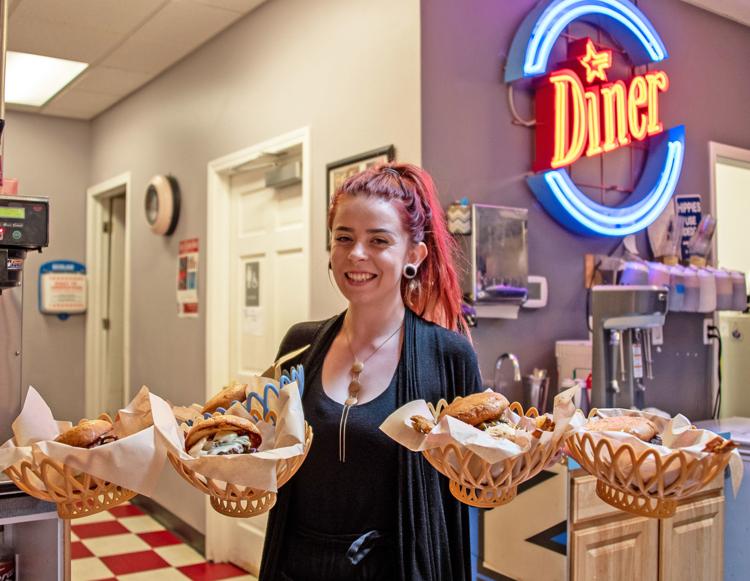 Our food arrived quickly. In each plastic basket lined with wax paper, fries covered half the space. Halsten's names for his burgers revealed his sense of humor. The "Juicy Lucy" was introduced with the word "Caution!" to warn diners of the burger's generous melted cheddar cheese.
I ordered "The 'North Beach' Mushroom Burger" with sauteed mushrooms, caramelized onions, cheddar cheese, garlic basil mayo, lettuce and tomato. It reminded me of my San Francisco days.
Lifting the toasted Grains of Montana bun, I revealed an amalgamation of cheese, soft browned onions and mushrooms drooped over a glistening charred burger atop a tomato slice and lettuce. On the side, the fresh-cut sweet potato fries seasoned with cinnamon, cumin and chili powder with a chipotle mayo dipping sauce reminded me of Thanksgiving and Santa Fe. My brother-in-law relished his American cheese burger while my sister opted for one of the famous Nathan's hot dogs.
We left full and filled with old-fashioned memories. As Arthur Herbert Fonzarelli would have said, "Ayy Ayy." It's two thumbs up for beef at The Burger Dive.
Stella Fong, author of 'Historic Restaurants of Billings and Billings Food' hosts 'Flavors Under the Big Sky: Celebrating the Bounty of the Region' for Yellowstone Public Radio.
TheLastBestPlates.com is a digital destination that serves up Montana's tasty food, travel and culture stories … one bite at a time.
Satisfy your cravings
With our weekly newsletter packed with the latest in everything food.