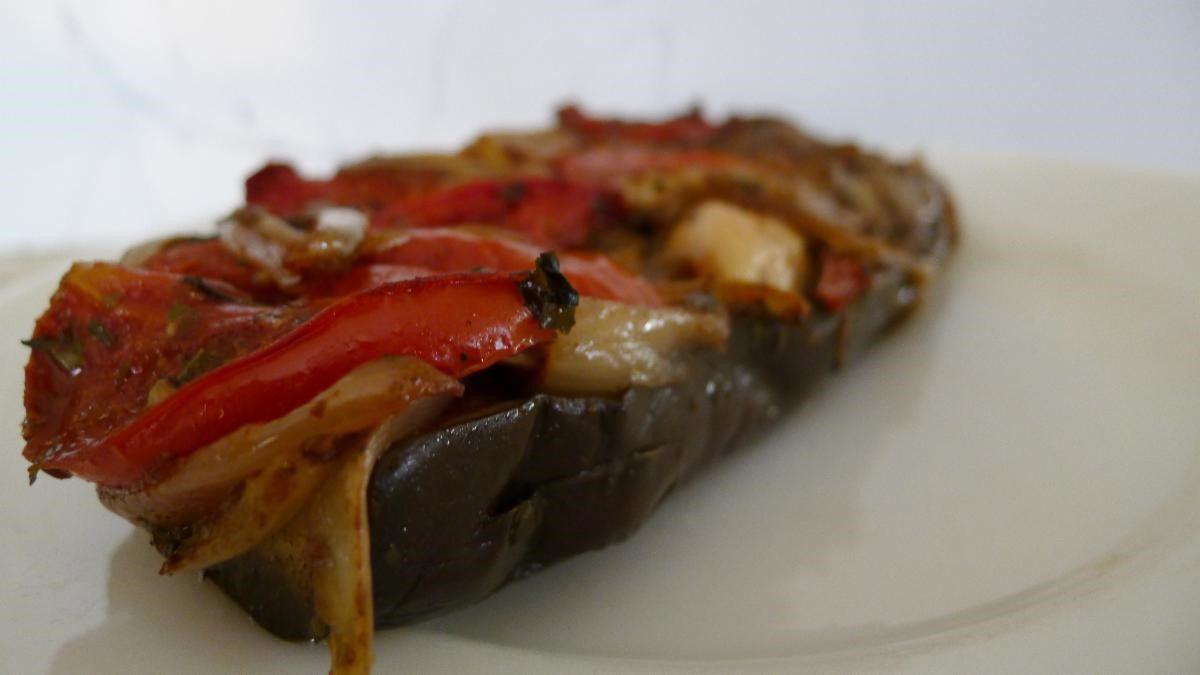 "Imam Bayildi" is a Turkish baked eggplant, named and famed for its ability to knock out a grown man. Its name translates to "the imam fainted," presumably because of the dish's glorious flavor. But there is a competing theory that he fainted upon learning how much olive oil his wife used in preparing it. Both are grounded in fact.
Eggplants share the genus solanum with tomatoes and potatoes. Peppers are one branch over in the nightshade family tree. With a few niche exceptions, like the ground cherry, most other nightshades are poisonous, hallucinogenic, medicinal, inflammatory or any combination of the above, depending on the dosage. This toxicity is thanks to alkaloids, a type of molecule that's diversely represented in the nightshade family, and is found in low doses in potatoes, tomatoes and eggplant, and in much higher concentrations in tobacco, also a nightshade. So perhaps it was the alkaloids that knocked out the Iman.
Eggplant is the one nightshade popular with the human species that was domesticated in Asia. The rest came from the New World. So it's fitting that my eggplant expert is also an Old World expert.
Ray Risho is an Assyrian-American chef, restaurateur and lifelong scholar of Old World cuisines. All four of his grandparents came from Mesopotamia, he told me, and the Pawtucket, Rhode Island, home of his childhood was pro-eggplant. To this day, Risho goes on a seasonal eggplant binge. If you ever run into him at the Missoula Farmers Market, he will point you toward the current hot spot. This year's growing season was truncated badly by the early winter. But before it was too late, Risho showed me how to make Imam Bayildi.
His rendition is deeply satisfying, very meaty in an eggplanty way. And it's exotic, thanks to the Baharat seasonings he mixes with the tomato and onions that get baked on top of the eggplant, everything drenched in olive oil. So much oil, and everything so edible that my mom, who didn't faint, ate enough to get heartburn.
Baharat is a classic spice blend available in most Middle Eastern stores. Risho, a black belt in spice blending, mixes his own. If you are purchasing Baharat or any spice mix, he advises, read the ingredient label carefully. You only want spices, no flour, salt, sugar, oil or any other filler that would dilute the impact. You can add the other stuff later, if you care to.
Risho lays eggplant halves in a cast iron skillet, blankets them with a Baharat-seasoned onion and tomato mix, and bakes the skillet, covered, until its contents are a savory pudding.
"The idea is to get the onions, tomatoes and eggplant to melt," Risho said. Like the imam, we presume.
After watching him prepare a pan of Imam Bayildi and put it in oven, I took my leave home to prepare my own. When it was done, and the kitchen swirled with Baharat aerosols, I could not wait for it to cool to a reasonable temperature. Risking heat damage to my mouth, I dove in with dainty nibbles that grew larger as the pan cooled.
The Baharat spices pull this dish out of the realm of ordinary and into a magical realm, a tightly woven yet luxuriously soft magic carpet ride of a meal. If I had passed out and woken up on the floor, it wouldn't have surprised me in the least. The only surprise would have been if I'd stopped chewing.
Imam Bayildi
Since learning the dish from Risho, I tweaked it a little bit to my own tastes, as a cook will do. My version includes garlic and lemon, which I borrowed from other recipes I found in the canon of Iman Bayildi.
2 lbs eggplant, trimmed and sliced in half lengthwise
1 lb tomatoes cut into ribs (see below)
1 lb onion cut into half-ribs
2 tablespoons Baharat (recipe below)
1/2 cup extra virgin olive oil
1 tablespoon tamarind paste
1 head garlic, chopped coarsely
Slice off a thin piece of skin on the underside of each eggplant half so it sits flat. Fill a cast-iron pan or other baking dish with eggplant halves, trimming as necessary so they fit in the pan as snuggly as possible with no empty spaces. If there are lots of gaps, cut up an eggplant to pieces that fit. With a sharply pointed knife, score a crosshatch pattern into the up-facing sides of the eggplants, about a quarter-inch deep, so the cut halves look like they have been overlaid with graph paper.
To make onion ribs, cut an unpeeled onion in half from end to end, and lay one of the halves flat-side down. Slice off both ends, slip off the skin, and slice thinly along the axis between the two trimmed ends. Finally, make one slice across the middle, 90 degrees from the others, so all the ribs get cut in half. Cut the tomatoes to ribs, but don't cut them in half.
Combine the tomatoes and onions. Add the salt, olive oil, Baharat powder, lemon juice, garlic, mint and tamarind paste, and stir it into a caramel-hued mix. Spread this mix evenly atop the eggplant. Bake covered at 325 for two hours. It should be succulent and soft but not collapsed and mushy.
Baharat
Imam Bayildi is hardly the only dish this mix will spice up. It's used in dishes throughout the Mediterranean and the Arabian Peninsula.
1 tablespoon whole cumin seed
Toast the cumin, peppercorns, coriander, cloves and cardamom in a dry pan. Grind and mix with the other ingredients.
Ari LeVaux writes Flash in the Pan, a syndicated weekly food column carried in more than 60 newspapers nationwide. Though his audience is national, he says he "always writes about Montana. Usually."
Satisfy your cravings
With our weekly newsletter packed with the latest in everything food.