While many people think of retirement as they move into their 60s, that wasn't the mindset of Joyce and Steve Thorson, who re-invented their lives with gusto.
The Thorsons live in the country near Manhattan. They are gardeners, canners and occasionally raise just enough cattle for their own use. Joyce worked as a Transportation Security Administration (TSA) agent at Bozeman Yellowstone International Airport. Steve has two construction companies.
About 10 years ago, they were looking for a way to replace the processed sugar in their diets, which led them to consider honey and try their hand at beekeeping. They started out with two boxes of bees, which turned into four, then eight and so the story goes.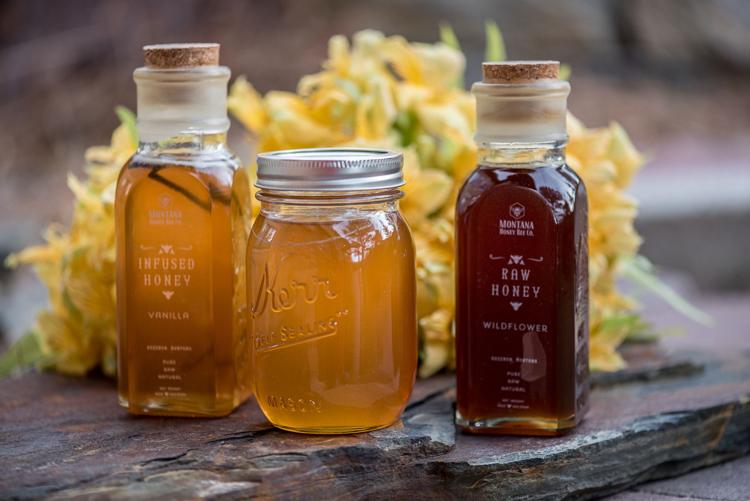 Their honey production was blossoming to a point that they started selling raw honey out of their house. At the airport, Joyce noticed the number one souvenir folks were taking home from Montana was honey. They started toying with the idea of opening a retail store to sell their honey, which would double as a way to get Joyce involved in a new endeavor.
Bozeman made the most sense as a location, so Steve made a trip into town to see how that might play out. There was a building for rent, so Steve called the landlord who informed him there were 25 people ahead of him on the list. But he agreed to meet with Steve and was so impressed with the aspirations of creating a retail space strictly for honey that he rented it on the spot to the Thorsons in March 2016.
Armed with optimism, Steve headed home to share the news with Joyce. Their newly rented space, which previously housed a restaurant, was in desperate need of an overhaul. When he brought Joyce in to take a look, "she sat down on the floor and bawled."
Here were two people with no retail experience moving into a building that needed serious renovation. They had no logo, no labels, no packaging, no displays, no business plan and no website. But they had honey.
Through nothing short of a miracle, along with a "roll up your sleeves and dig in attitude," plus help from family and friends, they managed to open a gourmet honey store by June 2016, a mere three months after starting their new venture. Steve and Joyce, devout Christians, give credit to God for everything falling into place.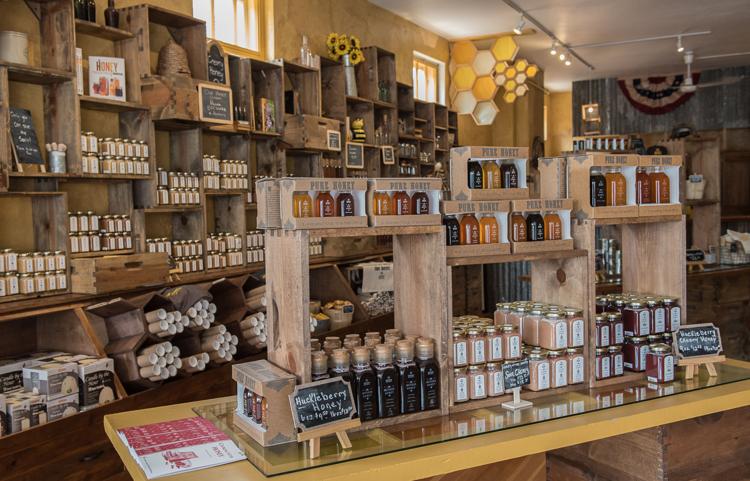 There is a feeling you've stepped into an old-timey general store at Montana Honey Bee. Walls, painted in honeybee yellow, are stacked with wooden crates displaying a range of honey products. An additional room holds all the goods for starting a beekeeping business, including hives, clothing and extracting machines. Montana Honey Bee also is a source for purchasing bees.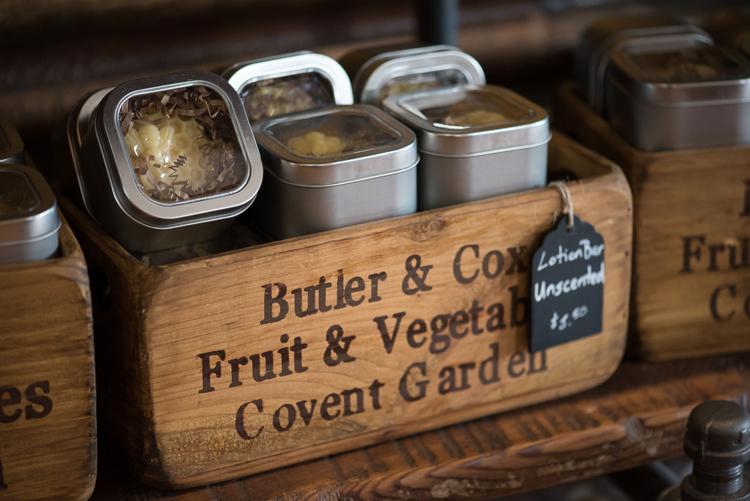 The imagination of what can be done with raw honey seems to have no limitations. Options for infused honey are varied with clover being the top seller, while habanero also is proving to be quite popular. Other flavors include wildflower, cardamom, star anise, vanilla, lavender, tupelo and star thistle.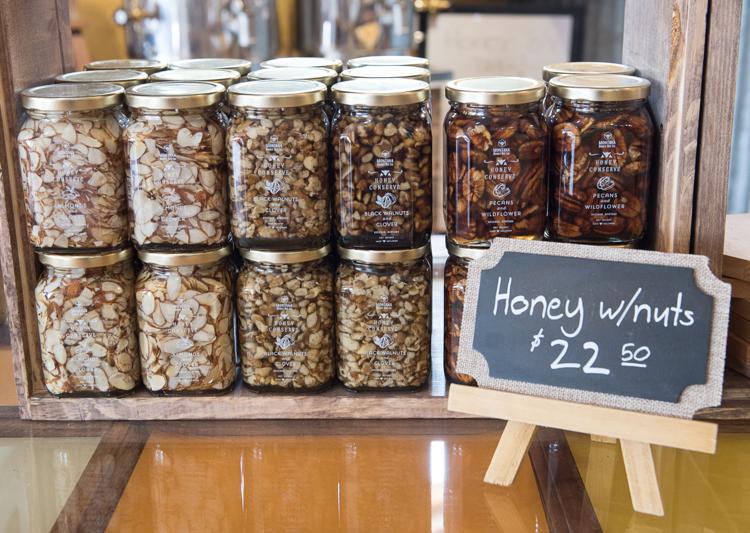 Thistle? Steve explains that even the obnoxious knapweed has one redeeming quality in terms of a flavoring. They have created creamy honey spreads in such flavors as pumpkin spice, sweet orange, key lime, huckleberry, ginger, sour cherry and raspberry. Honey conserves made with various nuts (pecans, black walnuts and almonds) is another tasty product they created.
Two large metal barrels allow customers to take home raw honey in bulk quantities. You can bring your own container or buy one of their jars. What you won't find at Montana Honey Bee are the plastic squeeze bottles of honey commonly found at grocery stores. The quality of this honey deserves to be packaged in elegant glass bottles and ceramics vessels.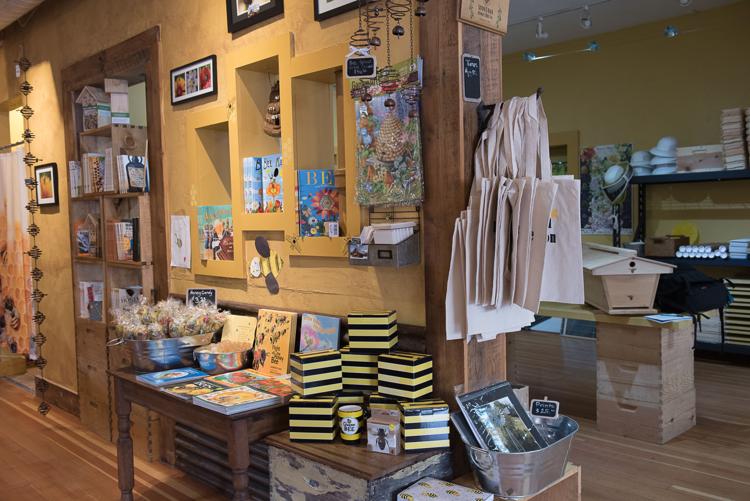 Joyce has created several honey related products — lip balm, soaps, candles and lotions. The list of items for sale, in addition to honey, has grown to include cookbooks, totes, books, mugs and wind chimes, all themed to relate to bees, beekeeping and honey.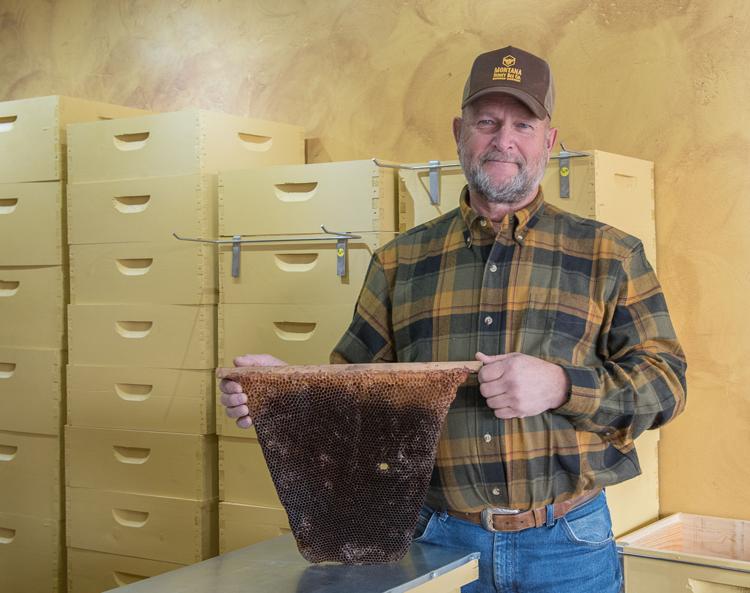 Steve teaches beekeeping classes, and also gives presentations to classrooms and civic groups on all things related to bees and honey. Their store is unique to Montana. Steve knows of only one other store in the United States similar to their setup, which is located in Savannah, Georgia.
Asked how often he is stung, Steve said, "I never wear protective clothing, so I have been stung many, many times." There is ongoing research into the healing properties of bee venom, to which Steve is a believer. He tells me the stings he has experienced have helped ease arthritis in his hands.
Montana Honey Bee has sweetened the lives of the Thorsons; it's a "mom and pop" success story. They always are open to suggestions about new flavors or ways to utilize honey, so if you stop by with ideas, they are sure to listen.