St. Patrick is a much-loved enigma. He remains very poorly known in spite of the exponential growth of his fame based on later legends and the now nearly global celebration of his Feast Day. In preparation for St. Patrick's Day here is a quick look at what constitutes his authentic greatness.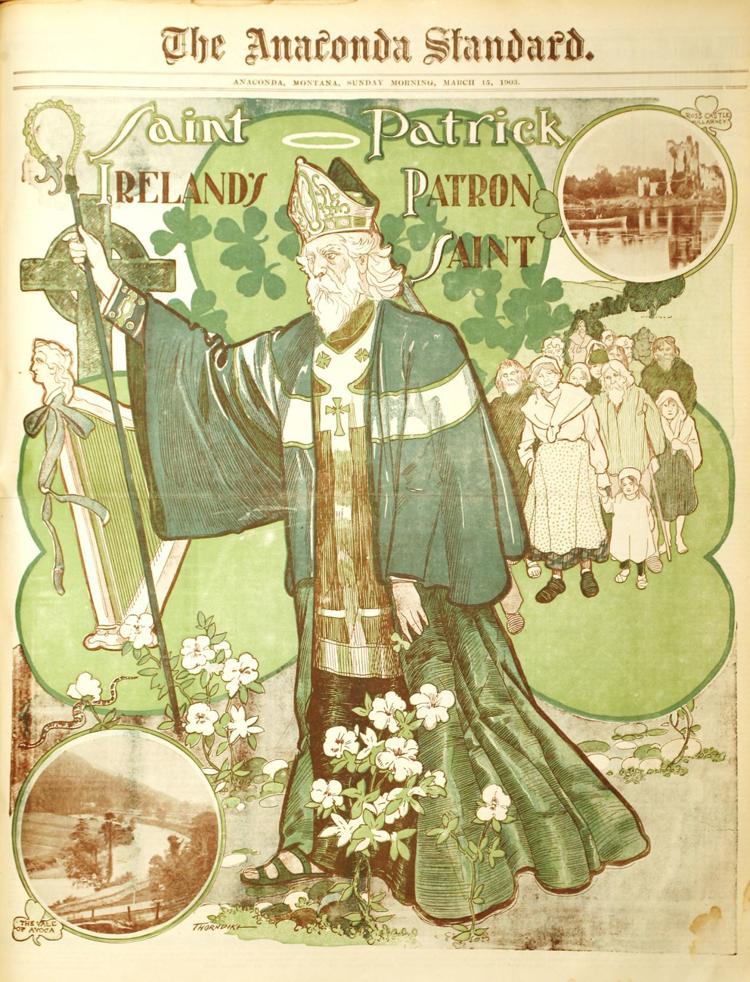 1. St. Patrick wrote a fascinating autobiography.
St. Patrick wrote a truly remarkable book of memoirs, "The Confession". Written in simple Latin, it is the most significant and credible source of information that we have for his life. He was born in 390, in a partially Romanized region of Western Britain. His father was a city official as well as a deacon. His grandfather was a priest at a time when celibacy was not expected. His family most likely belonged to the minor aristocracy. He was not a particularly religious youth. At the age of 16 he was captured by pirates, in the course of a raid, and sold into servitude in Ireland.
2. He was never consecrated a Bishop.
Patrick spent 6 years as a shepherd in what, most likely, is now County Mayo, in the stunningly scenic West of Ireland. In the aftermath of a religious experience that was as powerful as mysterious, he escaped from slavery and evaded recapture. He then walked 200 miles, across Ireland, to freedom and home with the intention to return. He received some education, was ordained a priest but was never consecrated a bishop. He had made a transgression as a young person that was deemed serious enough for Church authorities to consider him unsuited for higher office. The so-called Donatist mentality of the time was of the view that "once unworthy" meant "always unworthy". There is a current trend in our society that also wishes to forever discard the once-fallen. Patrick's life gives a very persuasive testimony to the possibility of redemption and second chances. Yesterday's unworthy, may indeed become tomorrow's most worthy.
3. He was not the first to bring the Christian Message to Ireland.
Pope Celestine I sent Palladius of Auxerre on a mission to Ireland. He was the first and stayed in the South. He experienced some success but that pales in comparison to what was accomplished by Patrick in the North and West soon after. Patrick had a genius for mission. He skillfully weaved Christian sacred mysteries into the very rich Celtic mystical landscape. The basic unit of early Irish society was the tribe and patiently, one chieftain and his clan at a time, he converted the island.
You have free articles remaining.
You're out of free articles
Sign in or create a FREE account to keep reading.
4. In an age of endemic brutality, he was a peacemaker dedicated to non-violence.
Following the conversion to Christianity of Emperor Constantine in 312, mass conversions typically followed military conquests or civil encouragement and coercion. Patrick changed hearts without the assistance of any power besides the force of his admirable personality. He spoke very bravely against the routine violence of early Irish society. He once boldly confronted Coroticus, a fearsome British warrior, about his violent treatment of women.
5. The Irish converted by St. Patrick changed the course of history.
The Celtic influence on the development of Christianity and the history of Europe cannot easily be overstated. It was immense and without any relation to the size of its population. The culture of southern Europe was collapsing under the blows of successive Germanic waves of invasion. One of them, the Franks, had come to dominate the area that is now France. Once Christianized the Franks developed what has been aptly called a "Liturgical Civilization", a very predominantly sacramental religion that became normatively practiced in Continental Europe.
The converted Irish addressed these simultaneous evolutions in two transformative actions:
a) To the tragic disappearance of Roman Libraries the Irish responded with the systematic preservation of the written treasures of Greco-Roman civilization. Arguably, the brilliant Renaissance would not have been possible without this monumental salvage effort.
b) They significantly balanced the dominant ritualistic preoccupation of the time with widespread initiations into the incomparable radiance of the interior life. The tension between the two is still palpable but the deeply Celtic spiritual notion of faith as a "pilgrimage within" still nurtures humanity to this day. They also introduced the private confession to replace the very public disclosures that had, until that time, been required. As someone who has had to confess not so trivial offenses throughout the course of my life, I am truly grateful for the change.
I hope that these vignettes help you grasp the true meaning of the celebration. St. Patrick's life offers inspiring lessons of resilience, patience, fortitude and love. When you wear green or drink a Guinness this March 17th you will know why and how it all started. Happy St. Patrick's Day!