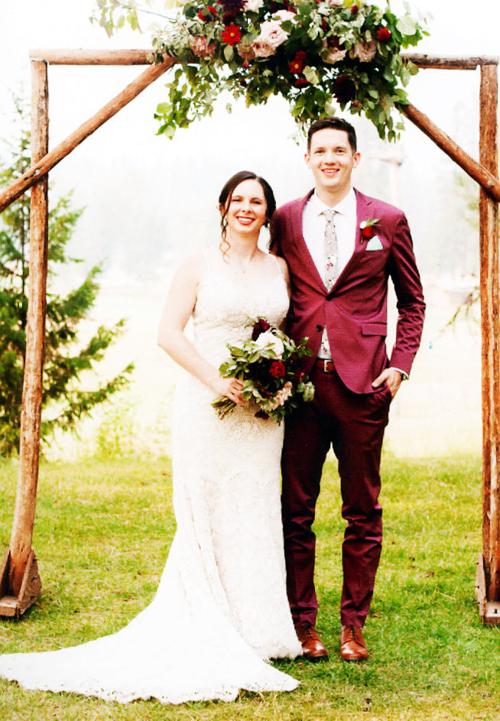 Richelle Ann Stillwagon
and Joseph Carl Fox
The Double Arrow Lodge at Seeley Lake was the scene for the Aug. 12, 2017 wedding of Richelle Ann Stillwagon and Joseph Carl Fox. Officiant was Andrew Wong, friend of the groom.
The bride is the daughter of Bryon and Lea Stillwagon, Butte. Her husband is the son of Susan Fox, Bozeman, and Carl Fox, Fort Atkinson, Wisconsin.
Wedding attendants were Bryann Bausch, maid of honor; Andrew Wong, best man; Amanda Tippett, Chrissie Gore and Caden Tippett, bridesmaids; the groom's brothers, James Fox and Thomas Fox, groomsmen; Avery Fox, Skyla Gore, Evyn Tippett and Preston Tippett, flower girls; and Danny Fox and Henlee Gore, ringbearers.
A reception followed the ceremony. Among the guests were grandparents, Roberta Dapp and Lawrence Dapp. Unable to attend were grandparents, Gordon and JoAnn Smith.
Born and raised in Butte, Richelle graduated from Emerson Elementary, Butte Central Junior High School, Butte Central High School, the University of Montana, and the University of Illinois School of Medicine. She is an ophthalmologist in Buffalo, New York.
Born in Orange County, California, Joseph lived in several states and met his future wife at UM. A graduate of the University of Arizona School of Medicine, he is an orthopedic surgeon in Buffalo.