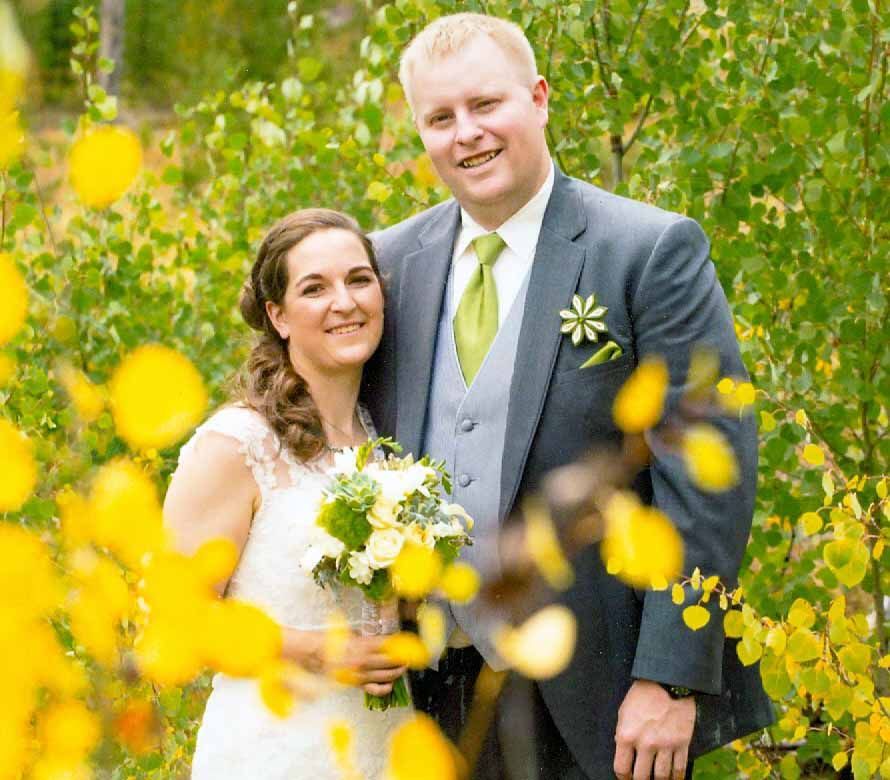 After a small rainstorm passed over the venue site, Kerrie Vivian and Brian Berger exchanged their wedding vows and rings in front of family and friends in the beautiful southwest mountain resort area of the Homestake Lodge. The mountain air was cleared of smoke from fires and the sun was shining for the Aug. 29, 2015 wedding.
Kerrie is the daughter of Tom and Sandy Vivian of Butte, Montana. She is a 2007 Butte High School graduate and a 2011 graduate of Montana Tech, receiving her bachelor's degree in biological science. Kerrie is currently employed as a fish culturist with Wyoming Game and Fish at the Wigwam Rearing Station in Tensleep, Wyoming.
Brian is the son of Joe and Colleen Berger, also from Butte. He is a 2004 Butte Central High School graduate and in 2009, received his bachelor's degree from Montana Tech in business and information technology. He is employed with Butte-Silver Bow County as a police officer, graduating from the Law Enforcement Academy in Helena, Montana, in March of 2015. He also owns Berger Contracting, LLC, and works on a variety of construction jobs.
Father Brian Miller married the couple.
Matron of Honor was Kristi May, sister of the bride. Bridesmaids were Kelli Fleming, Katie Reilly, Kaysi Rickard, Jennifer Schneider (sister of the groom), Shelby Schrapps, and Shonda Stringer. Best men were Chris Berger and Tim Berger, brothers of the groom. Groomsmen were Corey Hautzinger and Robbie Vivian (brothers of the bride), Nick McGree, Kyle McIntyre, and Brian Mondloch. Flower girls were Jaeden Berger and Tayvin Berger. Ringbearers were Cashton Schneider, Trevin Berger, and Kelton Berger. Readers were Derek Stringer and Eric Henrich, friends of the bride.
The mountainous setting suited the couple, as the outdoor ceremony was performed under a pine log arch made by the groom, the priest wore a camouflage collar, and the tables at the reception in the pavilion were decorated with shed antlers and white roses -- all indicating the couple's love of the outdoors (camping, hunting, fishing, etc.).
Special guests in attendance were grandparents of the bride, Lloyd and Shirley Paynter of Butte; grandmother of the bride, Dee Vivian of Butte; honorary grandmother of the bride, Shirley Hautzinger of Helena, Montana; great-aunts and uncles of the bride, Jeff and Jackie Pitts of West Valley, Utah and Cookie and Doc Jordan of Butte. The groom's grandparents, the late Francis and Mary Berger and the late James and Barbara Cashell, all from Butte, were present in spirit, especially James Cashell, who had passed just days before Brian's and Kerrie's wedding day and was very much on the minds of the family.
The new Mr. and Mrs. Berger honeymooned in Homer and Anchorage, Alaska, thoroughly enjoying the Alaskan outdoors -- halibut fishing, hiking glaciers and sightseeing. They and their two dog children, Queenie and Honey will be burning up the highways between Butte and Tensleep until their jobs bring them closer together to one area.