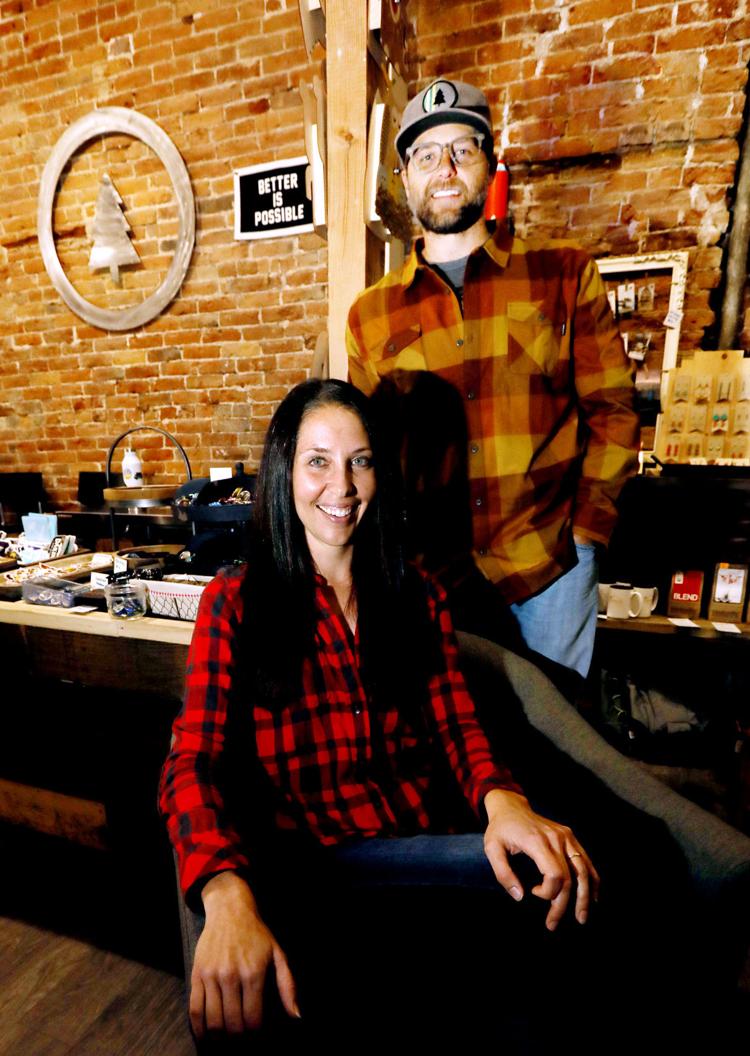 Jon and Cassie Wick's 5518 Designs shop is pretty tiny compared to its across-Main-Street neighbor, NorthWestern Energy. But it's a big energy producer in its own right.
As a source of positive energy about Uptown Butte and outdoor recreation in the area, the unique little shop is unrivaled — and the Wicks themselves are a powerhouse of ideas, optimism and enthusiasm.
The store, which opened two years ago in November, is still being "discovered" by people in Butte. "We get people who live on the Flat who come in and say, 'I didn't know this was here!" Cassie says.
5518 offers the outdoor-recreation-inspired art and designs of Jon Wick on a variety of apparel, accessories and paper products, along with products from other leading outdoor-recreation brands like Dakine, Chaco and Mizu. "We set out to create something fun and fill a space in Uptown Butte," Jon Wick says. "We never anticipated how great the response would be."
The store has created community. It is a gathering-place of sorts. "Such a supportive, cohesive community," Cassie Wick says. "Supportive in a million ways."
Wick's images are vibrant, vivid, colorful, joyful. "It's positive messaging," he says. "It changes the conversation."
The Wisconsin native was teaching fifth grade in Philipsburg when he met Cassie at Georgetown Lake. They've been through a lot — Jon was diagnosed with cancer a few years ago — and they've come through, smiling.
Cassie works as an advocate for people with disabilities at the Montana Independent Living Project. "I meet people where they are and help them reach goals and live independently," she says simply. She loves the job, which she's been doing for nine years. "It's amazing to get paid to help people," she says.
As members of the business community, they take their responsibility to their Butte colleagues very seriously. "We want to live here, and we want to make it better to live here," Jon says.
Jon, who formerly served as executive director of Mariah's Challenge, is still on the board and volunteers for the organization. "It's another one of those great things — how could you not want to be involved?" he says.
Meanwhile, the store is his passion and occupies a great deal of his time. Because of her work, Cassie is there less frequently, but still contributes.
Both of them hope that the store's success will inspire others to start Uptown businesses.
"We're like a pebble on a pond," Cassie says. "We're creating ripples. We may not see them all, but they're there."