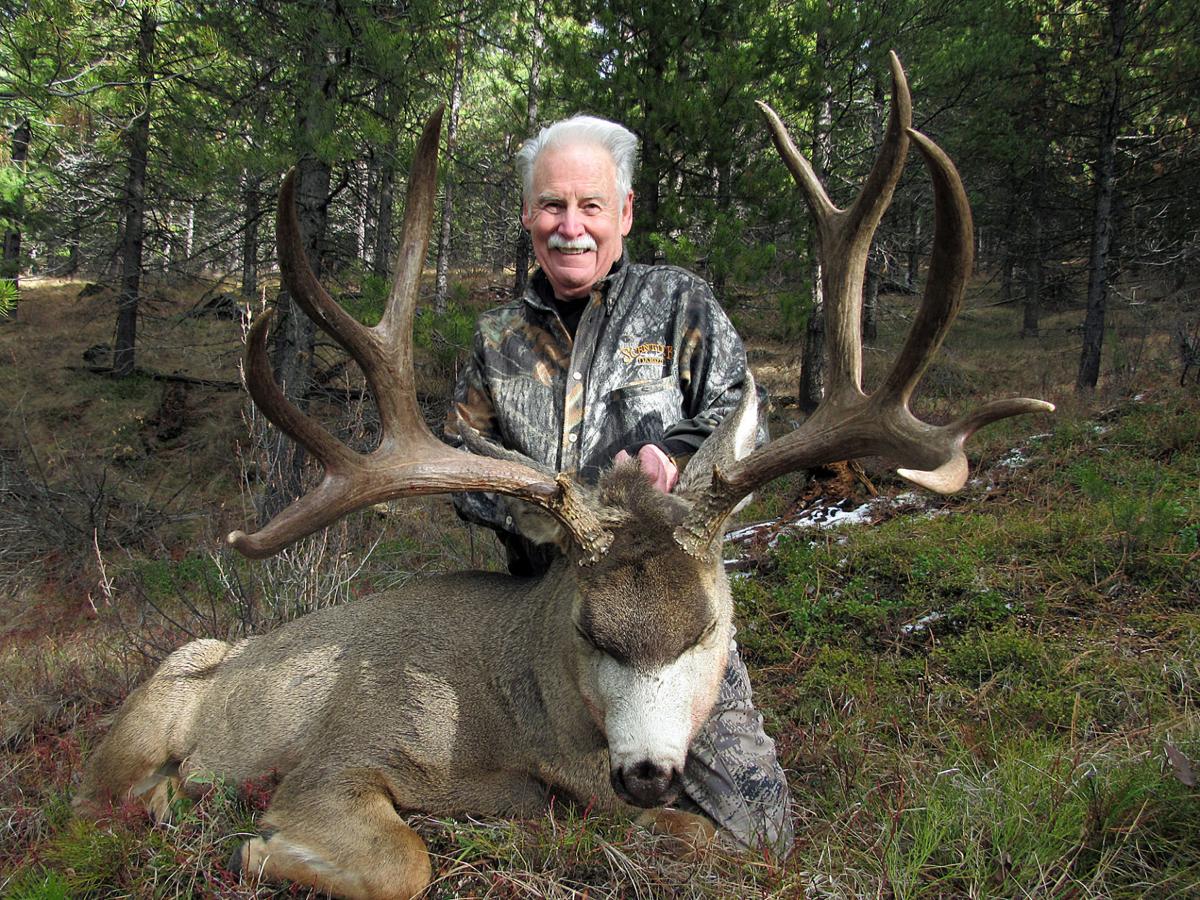 DARBY — Clark "Bart" Bartkowski knew last summer that he had hit the mule deer jackpot on the day the permit arrived in his mailbox.
For nearly 20 years, the Darby man joined thousands of other sportsmen in putting his name in for a coveted permit to hunt mule deer bucks in Hunting District 270.
"I was pretty thrilled when I opened up the envelope," Bartkowski said.
The odds were certainly stacked against him.
That particular hunting district in the East Fork of the Bitterroot is known far and wide as one of the best places to hunt for large mule deer bucks in Montana.
It's one of two hunting districts in the Bitterroot that sportsmen offered years ago to give up opportunity to hunt every year to allow buck deer a chance to survive long enough to mature.
In 2015, 63,061 sportsmen put their names in for 45 permits in HD 270 in the East Fork of the Bitterroot. Another 18,094 put in for 25 permits in the adjoining mule deer trophy Hunting District 261.
With his permit in hand, Bartkowski prepared himself all summer long for what he was certain could be a mule deer hunt of a lifetime.
"I've been looking for a trophy mule deer buck like those found in the East Fork for 45 years," he said.
Bartkowski has hunted game all over the world. He believes that mature mule deer bucks are among the most challenging of all game animals.
"Once they get into that six-year-old range, they have this uncanny ability to hide," he said. "They often go nocturnal and become just plain sneaky. A lot of people say that the majority of really old bucks just die of old age."
Bartkowski started his adventure early in September with scouting trips with a friend who has a remarkable ability to both spot mule deer and estimate their horn size.
To make the record books, the antlers needed to record a score of 200 inches. The score is a combination of antler length, girth and symmetry.
The pair spotted one deer on the opening day of archery season they believed might be large enough, but someone else beat Bartkowski to it.
After hunting a few more days, he decided to wait until the general rifle season and the annual mule deer rut began.
With hunting conditions still far from ideal, Bartkowski and his friends began their search. On the eighth day of the season, they spotted a buck that they thought might fit the ticket.
"There were three or four guys glassing it," he said. "It was in full rut. It looked really big."
They walked two miles and over a ridge to get above it. The buck was more interested in the doe it was courting. That allowed the men to get within 200 yards.
"My friend is really good at judging horn size," Bartkowski said. "He thought it was 190 to 195. He felt I should take it. Everyone thought I should."
Bartkowski decided to pass on it.
The next day, an outfitter brought his client in and the deer was harvested.
With the season slipping away, Bartkowski began to wonder if he had missed his opportunity of a lifetime.
"We had spent months of looking, and the season was winding down," he said. "My friend and I were driving to a place where we could glass when we came around a corner."
There, in brush that was so thick that you couldn't see the other side, Bartkowski's friend spotted a single tine.
They stopped and pulled out their binoculars. Nearly hidden from sight, stood a huge buck.
"In about a minute, that deer realized that something was up," he said. "It didn't panic. It just slowly started to back up."
The men walked around a hillside in hopes of seeing it again. Bartkowski's friend told him it was the one he was looking for.
"The deer started to take off," Bartkowski said. "It was 75 to 80 yards away. I had a five-inch hole to shoot through."
The first shot was true. A second knocked the deer down for good.
"Only when I got up to it, did I realize that I had," he said. "I had shot a 6x6 elk earlier in the season. The horns on this deer were thicker than those on the elk. I just couldn't believe it."
They would later determine that the deer was eight years old. The horn size measured 215¾ inches.
"There were battle scars all over him," Bartkowski said. "Its muzzle was gray. It had a big old Roman nose. This guy had been around the block.
"It was a once-in-a-lifetime deer," he said. "I was thrilled."
None of that would have been possible without the foresight of sportsmen who nearly two decades ago decided that something had to be done to protect mule deer bucks in what had become everyone's favorite hunting grounds in the Bitterroot Valley.
"Back before the restrictions were put in place, every forked horn buck was getting shot during the hunting season," said longtime Ravalli County Fish and Wildlife Association member Tony Jones. "We knew that something needed to change."
Steve Wilson was president of the association back then. They asked local residents to gather up the antlers that their fathers and grandfathers had saved from deer harvested in the East Fork in the years before hunting pressure had increased.
"We wanted to know if the genetics were there to produce big bucks," Wilson said. "Those antlers showed us that they were. All we needed to do was find a way to let the deer get some age."
The Bitterroot sportsmen were joined by others across the state in an effort to encourage Montana Fish, Wildlife and Parks to establish a permit system on two adjoining hunting districts in the Bitterroot.
Well-known Bitterroot artist Joe Thornbrugh coined the phrase: "Let them go. Let them grow."
"There were a lot of people on board who wanted to try to create a dramatic change," Wilson said. "And it worked."
The two Bitterroot hunting districts now are among the most coveted mule deer permits in the state. Many of the original sportsmen who agreed to set aside their opportunity to hunt there every year have yet to draw a permit.
"I've been putting in for it for a lot of years and never drew one," Jones said "The odds are less than 1 percent for Hunting District 270."
But there is a downside. The abnormally large number of mature mule deer has drawn more than its share of poachers.
FWP Warden Lou Royce said they have found three large mule deer this year that were killed for their horns.
"We spend a lot of time dealing with illegal mule deer kills in both districts," Royce said. "There was a rash of it this year. Several were shot and killed with only their horns or head removed."
"The good thing about it is that we do have a lot of really engaged people who call us when they see things that don't look right," Royce said. "We're getting some tips here and there. We're still asking people to keep their ears open."
Not everyone who draws a permit is looking for something that will make the record books.
"I know it's definitely one of the hardest deer permits to draw," Jones said. But, said Jones, "I've known a lot of people who have been really happy to get an average 4x4 buck.
"But that doesn't matter," he said. "What it shows is this has really become a success story for what some changes in regulations can produce for everyone."