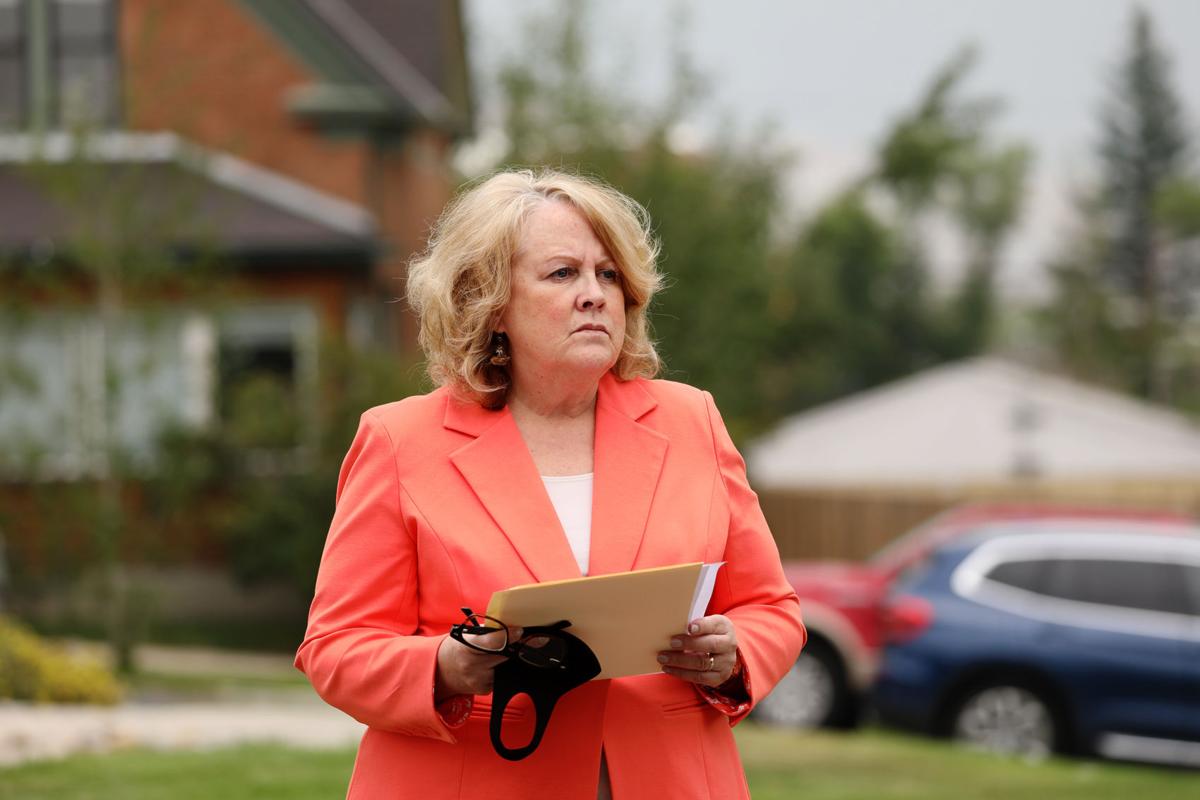 Butte-Silver Bow health officials have developed a new, detailed framework for addressing the local spread of coronavirus in the county using several evidence-based metrics.
The county Health Department has been working closely with the Montana Department of Public Health and Human Services, local emergency managers, the Butte School District, Montana Tech and the local healthcare system to develop these decision-making criteria. 
The county's COVID-19 Decision-Making Dashboard takes into account the number of coronavirus cases, positive test rates, regional hospital capacities, contact tracing and a host of other factors on a daily and weekly basis.
"These are all a work in progress," said Health Officer Karen Sullivan. "But we are using them to help us make our decisions."
The tools, which will be available to the public on the department's website, will allow people to check and see a rating of green, yellow or red for each criteria listed. Green indicates there is no problem, yellow means it is somewhat a problem and red means it is a critical situation.
The daily dashboard provides a real-time snapshot of the county's coronavirus situation and has a shorter list of metrics, said Sullivan. 
"On a day-to-day basis, if people are aware that the ICU at St. James is full or the hospital is at capacity, whether it's from the flu, COVID or other respiratory illnesses, then maybe they will know to stay home," Sullivan said. 
According to the most recent metrics from Thursday's dashboard, St. James Healthcare's ICU capacity and ventilator use were both rated green Thursday, an improvement from the previous day's red rating. That's because the number of ICU beds can change throughout the day as patients are moved in and out of intensive care, Sullivan said.
"The availability of hospital inpatient beds, ICU beds and ventilator availability change hourly as people are being discharged and admitted," Sullivan said. "For example, on Tuesday morning there were no available ICU beds at St. James. But that changed throughout the day where they had ICU availability."
The health department is also tracking capacity at the region's critical access hospitals in Beaverhead, Madison, Deer Lodge, Powell and Granite counties. Only one critical access hospital in the region, the Community Hospital of Anaconda, has ICU and ventilator capacity, and the county is looking at that, too. As of Thursday, the hospitals were rated green in terms of bed, ICU and ventilator capacities.
"We look at capacities of the critical access hospitals in our region because they feed patients into St. James Healthcare," Sullivan said. "If the smaller critical access hospitals are full and need to send patients to Butte, then that impacts our local health care system's capacity."
Also rated red on Thursday was the county's turnaround time for test results. That means the majority of test results were not received by the health department within three days.
"The lack of timely tests results is a good example of how other counties that are struggling with COVID-19 cases are affecting Butte-Silver Bow," Sullivan said. "The labs processing the tests are all overwhelmed and struggling to keep up with getting test results out. And that's problematic because it delays our health department's ability to determine who's positive and contact trace. People who might've been exposed won't know to immediately quarantine, and that's how the virus spreads."
Meanwhile, the county's weekly dashboard, which will be released Mondays, looks at additional criteria — 21 total, compared to 13 in the daily version. It's meant to provide a longer-term look at COVID-19 impacts on the local healthcare system, testing capacity and the health department's ability to manage work related to the pandemic, among other factors.
The weekly dashboard, for example, also looks at the type of disease exposure for each local confirmed case, as well as the level of SARS-CoV-2, the virus that causes COVID-19, within the Butte-Silver Bow Metro Sewer system. It also tracks the number of weekly complaints regarding COVID-19 compliance in the community.
Unlike the daily snapshot, the weekly color rating for each criteria has to meet the corresponding benchmarks for two consecutive weeks. 
According to the latest weekly report from Monday, Oct. 12, the county was red in the following criteria: St. James ICU use and capacity, type of disease exposure and wastewater detection. This means during the last week, St. James' ICU was generally over capacity, the majority of weekly cases were community-acquired or from unknown sources, and the coronavirus was detected in high concentrations in the county's wastewater.
Sullivan said the weekly version is helpful for folks who are thinking about planning large events and social gatherings at local venues. 
"Hopefully this will guide people as they make decisions in their personal lives," she said.
As of Friday morning, Butte-Silver Bow added eight new cases, bringing the total caseload to 439. Sullivan said the relatively low number of new cases is due to residents, businesses and organizations complying with COVID-19 guidelines. 
"Part of our rationale for putting out these data dashboards is so that the public understands our [the health department's] struggles," Sullivan said. "If the public understands that data and sees that our positivity rate is too high, or that we have too many community-acquired cases where we don't know how people are contracting the virus, then they will do their part to prevent the spread of the virus."
Be the first to know
Get local news delivered to your inbox!