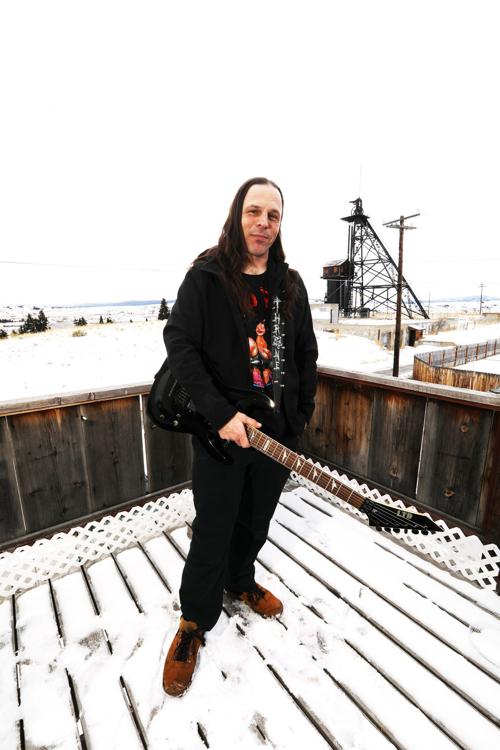 Eric Sartana Horner is soft-spoken and somewhat reserved, a surprising contrast for someone who fronts the doom and black-metal band, Throne of Malediction.
"I'm a really shy person," the 42-year-old Butte resident said. "I have a lot of social anxiety, so it was kind of tough to come here."
The Montana Standard recently met with Horner to discuss his latest EP, "Dark Days." He produced the three-track EP entirely remotely, collaborating with musicians from the United Kingdom, Uraguay and Finland.
Horner said he crafted the songs from his Butte home, swapping audio files, sharing lyrics, and trading ideas virtually. "It's a lot of work," he said. "My friends just send in their parts and I mix them in and I have to do the production."
In person, Horner's calm demeanor masks the struggles and tragic experiences he suffered for much of his adult life.
At 19, Horner ended up on the street and was living behind dumpsters and train tracks in central California."It was just dumb things that happened," he said. "I had mental health problems and was undiagnosed."
"I've been in and out of the mental health system since the 90s," he said. "I'm actually bipolar, so that's kind of where music ties in. Music is really just a way to get this mania out, I guess."
Playing dark metal music has been cathartic for Horner. "I'm med-free nowadays. It's just time management and a lot of music," he said. "It's also my kids, my family and my wife that keep me strong."
When you hear Horner's doom and gloom black-metal in "Dark Days," the lyrics are dark and melancholic, reflecting themes of death, destruction and despair.
Horner describes the first track, "Moonlight," as a hypnotic, fantasy song with a "ghostly" feeling. But the two tracks, "Desperate Caress" and "The Empty Road" are what Horner described as "very personal."
"A lot of it is really personal, and it's kind of hard to talk about," Horner said, his voice cracking mid-sentence and tears welling up in his eyes. He bent his head down trying to blink away the tears as he struggled to recount his previous life. "I try to make it relatable to other people or put it in metaphors or poetry," he continued.
"The lyrics just try to reflect what it was like dealing with my mental health stuff," Horner said. "I've had a lot of problems such as thoughts of suicide, anxiety and PTSD sorts of things."
You have free articles remaining.
Born in Bakersfield, California, Horner spent half his childhood in the golden state and the other half in Northern Montana. Growing up, Horner said he "moved around a lot" due to "family dysfunction and poverty."
"I was mainly raised by a single mom," Horner said. He said he spent half his childhood in Kalispell to live with his grandparents.
But it was in southern California where Horner began to develop his musical taste for dark metal. "When I was younger, I hung out with members of a band called Edema down in Bakersfield," he said. "I used to get into bars as a teenager because I'd walk in the back of the bar carrying drum parts. But I wouldn't come and drink; I just wanted to watch."
Horner said he learned to play the guitar as a teen and started performing in shows in his mid- to late-twenties. "I actually got my start playing the guitar for a local rapper, Pop-A-Pill, in Kalispell," he said.
Horner was living in Kalispell when he formed the Throne of Malediction in 2007 with his first wife. The two played together until 2011, when their lives took a turn and became homeless.
"I was laid off from work and it started going downhill. I had been working for Applied Materials doing electronic assembly for a long time. So after that, it was hard for both of us to find work," Horner said. "We moved down to Burbank, California and were living out of our car...We then divorced in 2012."
Horner has since continued Throne of Malediction alone, he said.
"That's what a lot of my music is about. It's about coming out of from the bottom," Horner said. "I've thought about ending it all so many times. But no, I had to bounce back." 
Today, Horner is happily married with his wife of four years and their two kids. He said they moved to Butte two years ago to be closer to his wife's family.
Since then, Horner has kept a stable job as a part-time pizza delivery driver at Dominos Pizza. "My wife works a lot as a manager at a store, while I help with taking care of the kids so we can save on childcare," Horner said.
With the release of Throne of Malediction's third EP, Horner said he doesn't plan to tour any time soon.
"I need to wait until my two little kids are a little older," Horner said.
In the meantime, Horner is hoping to meet more local musicians. "My biggest goal right now is finding other musicians around here that like this type of music and who'll actually come and show up and play," he said.