Chris Rock finally speaks publicly about Will Smith's Oscars slap
Chris Rock accused Will Smith of "practicing selective outrage" and mocked the infidelity rumours surrounding the 'King Richard' star and his wife Jada Pinkett Smith in his first public comments since being slapped at the Oscars by the actor.
The 58-year-old comic explained how the title for his Netflix stand-up special - the broadcaster's first ever live global streaming event - had connections to the 'Men in Black' actor because he speculated on how Will lashed out at him as a result of "practicing selective outrage" and poked fun at the 'Girl's Trip' actress' 2020 admission she had had an "entanglement" with singer August Alsina while she and her husband were on a break, a revelation the pair later discussed on her 'Red Table Talk' show.
Speaking on the 'Chris Rock: Selective Outrage' show, the comedian said: "Will Smith practices selective outrage. Everybody that really knows knows I had nothing to do with that s***. I didn't have any 'entanglements.
Tom Sizemore dead at 61
Tom Sizemore has died after being taken off life support.
The 61-year-old actor - who starred in movies including 'Saving Private Ryan', 'Black Hawk Down' and 'Pearl Harbor' - passed away in a Los Angeles hospital on Friday (03.03.23), where he had been on life support since suffering a stroke and brain aneurysm on February 18.
Tom's representative Charles Lago said in a statement: "It is with great sadness and sorrow I have to announce that actor Thomas Edward Sizemore, aged 61, passed away peacefully in his sleep today at St Joseph's Hospital Burbank. His brother Paul and twin boys Jayden and Jagger were at his side."
Tom collapsed at his home last month and was rushed to the hospital. He never regained consciousness.
Earlier this week, Lago confirmed that his family were making an "end of life" plan after his condition failed to improve.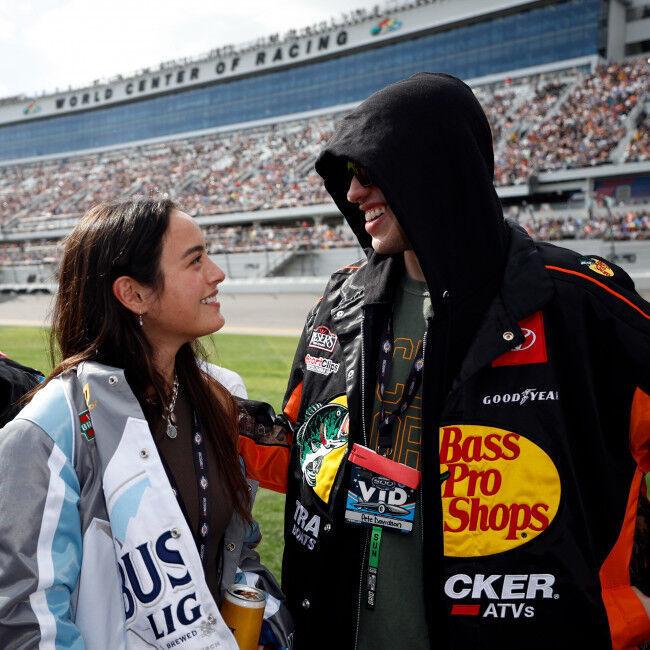 Pete Davidson is 'getting serious' with Chase Sui Wonders
Pete Davidson and Chase Sui Wonders are reportedly "getting serious" with each other.
The 29-year-old comedian - who has previously dated the likes of pop star Ariana Grande, Hollywood actress Kate Beckinsale and famously had a nine month relationship with Kim Kardashian after she split from Kanye West - is said to have struck up a relationship with 'Bodies Bodies Bodies' co-star Chase Sui, 26, and an insider has claimed that things are heating up between the pair.
The source told Page Six: "They're getting serious. They've been friends a long time and this romance grew out of friendship."
Towards the end of last year, the former 'Saturday Night Live' star was reportedly in the "early stages" of a relationship with model Emily Ratajkowski but was said to still be in touch with his reality superstar ex Kim Kardashian.
***
Get more celeb news here:
Celeb news for the week of Feb. 27
Jonathan Majors and Michael B Jordan want to make more movies together
Jonathan Majors and Michael B. Jordan are planning to make more films together.
The two stars are currently promoting their latest movie 'Creed III' and had such a good time working on the project - which Michael also directed, as well as starring in as Adonis Creed - they hope to develop an enduring partnership.
Asked if they'll work together again, Michael told the New York Times newspaper: "We plan on it."
Jonathan - who plays series newcomer Damian Anderson - quipped: "De Niro and Pacino."
Michael then added: "We're excited about that, and I have those conversations with him. Acting is such a solo journey, where you're fighting for your place on that call sheet for such a long time.
"So when you've got somebody that doesn't care as much about that stuff, it's like, 'Let's go. How much damage can we do together?'"
Jonathan replied: "All of it."
Michael admitted he put pressure on himself as first-time director, including when it came to pitching Jonathan for the role.
He said: "I was all in my head, like, 'OK, what are the things I would want to hear? This dude can do a million different things right now. What's going to make him take a chance on this actor-director who hasn't directed [anything]?'
"I knew I had to be truthful about what this project means to me and I wanted to make sure he knew."
After agreeing to sign up for the film, Jonathan admitted Michael's perception of his performance was the most important thing to him.
He said: "I care most about what he thinks."
Meanwhile, Michael was nervous about his family seeing the film.
He said: "My mom's seen it, and my dad just got back from Ghana, so I'm going to show it to him."
Elvis Costello describes the late Burt Bacharach as an 'extremist'
Elvis Costello has described the late Burt Bacharach as "extreme in love and invention".
The songwriting pals first met in 1989 while working at the same recording studio and worked together for almost three decades.
And while recalling working on their 1998 LP 'Painted From Memory', Costello said he found Bacharach to be an "extremist" when it came to music and love.
Speaking to Uncut magazine, Costello said: "Making 'Painted From Memory', Burt told me, 'I don't demand 110 per cent anymore, I settle for 98.' Listen to the music in the bridge of 'Alfie', for which Hal David wrote: 'Until you find the love you've missed, you're nothing.' Burt is an extremist for sure. Extreme in love and invention."
On the same subject, Costello recently recalled Bacharach putting him in his place in the studio.
The 68-year-old Grammy winner said the legendary composer was a "very considerate" person, but when it came to music, he had the kind of rigorous approach that "makes you fall in line".
In an interview with The Times newspaper, Costello said Bacharach - who died from natural causes aged 94 on February 8 - was: "Very considerate, but he won't let anything get in the way of the music, and all the geniality and elegance on the surface of the songs hides the power at the heart of them."
He continued: "Once he gets the shape of a melody he won't negotiate. 'Could I get a triplet, so I can use it against this three-syllable word?' -- 'No, you can't.' After a while, the sheer rigour of his approach makes you fall into line."
Costello admits these kinds of "chance encounters" are rare today because a lot of artists work remotely.
He said: "These are the chance encounters that don't happen today because now everyone makes albums on their laptops.
"I had been using a marimba with the same suspension as [that in the Bacharach classic] '24 Hours from Tulsa', as a gesture of acknowledgment really. He was down the hallway so I asked him to listen."
Asked what the 'What the World Needs Now Is Love' hitmaker thought, Costello replied: "He was gentlemanly about it."
Upon the sad news of Bacharach's death, which happened before the release of the boxset 'The Songs of Bacharach and Costello' on March 3, Costello admitted he's devastated that the pair won't get to collaborate again.
He said: "I am very sad today. But Burt Bacharach means the same to me this morning as he did at midnight on Wednesday, when the call came. I have to accept that there will not be the next song that he -- or even we -- might still be about to write. I will always struggle to think of him in the past tense."
'I shouldn't have done it!' Jason Statham reveals worst stunt injuries
Jonathan Statham had endured "so many injuries" over the course of his acting career.
The 55-year-old actor has performed a variety of stunts in various action films over the years and has ended up with injuries such as a torn bicep and almost "faceplanted" the ground at a speed of 30mph.
He told Collider: "There have been a couple of situations. I think when we shot 'Crank', we were hanging out of a real helicopter. "A lot of the things we do now - with 'The Expendables' - anytime you're on a helicopter it's usually on a green screen. But with 'Crank', we were actually in a helicopter. We're shooting a fight scene where I was standing on the skids, we have a small pick there. So it was a real stunt, you know, that one was pretty tricky.
"There [were] a couple of jumps in that movie, over this car park, I was hanging on a gold tail, it's quite almost like a blind jump. There [were] a few things in that gig that were pretty tricky. I did a little jump in the 'Transporter 2', or a jump from the back of a jet ski onto the back of a bus. It wasn't a very safe stunt. I shouldn't have done it, there was no safety wire, but I just did that. I mean, if I'd have missed the back of the bus, it would have been a faceplant at 30 mph into the concrete. Just silly things that I've done.
"Most of the most annoying things, like I've had a torn bicep, you have to try and finish the movie. Most of the things are just real niggles and problems with your soft tissue and your joints. You know, I've hurt my neck, I've got so many injuries that have accumulated over the past just doing stunts and hitting the ground."
The 'Wrath of Man' star - who trained as a kickboxer in his youth - went on to add that he is "nursing" a lot of ailments from his long career but insisted that the pain is worth it because he wants things to come across as "authentic" on screen.
He added: "I'm nursing a lot of bad injuries... A lot of the things we do, it's because our ego gets in front of us, and we want it to be authentic. We want people to see that that's us doing it. We want the audience to go for the ride. A lot of the decisions, I think I'm getting a bit smarter now. I think I'll try and be smart because of the necessity to be smart as my body is wearing out a little bit. Some of the niggles."
Joe Biden's attendance at King Charles' coronation in doubt
Joe Biden may not attend King Charles' coronation.
The 80-year-old US president will be invited to Westminster Abbey in London on 6 May to see the monarch formally crowned alongside his wife, Queen Consort Camilla, but White House officials have confirmed it is not yet clear if he will be there.
A senior administration official told People magazine "the U.S. will be represented at the coronation."
But they couldn't confirm if that would be through the president himself or with a delegation.
They added there is nothing to announce "regarding presidential travel or regarding potential delegation at this time."
The comments come after Time magazine claimed a few days ago that the politician was unlikely to be at the coronation.
Stressing that the president's schedule for May has yet to be finalised, an unnamed White House official told the outlet the coronation "does not feel like an event Joe Biden will attend."
According to the Sunday Telegraph newspaper, Joe - who is famously proud of his Irish heritage - is keen to visit Ireland next month to mark the 25th anniversary of the Good Friday Agreement, as well as visiting relatives in Mayo and Louth, making a second visit across the Atlantic a few weeks later more unlikely.
Formal invitations for the coronation are expected to be sent out in April, by which time the US Leader will likely have formalised his trip to Ireland, which is believed to be pencilled in for 18 April.
When Charles' mother, Queen Elizabeth - who died last September - was coronated in 1953, America's then-President Dwight Eisenhower wasn't in attendance, with a delegate taking his place to represent the US instead.
Everything Everywhere All At Once sweeps the board at Independent Spirit Awards
'Everything Everywhere All at Once' was the big winner at the Independent Spirit Awards on Saturday (04.03.23), taking home seven prizes.
The martial arts fantasy scooped the night's top prize, for Best Feature, ahead of 'Bones and All', 'Our Father, the Devil', 'Tar', and 'Women Talking', and there were also wins for Michelle Yeoh, who scooped Best Lead Performance, Ke Huy Quan, who took home Best Supporting Performance, and Stephanie Hsu for Best Breakthrough performance, as well as The Daniels in the Best Director and Best Screenplay categories, and Best Editing for Paul Rogers.
Accepting her prize at the ceremony on Santa Monica beach, Michelle dedicated her win to "all our mothers".
She said: "I want to dedicate this to all our mothers. Without our mothers, none of us would be here. And to all the ladies [who] are sitting at that table who support their husbands.
"Thank you all for believing in us, and giving us a seat at the table and [thank you to] all the little girls, boys, who look like us and think that it is possible."
Elsewhere, Best First Feature went to 'Aftersun', which was shortlisted alongside 'Emily the Criminal', 'The Inspection', 'Murina', and 'Palm Trees and Power Lines', while the John Cassavetes Award - which is presented to the best feature made for under $1 million - was given to 'The Cathedral'.
Meanwhile, in the TV categories, 'The Bear' beat off competition from 'Pachinko', 'The Porter', 'Severance' and 'Station Eleven' to be named Best New Scripted Series, and there was also a win for Ayo Edibiri in the Best Supporting Performance in a New Scripted Series category thanks to her work on the show.
The stars of 'Pachinko' took home Best Ensemble Cast in a New Scripted Series and 'Abbot Elementary' actress and creator Quinta Brunson's work on 'Abbott Elementary' secured her victory in the Best Lead Performance in a New Scripted Series honour.
Quinta dedicated her award to aspiring creatives.
She said: "I'm very used to making Instagram videos with nothing with my phone.
"I do want to dedicate this award to whatever kid out there right now is making a video on TikTok and the rest of the kids are telling them that you're probably never gonna win an award anywhere.
"If you care about it enough and you respect the craft and the craft is important to you and you believe in it and you study it, that little TikTok video. … I hope that you know that with enough care for your craft, you can make it to win an award. So thank you guys so much."
This marked the first year the awards in the performance categories were gender neutral, something which Quinta praised in her speech.
She said: "What a wonderful category to be in. I mean, just actors and actresses that are incredible. I kind of like the gender-neutral thing. It's like, it's kind of tight. It's like, hell yeah … in there with your peers."
Independent Spirit Awards list of winners:
MOVIES
Best Feature:
'Everything Everywhere All at Once:
Best First Feature:
'Aftersun'
John Cassavetes Award:
'The Cathedral'
Best Director:
Daniel Kwan and Daniel Scheinert - 'Everything Everywhere All at Once'
Best Screenplay:
Daniel Kwan and Daniel Scheinert - 'Everything Everywhere All at Once'
Best First Screenplay:
John Patton Ford - 'Emily the Criminal'
Best Lead Performance:
Michelle Yeoh - 'Everything Everywhere All at Once'
Best Supporting Performance:
Ke Huy Quan - 'Everything Everywhere All at Once'
Best Breakthrough Performance:
Stephanie Hsu - 'Everything Everywhere All at Once'
Best Cinematography:
Florian Hoffmeister - 'Tár'
Best Editing:
Paul Rogers, 'Everything Everywhere All at Once'
Robert Altman Award:
'Women Talking'
Best Documentary:
'All the Beauty and the Bloodshed'
Best International Film:
'Joyland'
Producers Award:
Tory Lenosky
Someone to Watch Award:
Nikyatu Jusu, 'Nanny'
Truer Than Fiction Award:
Reid Davenport - 'I Didn't See You There'
TELEVISION
Best New Scripted Series:
'The Bear'
Best Ensemble Cast in a New Scripted Series:
Pachinko
Best New Non-Scripted or Documentary Series:
'The Rehearsal'
Best Lead Performance in a New Scripted Series:
Quinta Brunson - 'Abbott Elementary'
Best Supporting Performance in a New Scripted Series:
Ayo Edibiri - 'The Bear'
'Well see': Lana Del Rey hints Glastonbury appearance could be in doubt
Lana Del Rey has hinted she could pull out of performing at Glastonbury.
The 'Born to Die' singer wasn't impressed that organisers didn't announce she will have one of the top slots at this year's festival when they released the first wave of artists on the line-up earlier this week, with headliners Arctic Monkeys, Guns N' Roses and Sir Elton John listed at the top of the promotional poster alongside Lizzo - who organiser Emily Eavis said would have headlined if the 'Welcome to the Jungle' hitmakers hadn't already been promised top billing - and then the rest of the acts mentioned in alphabetical order.
Lana wrote on Instagram: "Well, I'm actually headlining the 2nd stage. But since there was no consideration for announcing that we'll see."
A source close to the star admitted she was "disappointed" and felt "let down".
The insider told The Sun on Sunday newspaper's Bizarre column: "Lana is disappointed. She was proud to be doing a headline slot, but on the announcement graphic her name is buried among lesser-known artists.
"She feels let down being presented as an afterthought lagging behind the all-male trio."
Glastonbury organiser Emily recently addressed the backlash against the festival having all male headliners.
She said of Lizzo, who will take to the Pyramid stage in the slot before Guns N' Roses: "She could totally headline. Many of the artists could. But the headline slot had already been promised to someone else."
Emily - who claimed there are two women lined up to headline next year - called on the wider music industry to invest more in female musicians.
She said: "We're trying our best so the pipeline needs to be developed. This starts way back with the record companies, radio. I can shout as loud as I like but we need to get everyone on board...
"It's top of our agenda, and it probably makes it a bit harder because we've decided to make that important to us. To be honest, sometimes it's easier to keep your head down."
Jackie Chan, Rose Byrne, John Cena and more to join Seth Rogen in Teenage Mutant Ninja Turtles: Mutant Mayhem
Seth Rogen will be joined in 'Teenage Mutant Ninja Turtles: Mutant Mayhem' by Jackie Chan, Rose Byrne and John Cena.
The 40-year-old actor is producing the movie and voicing warthog mutant Bebop and on Saturday (04.03.23) he introduced lead cast members Micah Abbey, Shamon Brown Jr., Nicolas Cantu and Brady Noon - who will voice turtles Donatello, Michaelangelo, Leonardo and Raphael respectively - to the world at the Nickelodeon Kids' Choice Awards, as well as revealing the rest of the all-star line-up.
Jackie will voice the Turtles' mentor Splinter, while Rose will play Leatherhead and John will be Bebop's pal Rocksteady.
In addition, Hannibal Buress has signed up as Genghis Frog, Ice Cube as Superfly, Natasia Demetriou as Wingnut, Ayo Edebiri as April O'Neil, Giancarlo Esposito as Baxter Stockman, Post Malone as Ray Fillet, Paul Rudd as Mondo Gecko, and Maya Rudolph as Cynthia Utrom.
Paramount Animation President Ramsey Naito said of the line-up: "We are beyond thrilled by this world-class cast we've assembled to bring these iconic, beloved characters to life in a new chapter of the Teenage Mutant Ninja Turtles universe.
"This really sets a new bar for this globally celebrated franchise, and we can't wait to show audiences this film."
Seth previously said the movie - which is directed by Jeff Rowe - will be "deeply personal".
He said: "We found a way to make it deeply personal. It's a teenage movie, we're putting a lot of our own feelings -- of awkwardness and insecurity and a desire to belong and be accepted and all that -- into the movie.
"And as I sit around with the other people working on [the film], I'm like, 'We found a way to care about this,' which is great.
"'Ninja Turtles' is something I loved as a kid. We have a lot more things like that that we're working on, this 'Darkwing Duck' show and things like that. That becomes a fun part of the challenge: How do you infuse more and more of yourself into your work? I think the more of yourself you put in, the more people like it."
The film is set for release on 4 August.
'Anything is possible!' Lisa Ann Walter muses on the idea of a Parent Trap remake
Lisa Ann Walter thinks a remake of 'The Parent Trap' would be "possible".
The 59-year-old actress played the role of housekeeper Chessy in the 1998 Disney comedy - which saw Lindsay Lohan make her motion picture debut as long-lost twins Hallie Parker and Annie James who switch places in order to reunite their parents - and she is convinced that any potential reboot would be "genius", as long as original screenwriter and director Nancy Meyers is on board.
Speaking to Extra TV, Lisa said: "Look, if Nancy Meyers writes it, it's gonna be genius. I don't know if that is something that could happen… With Lindsay doing work again, as beautiful and talented as she is, certainly, anything is possible."
'The Parent Trap' was itself a remake of the 1961 Disney film starring Hayley Mills, and was ultimately based on 1949 German novel 'Das doppelte Lottchen' by Erich Kästner.
The 'Abbott Elementary star was joined in the family movie by Elaine Hendrix as villainous stepmother-to-be Meredith Blake and joked that any reboot should feature her as the "good guy" this time round.
Lisa added: "I think in this version, we need to make Meredith a good guy!"
'Dynasty' actress Elaine, 52, previously insisted 'The Parent Trap' - which also starred Dennis Quaid and the late Natasha Richardson - should be "left alone" but admitted that she would be happy to be part of any reboot.
She said: "We were already a reboot and so I'm biased in that I think it should be left alone, but if it's going to be rebooted, then yeah, I think we absolutely should be a part of it.
The Last of Us and The Mandalorian's Pedro Pascal finds his fan-following 'overwhelming' at times
'The Last of Us' and 'The Mandalorian' star Pedro Pascal admits it can get "overwhelming" coping with his massive fanbase.
The 47-year-old actor plays fan-favourites Joel in the post-apocalyptic drama series based on the video games of the same name and the titular role in the 'Star Wars' spin-off, and although he loves the "connection" he has with fans of the cult shows, it can get intense at times.
Speaking to New Idea magazine, he said: "It can get overwhelming, when I really think about it, but I love the fans. I love the connection I have with them through these shows and the passion and enthusiasm they have for the material. I'm very grateful to have played a part in such huge worlds."
When asked to give a glimpse of what's to come in the next season of 'The Mandalorian', he coyly replied: "All I can say is that it's going to be truly amazing. Everyone is going to love it. I'm excited!"
The 'Game of Thrones' star admits he "begged" to be a part of 'The Last of Us' because he wanted to work with 19-year-old Bella Ramsey - who played Lyanna Mormont in the HBO fantasy series, in which he portrayed Oberyn Martell.
Although they both featured in 'Game of Thrones', they weren't on set at the same time.
Asked if they knew each other from the programme, he told the publication: "Not from being on set together, no. We both had very different elements to fulfil on 'Game of Thrones' but, as a fan, I loved Bella. When I found out she was already signed up, I practically begged to play Joel."
Bella plays teenager Ellie in 'The Last of Us', who Joel [Pascal] is tasked with smuggling amid the zombie apocalypse.
Rebel Wilson's dig at Meghan: 'She's not as warm or cool as lovely Prince Harry'
Rebel Wilson has declared the Duchess of Sussex isn't as "naturally warm" as her husband Prince Harry.
The 'Pitch Perfect' actress, 43, said she met the couple at their US home with her mum, and admitted duchess Meghan, 41, wasn't as "cool" as 38-year-old Harry - but admitted it may have been down to her mother putting the former 'Suits' actress on the spot with personal questions.
She told 'Watch What Happens Live with Andy Cohen' about visiting the pair with her mum: "We went up to Santa Barbara, met Harry, he could not have been nicer."
Andy, 54, asked: "Had you met them before?" and Rebel replied: "No we just had a mutual friend in common, a polo player.
She then added: "But then, Meghan was not as cool. Meghan wasn't as naturally warm, but then, maybe, my mum being Australian asked her all of these slightly rude questions, like 'Where are your kids?' and things like that.
"And I was like, 'Mum don't ask her that!'"
When Andy suggested that may have been why Meghan was "a little stand-offish", Rebel joked: "Maybe that's why she was like, 'Who are these annoying convicts from Australia?'"
She spoke about meeting the couple after it emerged she was banned from Disneyland for breaking park rules.
The actress, who last month was told "Yes" by her girlfriend Ramona Agruma when she proposed to her with a $150,000 diamond ring at the funpark, told 'The Daily Show': "I did get banned from Disneyland for 30 days because I took a photo inside a secret bathroom, which is illegal, at Disneyland."
Rebel and Ramona are reportedly looking into having a "no expenses-spared wedding" as the actress is said to be a "die-hard Disney lover".
Prince Harry 'smothers' his kids with love so they won't be scarred with 'traumas'
Prince Harry says he "smothers" his two children with love so they won't be doomed to experience his "traumas".
The Duke of Sussex, 38, said he was showering his son Archie, three, and 20-month-old daughter Lilibet with love in a chat with trauma expert Dr Gabor Maté, 79, online on Saturday (04.03.23) in a discussion that took in his mental health and drug use.
He made the admission about the kids he shares with his wife Meghan, Duchess of Sussex, 41, when Dr Maté referred to a passage in the royal's memoir 'Spare', released in January, in which Harry discussed being told about his mum Princess Diana's Paris car crash death in 1997 by his dad, the then-Prince Charles, when Harry was aged 12.
The doctor said: "When I read that passage in the book, where you find out about your mother's death... you're alone in your room.
"And your father comes in to tell you the news. He touches you on the knee, I think in an encouraging fashion, and says, 'It's going to be okay', and walks out, and you're left on your own.
"And what struck me in that passage, as in so many other passages in the book, is the lack of touching, the lack of a child being held. How at some point, you wanted to hug your grandmother, and you held yourself back because it wasn't done."
Dr Maté went on to describe the lack of touching among the royals as "multi-generational", adding: :So what is it about the lack of holding and touching and cuddling in his family - and it's obviously multi-generational - and how do you think that affects a young child now that you are a father yourself?"
Harry started his response by joking: "Well you're the professional, you can tell me."
But he added: "It leaves me in position now, as a father to two kids of my own, making sure that I smother them with love and affection.
"Not smother them to the point where they're trying to get away... but in the sense that...as a father, (I) feel a huge responsibility to ensure that I don't pass on any traumas...or any negative experiences that I had as a kid or as a man growing up.
"And that's putting in the work, and that's daily being conscious of my behaviour and my reactions to both of my kids."
Harry also said he feels "slightly different" to the rest of his family, adding: "I felt strange being in this container, and I know that my mum felt the same so it makes sense to me."
He added: "We only know what we know, and for myself and my wife we do the best we can as parents - learning from our own past and overlapping those mistakes, perhaps, and growing... to break that cycle… people have said that my wife saved me, I was stuck in this world and she was from a different world and helped draw me out of that.
"But none of the elements of my life would have been possible without me seeing it for myself. My partner is an exceptional human being and I am grateful of the space that she's given to me."
Prince Harry: 'I'm NOT a victim out for sympathy - I'm doing an act of service'
Prince Harry insists he is not a "victim" searching for sympathy over his life.
The royal instead thinks sharing intimate details of his life is and "act of service" for the world, he said during his 90-minute online sit-down with trauma specialist and self-help guru Dr Gabor Maté on Saturday. (04.03.23)
Harry was told by the doctor he was facing two kinds of people - those who had not read his memoir 'Spare', which he released in January, but who were "resentful" towards the royal, and those who were grateful he was sharing his secrets.
Harry replied: "I definitely don't see myself as a victim," and added he hoped opening up about his mental health and family life "will help some people out there", which made it feel like he was doing an "act of service".
He added about going into therapy after the 1997 death of his mum Princess Diana when he was 12: "My awareness of myself was distorted by my environment but also society.
"When I found my therapist and started to unpack 12-year-old Harry at the point my mother died was scary.
"One of the things I was most scared about was losing the memory of my mum. I thought therapy would cure me but I'd lose what I had managed to hold on to of my mother.
"It was the opposite. I turned the sadness into realising she just wanted me to be happy. That was a huge weight off my chest."
Harry's live chat comes amid reports he and his 41-year-old wife Meghan, Duchess of Sussex - with whom he shares son Archie, three, and 20-month-old Lilibet - were given "weeks" by his father King Charles to move out of their grace-and-favour home Frogmore Cottage in Windsor, which may now be handed to Prince Andrew.
It is still unclear whether the couple will attend Charles' May 6 coronation, but there have been reports the pair may take front row seats at the event.
MORE Prince Harry drug confessions: 'Marijuana really helped me - but coke did nothing'
Prince Harry says marijuana helped him cope with his mental trauma.
The Duke of Sussex, 38, opened up about his life and family in a 90-minute online chat with Dr Gabor Maté, 79, on Saturday (04.03.23) and also admitted cocaine didn't do "anything" for him when he was struggling mentally.
He said during the £19-a-ticket live-streamed question and answer session: "(Cocaine) didn't do anything for me, it was more a social thing and gave me a sense of belonging for sure, I think it probably also made me feel different to the way I was feeling, which was kind of the point.
"Marijuana is different, that actually really did help me. It was the cleaning of the windscreen, cleaning of the windshield, the removal of life's filters just as much as on Instagram, these layers of filters.
"It removed it all for me and brought me a sense of relaxation, release, comfort, a lightness that I managed to hold on to for a period of time.
"I started doing it recreationally and then started to realise how good it was for me, I would say it is one of the fundamental parts of my life that changed me and helped me deal with the traumas and pains of the past."
Reports say Dr Maté is an outspoken supporter of legalising, and has allegedly used the Amazonian plant ayahuasca to treat patients suffering mental issues.
Harry also used his memoir 'Spare' to talk about how he used partying and hallucinogenics to blot out pain, including traumas over the 1997 car crash death of his mother Princess Diana and spending his life in the global spotlight.
He said in the book he and an unnamed actor got so high on a stash of "black diamond mushroom chocolates" they found in 'Friends' actress Courteney Cox's house during a house party he thought her kitchen bin looked like it had developed a head.
Harry said: "My mate and I grabbed several, gobbled them, washed them down with tequila."
He added about hallucinating over Courtney's kitchen bin after he downed the drugs: "I stepped on the pedal and the head opened its mouth. A huge open grin. I laughed."
Courteney recently insisted she never supplied Harry with the magic mushrooms, and added she was still to read his memoir 'Spare' as his drugs anecdote had "gotten back to" her.
Idris Elba: 'It's MY prerogative to stop labelling myself a black actor'
Idris Elba says it is his "prerogative" to stop referring to himself as a "black actor".
The 'Luther' star, 50, was hit with a flood of online criticism last month when he revealed in an interview with Esquire he no longer applies the label to himself as he felt it put him in "a box" and promoted the world's obsession with dividing people into races.
He has now hit out at being trolled over the comments, telling The Guardian on Friday (05.03.23): "Me saying I don't like to call myself a black actor is my prerogative.
"That's me, not you. So for you to turn around and say to me, I'm 'denying my blackness.'
"On what grounds? Did you hear that? Where am I denying it? And what for? It's just stupid. Whatever."
Idris added the backlash against his "black actor" remarks is proof social media can be a "conflict incubator".
Days after his chat with Esquire, Idris clarified on Twitter about his remarks on race: "There isn't a soul on this earth that can question whether I consider myself a BLACK MAN or not.
"Being an 'actor' is a profession, like being an 'architect', they are not defined by race. However, If YOU define your work by your race, that is your Perogative. Ah lie?"
Idris, who married for the third time in 2017 in Marrakech to the Canadian Somali model Sabrina Dhowre, 34, and who has two children from previous relationships, also told The Guardian despite his fame he lives a quiet existence and shies away from creating drama.
He added: "Contrary to popular belief, I live a quite sheltered life.
"I feel as I get older - I'm 50 now - we all have fears of saying too much, oversharing and whatnot.
"And in this day and age, it's really difficult to have an opinion if you're in the public eye because it gets overly scrutinised, taken out of context, thrown into some sort of bull****, zeitgeisty social media argument."
Idris has previously tackled racism by calling for a crackdown on bigoted social media trolls by forcing everyone to be registered on platforms by their real verified identities instead of allowing people to use online handles.
Stephen 'tWitch' Boss' widow Allison Holker tells their kids they will find 'courage'
Stephen 'tWitch' Boss' widow Allison Holker has told her children they will find the "courage" to "hold each other up" three months after their dad's suicide.
The 35-year-old professional dancer was left devastated when Stephen was found dead on December 13 aged 40, and has largely taken time out from social media since his death aside from paying tribute to the choreographer and DJ, but on Saturday (04.03.23) she used her Instagram to send a message of support to her three kids.
She said alongside a snap of her on a sofa with son Maddox, six, and three-year-old daughter Zaia, who she had with Stephen - as well as her girl Weslie, 14, who she had from a previous relationship and who was adopted by Stephen: "My loves we are stronger than you could ever imagine. And we will stand strong together as a unit, and find the courage to hold each other up.
"I will be here for you every step of the way through the highs and lows, the ups and the downs.
"I will protect and I will guide, I will be a listening ear, a shoulder to cry on, I will have mom jokes ready for when you need a good laugh.
"The love and light inside our hearts will still shine. I love you forever and always. Mommy."
Among the famous faces who commented on the post was Ellen DeGeneres, 65, who said: "I think about you all every day."
A source recently told People Allison is coping "as well as expected" in the wake of her husband's death, which happened three days after their ninth wedding anniversary.
The insider added: "Her first priority is the kids, and she is being the best mom she can be. The support from friends has been invaluable."
Allison last month posted her first video to Instagram since Stephen, who had risen to executive producer level on 'The Ellen DeGeneres Show' after being a regular on the long-standing series, took his life.
She said: "I just want to say thank you for all the love and support that you guys have sent to me and my family at this time.
"It has been very challenging and emotional, but you guys have brought so much hope and inspiration to us by sharing stories and memories and moments and different ways that Stephen impacted your life.
"He lived his life from love, and he made you feel a certain way. My family and I have always said that we wanted to make sure that our purpose was looked out by bringing joy to people.
"Joy to people's homes, you know, from dance or love. And that's not gonna change for us. It's going to feel a little bit different, but we know that that's our purpose and we'll still do that to this day."
Allison married Stephen in 2013 and on February 12 hailed him as a "light" in her speech at a celebration of life ceremony for the dancer in Los Angeles.
She told mourners: "He chose love, grace and kindness. And he deserves to be celebrated."
Kim Kardashian ready to date again
Kim Kardashian is ready to date again.
The 42-year-old mother of four - who enjoyed a nine-month relationship with comedian Pete Davidson following the breakdown of her marriage to rapper Kanye West - has asked friends to set her up, but insisted she doesn't want to date any celebrities.
A source told PEOPLE: "Kim hasn't been dating, but is ready again. She took a breather after Pete [Davidson], but she is interested now. She would love to date someone who isn't famous in Hollywood. She thinks someone in finance would be perfect.
"Kim has a lot of things going on that make her happy. She would love to share it all with a partner too."
Thrice-married Kim - who has children North, nine, Saint, seven, Chicago, five and Psalm, three, with ex-husband Kanye -- recently revealed she is open to having more kids and remarrying one day.
She said: "I am. I am [such a romantic]. I have this fantasy in my head, like fourth's time's a charm, it's gonna -- it's gonna work out.
"I feel, like honestly, my last marriage was my first real [one] -- the first one, I just don't know what was happening. The second one, I felt like I wanted to be married so badly because all my friends were at that place and that's where I should have been, and I didn't accept that that just wasn't where I was and see that that was okay.
"And now, I feel like I would definitely take my time -- and I would be okay for a forever partnership as well. I would want a marriage, but I'm so happy to take my time."
Kim was previously married to music producer Damon Thomas from 2000 to 2004, and former NBA player Kris Humphries from 2011 to 2013, although she famously filed for divorce just 72 days after they wed.
Katy O'Brian: Why I said no to starring in a huge Hollywood franchise
Katy O'Brian turned down a role in a "huge project" because she wanted to diversify her career.
The 33-year-old actress trained as a martial artist before launching a career in Hollywood and after appearing as a henchwoman in Marvel's 'Agents of S.H.I.E.L.D.' and Major Sara Grey in 'Black Lightning', she had to learn to say no to some big movie roles so she could avoid being typecast.
In an interview with Collider, she said: "I used those roles as a stepping stone. I think a lot of people hopefully would agree, if you are getting cast, that's a good thing. And if you are getting work, that's a good thing, especially when you're first starting out. And then once you start to want to branch out, I had to start turning down roles. And I said specifically, 'I'm not doing another henchman role. So either don't send me the audition or let me tell casting or whoever. I'm not coming in for that role. That's not how I see myself. That's not how I want to be represented on screen. There was a project, it was a really big project for a certain franchise that was, again, it was another henchman role and I turned it down and because of that I was probably able to audition for other projects in that universe."
Katy is now starring as Jentorra in 'Ant-Man and the Wasp: Quantumania' alongside Paul Rudd and went on to explain that the "hardest part" of making the switch to movies from television was not having a stringent schedule.
She said: "Sometimes I'd show up to set and they're like, 'You're gonna learn a fight scene right now.' The hardest part for me though, and the strangest part is, generally [in] television, it has to be done next week, right? You've got to get the episode done next week or it's not gonna get done.
"For 'Ant-Man', I never knew what days I'd be working. The schedule changed constantly. You've got all these A-list actors that have a bunch of other stuff to do and everyone's flying in and out. I do not envy the ADs. I don't envy the producers. I don't envy anybody that has to be in charge of any kind of schedule for that stuff. You really genuinely never know when you're gonna be there or no."
Tessa Thompson: Stallone is still part of the DNA of Creed
Tessa Thompson says Sylvester Stallone "felt ever-present" on the set of 'Creed 3'.
Although Stallone's Rocky Balboa appeared in 'Creed' and its sequel, the 76-year-old actor did not return for the third movie in the franchise but Tessa believes he is still a big "part of the DNA" of the series.
She told The Hollywood Reporter: "This might sound like a line, but I sincerely think that he's so a part of the DNA of this that he felt ever-present to me. It actually took me a minute to be like, "Oh shit, [he's not here.]" There's something about returning to these movies and all the history that we have with them, and Sly is so wrapped up in that. And in some ways, his absence makes him an even bigger figure in my mind, in terms of the franchise. He's built something that is so strong and so durable that we were able to reinvigorate it and borrow from the universe and create something of our own. And in the success of this film, we also get to say that it's durable, and that has so much to do with Sly.
"It's a passing of the baton, but for whoever is left holding it, it's warm because of the hands that were on it before."
Tessa, 39, also praised her co-star Michael B. Jordan for making his directorial debut with 'Creed 3'.
She said: "What really impressed me was how great he was with the crew. It didn't surprise me because he's a lovely human and is so well liked on set, but he has the kind of energy that lightens a set and makes everybody feel good. But you would never really know that he was also balancing performing, directing and the onslaught of decisions and questions that he had to answer. But I never observed him be short with anybody. He maintained a spirit of play and joy.
"But because we are so close in our way and have worked together for so long, I could tell when he was stressed in a moment. I would look at him and he would just give me a face. I would just look at him and think, 'Oh, he's having a moment'. And he then would just say to me, 'Yeah'. And I would be like, 'All right, take a breath'. And he'd take a breath. So that would be a moment where he would let the air out, but never in a frustrated way. It was just in a, 'OK, you see me, you know me. This is a moment'. And I found that so deeply impressive. I also felt really lucky to get to be that kind of support. He was just so tremendous with the crew and everyone."
'Three is enough for us': Pussycat Doll Kimberly Wyatt doesn't want any more kids
Pussycat Dolls singer Kimberly Wyatt's family is complete.
The 41-year-old star has three kids - Willow, eight, Maple, five, and three-year-old Senna - with husband Max Rogers, and she admits her third child was a "massive surprise" and so she has no desire to add to their brood.
Speaking to new! magazine, she said: "Three was a massive surprise.
"We were done after two kids, so three is enough for us."
Kimberly and Max are renewing their wedding vows as they celebrate their 10th anniversary.
And she recently admitted it's so she can get the "wedding cake of her dreams".
The couple tied the knot in 2014 and got the idea to renew their vows next year after a recent loved-up holiday in Dubai.
She said: "We were just in Dubai, which was unbelievable, and there were moments where we went, 'God, this is amazing,' and it brought up the idea of renewing our vows.
"I didn't get the wedding cake of my dreams on our wedding day, so for our 10-year anniversary I will get the cake of my dreams."
While her and Max's holiday in Dubai sparked the idea, Kimberly isn't sure if they will renew their vows in the United Arab Emirates city.
She added: "I don't know if we'll have it in Dubai or not. We haven't thought that far."
Kimberly was due to reunite for a tour with the Pussycat Dolls in 2020 but the shows were delayed due to the COVID-19 pandemic, and then in January 2021, Nicole Scherzinger announced the plans had been dropped entirely.
But Kimberly only found out the reunion tour had been cancelled through a fan's Twitter post.
She said: "The way it was communicated wasn't nice or kind to most of us.
"I found out through a fan's tweet. I was devastated and cried my eyes out.
"We were planning a world tour and were even booked for Glastonbury."
However, the singer admitted late last year that she is still "hopeful" the band will hit the road again.
She said: "I feel really powerless right now but I am still hopeful that it will happen."
Kimberly Wyatt regrets Pussycat Dolls turning down Lady Gaga's Just Dance
Pussycat Doll Kimberly Wyatt says her biggest regret is the band not accepting Lady Gaga's hit 'Just Dance'.
The girl group - also comprising Nicole Scherzinger, Ashley Roberts, Carmit Bachar, Melody Thornton and Jessica Sutta - could have had a huge hit with the pop megastar's breakthrough 2008 single, but they turned it down, and Kimberly insists it was not her choice.
She told new! magazine: "Lady Gaga wrote 'Just Dance' for the Dolls.
"It certainly wasn't my choice to turn it down.
"She went on to make it a massive hit and it broke her career, so ultimately it was meant to be hers.
"So if there's one song I regret not working on, it's probably that."
Kimberly was due to reunite for a tour with the Pussycat Dolls in 2020 but the shows were delayed due to the COVID-19 pandemic, and then in January 2021 Nicole announced the plans had been dropped entirely.
But Kimberly only found out the reunion tour had been cancelled through a fan's Twitter post.
She said: "The way it was communicated wasn't nice or kind to most of us.
"I found out through a fan's tweet. I was devastated and cried my eyes out.
"We were planning a world tour and were even booked for Glastonbury."
However, the singer admitted late last year that she is still "hopeful" the band will hit the road again.
She said: "I feel really powerless right now but I am still hopeful that it will happen."
Amanda Seyfried wants to a role in movie version of Mean Girls: The Musical
Amanda Seyfried wants to be in the movie adaptation of 'Mean Girls: The Musical'.
The 37-year-old actress made her big screen debut as Karen Smith in the 2004 comedy which serves as a parody of the high school clique system and revealed that she and her co-stars Lindsay Lohan, Rachel McAdams, and Lacey Chabert are all "100 percent" interested in making cameos in the upcoming adaptation of the Broadway musical based on the film.
She told 'Entertainment Tonight': "It's not really up to us anymore ... It would be nice to hang out. I just think that this legacy has just broken all records. Everything that Tina [Fey] keeps doing, just putting it in a different way with the Broadway show, so amazing.
"Who wouldn't want to be a part of it? It's nice. But all of us are 100 percent into it. Maybe the mothers of our characters? That's what I was thinking, but listen, I have not even seen the script."
Meanwhile, the 'Mamma Mia!' star recently revealed that she felt as if she didn't "belong" at the audition for the cult classic as she initially tried out for the role of Queen Bee Regina George - which eventually went to Rachel McAdams - whilst future 'Gossip Girl' actress Blake Lively unsuccessfully went up for the part of Karen.
She said: "I was in the room with Lacey and Lindsay and Blake, and I knew Lindsay and Lacey from their movies and TV, and I was just a little bit like, 'Oh my god. What do I do? I don't belong here 'cause I flew in from Pennsylvania or whatever.
"Blake I didn't know, but I just remember thinking she was so gorgeous, and I was like 'She's the perfect Karen.' 'Cause I was Regina in the room, but things happen."
Aaron Taylor-Johnson joins Nosferatu remake
Aaron Taylor-Johnson has joined the cast of the 'Nosferatu' remake.
The 'Bullet Train' actor is set to star in the new film version of the horror classic from director Robert Eggers, alongside Bill Skarsgard, Nicholas Hoult, Willem Dafoe, Emma Corrin and Lily-Rose Depp, according to the Hollywood Reporter.
No details have been given on the role Dafoe could be playing.
'Nosferatu' tells a gothic tale of obsession between a haunted young woman (Depp) in 19th century Germany and the ancient Transylvanian vampire (Skarsgard) who stalks her and brings untold horror with him.
'Nosferatu' has been a passion project of Eggers' for several years and came close in 2019 when Anya Taylor-Joy and Harry Styles were in discussions to star. The story was first told on the big screen by F.W. Murnau as a silent German film in 1922 and was remade by Werner Herzog as 'Nosferatu the Vampyre' in 1979.
Eggers previously admitted he worries that all the problems he's had with the project could be a bad omen.
He said of the remake: "I'm just starting to think that [F.W.] Murnau doesn't want me to make it. It feels like that. "It just feels like it's so hard, and I don't know why. And I think [Werner] Herzog had the right … because of German history and German cinema history, to make it. And maybe the ghosts of Murnau and Albin Grau are telling me … stop barking up that tree. I don't know. That doesn't mean that that's true. I'm just wondering."
Shania Twain 'uncontrollably fragile' after husband's affair
Shania Twain was "uncontrollably fragile" after her husband cheated on her with her best friend.
The 57-year-old singer's 14-year marriage to Robert "Mutt" Lange ended in 2008, after she discovered he had been having an affair with her close friend Marie-Anne Thiébaud and Shania admitted she still doesn't speak to them.
She told the 'Armchair Expert' podcast: "I don't think that a lot of things that happened to me since my divorce should have been so hard on me. I should have been less naive about life's ups and downs. Maybe I'm too much, like, 'That's all behind me.'"
Shania went on to find love with Thiébaud's husband - former Nestlé exec Frédéric Thiébaud - who she tied knot with in 2011 and Shania revealed Frédéric handled the betrayal of their former spouses better than she did.
She explained: "[Before the affair was discovered] I did not get close to Fred at all, we didn't have each other's numbers. He was not really part of our daily lives because he was working these crazy hours. A lot of travel [for his] very high-profile company, just suit and tie and so he would be around, like, weekend dinners and stuff like that -- we would all eat together and that was it.
"It would be mostly him and Mutt chatting, so I didn't really know Fred very well. I guess it was a beautiful surprise to then see how gracefully and graciously he was dealing with navigating the same pain.
"He was so thoughtful about it all… It was not cool with him, but he was smarter about it. I was uncontrollably fragile over it, which I had never felt before ever because I thought for once I was stable. I really believe that I'm safe, so that really devastated me I think more than any other instability I've ever felt.
"Fred's so smart. This is one of the smartest people I know, he didn't know either. That helped me feel better… Neither of us saw it coming … I allowed myself to trust too much … I did let my guard down too much."
And, Shania added that she and Mutt only communicate about their son Eja, now 21.
She said: "Mutt and I parent well together -- for people who don't talk to each other. We'll just text. We both love our son so much, so we don't play any games like that. We have the same priority, we share spaces for him. No nonsense there."
Riley Keough feared she'd lose Daisy and the Six role because she couldn't 'belt' out a song
Riley Keough feared she wouldn't get her musical role in 'Daisy and the Six' because she couldn't belt out a song.
Elvis Presley's granddaughter - whose parents are the late Lisa Marie Presley and her ex-husband Danny Keough - plays the titular singer in the new Prime Video series, but unlike her late grandfather, Riley had no singing experience and "faked it until she made it" by hiring a vocal coach to teach her how to belt out a tune.
Speaking to Bella magazine, she said: "I brought no [musical] experience!
"I read for the role and I auditioned, and obviously they said a huge part of this is singing.
"I had never sung before and had no singing background.
"I never really knew what it felt like to belt out a song.
"And sometimes when you're an actor and you really want to do something, you'll tell them, 'Yeah, I can do that.'"
The 33-year-old actress admits she owes the role to her spouse, Ben Smith-Petersen, for believing in her.
She continued: "So I sat there and had a voice note chat with my husband, and I asked him what song I should sing.
"I didn't even know how to sing. Like, what do I do? And we just started singing through songs.
She recalled: "He sang with me and, to be completely honest, I wouldn't have done it had he not told me I could do it. I wouldn't have considered myself a singer.
Riley sobbed after fearing she would lose the role for not being able to properly belt out a tune.
She went on: "So I recorded a little song. I can't even remember what it was... I sang really softly and I sent it in and they said,
"Great... can she sing out more?"
"So I sang a little louder, sent it to them, and then they're like, 'Great... can she belt?'
"And then I was like, belt? I don't even know what belt means? Do I yell and sing? So, I was in a car and I had my phone and I just tried to sing something loud and I sounded so bad. So bad that I started crying and I sat there in my car and I was like, there's no way I'm ever going to be able to belt and I just need to give it up now. Back to the life lessons - don't give up. I was really sad and I kind of sat there and, you know, was like this is kind of the end of the road here for Daisy Jones. I can't belt."
Asked what she did to ensure she got the role, she explained: "It's not in my nature to give up on things. So, I moped around for like a night and then I went to a voice coach. He taught me to belt.
"He really did. I went in and sang Lynyrd Skynyrd's 'Simple Man'.
"And it worked. Next, I went to Sound City to sing with Blake Mills and Tony Berg. That was crazy. It felt like it was, like, the third time I had ever sang.
"What am I doing? But, you know, you fake it 'til you make it. I just walked in there and sang. And here we are. I have a record."
Sleep is extraordinary and beautiful, says Jennifer Aniston
Jennifer Aniston thinks sleep is "beautiful".
The 54-year-old actress has struggled with insomnia for years, and she's now grown to appreciate the value of sleeping well.
She told InStyle: "Sleep is extraordinary. It's beautiful. But, boy, did I take it for granted when we were young.
"When you're younger, you kind of take it for granted. You think, 'I can survive on three-to-five hours of sleep and I feel great,' and then, all of a sudden, it just starts not to feel great and your performance isn't as up to par as it should be."
Jennifer acknowledged that a lack of sleep can lead to other health problems.
She said: "All of your body is getting all the work done that it put itself through during the day. You realise a lack of sleep leads to all sorts of health issues."
However, over the years, Jennifer has developed a routine that works well for her.
She shared: "I don't push myself so hard [in a workout] because that will lead to an injury when your body and your brain aren't fully rested. I just try to do my best and just figure out everything possible that will ensure a good night's sleep."
Meanwhile, Jennifer previously revealed that she would "love a relationship".
The actress doesn't "have any interest" in getting married again - but she's still hopeful of finding love.
Asked if she would ever get married again, Jennifer - who was previously married to actors Brad Pitt and Justin Theroux - replied: "Never say never, but I don't have any interest.
"I'd love a relationship. Who knows? There are moments I want to just crawl up in a ball and say, 'I need support.' It would be wonderful to come home and fall into somebody's arms and say, 'That was a tough day.'"
Justin Timberlake calls Jessica Biel a 'dream' in gushing birthday post
Justin Timberlake thinks Jessica Biel is ageing like a fine wine.
The actress turned 41 on Friday (03.03.23), and Justin has taken to social media to pay a gushing tribute to his wife.
Justin, 42 - who married Jessica in 2012 - wrote on Instagram: "Let me tell y'all about this human… she is the most bad***, most graceful, most gorgeous DREAM of a partner I could have ever wished for. And today is her bday! I'm so glad you were born, my love. And, I'm so lucky that you are choosing to do this thing called life with me. Aging like a FINE [wine emoji] !!!! I love you to the moon and back. (sic)"
Jessica also took to the photo-sharing platform to thank her followers for their birthday wishes.
She wrote: "Thanks for all the lovely wishes!"
The actress - who has Phineas, two, and Silas, seven, with the pop star - previously credited Justin with helping to keep their romance alive.
Jessica explained that her husband is determined to ensure that they "keep making time for each other".
She said in 2022: "I'll have to give Justin the credit in this moment, for this one thing that he always says to me: 'We might be married, but we have to keep dating,' and it's so true.
"You just have to keep making time for each other and you have to keep making each other a priority. And do the things that you love together."
Despite this, Jessica acknowledged that it's not always easy, given their parental responsibilities.
She said: "It's not always easy, as we all know, but those touch point moments make all the hard times palatable."
Macklemore's daughter attends Alcoholics Anonymous meetings with him
Macklemore's seven-year-old daughter has attended Alcoholics Anonymous meetings with him.
The 39-year-old rap star - who has Sloane, Colette, four, and Hugo, 18 months, with his wife Tricia Davis - has revealed that he's kept his kids informed about his sobriety journey.
He told the 'Audacy Check-In' podcast: "Sloane's been to meetings with me. She asks me questions like, 'Daddy, how's your sober meetings going?' We talk about it.
"And I don't want to hide that because it's not something that I need to feel guilt or shame or secrecy around. The whole intention is to put it out into the open … I'm not a finished product. This is what I'm working on. These are my struggles."
Macklemore ultimately wants his kids to be aware of their family's history, adding that it's "important" to be honest with them.
The 'Thrift Shop' hitmaker explained: "These are things we m right have in our family that we have to keep an eye on. Just be honest, it's a conversation.
"There's no rulebook here. We're at a new point in parenting ... I think that having that conversation is important."
Macklemore entered rehab for drugs and alcohol addiction in 2008, before suffering a relapse in 2011.
The rap star struggled with substance abuse during his 20s and he previously insisted that he wouldn't have survived without treatment.
He said: "If it wasn't for my pops having the ten or 12 racks [thousand] that it was when I first went to treatment and [his ability] to spend that on me, I'd be f****** dead. I wouldn't be here right now. That's not to be f****** dramatic, that's just what it is. I was about to die."
Gigi Hadid hopes Next in Fashion inspires viewers
Gigi Hadid hopes viewers can take inspiration from season two of 'Next in Fashion'.
The 27-year-old model has teamed up with Tan France for season two of the Netflix series, and Gigi has given fans an insight into what they can expect from the reality series, which features up-and-coming designers.
She told PEOPLE: "I think [the show] is going to inspire so many people that watch to just be true to who you are because there's not one person that's the same on this show.
"I think that however they are different is why they're celebrated. That is what's fun about getting dressed and being a creative person."
Gigi has also relished the experience of working with Tan, 39.
She said: "I learned so much from watching him be so good at what he does."
The blonde beauty revealed that Tan was constantly supporting her.
She shared: "If I was nervous about something, Tan would be like, 'I'm proud of you.' That helped me get through anything."
Meanwhile, Gigi recently admitted that the COVID-19 lockdown changed her career.
The model explained that lockdown and the birth of her daughter forced her to reevaluate her lifestyle.
Gigi - who has Khai, two, with her ex-boyfriend Zayn Malik - explained: "I got pregnant and I really started to think about what I wanted after, when the world opened back up.
"It kept coming back to just a more stabilized schedule where I'm not in a different country every week."
Gigi ultimately opted to launch Guest In Residence, a line of cashmere designs.
She said: "This is very stabilizing. I have an office that I come to. I know everyone here.
"I don't have to look a certain way to show up. It's a different experience for me, and it was the right time because I was ready for that."
Cameron Diaz 'is really enjoying her acting return'
Cameron Diaz is "having a blast" amid her acting return.
The 50-year-old actress has ended her acting hiatus to star in the Netflix movie 'Back In Action' and the blonde beauty has relished shooting the film with Jamie Foxx.
A source told PEOPLE: "Cameron has been filming in London for several weeks. She was nervous before she arrived in London, but then very excited."
Cameron has Raddix, three, with her husband Benji Madden and she's been joined in the UK capital by her family.
The insider added: "Filming has been amazing. Cameron really enjoys it. They have been doing a lot of nighttime filming.
"It hasn't bothered her, because she is jet-lagged anyway. Her family is with her for support."
Cameron has also loved working with Jamie, 55, over recent weeks.
The source shared: "Everyone loves working with them. They are both incredibly hard working and never complain. Cameron is a sweetheart on the set. She is super chill and down to earth."
Cameron stepped back from her acting career in 2014, after she starred in an 'Annie' remake.
The actress previously claimed that she was loving her new life and the challenge of motherhood.
She said: "I'm just really having the best time ever."
The Hollywood star has focused on her various business interests over recent years, and Cameron refused to pay attention to her critics.
She explained: "I do the same thing that I've done my entire career as an actor: I don't read any critics."
Cameron actually rejected millions of dollars to return to the film business before now.
And the actress insisted at the time that she was happy to be following her passion.
Asked what advice she'd give to her fans, she explained: "If it's like a burning desire to do so, then I say go for it. Follow that feeling and let it light your way and see where it takes you."
Angela Bassett: I wasn't robbed of Oscars success
Angela Bassett remains philosophical about her lack of Oscars success.
The 64-year-old actress was nominated for an Academy Award for her performance in 1993's 'What's Love Got to Do with It' - but she ultimately missed out on the accolade.
Asked if she felt "robbed", Angela told 'CBS Mornings': "Of course, in the moment you're hoping and praying and wishing [you'll win]. But I never ... I don't walk away thinking 'I've been robbed.'"
Angela - who has also received an Oscars nomination for her role in 'Black Panther: Wakanda Forever' - has moved on from her disappointment.
She reflected: "That's too negative of an emotion to carry with me for the rest of my life. I choose to believe there was a reason why it didn't happen."
Meanwhile, Angela recently promised that she will support her kids if they follow her into the movie business.
The Hollywood star - who has 17-year-old twins Bronwyn and Slater - insisted that she'll always support her children irrespective of what they do in their own careers.
Speaking about her kids' interests, Angela explained: "They want to follow the success, but whether it be acting, I don't get any clues to that right now. It's a little music, a little sports. But whatever they want to do, I support them."
Angela also revealed that she celebrated her success at the Golden Globe Awards with her two children.
The movie star - who won the Best Supporting Actress gong for her performance in 'Black Panther: Wakanda Forever' - shared: "I went home and hugged my kids. They were really excited for mom to bring home a statue."
Chrissy Teigen admits to watching 'bottom barrel' reality shows
Chrissy Teigen has resorted to watching "bottom barrel" reality TV shows other recent months.
The 37-year-old model - who has Luna, six, Miles, four, and Esti, six weeks, with music star John Legend - has revealed that she's desperate to watch a new series of '90 Day Fiance'.
Chrissy wrote on Twitter: "Where are all the 90 day fiances?? They attack you with like 7 franchises at once you have to juggle like pins on fire then just leave you abruptly in silence for months to watch your desperation bottom barrel reality shows (sic)"
One of Chrissy's followers then urged her to resist the temptation of watching 'MILF Manor', the reality TV series that premiered in January.
In response, Chrissy confessed: "I did [laughing emoji] (sic)"
In February, John admitted that he and Chrissy both love watching reality TV.
The award-winning musician explained that he and his wife enjoy watching reality shows at home.
Asked how he relaxes when he's not working, John replied: "I like to watch sports, and I consider that my own way of relaxing. And then just watching good TV with Chrissy, having a glass of wine."
John, 44, also enjoys watching TV when he's on the road.
He said: "When I was on the road, I just checked out 'Your Honor' on Showtime, which I really liked, with Bryan Cranston. We loved the Chippendales one that Kumail [Nanjiani] was in. And then we watch a lot of reality TV."
What's more, John revealed that Chrissy is a huge fan of the 'Real Housewives' franchise.
He shared: "We're very into the '90 Day' franchise, but Chrissy's favourite is most definitely 'Real Housewives' franchise, so that gets watched a lot in our home.
"I'll watch it a lot with her and just [shake my head] the whole time."
Jennifer Hudson 'didn't need to win American Idol'
Paula Abdul knew Jennifer Hudson "didn't need to win" 'American Idol' to realize her dreams.
The 41-year-old singer starred on the show's third season in 2004, and Paula explained that she didn't need to win the series in order to become a success.
Paula said on 'The Jennifer Hudson Show': "I remember interviewing you after [for Entertainment Tonight], and I said to you, I know, I have the feeling that some amazing things are going to happen to you.
"People that need to win, win, and the people that don't need to win end up winning big time, and you did."
The former 'Idol' judge still has vivid memories of the public's reaction to Jennifer's early exit.
She shared: "Oh my goodness, that was a moment. When you were eliminated, it was like the whole world was p*****."
Jennifer - who has received various accolades during her career, including Emmy, Grammy, Oscar and Tony awards - then joked: "They still be mad."
Meanwhile, Jennifer previously confessed that 'American Idol' changed her life.
The chart-topping star refused to give up on her dreams, despite her early exit from the show.
She explained: "I just feel like in everything there is a lesson and it leads you to greater things and because of 'Idol', I'm here talking to you guys.
"Obviously, when you're eliminated, you feel like at least for a split second it's over, but then I was like, 'no, it's not. I am walking away with my gift and no one can take that away from me,' and I knew something is in store ... I said something is in store, something will happen. I'm just going to have to sing my way to it."
I'm an open book with my fans, says Christina Aguilera
Christina Aguilera is determined to be "honest and open" with her fans.
The 42-year-old pop star thinks she's always been "a pretty open book" about her appearance and her insecurities.
Asked about her attitude towards cosmetic procedures, Christina - who released her debut album back in 1999 - told Allure magazine: "I think it's great to share and to be honest and open about what you're doing - in your comfort zone, of course. I've always been a pretty open book about embracing my body, my looks, and things like that.
"But I'm a pretty reserved person when it comes to a lot of things. I think to each their own, and I think we [should] all do what's right for us, so I don't believe in judgement where that's concerned whatsoever."
Meanwhile, Christina previously admitted that she looks back at her time as a child star with a sense of unease.
The 'Genie in a Bottle' hitmaker found fame through Disney TV shows during her teenage years - but Christina "wasn't happy with a lot of things".
Revealing how she spent her time during the COVID-19 pandemic, Christina said: "I have this massive trunk of old diaries that I've literally kept from the past 20 years of my life. I was able to catch up on them and do some self-reflecting. It really forced me to be silent and take a look at myself.
"In some regard, I wasn't happy with a lot of things, and it's scary to face those feelings that, under normal circumstances, you don't have time to face because everyone is going, going, going.
"That grind is praised, but I think we're all understanding that having moments to self-reflect and just breathe are crucial."
Lily Collins loves interior design
Lily Collins has recently become obsessed with interior design.
The 33-year-old actress - who is the daughter of musician Phil Collins and his second wife, Jill Tavelman - has revealed that she loves looking for interior design inspiration on Instagram.
Asked about the last "Instagram rabbit hole" she went down, Lily - who is married to director Charlie McDowell - told Glamour magazine: "Interior design.
"Looking at lamps and chairs because we're redesigning a space right now. And then you start clicking on these amazing homes, and then you're looking at tile colors and wall colors and rugs.
"It's so funny because as a kid, I remember my mom always talking about interior design, and I was more interested in clothing and pop bands and stuff. And then she's like, 'One day you're going to care more about interiors and antiques and designs.' I was like, 'No, I'm not.' And now it's literally what I want to spend my money on."
Lily previously admitted to being inspired by the "boldness" of her 'Emily in Paris' character.
The brunette beauty plays Emily Cooper in the hit Netflix series, and Lily confessed to loving her character's sense of style.
She shared: "I think Emily's boldness of choice and not being afraid of mixing things has rubbed off on me."
Lily has always been passionate about fashion. However, starring in the show has made her more courageous than ever.
She explained: "I always loved fashion growing up, so I've never been afraid of it, but I've just not always thought it would work on me. Throwing in those little influences here and there - Emily encourages me to do it more."
'There's nothing better': Kim Kardashian works out with Kelly Rowland
Kim Kardashian has been working out with Kelly Rowland.
The 42-year-old reality superstar took to social media on Thursday (02.03.23) to show off a mirror selfie of herself along with former Destiny's Child singer Kelly, 42, where she noted there was "nothing like" working out in her home gym with a friend.
She wrote on Instagram: "Nothing like working out w friends to keep you motivated [kiss emojji]"
The 'Stole' hitmaker matched her outfit with Kim's, with both stars choosing to wear a sets of black workout gear and the former 'X Factor' judge was quick to repost the snap herself and reply with a comment.
Kelly replied on her own Instagram Story: "FACTS!!!"
The 'Kardashians' star was also joined by her personal trainer Senada Greca and she gave her 347 million followers a glimpse into her workout routine as she posted a snap of herself lifting weights and begged fans not to judge.
She wrote: "Flip Flop workout Don't judge! We're getting strong @senada.greca"(sic)
The SKIMS founder- who was married to rapper Kanye West from 2014 until 2021 and has North, nine, Saint, seven, Psalm, five, and three-year-old Chicago with him - has been working out for up to two hours a day and earlier in the week, took to social media to show off the results of her dedicated exercise regime as she shared snaps of herself lifting weights with her personal trainer in an effort to combat jet lag after returning to Los Angeles from a trip to Europe for the Dolce and Gabbana fashion show.
She captioned the post: "Nothing like a 2 hr workout w Senada Greca to get my jet lag back on track. Finishing off strong is the best feeling ever to check a good workout off of the daily schedule. (sic)"
Idris Elba won't 'say too much' to avoid social media rows
Idris Elba is afraid of "saying too much" and getting involved in a "b****** social media argument".
The 50-year-old actor insisted he lives "quite a sheltered life" and like many people in the public eye, he is reluctant to offer opinions on topical issues in case they are "taken out of context" and become the focus of an online row.
He told The Guardian newspaper:"Contrary to popular belief, I live a quite sheltered life.
""I feel as I get older - I'm 50 now - we all have fears of saying too much, oversharing and whatnot.
"And in this day and age, it's really difficult to have an opinion if you're in the public eye because it gets overly scrutinised, taken out of context, thrown into some sort of b*******, zeitgeisty social media argument."
Idris - who has two children from previous relationships and married third wife Sabrina Dhowre in 2017 - can next be seen reprising his role as John Luther in 'Luther: The Fallen Sun' and while he doesn't think he's much like the detective, he admitted one thing they do have in common is being "guarded" about their deepest feelings.
He said: "I'm nothing like Luther in real life, apart from perhaps being very patient.
"John has demons, right? And you don't know much about his past. I don't relate to that but I can be quite guarded. I'm in the public eye all the time, and I'm quite open. But at the same time, do you really know much about me? If you read my interviews, I'm very careful. I'm not overly sharing some of my deepest, darkest, and neither is John."
As well as acting, Idris has turned his hand to a number of other ventures including fashion design, producing, DJing, making music, hosting a podcast, releasing his own ranges of wines and skincare, and kickboxing.
While the 'Beasts of No Nation' star acknowledged some people find him "exhausting", he insisted he isn't doing anything other people couldn't do too.
He said: "I'm 50 years old, and I am exhausted sometimes. But at the same time, I've pushed what I was expected to do as a Black person in the UK, having grown up in a certain socioeconomic dynamic.
"So for those that are sitting there going: 'Oh my God he's f****** exhausting', it's because you are sitting there. It doesn't mean you can't do it.
"My biology and your biology are no different. We are the same species. Our intellect, IQs, cultural backgrounds may be different, but our capabilities as human beings are the same."
'I have to whip it out': Michael Douglas confirms he and Catherine Zeta-Jones have saucy golf bet
Michael Douglas has to take his trousers off and "whip it out" if Catherine Zeta-Jones beats him at golf.
The 'Ant-Man and the Wasp: Quantumania' actor confirmed he and his wife still have an ongoing bet when they are playing their favourite game but he insisted he doesn't lose very often.
Asked if they still have the bet, as was previously revealed by Catherine, Michael told the Guardian newspaper: "The rules are I have to whip it out if I don't hit it past the ladies' tees, which I manage most of the time.
"But there have been times when we're playing alone, and have to give her a little show because we are competitive. But only when I play with my wife."
Meanwhile, the 78-year-old actor is considering stipulating in his will that all rights to his image be left to his family because he's concerned an avatar of him will end up in movies and he'd like to still retain an element of control.
Discussing if he would sell his digital image so he could continue starring in movies after he dies, he said: "It's funny you should mention that. You get to an age where you start thinking about your will and estate.
"Now I'm thinking I'm also going to have to license my name and likeness so the rights go to my family rather than to the metaverse. I see what AI is doing with pictures with text.
"It's only matter of time before you'll be able to recreate any dead person at any age with the voice and the mannerisms, so I want to have some control."
Michael - who has Cameron, 44, with ex-wife Diandra and Dylan, 22, and Carys, 19, with Catherine - also admitted one of the reasons why he signed up to play Hank Pym in the Marvel Cinematic Universe was to appeal to a younger generation.
He said: "That was one of the reasons to do 'Ant-Man', other than I had never done a green screen-type movie. Most of my films have been R-rated - for adults only.
"I get a big kick out of having these kids pulling on my jacket, saying, 'Hank Pym! Ant-Man!' It's as close to immortality an actor can get."
Catherine first revealed the unusual forfeit back in 2016.
She said: "If he ducks a shot he has to drop his pants. It's not just my husband, it's any man I play.
"There has been an issue with paparazzi so I make him go into the bushes. A deal is a deal."
Heather Rae El Moussa 'obsessed' with baby son
Heather Rae El Moussa never expected to be so "obsessed" with her son.
The 'Selling Sunset' star and her husband Tarek El Moussa welcomed baby Tristan into the world on 31 January and though the 35-year-old beauty thought she'd be ready to go out to dinner without the tot by now, she can't bear to be separated from him "at all" because they have such an "insane bond".
She gushed to 'Entertainment Tonight': "I didn't think I'd be this obsessed with him. I thought, you know, 'Oh, I'd be OK going to dinners' or 'I'd be OK going on the little trips' and it's hard to even go to the doctor or, like, leave the house at all or leave him at all to even shower and get ready. Now we have this little thing we have to protect for the rest of our lives and he's so precious.
"He's such a good baby. I have this insane bond with him that I didn't know I was going to have and I don't think you can experience that until he's here and you have those feelings."
Tarek - who already has Taylor, 12, and Brayden, 11, with ex-wife Christina Hall - has found fatherhood different this time around because he is able to more "present".
He said: "You know, I'm older now, I'm more established, I'm a little bit calmer.
"So, you know, I'm finding with Tristan I'm able to be a lot more present, meaning I don't have a million things racing through my mind. So every night, we get some one-on-one time and he lays on my chest for about an hour every night and that's where we really get to bond together."
Although the couple haven't had a lot of quality time together since Tristan was born, they don't mind because they know he needs them right now and their time will "come back" eventually.
Tarek said: "Well, right now we are definitely not in the norm. I mean, we are not, you know, she just had a baby, so do we have our normal one-on-one time? No, we don't. Do we get as much time together? No, we haven't."
Heather added: "Yeah, so that has been hard because we love spending time together, but we know the importance right now is Tristan and what he needs, and [Tarek] understands that too, so, you know, we try at night when he's holding Tristan, we get in bed together, we'll put on a show, we snuggle, but he's busy. He's in and out, rushing around. I'm on maternity leave right now, so I'm at home. I have a lot of moments with Tristan, but our time will come back."
James Cameron held screening to get honest feedback on Avatar: The Way of Water
James Cameron gathered film fans to give him direct feedback on 'Avatar: The Way of Water'.
The 68-year-old filmmaker and his producing partner Jon Landau attended a screening in Burbank and were joined by an audience who had seen the movie already, with the director requesting their unfiltered thoughts on the flick to help guide the rest of the franchise.
James said at the event: "This is something we've never done, which is (ask), 'How do we make the next film even better for the fans?' Go talk to them, find out what's on your mind.
"You guys can be totally honest with us, this is not just about telling us stuff we want to hear. It's about telling us stuff we... need to work on more."
Cameron and Landau spent more than an hour getting feedback from the crowd and Jeff Napshin, who attended the event, said that the 'Titanic' director took the responses "seriously".
Napshin told The Hollywood Reporter: "He also joked about some plot screw-ups that he had to deal with in the movie and how the movie plot constantly changed in editing as they tried to find what worked.
"I really believe this experience was unique and special, and as James Cameron said, let's get together in two years and see if our ideas and feedback made the film."
Cameron concluded the event by telling the audiences that their feedback will be taken on board for 'Avatar 3' - which is set for release in December 2024.
He said: "I just want to assure you guys that you have made a measurable improvement to 'Avatar 3' and beyond with your effort here tonight."
Zara Larsson defends Meghan Trainor: 'She didn't create this for TikTok, TikTok was created for Meghan'
Zara Larsson has defended Meghan Trainor after she was accused of making music just to go viral on TikTok.
The Swedish pop star took to Twitter to respond to a user who suggested the 'All About That Bass' hitmaker was part of the "TikTokification (sic)" of pop music", and hit back saying it's the other way around as the video-sharing platform was "created for Meghan".
The person wrote alongside a clip of the singer's unreleased track 'Mother': "the tiktokification of pop music is real and we are witnessing it as we speak (sic)"
And Zara fired back: "Meghans music have always been sounding like this tho, fun and catchy. She didn't create this for TikTok, TikTok was created for Meghan so she could put her songs on there. TikTok's real mother. (sic)"
Meghan's recent hit single 'Made You Look' went viral on the app.
At the time of writing, the star has almost 17 million followers on the platform and her clips have received more than 300 million likes.
Meanwhile, the 29-year-old pop star - who is pregnant with her second child with 'Spy Kids' actor Daryl Sabara, with whom she also has two-year-old son Riley - recently revealed that becoming a mother has changed how she feels about music.
She said: "It's more important now. I guess I'm also more mature, because I'm older and been through more, so now, I'm at an age and point in my life where I'm like, 'Here's what actually matters and here's what doesn't. I'm not going to stress anymore'. I really had to work with my therapist on what I can and can't control. These stretch marks are here, [I have to] get used to them and learn to love them because I can't control whether they go away or not. In my songwriting, I try to put in that 'let it go' vibe."
Nicki Minaj revives alter-ego Chun-Li for new single Red Ruby Da Sleeze
Nicki Minaj has released her first track of 2023, 'Red Ruby Da Sleeze'.
On the eve of the song's release, the rap star warned ghost writers "they will be scrambling" and declared that Nicki is "still on hiatus" while she channels her Chinese alter-ego Chun-Li from the 2018 track of the same name.
The 40-year-old star wrote on Instagram: "#RedRubyDaSleeze tmrw night. ghost writers all around the world are scrambling. Just watch. Nicki still on hiatus. This b**** right here tho? She outside. (sic)"
'Red Ruby Da Sleeze' sees Nicki spit over a sample of Lumidee's 2003 hit 'Never Leave You (Uh Oooh, Uh Oooh)'.
The fiery star raps: "Red Ruby Da Sleeze, Chinese on my sleeve/ These wannabe Chun-Li's, anyway, nǐ hǎo/ Who the f*** told b****** they was me now?"
The single follows 2022's mega-hit 'Super Freaky Girl', which sampled Rick James' raunchy 1981 hit 'Super Freak'.
Meanwhile, Nicki recently blasted new artists who rip off established musicians.
The music star fumed that it was "irking the c***" out of her that artists today have no originality.
She said: "What I'm seeing now is that so many new artists are trying to become the person they looked up to instead of giving us a new flavour, and it's irking the c*** out of me.
"I know I could see so much talent in some of the new artists but they lose me when I'm seeing the person who they are trying to be like, or sound like, more than I'm seeing who they are.
"So if I'm hearing too much of that artist who already has hits out, when I'm finished listening to your song or watching your performance, I'm going to play that artist.
"And so if I'm hearing too much of that artist who already has hits out, when I'm finished listening to your song or watching your performance, I'm going to go and play that artist. I'm not going to go and look more into you, because you've just reminded me so much of the other person. Now you just woke up all the other hits that they had in my head, and it's later for you."
She said about starting out in music: "When I started falling in love with rap, I felt like everybody was their own unique thing. Whether it was the Jay-Zs and the DMXs or the Wu-Tang Clans or the Nases or the Pacs or the Biggies.
"Even the female rappers, whether it was Eve, MC Lyte, who I've always loved, even Left Eye's voice was so unique, to Salt-N-Pepa. (Lil) Kim and Foxy (Brown) never even sounded alike to me. Everyone had their own thing.
"You had to! Because think about it, we had a magazine that we might see our favourite person on. We couldn't just go and binge mad photos on their Instagram and see their personal life and see this and see that. So you had to stand out. You might be in one photo in the magazine for the next couple of months, you know?
"I don't know what's happening, but I want to urge all the new artists to just believe in yourself, trust that you are that superstar that you loved coming up, and get that something special! Please! For god's sake!"
John Cena, Awkwafina, and Simu Liu to star in action-comedy film Grand Death Lotto
John Cena, Awkwafina, and Simu Liu are to star in Prime Video action-comedy 'Grand Death Lotto'.
The 45-year-old professional wrestler-turned-actor will executive produce the Amazon Studios film alongside Zack Roth and Rob Yescombe, who will pen the script, and Paul Feig will direct the movie.
Feig said: "I love action comedy and extreme physical comedy and this movie has both in abundance, as well as a boatload of heart and hilarity.
"This lotto will make winners of us all."
Jennifer Salke, Head of Amazon and MGM Studios, added: "Grand Death Lotto is the kind of original idea audiences have been craving, and there's no one better than the endlessly talented Paul Feig to steer the ship.
"We can't wait to watch John Cena, Awkwafina, and Simu Liu bring this fun, action-packed script to life for our Prime Video customers around the world."
The film will tell the story of a Grand Lottery, which is established in economically-challenged California in the "very near future".
But if someone kills the winner before sundown they can legally claim their prize.
New LA transplant Katie (Awkwafina) accidentally finds herself with the winning ticket and has to join forces with amateur jackpot protector Noel (Cena) to make it to sundown in order to claim her multi-billion dollar prize.
Liu will portray the part of Noel's protection rival Louis Lewis.
Production on the film will start next week, and the Amazon Original Movie will be available to stream on Prime Video in more than 240 countries and territories worldwide.
Cena stars in HBO Max's 'Peacemaker' as his DC character of the same name, which he first portrayed in 2021's 'The Suicide Squad' for Warner Bros.
Rebel Wilson got month-long Disneyland ban over 'illegal' bathroom selfie
Rebel Wilson got banned from Disneyland.
The 'Pitch Perfect' actress - who got engaged to Ramona Agrum at the California theme park last month - claimed she was asked to stay away from the tourist attraction for a month after taking a photo inside a "secret bathroom".
Speaking on 'The Daily Show with Hasan Minhaj', she said: "I did get banned from Disneyland for 30 days because I took a photo inside a secret bathroom, which is illegal, at Disneyland."
But Rebel admitted Disneyland bosses worked the punishment around her schedule.
She added: "I got officially banned for 30 days. They called me up and said, 'Rebel what 30 days did you not want to come to Disneyland because you're away filming a movie or something?' And I was like, 'Oh, well, June would be fine.' "
As well as teasing the existence of "secret bathrooms", the 42-year-old actress also claimed the theme park is home to "gangs of adults" with "cool names like the White Rabbits and the Children of Thanos, Coco Locos."
She claimed: "They wear matching vests and walk around and do gang stuff around Disneyland.
"One of the initiations was you had to steal the apple from the Snow White ride, and the apple kept getting stolen so many times they had to make it a hologram.
"But don't ask me how I know about Disneyland gangs, because I will not say."
Rebel recently revealed she asked Disney CEO Bob Iger for permission to propose to her girlfriend - with whom she has three-month-old daughter Royce - at Disneyland.
She said: "He's the big, big boss and I thought, 'Well, if he says yes, then it was meant to be, and I was meant to propose that day at Disneyland.'
"I had to get special permission to get a special area roped off and get the topiary trees in and, you know, I had a violinist playing like Disney classics, and it was very, really romantic."
Becky G needs a lot of help with wedding planning
Becky G "needs a lot of help" planning her wedding.
The 26-year-old pop star got engaged to sports star Sebastian Lletget, 30, just before Christmas 2022 after seven years of dating and even though she has found it "refreshing" to be in a new stage of the relationship, she revealed her side of the family are trying to hurry the wedding along.
She told E! News: "I'm gonna need a lot of help! I'm a tiny, little person and it's very hard to be in a lot of places, I'm a part-time Texan now! My fiance plays for FC Dallas and I love going to catch a game. It's been really refreshing to be in this new chapter of our relationship.
"What's the rush? I'm Mexican, right, and my whole family has been like, they've been asking when the ring is coming and now that the ring is here they're like 'When's the wedding?'"
The 'Mamiii' hitmaker went on to add that she is in no rush to tie the knot just yet and just wants to "enjoy" the engagement period.
She said: "I'm like 'Relax!' It took me seven years to get here so I'm gonna enjoy it!"
Just before getting engaged, Becky reflected that after over six years together, she was very "proud" that she had fallen in love with her "best friend."
She said: "I think a lot of people think relationships just happen -- and they don't just happen. To fall in love is one thing, and I think to stay in love is another. I'm so proud of the fact that he's my best friend.
"We've been together for over six years now and it's brand new in many ways because we're really embracing the shifts and changes that are happening in our lives, within ourselves and supporting each other in that. And you can't really force things. But recently things have really been aligning."
Kerry Washington recalls secret wedding to Nnamdi Asomugha
Kerry Washington is planning a "secret anniversary celebration" with her husband Nnamdi Asomugha.
The 46-year-old actress tied the knot with the 41-year-old former football cornerback without any publicity almost a decade ago and now they are approaching a milestone in their marriage, she's insisted they won't be celebrating 10 years with any fuss.
Asked her 10th anniversary plans, she told 'Entertainment Tonight': "How do you even remember that? I do have an incredible husband. Do you remember how secret my wedding was? How private and secretive it was? That's how the anniversary is gonna be too!"
Meanwhile, the 'Scandal' actress - who has children Isabelle, eight, and six-year-old Caleb with Nmandi - is now starring as Paige Alexander, a single mother and therapist, in the Hulu series 'Unprisoned' and explained that since taking on the role her friends have started asking her for relationship advice but insists that she is "just acting."
She said: "It's funny because people used to come to me to fix things with my white hat [in 'Scandal'] and now people come to me for relationship advice. People, I'm just acting! I don't know any of this stuff, none of it!"
Earlier this year, the 'Django Unchained' star revealed that she was putting her life story down on paper as she prepares to release a memoir and called it the most "deeply personal" project she had ever taken on.
She said: "Writing a memoir is, by far, the most deeply personal project I have ever taken on, I hope that readers will receive it with open hearts and I pray that it offers new insights and perspectives, and invites people into deeper compassion -- for themselves and others."
Lea Michele's stint in Funny Girl to end in September
Lea Michele's stint in 'Funny Girl' will end in September.
The 'Glee' actress took over the role of Fanny Bryce from Beanie Feldstein in September 2022 and it's now been announced the Broadway revival will come to an end on 3 September.
A statement on the show's Instagram page tagged Lea and her co-stars Ramin Karimloo, Jared Grimes and Tova Feldshuh as it announced: "Hey, gorgeous! We're having so much fun with you on Broadway, we're sticking around until September 3rd.
"Don't miss @leamichele, @raminkarimloo, @grimeystepz, and @tovahfeld! Get your tickets now. #FUNNYGIRL.(sic)"
When it closed on Broadway, the production will then go on tour in North America, though the cast has yet to be announced.
Following the news, Lea - who has two-year-old son Ever with husband Zandy Reich - admitted she had been supposed to leave the musical in June but ultimately agreed to extend her run.
Speaking on 'Live With Kelly and Ryan', she said: "I was originally only supposed to stay until June.
"Signing on to this and taking on this this role with a toddler. I haven't been on Broadway in 15 years. I really didn't know how this was going to all sort of feel and be for us as a family and being back in New York.
"But I'm having such an amazing time and we have the most amazing cast and it is just such a beautiful experience. So myself, Tova Feldshuh, Ramin and Jared, we've all decided that we are going to see this to the end September 3rd."
The 'Scream Queens' actress recently revealed she was thrilled to receive a congratulatory letter from Barbra Streisand, who played Fanny in the original 1964 Broadway production and went on to win an Oscar for the 1968 movie adaptation.
She said: "She wrote me this beautiful letter. But one thing she said in was, 'It's really wonderful when your dreams come true, isn't it?'"
Sherri Shepherd thanks Maksim Chmerkovskiy for helping her dance away divorce drama
Sherri Shepherd has praised Maksim Chmerkovskiy for bringing her back from her "lowest point" with free dance lessons.
The 55-year-old talk show host hit rock bottom when her marriage to Lamar Sally ended in 2014 but she'll always be grateful to the 'Dancing With the Stars' professional for being an "all-round good guy" and reaching out to help her take her mind of their divorce battle.
Speaking on her show 'Sherri', the presenter - who was partnered with Maks' brother Val Chmerkovskiy on the 2012 season of 'DWTS' said: "Maksim is so sweet and I want to give him a shout out because when I was going through my second divorce -- I was at the lowest point in my life.
"I was having a hard time financially. It was just court stuff. And Maksim called me and invited me to his dance studio, Come Dance with Me, to just dance and take classes.
"I said to him, I said, 'Maksim, I can't afford it right now.' And Maksim said to me, he said, 'You are always family.'
"And he gave me all my dance classes for free for almost a year and I want to thank Maksim."
Sherri - who has son Lamar Jr., 11, with her ex-husband - launched her talk show last year after previously filling in for Wendy Williams on 'The Wendy Williams Show'.
And it was previously revealed she had looked to format veterans Oprah Winfrey and Ellen DeGeneres for guidance on how she wanted her show to be.
A source said recently: "She's bringing comedy back to TV … What she plans to do for the show is take Ellen and Oprah and combine it. It will be a funny, inspirational show."
In January, it was confirmed the programme will be on screen for two more seasons, covering 2024- 2025, much to the delight of the presenter.
She said in a statement: "I am so thrilled that Sherri has been renewed for two more years.
"I launched this show with the mission to give daytime viewers a 'good time,' just like my theme song says."
The ABBA Voyage avatar concert is set to go around the world
ABBA's 'Voyage' avatar concert is set to go on a world tour.
Universal Music Group chairman Sir Lucian Grainge confirmed the news during an earnings call for the firm this week.
The music mogul is quoted by Variety as saying: "Plans are now in development to take 'ABBA Voyage' around the world."
The show is taking place at the purpose-built ABBA Arena at the Queen Elizabeth Olympic Park in London, until January 2024.
No dates have been confirmed for the global run.
The 'Dancing Queen' hitmakers launched the spectacular concert featuring their 'Abba-tars' (holograms) in May 2022.
The 90-minute show features pre-recorded classics mixed with the band's new numbers such as 'Don't Shut Me Down'.
ABBA played their last concert just over 41 years ago.
The avatar shows could go on even after the group - comprising Agnetha Fältskog, Björn Ulvaeus, Benny Andersson and Anni-Frid Lyngstad - have left this world.
And the 'Super Trouper' hitmakers have teased they are planning to use their concert holograms for "exciting new things" in the future.
They said: "If you are an ABBA fan, who loyally has stuck with us for many years, our hope is that you will see the Abba-tars as agents in the new story, which may lead to exciting new things in the future."
Arctic Monkeys and Guns N' Roses join Sir Elton John as the 2023 Glastonbury headliners
Arctic Monkeys and Guns N' Roses have been confirmed as the final headliners for Glastonbury 2023.
Alex Turner and co will headline the Pyramid Stage at the world-famous festival for the third time in their career on Friday, June 23.
And the 'Sweet Child O' Mine' rockers are set to make their Worthy Farm debut on Saturday, June 24.
They join previously confirmed Sunday night headliner, Sir Elton John, who will close out the music extravaganza in Somerset, South West England, on June 25.
Lil Nas X is set to perform before the 'I'm Still Standing' hitmaker.
Music legend Cat Stevens - who goes by the name Yusuf - will play the Sunday teatime legends slot.
Lana Del Rey was also announced as a headliner for the Other Stage.
'Eurovision' winners Maneskin will also make their Glasto debut.
The stacked line-up also includes Lizzo, Lewis Capaldi, The War On Drugs, Christine And The Queens, Thundercat, Carly Rae Jepsen, and Manic Street Preachers.
Plus the likes of Becky Hill, Aitch, Raye and Rina Sawayama.
The first line-up poster comes after Blondie self-confirmed themselves.
The group's drummer Clem Burke let slip last month that the Debbie Harry-fronted punk rock band are playing at the iconic festival.
He told Foxy Radio: "We're also doing Isle of Wight and we're doing some other festivals.
"I guess it hasn't really been announced, the full list of artists to be playing Glastonbury, but we are going to be playing Glastonbury, so maybe you got an exclusive there."
Elton - who has never played Glastonbury before - said: "I couldn't be more excited to be headlining the Pyramid Stage. As the end of my 'Farewell Yellow Brick Road' tour comes into view, there is no more fitting way to say goodbye to my British fans. They have been beyond brilliant, and have supported me through all the highs and lows of my career.
"Every week I speak to new artists on my radio show and Glastonbury is often cited as a pivotal moment in launching their careers - the festival's genuine, enthusiastic support for the best emerging talent is something I've long admired. I've been talking to Emily Eavis about it over the last few weeks and I can't wait to embrace the spirit of the greatest festival in the world. It's going to be incredibly emotional."
And the 'Tiny Dancer' hitmaker is already planning to ask his celebrity pals to join him.
A source told The Sun newspaper's Bizarre column: "Elton knows just about everyone in music so he's not short of names he could ask to appear with him on stage.
"Glastonbury has long been linked with some epic special guests, and Elton's set will be one of the biggest ever.
"Sir Paul McCartney was joined by Bruce Springsteen and Dave Grohl this year and Elton wants to top that, which will be no mean feat.
"It's been years in the making but now he has finally signed on the ¬dotted line. Everyone is excited to put the plans into action."
Last year's festival - the first post-COVID - was headlined by Sir Paul McCartney, Billie Eilish and Kendrick Lamar.
Tickets swiftly sold-out for this year in November, but a resale is due to take place in spring.
Glenn Close starring in The Summer Book adaptation
Glenn Close is to star in 'The Summer Book'.
The 75-year-old actress has boarded the cast of the movie adaptation of Tove Jansson's novel alongside Norwegian star Anders Danielsen Lie.
Charlie McDowell will direct and produce for Case Study Films, the production company he co-founded with his wife Lily Collins and film producer Alex Orlovsky.
'The Summer Book' recently celebrated the 50th anniversary of its original print publication and tells of a young girl and her grandmother as they spend a summer on a tiny island in the Gulf of Finland.
Production on the project will begin this summer in Finland.
McDowell said: "I'm deeply honoured to be adapting one of my favourite novels, Tove Jansson's 'The Summer Book', and to film in Finland, the beautiful country in which this story is based.
"It's long been a dream of mine to work with Glenn Close. I've long admired her thoughtfulness, immense versatility, and deeply captivating presence both on the stage and on screen."
He added: "I first discovered Anders Danielsen Lie from his brilliant collaborations with Joachim Trier and he's quickly become one of my favourite actors out of Scandinavia. I can't imagine a more magnificent duo to collaborate with on this film."
Tove's niece Sophia Jansson said: "'The Summer Book' is dear to many readers around the world. It is my favourite of Tove Jansson's books, and it holds a very special place in my heart.
"Every word of it ushers in vivid childhood memories of my beloved grandmother - her voice, her way of relating to and moving around the island. Seeing that story finally come alive on the big screen will be fantastic and moving on a deeply personal level."
Ron Jeremy's sister requests conservatorship for former adult film star
Ron Jeremy's sister wants him to be placed under a conservatorship.
The former adult film star was recently ruled unfit to stand trial on over 30 counts of rape and sexual assault due to dementia and now Susan Bilotte has filed a petition asking for attorney Ellen Finkelberg to be placed in charge of the 69-year-old actor's finances and healthcare.
Documents obtained by TMZ stated: "[Ron is] concurrently incarcerated at the Twin Towers-Mens Central Jail. He has been found incompetent to stand trial in a criminal case due to a diagnosis with symptoms of Lewy body dementia and has a pending transfer to a state hospital."
The paperwork explained there is an urgency for a conservator to be appointed so the 'Terror Firma' actor can go to a "private secured perimeter facility specialising in treatment of dementia" as his deteriorating health means he can't make that request for himself.
A lawyer for the disgraced star - who has been in prison since his arrest - previously said Ron's mental state means he likely won't be able to "prove his innocence" when it comes to the sexual assault allegations.
Stuart Goldfarb previously said: "The judge found that he was not competent to assist his attorney in trial.
"So, the criminal case gets essentially put on hold until he can become competent and sometimes people have cognitive disabilities that can't be cured.
"Two and a half years ago when he was arrested I made a comment that I felt very strongly that he was going to be found innocent. Two years and a half have gone by and I feel had we gone to trial he would have been acquitted.
"Unfortunately, because of his mental condition he won't have that opportunity to prove his innocence."
The former porn star had pleaded not guilty to a dozen counts of forcible rape, seven counts of forcible oral copulation, six counts of sexual battery by restraint, four counts of sexual penetration by a foreign object and two counts of sexual penetration of an unconscious or asleep person.
The actor also faced one count of committing a lewd act on a minor, stemming from an accusation he sexually assaulted a 15-year-old girl at a party in Santa Clarita, California, in June 2004.
Billie Eilish steps back from social media
Billie Eilish has stopped looking at social media.
The 21-year-old singer admitted she has deleted a number of apps from her phone to avoid the temptation to keep mindlessly scrolling when she could be doing other things.
Nothing the gesture was "such a huge deal" for her, she said on the 'Conan O'Brien Needs A Friend' podcast: "I don't look at it anymore. I've deleted it all off my phone...
"I feel like I grew up in the perfect time of the internet when it wasn't so internet-y that I didn't have a childhood. I really had such a childhood and I was doing stuff all the time.
"It was computers and games on computers, but barely. We were doing stuff. And then when I became a preteen there were iPhones, and then I got a little older and there was all of what [the internet] has become."
The 'Happier Than Ever' hitmaker admitted she feels uncomfortable seeing how she herself has become the focus of online scrutiny.
She said: "Being a preteen and a teenager on the internet, those were my people. I was one of them. I was one of those people on the internet.
"And then to, within myself, feel like nothing changed, that I'm doing what I've always done and... to just keep doing what I do over the years, and slowly the videos I'm watching and the things I see on the internet are about me. I'm like, 'Ew! Stinky! I don't like that.' "
And even though she's seen how many untruths have been written about her, the 'bad guy' hitmaker is still "gullible" enough to believe what she reads online.
She said: "Anything I read on the internet I believe. Me! And I know for a fact that's stupid and I shouldn't do that because I have proof that it's not all true. Almost none of it's true.
"It's, like, little things, small white lies that goes over everybody's head, but everyone believes."
"There will be a photo of me somewhere at the gym and then I'll see paparazzi photos there and that's what I was doing and it says like, 'Billie Eilish in Hollywood going to a studio to work on her new album.
"That's such a small lie, but I'm like, 'Why would you even need to lie about that?' It just is very strange and then it makes me like, 'Wow, how much was a lie that I was reading when I was looking at the internet all those years?'"
Kings of Leon announce a pair of gigs at Wrexham AFC's ground
Kings of Leon have announced a pair of gigs at Wrexham AFC's stadium.
The 'Sex on Fire' hitmakers will rock Racecourse Ground over the Bank Holiday Weekend, on Saturday 27 and Sunday 28 May, 2023.
Wrexham AFC is owned by Hollywood actor Ryan Reynolds and his comedy pal Rob McElhenney, and the duo announced the shows in a hilarious skit.
'Deadpool' star Ryan bizarrely told his business partner in a video on the band's official Instagram page: "Okay let's listen to a traditional Welsh song."
A clip of the Welsh flag flying as their hit 'Someone Like You' played was then shown.
Rob then said: "I know what you're thinking, that's Kings of Leon. Not a traditional Welsh song."
Before announcing: 'On May 27th and May 28th of this year, Kings of Leon will be playing at the Racecourse Ground."
Ryan confirmed: "That is a major band playing at Wrexham's football stadium, Rob."
The Welsh link is that the pre-sale for tickets will begin on St David's Day (01.03.23), while the general sale starts on Friday (03.03.23).
Tickets will be available from www.gigsandtours.com / www.ticketmaster.co.uk.
Meanwhile, Ryan previously vowed to be part of Wrexham AFC until the day he dies.
The 46-year-old actor became co-owner of the Welsh soccer team in 2021, and he's been blown away by how the nation has "embraced" Rob and himself and he hopes to be involved in some capacity for the rest of his days.
He told the Metro last year: "This isn't hyperbole when I say it has been the great privilege of my life to be a part of this incredible project and something that I'm quite sure I'll be a part of until the day I finally close my eyes to this weird, dumb show.
I've enjoyed every second of it. Not just the football club, but the community of Wrexham, the way they've embraced Rob [McElhenney] and me. It certainly was an unorthodox kind of proposition when we came in but putting community first … we didn't really necessarily come in with that ethos.
They taught us that when we looked at the community and so it's been a really beautiful experience, top to bottom. Win or lose. We just adore every aspect of this community and this club."
'They never had to go to the doctor!' Heidi Klum and Tom Kaulitz believe their dogs have been poisoned
Heidi Klum's husband Tom Kaulitz thinks their dogs have been poisoned.
The 49-year-old model has been married to the Tokio Hotel rocker since 2019 and he, along with his brother Bill, have speculated that the deaths of Tom's shorthaired pointer Capper - who died last month at the age of 15 - and four-year-old Irish wolfhound Anton a few weeks later, as well as Bill's bulldog Stitch just days ago were down to foul play.
Speaking on his 'Kaulitz Hills - Senf aus Hollywood' podcast, Bill said: "He was never sick, never had to go to the doctor. And then, one Sunday, he suddenly collapsed and fell over. I was in shock.
"Stitch is also at an autopsy, where we hope to learn a few more things. Sadly, we also had to think about whether it might be the case that everything is connected. "
Tom added: "It's so sad that you have to think that there is someone who wants to harm you so much that he kills your animals. Is there a lunatic out there?"
Heidi first announced the death of her and her husband's eldest dog in early February, as she shared a snap of the four of them and noted that she had no idea that it would be their last day together.
She wrote on Instagram: "Such a beautiful Day Today [heart emoji] We did not know it would be our last. "
Just three weeks later, upon the death of Anton, she wrote: "Forever Loved Forever in our hearts."(sic)
Rapper Lil Mosey found not guilty of second-degree rape after jury trial
Lil Mosey has been found not guilty of second-degree rape.
The 21-year-old 'Stuck in a Dream' rapper - whose real name is Lathan Moses Stanley Echols - was accused of the offence after a woman claimed she and her girlfriend were raped by him and another man in 2021 after they met at a cabin, but he was cleared on Thursday (02.03.23) by a jury.
He pled not guilty to the charges and stood trial in Washington, according to TMZ, which added he had passed a lie detector test with "flying colours" as part of the case.
His attorneys Amy Muth and Jennifer Atwood said at the time the allegations were made: "Mr Echols did not commit this crime, and we intend to work hard to clear his name."
Lil Mosey, who made it to number eight on the Billboard Hot 100 chart with his 'Blueberry Faygo' single, was potentially facing a maximum sentence of life in jail if convicted and maintained his innocence throughout proceedings.
An affidavit obtained by TMZ showed the woman who accused the rapper told authorities she consented to having sex with Lil Mosey in a vehicle.
But when they were in a cabin together later she said she blacked out after drinking and alleged she regained consciousness to find the rapper on top of her and having sex with her.
She added she passed out a second time and awoke to find another man having sex with her.
The affidavit also said the victim stated she suffered injuries including bruising on her arm, neck and inner knee.
Another woman who was at the party with the woman, aged 20 at the time, reported she woke up partially clad and was told she had intercourse, but had no memory of it.
Chris Brown wins big at 2023 Urban Music Awards
Chris Brown was the big winner at the 2023 Urban Music Awards (UMA).
The US rapper took home Artist of the Year (USA) and Best Album for 2022's star-studded LP 'Breezy' at the 19th edition of the ceremony, which was held at London's Porchester Hall on Tuesday night (28.02.23) and broadcast live on VooVix TV.
He beat Beyonce, Lizzo, Drake, DJ Khaled, Cardi B, Coi Leray, GloRilla, Latto, 21 Savage, Megan Thee Stallion, Nicki Minaj, and Jack Harlow to the accolade.
Dancehall legend Sean Paul was handed the Artist of the Year (Caribbean) Award.
He said during his acceptance speech: "I [would] like to thank the Urban Music Awards for supporting me throughout all these years. I really appreciate this award."
Bugzy Malone was the recipient of the Most Inspiring Artist award, while Billy Ocean received the Lifetime Achievement Award.
Elsewhere, UK outfit Heartless Crew received the Outstanding Contribution to Music Award in honour of their 30th anniversary.
Documentary maker Louis Theroux, DJ-and-presenter Gok Wan and Noughties R+B star Lemar were among those performing hosting duties at the bash.
This year also saw VooVix TV re-launch its flagship reality TV show, 'Britain's Next Urban Superstar'.
Founder and President of the UMA's, Jordan Kensington, commented: "The UMA's at it's core has always been about mentoring, nurturing and assisting the next generation of artists as well as celebrating the present class of amazing breakthrough talent. 2023 marks 19 years of tenacity, hard work and perseverance. To see the aftermath of urban music becoming the new popular genre worldwide is a huge dream we had 19 years ago. We are both excited and pleased that hard work and consistency paid off."
The full winners list is:
Best Producer
Steel Banglez
Best Collaboration
Fireboy DML and Ed Sheeran - 'Peru'
Artist of the Year (UK)
Cleo Sol
Best Grime Act
D Double E
Best Male Act
Karl Benjamin
Artist of the Year ( USA )
Chris Brown
Most Creative Artist
Ivorian Doll
Best Album
Chris Brown 'Breezy'
Best Performance in a TV Show
Noeva - 'A Woman's Worth' (The Voice)
Artist of the Year Africa
Stanley Enow (Cameroon)
Best HipHop Act
Dave
Best R+B Act
Karl Benjamin
Best Female Act
AMARIA BB
Best Music Video
Stormzy 'Hide and Seek'
Best DJ
Kenny Allstar
Best Record Label
Warner Records
Artist of the Year (Caribbean)
Sean Paul
Best Jazz Act
Camilla George
Best Radio Station
BBC 1 Xtra
Artist of the Year (France)
Aya Nakamura
Artist of the Year (South America)
Bad Bunny
Best Radio Show
Nadia Jae (BBC 1Xtra)
Best Entertainer
Big Narstie
Artist of the Year Asia
Lee Hi (South Korea)
Best Podcast
Who We Be Talks
Best Group
D Block Europe
Best Single
Raye 'The Thrill is Gone'
Best Newcomer
Karl Benjamin
Best Singer/Songwriter
Shaé Universe
Best Gospel Act
Reblah
Best Online Music Platform
TikTok
Best Viral Breakthrough Song
Bayanni - Ta Ta Ta
Best Drill Act
Russ Millions
Most Inspiring Act
Bugzy Malone
Ed Sheeran announces only UK shows of 2023
Ed Sheeran has announced a last-minute UK and European arena tour.
After unveiling his latest album 'Subtract' - which is due for release on May 5 - on Wednesday (01.03.23), the 'Castle on the Hill' hitmaker has announced a small batch of dates, kicking off on March 23 in Manchester, taking in two nights at London's The O2 arena on March 24 and 25 before heading to Glasgow and Dublin on March 28 and March 30, and wrapping in Paris on April 2.
The mini tour is in support of the first single from the follow-up to 2021's 'Equals', which is yet to be announced.
They will be the only shows the Grammy winner will play in the UK this year.
Fans can pre-order the album before 9am on March 7 via Ed's official website (edsheeran.com) to gain early access to the ticket pre-sale.
With the announcement of Ed's new album, the 'Shape of You' hitmaker also revealed his wife Cherry Seaborn discovered she had a tumour while pregnant with their second child last year and had to delay her treatment.
He also told how his mental health spiralled as he also lost his dear friend Jamal Edwards in February 2022, following a cardiac arrest he suffered after taking drugs.
Ed said: "Within the space of a month, my pregnant wife got told she had a tumour, with no route to treatment until after the birth. My best friend Jamal, a brother to me, died suddenly and I found myself standing in court defending my integrity and career as a songwriter. I was spiralling through fear, depression and anxiety.
"I felt like I was drowning, head below the surface, looking up but not being able to break through for air."
The 32-year-old singer - who also has two-year-old Lyra with Cherry - admitted his personal turmoil saw him replace an album that had been a decade in the making with his "deepest, darkest thoughts" and he isn't looking for fans' approval with the release.
He said: "I had been working on 'Subtract' for a decade, trying to sculpt the perfect acoustic album, writing and recording hundreds of songs with a clear vision of what I thought it should be. Then at the start of 2022, a series of events changed my life, my mental health, and ultimately the way I viewed music and art.
"Writing songs is my therapy. It helps me make sense of my feelings. I wrote without thought of what the songs would be, I just wrote whatever tumbled out. And in just over a week, I replaced a decade's worth of work with my deepest darkest thoughts...
"As an artist I didn't feel like I could credibly put a body of work into the world that didn't accurately represent where I am and how I need to express myself at this point in my life. This album is purely that. It's opening the trapdoor into my soul. For the first time I'm not trying to craft an album people will like, I'm merely putting something out that's honest and true to where I am in my adult life.
"This is last February's diary entry and my way of making sense of it. This is 'Subtract'."
Ed's 2023 UK and European arena shows:
Thurs 23 March, Manchester, AO Arena
Fri 24 March, London, The O2
Sat 25 March, London, The O2
Tues 28 March, Glasgow, Hydro Arena
Thurs 30 March, Dublin, 3Arena
Sun 2 April, Paris, Accor Arena
Former Victoria's Secret Angel Jasmine Tookes gives birth: 'We are so in love'
Former Victoria's Secret Angel Jasmine Tookes has given birth.
The 32-year-old model and her husband, Snapchat director Juan David Borrero, welcomed their first child together into the world, daughter Mia, last week.
She shared a picture of herself clutching onto her little one's hand, and added the caption: "Mia Victoria [heart emoji] 2-23-23"
Several former Victoria's Secret Angels were quick to congratulate their pal, including Sara Sampaio.
She commented: "can't wait to meet her"
Lais Ribeiro wrote: "so precious [heart emojis] congratulations mama (sic)"
Miranda Kerr posted: "What an angel"
Jasmine thanked her friends and family for their congratulatory messages.
She wrote on her Instagram Stories: "Thank you to all our friends and family for so much love. We are so in love with her and are so excited for this next chapter in our lives."
In November, Jasmine revealed she was expecting her first child, and admitted she and Juan decided to keep their news quiet until she was six months along.
Speaking about her first 12 weeks of pregnancy, she said: "I was so tired to the point I couldn't even read emails coming through - I'd fall asleep sitting at my computer. I almost fell asleep driving my car.
"The tiredness was something I had never experienced."
Jasmine admitted she had been keeping an "open mind" amid her pregnancy.
She said: "I'm a firm believer that whatever I feel - and any stress that I'm carrying can very easily transfer to the baby.
"Every day is scary - you never know what's going to happen. So I just pray, hope for the best, and try to keep an open mind."
The star also told how she was "so grateful" to be starting a family with 32-year-old Juan.
She wrote on Instagram: "Baby Borrero The last 6 months have gone by so fast and we can't wait to meet this precious little angel. Feeling so grateful to start a family with you @juandavidborrero (sic)"
Juan - whose father is Ecuadorian vice-president Alfredo Borrero - wrote on his Instagram Stories: "counting down the days..."
I want to live a life of solitude, says Lady Gaga
Lady Gaga wants to live a "life of solitude".
The 36-year-old pop star - who is one of the most recognisable musicians in the world - has revealed that she's actually keen to just "have time to be alone".
She told Wallpaper magazine: "I'm actually really interested in living more of a life of solitude. It's really nice to just have time to be alone, and be expansive, and know that you're enough. I wish I could tell my younger self that.
"When I was younger, I spent a lot of time alone writing music. But the more successful I became, the more I felt like I needed other people to tell me I was great."
Gaga remains passionate about writing music.
On the other hand, she insists that fame isn't a big motivation for her.
The New York-born star shared: "When I was about 14 years old, I read a book called 'Letters to a Young Poet' by Rainer Maria Rilke. And I have a [line from the book] tattooed on my arm. I got it in Osaka, when I was 23. 'In the deepest hour of the night, ask yourself if you would have to die if you were forbidden to write. Look deep into your heart where the answer spreads its roots and ask yourself, Muss ich schreiben? (Must I write?)'
"If I wasn't successful in the way that I am today - I'm very grateful for my success - I'd still be doing it, I'd be on the Lower East Side. I would do it no matter what. Absolutely, 100 per cent.
"I know that because I actually don't spend a lot of time in Hollywood. I might look like I do, because sometimes award season happens and you see me on red carpets. But I'm very much at home working … that's the thing that really makes me happy."
'I burst into tears': Steven Spielberg had emotional reaction to seeing The Fabelmans' Michelle Williams and Paul Dano together
Steven Spielberg cried when he first saw Michelle Williams and Paul Dano in character together for 'The Fabelmans'.
The 76-year-old filmmaker's Oscar-nominated movie is based on his old childhood and he explained how a "routine" first day of filming proved to be very emotional for him.
Speaking on 'The Late Show with Stephen Colbert', he said: [Costume designer] Mark Bridges came over to me and said, 'I've got Paul and Michelle here in their hair and make-up and costumes.
"I turned around and there was my father and mother, and I just burst into tears. Just like that, I didn't even think about it, it just happened."
Steven noted he had seen the two stars separately in costume but not together before that moment, and they were both quick to offer him support.
He said: "Michelle ran to me, hugged me. Paul came around the back of me - he's really tall - hugged me around the shoulders and just held me."
The 'Jurassic Park' director admitted he had previously "given speeches" to Michelle and Paul in which he told them not to "worry" about how he'd feel seeing his own life being played out in front of him because he'd had the opportunity to let out his emotions when he was working on the script.
He said: "I had given them speeches long before the first day of shooting. I got all my tears out writing the scripts with Tony Kushner.
"I'm a professional. [I told them,] 'Don't worry about me. You don't have to take care of me. My job is to take care of you and guide you to giving some great performances.' And, it wasn't to be."
Jussie Smollett lodges appeal seeking new trial
Jussie Smollett wants a new trial over allegations he faked a hate crime on himself.
The 'Empire' actor was sentenced to 150 days jail and 30 months of felony probation in March 2022, three months after he was found guilty on five of six counts of disorderly conduct for allegedly staging a racist and homophobic attack on himself in 2019 but spent less than a week behind bars after the Illinois Appellate Court granted a motion from his lawyers for a stay of the sentence.
And his team have now officially lodged an appeal, arguing the 40-year-old star had been subjected to "clear and egregious" instances of "prosecutorial misconduct".
Documents obtained by The Hollywood Reporter said: "Mr. Smollett's constitutional rights to due process and to a fair trial were denied by prosecutorial misconduct including allegations that a defense witness was pressured to change his statement … and shifting the burden during closing arguments."
The 102-page submission also cited double-jeopardy protection tied to the actor being "punished for the same offenses by his performance of community service and forfeiture of his bond."
His attorney wrote: "The renewed prosecution of Mr. Smollett violated his due process rights because (1) Mr. Smollett fully performed his part of a non-prosecution agreement with the state by performing community service and forfeiting his $10,000 bail bond; and (2) the state benefited from taking and keeping Mr. Smollett's bail bond without performing its end of the bargain.
"Thus, the violation of due process was prejudicial and requires reversal of Mr. Smollett's convictions and a dismissal of the charges against him."
The actor initially reported an alleged attack outside his apartment by two men in ski masks, during which he claimed that he was subjected to racist and homophobic abuse, had an "unknown chemical substance" dumped on him and had a noose put around his neck.
But brothers Abimbola and Olabinjo Osundairo claimed he orchestrated the attack and paid them $3,500 - but Jussie instead insisted that the payment was for a meal and workout plan while he was travelling.
He told his defence lawyer that he "never" gave Abimbola payment for the scheme.
The actor claimed one of the attackers shouted that it was "Maga country", which he believed to be a reference to then-United States President Donald Trump's "Make America Great Again" slogan.
However, the brothers told the court that Jussie told them to shout the phrase during the alleged attack.
Chaka Khan takes a swipe at Adele, Mariah Carey and more
Chaka Khan has taken a foul-mouthed swipe at Mary J. Blige, Adele, and Mariah Carey.
The 69-year-old star has hit out at a number of her fellow vocalists while discussing Rolling Stone's recent list of the 200 Greatest Singers of All Time, on which she was placed at number 29.
On hearing her old rival Mary ranked higher than her at 25, she ranted on Los Angeles magazine's podcast 'The Originals': "They are blind as a motherf****** bat! They need hearing aids … These must be the children of Helen Keller!"
The 'I'm Every Woman' hitmaker tersely said of Adele making it to 22nd place: "I quit".
And she suggested Mariah's team had bought her position at number five on the list.
She mused: "That must be payola or some s*** like that."
Chaka was also asked about 43rd-placed Ariana Grande, who she duetted with on 'Nobody' for the 2019 'Charlie's Angels' soundtrack, and admitted they had never met.
She fumed: "I would never have somebody come sing on my motherf****** project without me knowing them."
The 'I Feel For You' singer felt Joan Baez was lucky to make it onto the list in 189th spot.
She said: "Let's be honest, the b**** cannot sing. Now, she was a good writer."
But Chaka didn't only have negative things to say, as she approved of Aretha Franklin being given the top spot.
She said: "As she f****** should be. Thank you. There's justice somewhere."
And she had faint praise for eighth-placed Beyonce.
She said: "She's a great singer. OK? She really has the opportunity to be a great singer. She has what it takes."
But the 'Ain't Nobody' hitmaker insisted she "didn't even know" anything about the last, which was published in January, until she was asked about it.
She said: "I didn't even know what the hell you were talking about, so obviously this don't mean a great deal to me. These people don't quantify or validate me in any way."
I'm a very sensitive person, says Christina Aguilera
Christina Aguilera is a "very sensitive person".
The 42-year-old pop star has grown up in the spotlight - but over the years, she's learned how to deal with the scrutiny that's come her way.
She told Allure magazine: "I've grown up in this business. I started performing at six or seven and then I broke when I was a teenager. No matter what you do, you're going to have people that hate on you.
"The bigger you are and the more successful, unfortunately, that comes with more hate or more scrutiny. And I'm a very sensitive person, but I'm also very tough at the end of the day."
Christina admits that social media has changed the landscape for up-and-coming stars.
The 'Genie in a Bottle' hitmaker is also conscious of how it might influence her own children.
Christina - who has Max, 15, and Summer, eight - explained: "Social media wasn't around when I was coming up, and now I feel bad for people that don't want to be in the business and just look at comments.
"My daughter's not there yet with looking or posting yet, but I'm very conscious of the day when these things happen. The re-release of the 'Beautiful' video was about being mindful of what we're teaching our kids. I always try to impose individuality, doing what she feels is right for her.
"Even when she goes to pick out her clothes and she's like, 'I just don't know what to wear.' I'm like, 'Wear what you like. It doesn't matter at the end of the day. You're going to have an amazing day and you're going to feel amazing. It's just clothes.'"
Jonathan Majors is 'going for overall health'
Jonathan Majors' role in 'Creed III' inspired a "lifestyle" change.
The 33-year-old actor stars opposite Michael B. Jordan in the sports drama film, and Jonathan has revealed that he pushed himself to his physical limit for his role in the movie.
He told 'Entertainment Tonight': "Right now I'm probably four [percent] body fat but also five or six pounds heavier than [when I was on set]."
Jonathan actually does his best to hide his muscular physique.
He explained: "It's a lifestyle. I'm going for overall health. I actively don't show my body [much], I wear big clothes."
Jonathan accepts that he needed to change his attitude to star in the new movie.
He said: "This was the first time I was like, 'OK, it's gonna be on display more or less.' And, as we talked about the honor of joining the 'Creed'-verse, 'Rocky'-verse in the the new instalment, you want to do right by everyone that's coming before you.
"And you want to do right by [Jordan]. You want a bad guy? You want a formidable foe? You got it."
Meanwhile, Michael recently confessed that directing and starring in 'Creed III' was "tough".
The actor explained that he needed to rely on his "team" in order to balance his responsibilities.
He said: "It's tough. You got a mouthpiece in sometimes, you got gloves. You're always depending on so many people. Your team is everything.
"So, to be able to be in the middle of a boxing scene, honestly it's sometimes easier because I can direct while I'm acting. If I need to move you upstage a little bit, I just move a little bit like this, and then I get the shot that I need."
Michael also confessed to being inspired by "Japanese anime" for the film's fight scenes.
He said: "I think 'cause I was kinda put in a corner, it forced me to be more creative and really think outside the box of how to make the fights different ... and I had a huge Japanese anime influence on a lot of my fighters."
My daughter doesn't like playing tennis, says Serena Williams
Serena Williams' daughter "doesn't actually like to play tennis too much".
The 41-year-old tennis legend - who has five-year-old Olympia with her husband Alexis Ohanian - has revealed that her daughter isn't especially keen to follow in her mom's footsteps.
Serena - who retired from the sport in 2022 - told 'Person to Person with Norah O'Donnell': "That's a little disappointing for me, but she's actually really good at it. So we are trying to figure out a way to get her to play a little bit."
The Olympic gold medallist suggested organising "a group lesson" for her daughter as a way of encouraging her to play the sport.
Serena - who is the younger sister of fellow tennis legend Venus Williams - explained: "Maybe I can push her into tennis by getting other kids to have a group lesson - I think that's what I'm gonna do."
The sporting icon announced her retirement from tennis in September.
She confirmed the news via a post on social media, which also featured a photo of herself on the front cover of Vogue magazine.
Serena wrote at the time: "Vogue. September cover issue. There comes a time in life when you have to decide to move in a different direction.That time is always hard when you love something so much. My goodness do I enjoy tennis. But now, the countdown has begun. I have to focus on being a mom, my spiritual goals and finally discovering a different, but just exciting Serena. I'm gonna relish these next few weeks [heart emojis] (sic)"
Prior to that, Serena confessed that she was close to retirement.
She said: "I can't do this forever. So sometimes you just want to try your best to enjoy the moments and do the best that you can."
Lily Collins is 'obsessed' with her bangs
Lily Collins thinks there's "a little Frenchness" to her current hairstyle.
The 33-year-old actress has become obsessed with her bangs over recent months and she plans to "keep them for a while".
Asked if there's a trend that she's currently "obsessed" with, Lily told Glamour magazine: "Bangs. Honestly, they make a ponytail or a bun extra chic. Even if it's messy, it's just like, Oh, there's something that's different. And it shapes your face differently. There's a sass to them.
"They also do really well in humidity. I know that seems weird, but they honestly do. My hair used to be not great in humidity, but now with bangs at least there's something on my forehead to look like something.
"There's a little Frenchness to it that I like, so I think I will keep them for a while. And you can wear them so many different ways. They can grow out and be curly. They can be shorter. I love them."
Meanwhile, Lily previously revealed that she wants to develop her understanding of "French culture".
The actress plays Emily Cooper in the Netflix series 'Emily in Paris', and she's eager to learn more about the French lifestyle.
Asked what she most enjoyed about her character's journey during season three of the show, Lily explained: "For me, I was excited to ground myself more in the French culture, whether that be the language, the fashion, or just feeling a deeper sense of home within the city. And I was excited that the show, itself, leans more into the comedy among the characters, as opposed to all being about Emily's fish-out-of-water experience.
"It allowed me, as Emily, to feel a little bit more grounded, as a character, knowing that the comedy wasn't just about me and my experiences and the culture clash. It was more about the comedy that each of the actors brings to the characters."