Meet the Butte police: Three shifts, three officers, one day in the life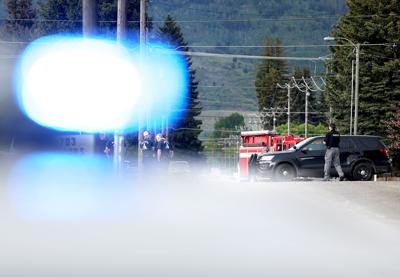 It's easy to turn on the police scanner, listen to what's dispatched, and think a certain way about Butte-Silver Bow Law Enforcement's patrol division, referred to as the Butte police. But the scanner is only part of the story. Each officer has their own strengths, and each patrol shift is extremely different. After three ride-alongs on each shift with three different officers, here's a scratch on the surface of what a day in the life of the Butte police is like.
Shift: Graveyard, 9 p.m. to 6 a.m.
It's just after 2 a.m. outside of the Party Palace on a Saturday night. Dozens of people sway through the sidewalk, mingling with drinks in hand. The Butte police are there, too, steadier than but just as amused as the partiers they're asking to find safe rides home. Officer Bryce Foley surveys the Palace from the middle of the street. Two women blow kisses at the young man, but he either doesn't notice or ignores them. A few minutes pass. He consults with another officer then says, laughing, "Alright, let's leave these people alone." He gets back into his patrol car and begins circling the Butte bars, a common theme that guides most of his late night shifts.
"I am a firm believer that having a presence makes people think twice about committing a crime," Foley said.
Foley has been with Butte law enforcement for eight years, first at the detention center and now with the police. He and most of the other police officers are from here. His older brother is a police officer in Bozeman, and Foley doesn't know how he does it.
"Not to sound corny, but I can't imagine being a police officer for any other place," Foley said. "Butte is the city I care about, am proud of, and am invested in."
After high school, Foley was torn between becoming a police officer or a teacher. Both professions run in his family, but after a year as an education major, he decided police work would be more fun. Now, he's on the graveyard shift, which he says is most exciting and often preferred. It's the late nights and early mornings between 9 p.m. and 6 a.m. when most domestic abuse calls and drug or alcohol related crimes occur.
Foley gets five days on and three days off. He's allowed a one-hour break, which he usually spends working out in the police station gym, if he takes it. The computer in his car makes it easy to access dispatch notes and to type up reports, but he often just goes into the station to type during the slow hours of the morning when bars are closed and most are sleeping.
This Saturday is slow all around, he says. He arrested a Town Pump shoplifter around 11:30 p.m. and a suspicious driver with an arrest warrant an hour later. He recognized a couple walking on the street who reported an assault the weekend before and stopped to follow up with them. He coaxed a man with a warrant out for his arrest who didn't want to go to jail down from the ledge of a three-story parking garage, threatening to jump if he did. He waves at the people who wave at him first as he drives around and around the streets of Butte. He talks a lot about his job.
"I had a Denver cop do a three-day ride-along with me once. They said they'd never seen so many people wave to the police before," Foley said. "I think Butte has a really positive relationship with us."
Foley's positivity is clear, too. The relationships he has with the people he arrests is important to him. He says he often sees these people when he's not working and wants there to be mutual respect. He doesn't like to give people tickets, and he doesn't like to ruin someone's day. When he helps train new police officers, Foley always tells them: "The arrest is their fault, but how you treat them is yours."
There are days when it's hard for Foley and the other Butte police officers to be positive. A Butte cop was involved in a shooting recently, and Foley said he called him every day for the five days after it happened to make sure he was mentally okay. He said cops see a lot of sad and frustrating things that are easy to keep bottled up inside. His wife is always the first person who can tell when he's doing that, Foley says.
"We have this understanding that if I come home in a bad mood, she needs to call me on it," Foley says. "I don't want to take my job out on my family. I need to recognize when something is bothering me and address it."
Shift: Day, 6 a.m. to 1 p.m.
Lemon-scented chemicals waft from the dash as Officer Melissa O'Dell quickly disinfects the surfaces of her patrol car. Her three turquoise ear piercings pop against her tan skin and dark black hair, which is pulled back neatly into a messy bun. She's been with the Butte police for a decade now and on the 6 a.m.-to-3 p.m. shift for about three years, which is what she prefers, as a mother of two.
"It's not that day shift is better than any other shift, it just works better for me," O'Dell says. "This way I can spend a little more time with my kids in the evenings and make it to my son's basketball games."
At every intersection, O'Dell waves to pedestrians and other drivers. "I wave to everyone, even when I'm in my personal car. It drives my kids crazy," O'Dell said, laughing.
But the Anaconda native has her reasons. O'Dell says she waves to develop trust with the people around her. Her dad was a cop during a crooked time when police couldn't be trusted. Even though she wanted to be a cop at a young age, it took her awhile to join the police force because of fear of corruption, of not fitting in as a good cop.
"My mom always told me to never trust the cops, never get in a car with them," O'Dell said. "That kept me from becoming one for a long time, even though I knew that's what I wanted to do."
O'Dell went to school for marketing and behavioral management. She worked as a professional for a long time before deciding to enroll at the police academy in Helena. From there, she worked a year as a Department of Transportation officer for the Rocker weigh station then for a year as an Anaconda cop, where she worked twelve-hour shifts. She joined the Butte police in 2008, where she is one of three women patrol officers.
On day shift, O'Dell says things are unpredictable. The Butte police operate under a sheriff, who is responsible for providing general law enforcement to the entirety of Silver Bow County; running the detention center; providing security for the courts; and serving civil papers like subpoenas, notices, and child support issues. O'Dell is a patrol officer, so she provides the general law enforcement part, but she is also asked to serve two to three civil papers each shift.
Her red, glitter-tipped nails sift through the stack of plastic-protected paper deliveries. She couldn't find the address for the first one, the second one didn't answer their door, and the third is no longer living at the residence listed.
O'Dell says although her days are unpredictable, she does a lot of counseling and guiding. She responds to disturbance calls where people are fighting over money or children or other resources that aren't available to them. She often has to help them make decisions.
"A huge part of answering disturbance calls is mediation," O'Dell says. She talks about how hard it is when kids are involved. "I am most concerned with kids and the elderly that get caught up in disturbances," O'Dell said. "As parents, we always try to do our best, but there just aren't a lot of resources sometimes. No family. So that's when I try to help by sharing what I know from my experiences."
O'Dell talks a lot about her kids and how important they are to her. That importance is evident in the way she patrols, from ensuring the safety of others to ensuring her own safety.
"A lot of people I work with have families. In fact, many of the officers I saw come in are now starting families of their own," O'Dell said. Laughing, she adds, "It makes me feel kind of old, I guess."
Shift: Afternoon, 1 p.m. to 10 p.m.
They won't say it outright, but afternoon shift is the shift most Butte cops hate. Its hours are inconvenient, running from 12 p.m. to 9 p.m. or 1 p.m. to 10 p.m. Its call load is significantly greater. It usually means overtime hours completing reports. But for Officer Michelle Knopp, who just celebrated her one-year anniversary with the Butte police Wednesday, it's the perfect way to learn.
"Afternoon shift gets a lot of different kinds of calls; it's a mix of everything," Knopp said. "As someone just starting out, it gives me good learning opportunities."
Although she would rather have the graveyard shift, Knopp is positive. She understands her role and practices good time management. She takes advantage of her down time and the overlap hour between shifts to catch up on paperwork, and she goes home on the lunch hours she's able to take.
"I try to take my break as much as I can, because it's usually the only time I get to see my kids," Knopp said, referring to her three sons.
Knopp has lived in Butte since 2000. Most of her family lives here, too, but her dad spent 30 years with the United States Coast Guard, so she moved around a lot growing up, from places like New Jersey to Michigan to Moses Lake, Washington. She did not grow up wanting to be a police officer.
First, it was nursing school in Washington. Then social work at Montana Tech. Knopp thought she might want to be a teenage probation officer but ended up working with Butte Head Start. Though she liked it, after a while she wanted to try something different. Her dad mentioned working for the Department of Transportation — there was an opening for a peace officer, and the pay was good. It's not what she wanted to do, but she decided to try it, enrolling in the state police academy.
"I fell in love with everything I learned," Knopp said. "At first I was nervous it would be a bunch of macho men right out of high school, but it wasn't. I loved the people and the environment."
After working at the Rocker weigh station for two years, Knopp decided to take it to the next level. She applied to be a patrol officer for the Butte police, where she started last summer. She wanted to be out on the streets helping people.
"It was hard to make the decision to leave the weigh station, because it was such a good job, but I told myself I'm not getting any younger, so I should go for this now," Knopp said. "Basically, it took me 35 years to figure out what I wanted to do."
For Knopp, working with the Butte police is better than she expected. She said everyone has each other's back, hers more than others at times.
"I'm not going to pretend that as a woman I can split up a bar fight like some of the men can. I know that if I have to do it, I can, but sometimes the men do a little more to protect me, and sometimes I am more motherly to the younger cops. It's not a bad thing; it works both ways," Knopp said.
Knopp taps her fingers on the patrol car laptop and tucks her straight, blonde hair behind her ears as she talks. She says sometimes people are surprised to see her show up to calls because she is not the most intimidating. But she says that works to her advantage, as she often helps calm situations down.
The quicker cadence of her calls is evident. Instead of getting some down time in between responses, she's dispatched to something new as soon as she radios that she's free. She starts her shift off with a trip to St. James Healthcare. After a heavy conversation, she determines a person needs to see the crisis response team. This is a trip she takes a few times a week and a trip the department as a whole takes two to three times a day.
"My primary job is to make sure that people are safe. To do that, I often end up taking them to St. James if they are willing or the detention center if they are not," Knopp said. "It's the Montana mentality that mental health is a weakness, which keeps people from wanting to cooperate. It's the lack of resources."
Instead of seeking help, Knopp says a lot of people self-medicate with drugs and alcohol. That was the one thing that surprised her most when she started working with the Butte police — the drug problem is much worse than she thought.
"A lot of times, I don't see the physical drugs, but I see a lot of people under the influence or who commit crimes like theft because of drugs," Knopp said.
Knopp says it's sad to see. She often vents to her husband and runs to relieve her stress. She says her husband is proud of her, but he refuses to listen to the scanner because it will only make him worry. But Knopp isn't too worried about her safety.
"I'm not going to pretend like I can do everything, but I wouldn't be here if I didn't think I could do my job," Knopp said.
Although the three officers and their shifts are very different, they all agree on one thing: the Butte community is generally good to them. There have been altercations with people getting arrested and threats made to officers, but overall, they feel Butte folks view them in a positive light. Still, Knopp feels cops are often misunderstood, too, especially when people base their opinions solely off of what they hear on the police scanner.
"Some people try to tell us how to do our jobs, but they aren't in our shoes," Knopp said. "It's hard to understand what we do and the factors involved if you don't see all of the perspectives."