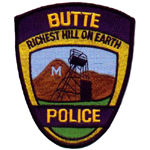 Police reports
Altercation, fake ID
Officers responded at 1:59 a.m. Thursday to a report of an altercation between two women outside the Party Palace, Park and Main Streets. One of the women provided an identity that proved to be fictitious, police said. After her correct identity was ascertained, Stephanie Marie Sanchez, 29, of Butte was charged with a misdemeanor, obstructing a police officer, and was also jailed on an outstanding warrant from Ravalli County.
Handcuff scuffle, assault charge
Officers responded to a disturbance call on Brown's Gulch Road Wednesday night and found Christopher Patrick Schwartz, 40, Butte, and a woman having a dispute. The woman said she feared Schwartz would be physically abusive to her, as she said he had been in the past. Police arrested Schwartz after a brief struggle when officers tried to handcuff him. He was charged with misdemeanor resisting arrest and misdemeanor reasonable apprehension of partner-family member assault.
Outstanding warrants
Butte-Silver Bow Police, working with state Probation and Parole officers, have conducted a several-day roundup this week of individuals with outstanding warrants. Arrested Wednesday on outstanding warrants were: Eric David Lovaas, 36, of Butte; Boris Argo Barry, 27, of Butte; Joseph William Gillin, 42, of Butte; and Anthony Ryan Riojas, 26, of Butte.
Sign up for our Crime & Courts newsletter
Get the latest in local public safety news with this weekly email.