Like many good ideas in the world of technology, Resodyn Corp. got its start in a garage when company founder Lawrence Farrar launched the firm in an industrial area of Butte.
Talking with Farrar, who's also Resodyn's president and chief executive officer, one can tell that the CEO has a passion for the technology that helped build his company and also a passion for the bottom line. Perhaps that's what makes his company work in a town called Butte, Montana.
Farrar is far from whom one might have in mind when he or she pictures a CEO.
For one, he prefers the quietude of southwest Montana to the hustle and bustle of city life, and he says what he likes about Butte is that there isn't any traffic and there aren't any lines.
"It's located in the perfect place. It's blue collar. It's no hassle," said Farrar, adding that he enjoys the sunshine, likes the people and sees it as a good place to raise a family.
Last week, Resodyn hosted a conference to demonstrate the company's acoustic mixing technology.
Acoustic mixing isn't scratching record albums. Instead, it's mixing of the traditional kind — of commercial products, such as pharmaceuticals, cosmetics, chemicals, explosives and even rocket propellant.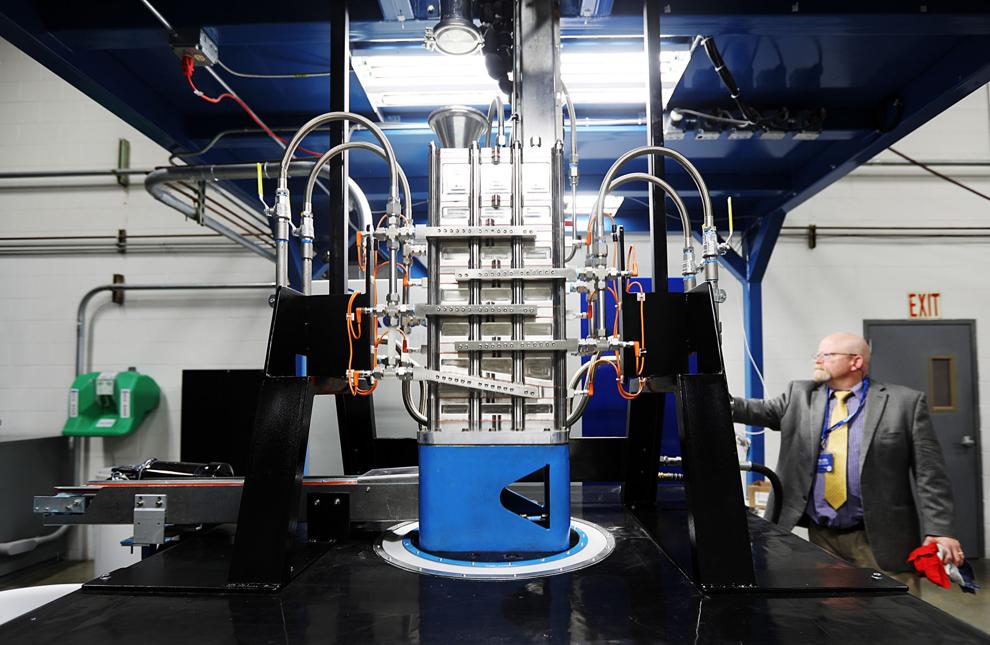 Instead of using traditional methods of mixing, say, by a turning blade inside a vessel, Resodyn uses moving plates and springs to create sound-energy vibrations to get the job done.
This particular way of mixing, Farrar told The Montana Standard, can offer more efficient and complete mixing than traditional methods, deliver a process that requires less cleaning and can provide clients with customized properties for whatever they're trying to create.
To this end, Resodyn manufactures its patented ResonantAcoustic mixers in a nondescript building on Granite Street, across the street from Hennessy Market.
"Everything that we sell we make here," Farrar said during an interview last week. "We've got a world-wide product that's quite ubiquitous."
To date, the company has sold approximately 800 mixing systems worldwide, ranging from small mixers for things like pharmaceuticals to large, industrial machines that can process up to 920 pounds of material at a time.
In addition to this work, Resodyn does research and development, and some of its other products include polymer thermal spray systems, biological sensors and biotechnology devices.
Last week's conference, called Technical Interchange, brought professionals from a variety of industries in which mixing plays a vital role, drawing more than 60 attendees from nine countries and 36 organizations. Some of the professionals traveled over 20 hours to get to the Mining City.
On Wednesday, attendees from the conference gathered inside Resodyn's fabrication and manufacturing facility for a demonstration of the company's RAM5 mixer. Wearing earplugs, guests entered a room where the machine, whose main body was about the size of a hot tub, was operating and emitting a loud hum.
According to Tibor Egervary, director of business and marketing for the company, the machine was vibrating at 60 hertz, moving up and down 60 times per second.
"It's a bizarre kind of science," said Egervary, noting that mixing for commercial purposes is a lot more complicated than most people realize.
One of the professionals inside the room was Elene De Cleyn, a pharmaceutical Ph.D. student from Belgium who came to the conference representing Janssen Pharmaceutica. De Cleyn earlier told The Montana Standard that she has used Resodyn technology in the past to make drug particles smaller by agitating them with beads. When the beads collide with drugs, De Cleyn said, the collisions can make the drugs finer and can improve absorption.
De Cleyn said her flight was about 14 hours. She's never been to the U.S. before, let alone Montana.
This year marks the second time that Kamel Hammami of Etienne Lacroix Group and Julie Pérouel and Arthur Delage of Eurenco, also known as the European Energetics Corp., have traveled from their homes in France for the Technical Interchange, which is in its eighth year.
The three, who work in explosives, got a chance to step away from the conference last year and visit Yellowstone National Park.
Also attending the conference was Chris Huener and Dean Hodkinson of Lubrizol Corp., a provider of specialty chemicals for the transportation, industrial and consumer markets.
The two traveled from the U.K. for the conference and said their company, based in Wickliffe, Ohio, creates products that are in just about anything that gets poured into a car engine.
"The reason we've come out to Butte today is the technology that Resodyn has is pretty impressive," said Huener. "We're all about mixing different chemistries and components together and we've never seen any technology that's quite as good as what Resodyn can supply."
Resodyn's roots stretch back to 1994 when Farrar started the company in a space inside a garage in the 4-mile area of Butte.
Farrar, who served in the military as a pilot, got his graduate degree in mechanical engineering from the University of California in Santa Barbara and later found himself at the Idaho National Laboratory, a nuclear research facility in Idaho Falls.
During his time in Idaho, Farrar was piloting a plane and decided to check out Butte from the air. He later visited and moved to the Mining City.
When Farrar started his company in 1994 it was called Montec Associates Inc., and from the company's garage location Farrar and his employees worked like mad scientists.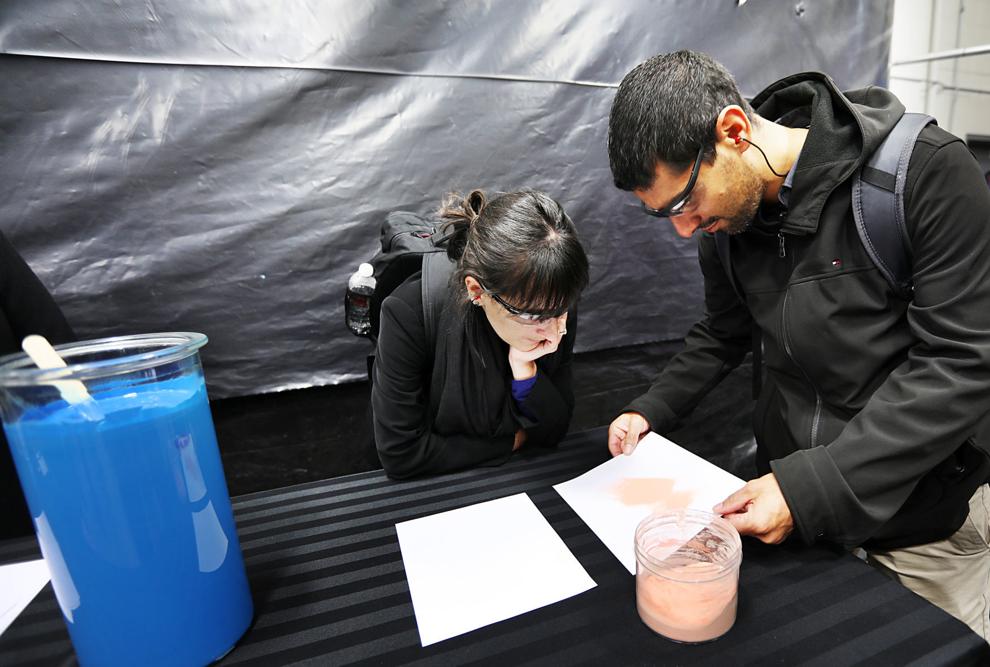 A look into The Montana Standard archives reveals that the company dabbled in a variety of fields over the years. One article from 1996 states that at that time the company was "investigating a way to make radioactive waste harmless by transforming [it] electrically into an inert, glassy substance."
Since those days of yore, the company has moved twice, once to a building on Franklin Street in the district west of Freeway Tavern. In 2004, the company purchased and renovated the Hennessy's Building on Granite Street, where today Resodyn's offices reside in what Farrar calls "the mothership." A year later, the company built a 23,000-square-foot building across the street from the Hennessy Market for its fabrication and manufacturing. The company also has a facility in the U.K.
"It's a Butte business and it's a growing business in Butte," said Farrar when asked why readers would want to learn about Resodyn. He added that it's neat to know that a group of "cowboys" are producing and delivering technology all over the world.
Egervary, the company's director of business development and marketing, agreed.
"It's a tough business because we get challenges nearly daily that no one's ever (encountered) before," said Egervary. "(It's) the challenges and attacking those challenges.... that has always seemed to me emblematic of that Butte spirit."