Butte-based couple Sean and Jessica Kalagher have turned a love for the outdoors into a concept that could give destination tourism a techy new edge.
For years the Kalaghers and their two young children have enjoyed exploring the outdoors and the country's national parks. And part of those experiences, the Kalaghers say, have involved identifying the flora and fauna they find along the way.
"It helps you be less of a simple observer," said Jessica.
"I just feel connected to the natural world when I'm outside," Sean said.
During their nature excursions, the couple often lugged around bulky field guides — one for mammals, another for birds, and maybe a third for flowers — but found that the weight and the cost of several manuals, which can range from $20 to $30 each, started to add up.
And, as it turned out, Google doesn't work when you're standing in the middle of the wilderness, so searching for a bird or a flower on the internet was out of the question.
This problem got Sean and Jessica to thinking: what if there was a smart phone app that would allow users to carry a variety of field manuals in the palm of their hands?
That's when the Kalaghers decided to team up with Sean's parents — Jane and Dan Kalagher, who has a background in computers — to come up with a new application based on Yellowstone National Park.
The app, called iXplore Yellowstone, helps users identify flora, fauna, geological features and other items commonly found inside the park, ranging from Yellowstone's iconic geysers to its shaggy buffalo.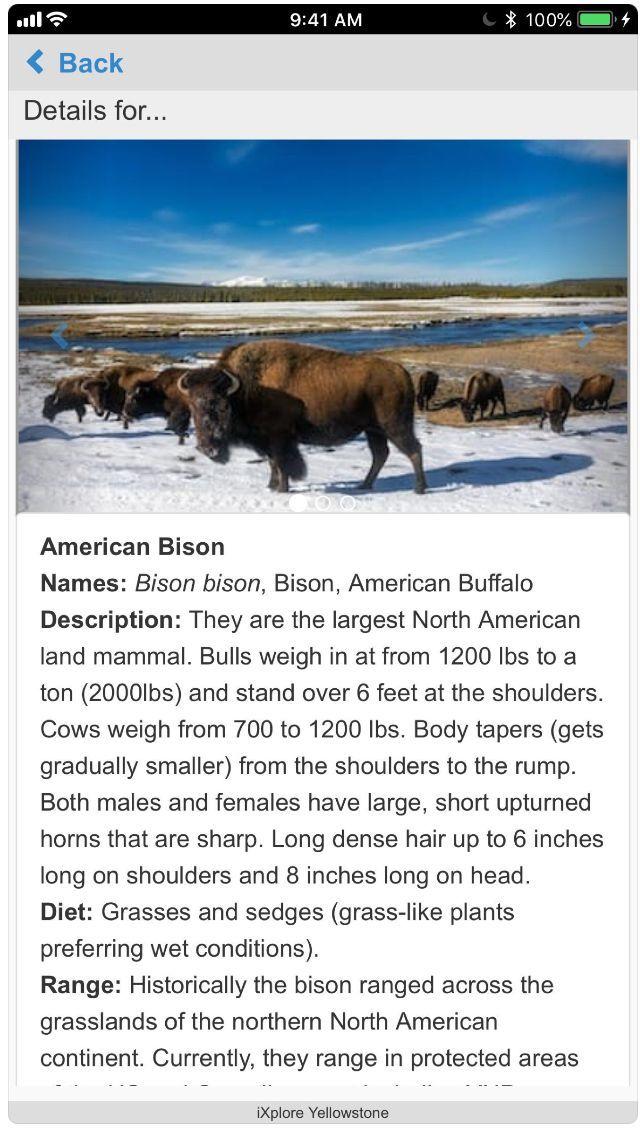 The app, which launched in April, can function offline without cell coverage and Wi-Fi, so long as the entire application is downloaded. It also has a journal function that allows users to take notes, upload photos and keep track of what they've seen inside the park.
The Kalaghers said iXplore Yellowstone will not identify everything in the park and is not meant to be a comprehensive guide. Instead, it's intended to be accessible to everyday users and showcase the most common and interesting features of the park.
The most recent version of iXplore Yellowstone contains around 600 or 700 entries, Sean said.
You have free articles remaining.
The Kalaghers created much of the application's content themselves. Sean wrote the application's entries by consulting primary sources like academic texts. Jessica, a former high school science teacher, edited the entries while Sean's father did much of the technical work. His mom helped curate the application's photos.
The Kalaghers took many of the photos themselves, including several rock and mineral photos, which Sean said he took at Montana Tech's Mineral Museum.
Sean and Jessica have lived in a number of places throughout the United States, but one thing has remained constant: their passion for experiencing the natural world.
The couple moved to Bozeman a few years ago when Sean landed a new job, and they relocated to Butte last year.
Living in Montana, Sean said, has allowed his family to be closer to the outdoors.
"The public land in Montana is so attractive, and so that's what drew us out here," Sean said.
Jessica, meanwhile, said she's enjoyed creating the application with her family.
"I think the best part is that it's a collaboration with Sean's parents," Jessica said. "To have something to work on together, and to really be fueling the passions of both (families) is kind of really neat."
The Kalaghers now have their sights set on creating other applications, possibly for other national parks and for the state.
The couple said they would like to turn their application concept into a company and one day grow enough to develop several applications and maintain a staff.
When asked how iXplore can add to an outdoor experience, Sean said the app allows users to become engaged.
"If you go out on a hike and you're looking at a tree, it's nice. But if you know what kind of tree it is and you know that its cones are made to open up when there's a forest fire, it just brings you into it. It really engages you and makes you value more the natural world around us," said Sean.