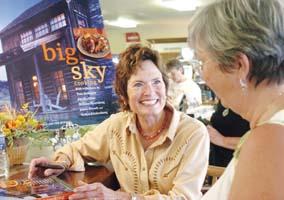 LIVINGSTON (AP) — Meredith Brokaw is quietly putting down roots in southwest Montana, even though she never set out to do that. In fact, when her husband, TV journalist Tom Brokaw, bought the ranch on the West Boulder River in 1989, she wasn't sure about this place at all.
''For six months, Meredith refused even to visit,'' Tom Brokaw wrote in the foreword to his wife's new book.
But eventually she was persuaded and, ''the truth is, that by the end of that first day I knew that owning the ranch would turn into a love story, and it has,'' she wrote.
For a South Dakota born-and-bred gal, that first visit triggered a ''very real physical sense of homecoming.''
''We soon discovered that this wasn't just a place to inhabit; it was a world of its own and a way of life,'' Brokaw wrote.
Her new book, ''Big Sky Cooking'' ($35 Artisan), co-authored with longtime friend Ellen Wright, captures that passion for the Last Best Place. It comes through in her personal essays about life on the ranch, in the beautiful photographs and in the recipes for the simple-yet-sophisticated fare, which she says is ''by and large, really the way we cook at the ranch.''
''I made the short ribs at cow camp last night,'' she said recently, referring to the Dutch oven short ribs on page 114. The book is about food. But it's also an homage to Montana. And she's been pleasantly surprised to find it rings true to Montanans.
''I think this is absolutely wonderful,'' one woman gushed at a recent book-signing.
''It is such a lovely book,'' another woman raved.
Brokaw, 65, said she had been a tad nervous about what the locals would think.
''But it strikes a chord with people who know Montana,'' she said. That's a relief, she said, because she reveals a lot about herself in the book.
''I really opened the door and let you come in. And it feels right.''
Perched on a cowhide-covered stool, the heels of her cowboy boots hooked on the bottom rung, Brokaw signed books recently at Way Out West, a boutique-feed store just off U.S. Highway 89 South. Brokaw said she likes the store and regularly shops there.
''It's one of the nicest stores in town,'' she said, almost whispering, as if not wanting to be overhead by anyone who might take offense.
On the counter in front of her were piles of ''Big Sky Cooking.'' The cover photo features the front porch of a log home, which is the Brokaw ranch guest house, she said.
She and Tom live in the old farmhouse, which is ''very ordinary,'' she said. ''I love it.''
That affinity for simplicity and authenticity appears sincere.
''The Montana ranchers whom we've met are self-contained, accomplished, no-nonsense, 'can do' people,'' she wrote. ''They have to be, given their isolation and the difficulty of living in this relatively remote, sometimes harsh climate. The transplants — meaning you weren't born here — have to like and appreciate these virtues or they don't stay.''
She appreciates those virtues and has no qualms about sharing her love of Montana with friends and family, who come and go from the ranch all summer. One regular guest has been Wright, Brokaw's friend of 30 years, and her husband Joe.
Wright, founder of a New York interior design firm, has been ''cooking seriously since 1960,'' she wrote in her essay, ''Friendship.''
She's the one who talked Brokaw into writing the book.
''After writing two cookbooks, I thought I had tasted, or was familiar with, almost everything,'' Wright wrote. ''Then I was introduced to the meats and fresh produce available in the West: bison, elk, antelope, chokecherries and huckleberries, to name a few. I didn't realize how much I would learn, and it didn't take me long to love it all.''
The result of their shared enthusiasm is the 224-page book organized around menus for different times of the day: ''Sunrise,'' ''High Noon,'' ''Dusk'' and ''Under the Stars.'' Many of the dishes are from ''retooled family See COOKING, Page D5 standbys,'' others are ''reinterpreted classics,'' and still others were invented by Wright.
There are even a few contributions from locals, including a watermelon and feta salad inspired by Big Timber caterer Susan Pauli; cinnamon rolls perfected by Val Lovely of Val's Deli in Wilsall; and cheese grits crafted by Laurie Buffet McGuane.
The recipes feature ingredients fresh from the garden, eggs from the hen house, bison raised on the ranch and morel mushrooms, chokecherries and huckleberries collected wherever and whenever they can be found. The book also features essays by local writers and artists who are friends of the Brokaws: Thomas McGuane, William ''Gatz'' Hjortsberg, Jim Harrison, Verlyn Klinkenborg and James Prosek.
As Brokaw signed books, the shoppers moved on to look around the store and locals picked up bags of dog food and swapped horse stories. Then suddenly, the room grew quiet. Tom Brokaw, on his way back from an interview with Gov. Brian Schweitzer for a documentary on post-Sept. 11 America, had strolled in. But just as quickly, everyone had a look and went back to their business. The chatter resumed. The Brokaws exchanged details of their day. And then Tom left to head back to the ranch.
What's it like being married to a guy who has that effect on people?
''That was kind of funny, wasn't it?'' Meredith mused. But she must be used to it. They've been together a long time.
These days the two are finding more time to spend on the ranch, she said. They continue to divide their time between Montana and New York, she said. As to whether they'll become year-round Montana residents, she said, ''We're inching that way.''
Be the first to know
Get local news delivered to your inbox!