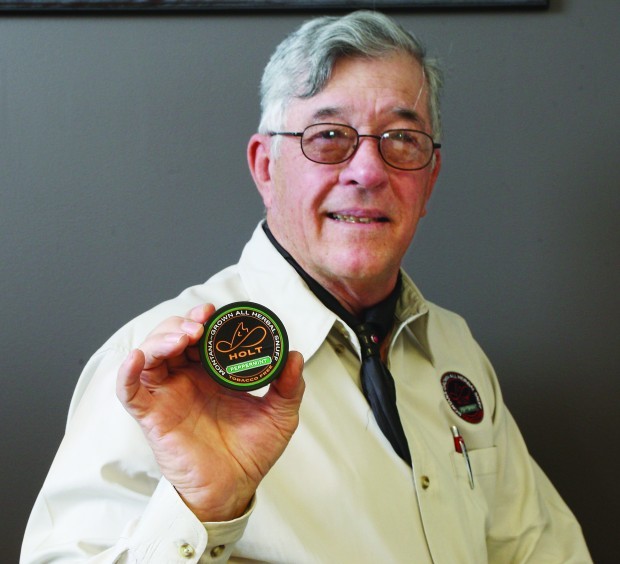 Dave Holt roped calves at rodeos across the west for 45 years - and almost always had a pinch of his beloved Skoal tucked into his lower lip.
Eventually, using smokeless tobacco caught up to him.
A few years ago, Holt's dentist noticed cancerous lesions on his gums and mouth and told Holt he had to quit. He tried and failed. It took a 2009 lymphoma diagnosis and months of chemotherapy to finally get him to shake his favorite bad habit.
Now cancer-free, Holt still missed snuff, but knew he couldn't go back to a tobacco product. He tried all the alternatives he could find, but thought they lacked flavor and some were just as unhealthy as the real thing.
So, the former agriculture teacher at Whitehall High School decided to create a new recipe, the foundation of which is ground alfalfa leaves grown near his Whitehall area ranch.
After working with researchers at the University of Nebraska, Holt added pure peppermint oil for flavor, honey and
vitamin C as natural preservatives and cayenne pepper for that trademark "burn" that smokeless tobacco users crave.
After more than four years of tinkering, he said, he finally got the mixture right. He called the finished product Holt Alfalfa Chew and started giving cans to friends and acquaintances.
Leonard Wortman, a Jefferson County commissioner, was among the first to give it a try.
Wortman had long had a chew habit. After brushing his teeth in the morning, the first thing he did was drop in a pinch of Copenhagen, and the last thing he did before bed was take it out.
He was trying to quit and had gone almost a year without it, but still struggled to hold back his desire. Then he ran into Holt at a rodeo.
"I still felt like I wanted a chew as bad as the first day I quit," said Wortman. "I told Dave about it and he gave me a few cans to try."
"The first couple of days it was tough; it made me want the real thing. But since then it really took care of my cravings," he said.
Wortman, who hasn't chewed in years, feels like he has finally kicked the urge, he said. A can of Holt's concoction, which retails at $5, often lasts him more than a week.
"We really got into this to save lives," said Holt. "We wanted to give people an option to smokeless tobacco. To see people quit is the main goal."
But Holt said the product has more diverse clientele than those wanting to kick the habit. The product has medicinal value, makes a great tea, and can be useful in reducing colds and opening sinuses, he said.
Alfalfa, which is rich in minerals, nutrients and amino acids, has been used as an herbal medication for more than 1,000 years to treat digestive problems, kidney stones and arthritis, among other ailments. The vitamin C and honey are beneficial as well, and putting the mix under your lip means it goes straight into the bloodstream, giving an immediate and more powerful effect.
At first, Dave and his wife, Colleen, along with their two sons, produced about 12 cans a day in a certified kitchen in Dillon. But in only a few months business has exploded, mostly by word of mouth, and the company now has more than 25 distributors. Some are as far away as Illinois, Minnesota and South Dakota.
The Holts - just the four family members - are producing more than 600 cans a day, and said they are poised for another increase in sales.
Colleen Holt said the product will soon be part of a national "Quit Spit" program tasked with helping people kick the smokeless tobacco habit. That could cause another boon in business, and Dave said they are already looking to build a factory in Whitehall that could produce larger quantities of the snuff.
"This started as a way to get people to quit, but now that it's getting bigger I think it could have an economic impact on the area," he said.
Be the first to know
Get local news delivered to your inbox!