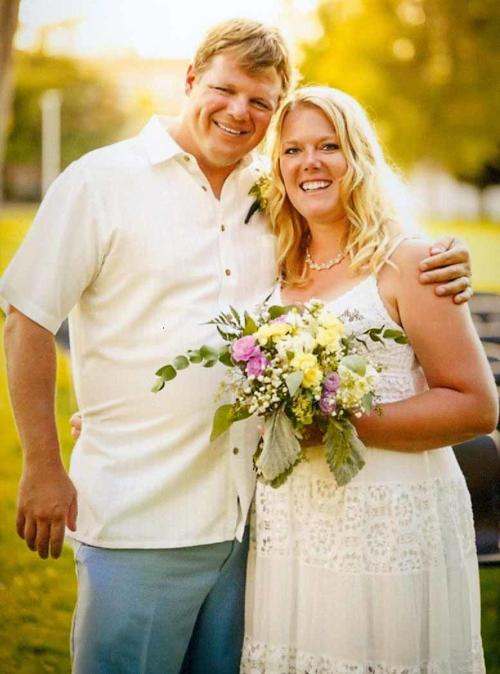 Neil and Stephanie Tocher
Neil M. Tocher, son of longtime Butte residents Mike and Marlene Tocher, married his "Darling" fiancé Stephanie K. Jensen, daughter of Allen and Kris Jensen, in Pocatello, Idaho on August 3, 2019, surrounded by their friends and family.
Neil and Stephanie were married on the Pond Student Union Lawn on the campus of Idaho State University (ISU) where Dr. Tocher serves as Professor and Chair of the Marketing and Management department in the College of Business. Stephanie is Vice President of lending at Connections Credit Union, but also has a clear future in event planning.
Her talents in that area were revealed one day when the couple were out walking and debating where to get married. As they walked by the ISU quad, Steph simply asked "why don't we get married right over there where it's so pretty?" Neil responded "well, I don't think anyone has ever done that before and I am not sure if it is possible." After a few phone calls and a couple signoffs, he made the campus wedding a reality "just to see her smile."
The ceremony was officiated by the couple's friend Westin Dykman and featured Stephanie's beautiful children: Ryker (best man) and Ella (maid of honor). The new family's amazing dog Rufus led the wedding party down the aisle and even had a small role in the ceremony. Attendees may also remember that the amazing Rufus was the one who sent the wedding invitations and even requested people RSVP to him. Pretty good work for a 10-month-old golden doodle.
The wedding was followed by an extremely fun reception, highlights of which included all the children under 10 singing on stage with the band and some TRULY AWESOME dancing and singing by Butte native and Neil's cousin Stacey Lee Bauer.
Neil and Stephanie would like to sincerely thank all their friends and family from the Butte area who attended, especially Neil's brothers, Brad and Brian and parents Mike and Marlene Tocher. Butte America is a very special place to the newlyweds as they visit often to see the festivals, eat delicious meals at historic landmarks such as the M&M, and of course visit family. The young couple has even been known to take Rufus hiking on one of the local trails and then bring him to the Met Tavern or the Muddy Creek Brewery for a much needed thirst quencher (the puppy gets a dry throat after a long walk!).
Mr. and Mrs. Neil Tocher look forward to their next visit to the Mining City and are lucky to have so many friends/family from such a terrific place.
Be the first to know
Get local news delivered to your inbox!