The vaulter: Butte's Ty Peterson looking to break records, take state in senior season
BUTTE — It has been a bit over three years since Ty Peterson competed in his first varsity track meet.
A senior now, the Butte pole vaulter remembers that day. It was March 31, 2015 at a triangular meet with Billings West and Billings Senior.
He hadn't yet cleared the bar in practice, but in the first meet of the year he was slated to compete in the pole vault. He finished fourth with a mark of 10 feet, 6 inches.
"I was pretty pumped about that," Peterson said. "I didn't turn or anything, I just went over the bar with my back to it."
In the time since that meet, Peterson has transformed himself into one of the best pole vaulters in the state. After missing the state meet his freshman and sophomore years, he hit 14 feet last season and finishing third in Class AA.
This year has already been even better. He finished second at the Bozeman "All Comers" indoor meet in February and also competed in Pocatello, Idaho at the Simplot Games.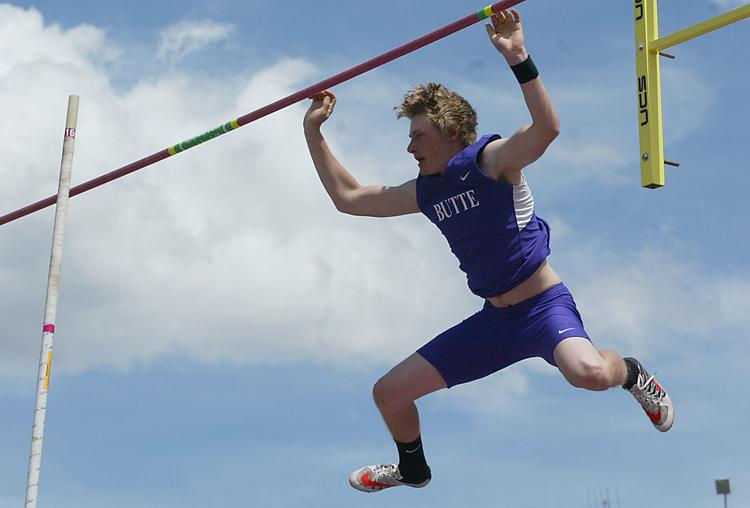 In his first high school track meet this season on April 4, he hit 14 feet, 3 inches. It's a personal best, qualified him for the state meet and is currently the highest mark in Montana.
Perhaps almost as impressively, he hit that mark by practicing almost exclusively inside. Butte High has an indoor vaulting setup in its old gym, which pole vault coach Dave Susanj says has been incredible for his team.
"It's a great advantage for us and we've been going three days a week since track started," Susanj said. "During the winter we only go once a week because I don't want them overdoing it, but it's a huge advantage. It's a really nice setup and a lot of schools don't have that, we're lucky."
Peterson says he's vaulted 14 feet, 6 inches in practice this season and wants to break the school record of 15 feet, 2 inches.
There is, of course, another goal as well.
"I want to win state," Peterson said. "I'm just trying to take it one meet at a time and not set my expectations too high. Just take it one day at a time and get better every day."
Peterson has been guided by Susanj since his freshman season and the longtime coach reckons he first got him interested in vaulting during a P.E. class in eighth grade.
Peterson took to the sport immediately.
"Ty has been a tremendous athlete, we've known that for years and he's a student of the event," Susanj said. "He spends a lot of time on his own, watching videos and learning.
"He does an awful lot of things right and he's got a good attitude."
When Peterson watches film, he says he's focused on the little things — arm movement, timing, how they get on the pole — to add to his vaults.
Pole vaulting is an inherently technical and complex sport and while Peterson has drastically improved in what he called a slow process, there's always something to add.
"Right now I'm just trying to get upside down all the way, trying to ride the pole to its full potential," Peterson said. "I want to get to the point where I'm going a couple feet over the top of my pole so I can get to 16 feet on the 15 foot pole."
The 15 foot pole is the longest he's worked with so far and he's excited to be able to use it. He's managed to get the plant, approach and swing down, for the most part, and is now working on his movements at the top of the pole.
Being at the top, he says, is an exhilarating place to be.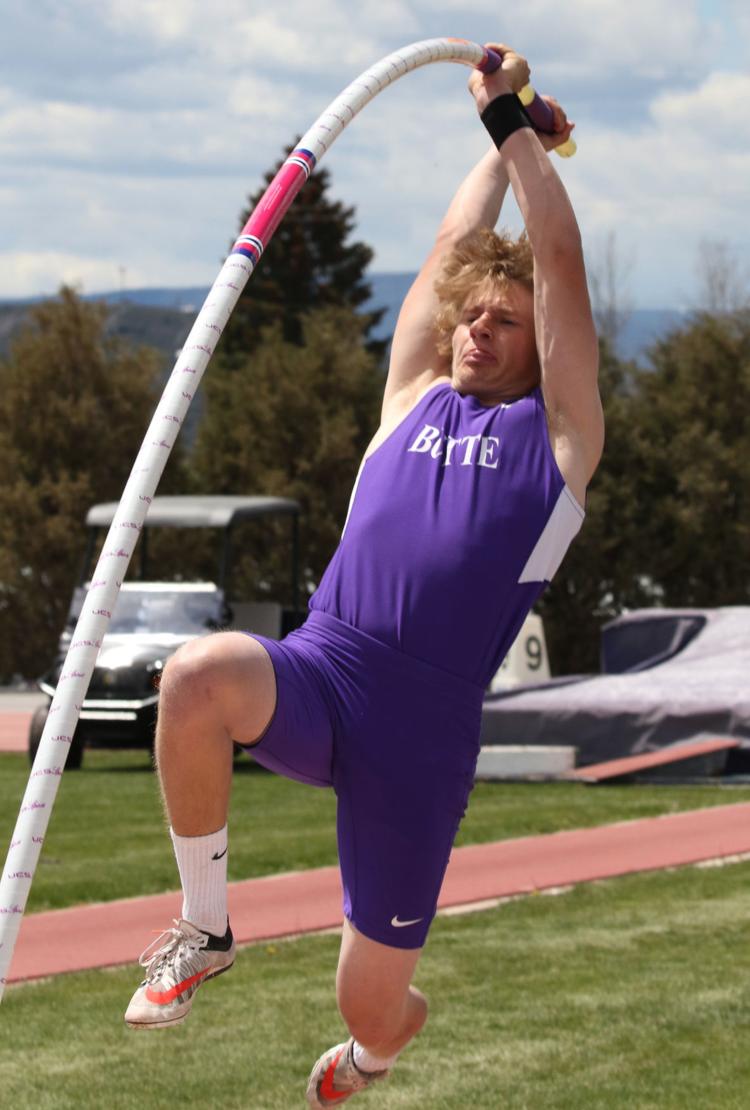 "It's pretty cool when you come up across the top of the bar and you look down," Peterson said. "When you're upside down, you can't see the bar at all. You're just up there and you flip it over and you see the bar. It's the best feeling ever when you come over it and you're falling down and you look up and the bar is still there."
It takes a long time to get to that point and Susanj says quite a few athletes drop the sport after realizing how difficult it is.
That said, the Bulldog pole vaulters number about 22 total, which is one of the biggest groups he's had. Nicole Hyatt and Gabby Haberman lead a strong girls side, with plenty more young vaulters in the wings. 
There's a few adrenaline junkies in Butte and there's always someone willing to give the sport a chance.
"What's funny about the vault is that you have to be kind of a thrill-seeker," Susanj said. "We have a lot of snowboarders and skateboarders and kids who like that kind of thing. When push comes to shove a lot of kids are afraid of it. It's a little bit scary.
"I think another part of it is that kids want immediate success. You're not going to get that in pole vault."
It's just about finding the right people to stick with the sport. In Ty Peterson, the Butte boys track team certainly has that person.
"Ty really deserves the success that he's getting. He's worked hard and he's a good kid," Susanj said. "I'm happy to see it.
"He's a a student of the event and that's what it takes to be great."
Jordan Hansen covers prep and Frontier Conference sports for the Montana Standard. Shoot him an email at Jordan.Hansen@406mtsports.com or give him a shout on Twitter @jordyhansen.