Dakota State assistant Mike Larsen will be the next Montana Western head men's basketball coach, the school announced Friday morning.
Larsen spent seven years as an assistant with the Trojans and the last four as top assistant. Dakota State has gone to the NAIA national basketball tournament four of the past six seasons as the program has been one of the most successful in the North Star Athletic Association.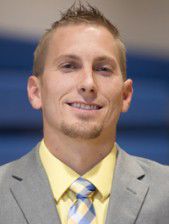 "We are very excited to have Mike Larsen join the Bulldog family as our new head men's basketball coach," Athletic director Bill Wilson said in a release. "Mike's enthusiasm, basketball intellect and his proven success developing student-athletes propelled him to the top of over 140 applicants. He is a talented young coach that worked for a legendary head coach in Gary Garner at Dakota State.
"Mike knows what it takes to be successful and we are excited about the future of Montana Western basketball."
Before Larsen was an assistant, he spent three years playing at Division II Northwest Missouri State, graduating with a Corporate Recreation major and a minor in Coaching.
He used his last year of eligibility at Dakota State and has since got his master's degree in Education Technology.
While he doesn't have any direct Montana connections, Larsen hails from South Jordan, Utah, and has spent significant time in the Mountain West.
"First and foremost, I want to thank Mr. Wilson and the entire committee for entrusting me with the position at UMW," Larsen said in a release. "I am incredibly excited to have the opportunity to represent the men's basketball program and the university.
"I also want to thank my family and Dakota State University for their support over the years. I can't wait to get started! Go Bulldogs!"
Larsen was chosen from a pool of three finalists, though one, Colby Blaine, took the head job at College of Idaho on April 24. 
Larsen will start the job immediately and no financial details of the deal were immediately available. He replaces former head coach Steve Keller, who took the head job at the University of Providence in March.