BUTTE — On the last play of Montana Tech's spring scrimmage, quarterback Tanner Kump overthrew a flat route.
He wasn't happy and yelled at himself in frustration as the whistle signifying the end of practice blew.
That said, it was also just about the only bad pass the redshirt freshman threw on Saturday afternoon.
Kump ended 9-of-13 for nearly 100 yards and a touchdown during the four drives he quarterbacked. Tech had 10 total, as junior Danny Peoples and redshirt freshman Cole Hauptman got plenty of time as well.
"It's a positive competition and I think all three guys have been making plays," Montana Tech head coach Chuck Morrell said. "It's certainly not something we're going to sort out by the end of spring. 
"We're going to take some time into fall camp before we make a final decision about who our starting quarterback will be."
Kump, however, was perhaps the most impressive. He was throwing tight passes, looked comfortable in the pocket and did a good job going through his progressions.
Two of the passes he missed were deep balls, an area that the quarterback group as a whole were hit-and-miss on throughout the practice. Outside of the missed flat route, Kump's only other major mistake involved some miscommunication with the center, resulting in the ball being snapped before he was ready for it.
Kump also had the best drive of the day, which spanned nine plays and saw the quarterback complete five passes, including a touchdown throw to tight end Kenny Lafayette.
Haputman and Peoples had their moments and both threw touchdowns as well. Peoples finished 3-of-6 for 54 yards, while Haputman was 3-of-3 for 34 yards.
Peoples threw some nice balls and seemed very much in control of the offense when he was in, but also misfired on his final three attempts. Haputman had several plays break down and was able to extend a few things with his legs, but sometimes struggled to find his receivers downfield.
Tech still has one more week of spring football to continue to figure the situation out, but there certainly seems to be progress.
"The quarterbacks did good, but like I've said, there's always room for improvement," wide receiver Dion Williams said. "They came and showed out and balled out today."
Touchdowns for tight ends
Three of the four touchdowns scored by the Montana Tech offense on Saturday afternoon came from the tight end spot.
Jaylen Taggert, who redshirted this season, had two of them.
"I feel like I've taken some huge steps," Taggert said. "Getting play calls right, doing the play right and just executing.
"I'm real excited to get on the field this year."
Taggert, Kenny Lafayette, and Nate Sander all saw significant time at the tight end spot, rotating quite a bit. Lafayette had the other touchdown, hauling in a pass off a beautiful seam route that the linebackers missed.
Lafayette is a redshirt freshman as well, while Sander is going to be a sophomore.
"We brought this up to our team last week, but this group has been one of our most productive groups here all spring," Morrell said. "We've certainly used tight ends in the past, but they're a bigger threat now.
"I'm just excited, it's a bunch of young guys working their tails off, they're hungry and they get better every single practice out."
Clarity along the offensive line
While some changes could certainly still come before September, the Orediggers' first-team offensive line seems set.
Junior Grant Benz and redshirt freshman Hunter Spartz seem to be the starters at left tackle and left guard, respectively, while junior Hunter Berg is holding down the center spot.
Jalen Whitley, who was Tech's center last year, has been giving Berg advice. In fact, the pair actually went to high school together.
"He's been mentoring me a little bit and Coach (Ryan) McFadden has been a big help too," Berg said. "He just helps you slow down a bit and he's talking with you and trying to make you better everyday."
Kellen Davis looks like he'll be on the right side at guard, while fellow senior Trevor Hopf holds down the other tackle spot.
Patrick McGeady and Dawsen Berg also saw time.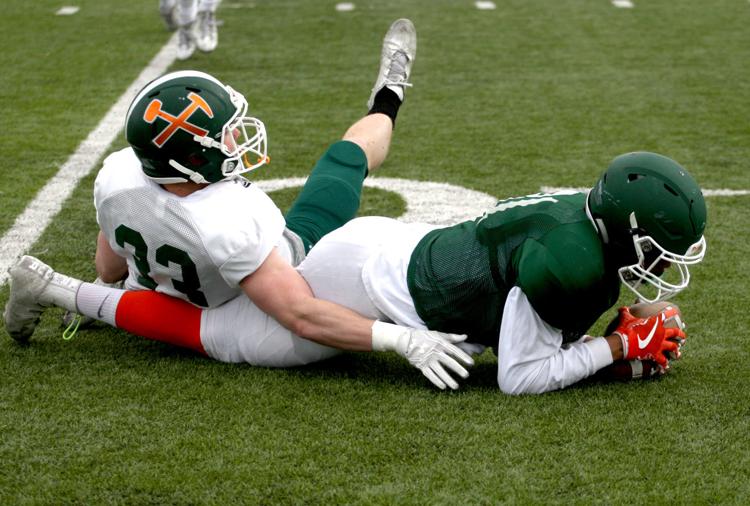 Receivers start to take shape 
Just like last season, it's looking as if there will once again be plenty of rotation at the wide receivers spots.
Dion Williams will obviously lead the group, but Sam McCamley, Quade McQueary, Will Hunthausen Alec Steele and Cole McCloud saw plenty of time with the starters. McCloud led the team with three receptions.
Tyler Vendetti and Trevor Hoffman also had a bit of time on the field.
"Obviously we lost some guys from last year, but we've got some guys that have just been sitting that I know can make plays," Morrell said. "I've seen them make plays all spring and I have no question that those guys are going to be capable starters by the time we get into fall."
Other notes
Jake Orvis and Michael Delaney were the starting cornerbacks with the first group, though the battle at those spots is likely undecided.
Chance Hansen, James Foote, and Brock Beede are likely the starters along the defensive line in Tech's 3-4 scheme.
Kicker Tyler Padilla hit both of his extra points and 2-of-3 on field goals. His makes were from 29 and 34 yards, while his miss was also from 29.