A judge sentenced a man to seven years in prison Tuesday for assaulting Undersheriff George Skuletich in the Butte-Silver Bow Courthouse in 2016.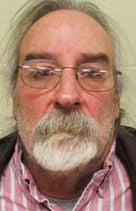 District Judge Brad Newman ordered that Mitchell Jerome Booth, 61, be sent to the Montana State Prison for seven years, minus 344 days for jail time already served.
Booth, wanted on a warrant at the time, was just outside City Court on the fourth floor that day when Skuletich and other officers arrived, according to prosecutors. They said he had a history of aggression toward law enforcement.
He was arrested and charged with assaulting an officer, a felony, and misdemeanors including resisting arrest, criminal mischief and disorderly conduct.
Booth represented himself and when pleading guilty to the felony, said he had no recollection of the incident. But he said he had reviewed the prosecution's evidence, which included body camera footage, and determined he could not contend the charges.
"I have no remembrance at all of the entire incident," Booth told Newman at the time. "I don't even remember walking into the courthouse that day."
Booth apologized to Skuletich and shook his hand during that hearing, saying he did not remember the incident.
But Newman, with a presentence investigation completed, sentenced Booth to prison. The misdemeanor charges were dismissed.