Last Friday my buddy Chuck Holloway suggested we make a quick ice fishing trip to Tongue River Reservoir when he was done teaching class at Sheridan College. I was told to be at Chuck's place at 3:30 sharp.
I gathered my ice fishing gear, bought some wax worms and donned my ice fishing duds and made it to Chuck's a few minutes ahead of schedule — a first, he said.
The sun was shining brightly, the temperature was around 40 and there was scarcely a breath of wind, so I thought the weather conditions sure were right. We loaded our gear into Chuck's pickup and, after his friend Scott Oderstrun arrived a short while later, we drove to the reservoir.
It was a typical trip to the reservoir in that there were plenty of white-tailed deer and mule deer in the fields along the way. We saw several bald eagles — a couple of them were feeding on road-killed deer — a few rough-legged hawks, and a magpie or two on the drive. There was at least twice as much snow at the reservoir as there was at home in Sheridan, Wyoming.
Chuck gunned his pickup down the snow-clogged road to Sand Point and pulled into the parking lot. We quickly pulled on our insulated coveralls, grabbed our gear and trudged out a couple hundred yards or so. Chuck's power auger made quick work of the 20 inches of ice, and soon we were fishing.
The water depth was about 30 feet according to Chuck's Vexlar Unit. He said he was getting flashes of fish close to the bottom. He was fishing with small jigs baited with minnow heads on one rod and wax worms on the other.
As the sun started to set, the balmy 40 degree temperature vanished and a chilling cold set in. It must have dropped 30 degrees in 15 minutes. I was sure glad I had put on the coveralls and heavy parka.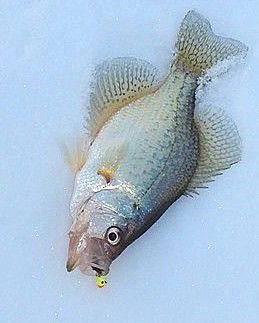 Scott and I opted for the same type of setup, but Chuck seemed to have the magic touch. In the hour-plus time that we had to fish, Chuck managed to pick up one crappie after the other. The fish weren't big — 8 to 11 inches — but they were a heck of a lot bigger than what Scott and I were pulling in.
Finally, my bobber did a couple of dips and then went under an inch or so for a second or more. I set the hook and was pleasantly surprised to feel a wiggle on the end of the line. I hand lined the fish up and was tickled to hoist out an 8-inch black crappie. (I subscribe to the credo that any fish landed is better than no fish.)
I managed to land one other similar-sized crappie that evening while Chuck hauled in seven. Scott was skunked and needed a Coors Lite to drown his sorrows.
Chuck had assured me that the fishing had been much better just a few days ago, but I doubted him. (Remember the old adage: All fishermen are liars, except you and me; and I'm not sure about thee). Anyway, I happened to check Tongue River Marina's Facebook page and found that there had been some pretty good catches at the reservoir this winter.
I had been told that Jerry Smiley had done well spearing, but when I saw the two big northerns he posed with I was astounded. I was told that the fish were 22 and 23 pounds apiece.
Another angler, a young lad from Billings named Benji, held up a 16-inch crappie.
Chris Jairell of Sheridan, Wyoming, had a very unique catch, probably a first for Tongue River Reservoir: a 42-inch, 15-pound tiger muskie. How that fish got into the reservoir is anybody's guess, but it surely was a nice one.
Finally, Joe McGrath had a couple photos of northerns and crappies he had caught. He looked like he had enough fish to eat for a month or two.
Well, I'm anxious to get back and fish the reservoir. Maybe next time I will stop by the marina and pick up a dozen or two fathead minnows and try to put more and heftier fish into my bucket.