As a winter storm dropped 4 feet of snow in four days over Cooke City last week, the picturesque Lulu Meadow remained unreachable. 
Visiting from Minnesota, Tyler Kemppainen, his father Andy, his brother Mike, and the rest of their group woke up early Sunday and set out for the meadow. 
"We were the first ones there," Kemppainen said. "It was one of the most beautiful sights I've seen. It was so surreal. I stopped and took it in for a minute and watched everyone ride down." 
Now 25, Kemppainen said he's been riding snowmobiles since kindergarten or first grade. The Grand Rapids, Minnesota, resident said injuries eventually led him to give up racing the vehicles, but that he was raised to ride safely. 
Riding safely in the Cooke City area has proven difficult over the years. In 2016, Doug Chabot of the Gallatin National Forest Avalanche Center and a colleague calculated Cooke City to be the deadliest place in the United States for snowmobilers. As of March 2017, 14 men had been trapped and killed by avalanches in a 5-square-mile area over the span of 15 years. 
But it wasn't an excess of snow that nearly took Kemppainen's life Sunday. It was a lack of it. 
The group started taking turns riding off a roughly 25-foot high "hangover" slope. Off to the right, Kemppainen saw a smaller drop, maybe 15 to 20 feet.
"I thought that'd be cool to jump up there and then drop down and come down on the other side," he said. 
"I pinned it. I was going probably 15 to 20 miles per hour when I hit it," Kemppainen said. "I was expecting snow to be there, 6 to 7 feet."
Instead, he guesses maybe 4 inches of snow was spread over the ground at the bottom of the drop. "That hill must've been so wind-loaded it blew all the snow off it." 
Speaking Tuesday night, he said he's unsure how he stayed on after the 500-pound vehicle crashed to the ground. The force of the impact broke the seat of his snowmobile. "I just felt cracking up my back, instant, like a sword was in my back." 
The pain was intense, terrifying and momentarily paralyzing, he said.
"I was in shock, and so all I was thinking was 'Oh my god, I need to get help. I need to get help now.' I knew I did something really bad to my back because I couldn't move." 
Eventually he started creeping his snowmobile toward the group, shouting and yelling. Kemppainen said his father is a trained first responder and started asking him questions to determine how he was injured. 
They tried to ride into town, but the pain was too much. Part of the group continued, reaching a store owner in town who called Park County Search and Rescue's Cooke City/Silvergate Division, a volunteer group that lives in the area that is largely inaccessible to cars during in winter.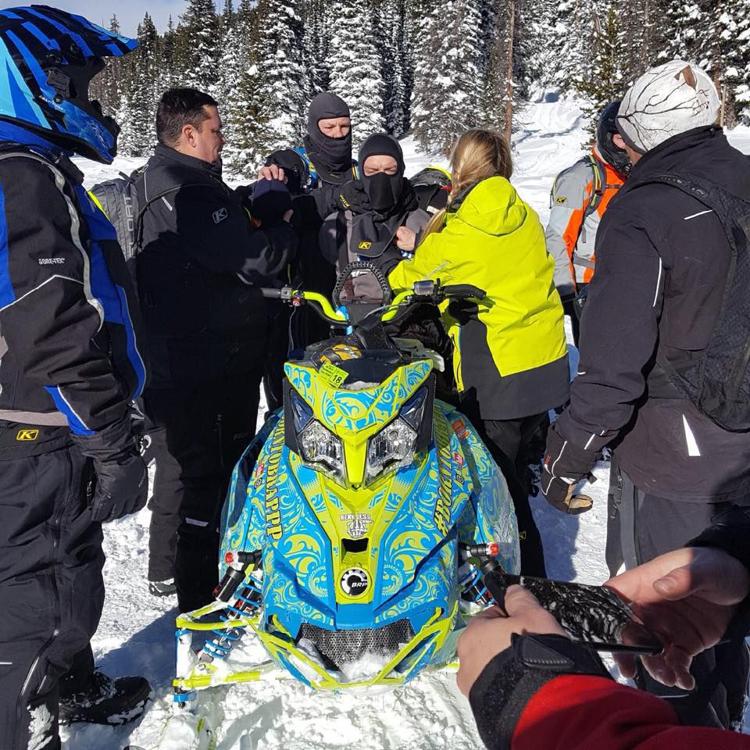 Because of the pain and concerns of the back injury, a helicopter was called to fly Kemppainen off the mountain. Fog in Billings turned the helicopter back from its first destination. A strong headwind forced it to drop down into Livingston to refuel before it could get to Bozeman. On the ground in Livingston, responders decided he could be treated there. 
The diagnosis was a lower lumbar compression fracture of his L1 vertebra.
"The doctors said I was really lucky to come out with that I did," Kemppainen said. "I could have injured my spinal cord." 
The injury was reported at about 10:45 a.m. The helicopter arrived on scene at about 12:30, said Deputy Tad Dykstra of the Park County Sheriff's Office. Dykstra, the incident commander for Park County Search and Rescue, said the incident response was fairly straightforward for a group experienced in avalanche and snowmobile or ski-related rescues. 
Strapped to the backboard in the snow waiting for the helicopter to arrive, Kemppainen said fear and pain made the minutes feel like hours. "I just kept panicking in my head. Am I going to be able to walk again? Am I going to be able to move? I was just scared for everything." 
The responders, including Bill and Kay Whittle and Rob Vance, treated him with care and helped calm his mind, Kemppainen said. All the 25-year-old could do at the time was keep thanking everyone, he said. 
After he was discharged from the hospital, the 17-hour drive back to Minnesota in a truck hauling multiple snowmobiles was brutal, the pain making him nauseous.
Kemppainen said in addition to his job as a salesman for a mechanic shop he also has a growing business powder-coating vehicles. All of that has come to a stop for now.
"There's no way to get somebody to understand how painful a back injury is," he said. "Your body doesn't numb it. Your mind doesn't numb it. It's just there, man."
He's done snowmobiling for the year, but he plans on riding again. 
"It's just a passion I'll always have," he said. "We've done it our whole life. It's just like me and my father's way of bonding." 
The next time he gets on a snowmobile, he said the injury won't ever be far from his mind.
"If I could get one message out, it's try not to let excitement get the best of you and make you do something you'll regret without evaluating the situation first," Kemppainen said. "I was so excited to hit the drop and didn't even check to make sure there was snow at the bottom. Not many would. I second-guessed it in my head but did it anyway."